Looking Back
October 31, 2021 - HALLOWEEN - NATIONAL KNOCK KNOCK JOKE DAY – NATIONAL MAGIC DAY – NATIONAL CARAMEL APPLE DAY – GIRL SCOUT FOUNDER'S DAY – NATIONAL DOORBELL DAY
OCTOBER 31, 2021 | HALLOWEEN | NATIONAL KNOCK KNOCK JOKE DAY | NATIONAL MAGIC DAY | NATIONAL CARAMEL APPLE DAY | GIRL SCOUT FOUNDER'S DAY | NATIONAL DOORBELL DAY
HALLOWEEN
On October 31, Halloween brings out the ghouls and goblins, creatures, and strange folk. They come creeping about the neighborhood seeking favors over trickery. Read more…
NATIONAL KNOCK KNOCK JOKE DAY
Laugh out loud on National Knock Knock Joke Day! October 31st encourages telling a few funny knock knock jokes while going door to door. And the day is for jokesters of all ages, too. Read more…
NATIONAL MAGIC DAY
National Magic Day each year on October 31st recognizes the thrill of seeing the performance art. It takes place during National Magic Week. Read more…
NATIONAL CARAMEL APPLE DAY
National Caramel Apple Day on October 31st celebrates a time-honored fall treat. Many of us remember eating caramel apples or making them with family. Whether it was at a fair, carnival, or Halloween party, it was a special treat. Sometimes we even made them at home. No matter where we enjoyed them, the memory is a good one. Read more…
GIRL SCOUT FOUNDER'S DAY
On October 31st, Girl Scout Founder's Day recognizes the founders and all the great things Scouting has done for girls since its inception. It commemorates the birth of the founder, Juliet Gordon Low. Read more…

NATIONAL DOORBELL DAY
On October 31st, National Doorbell Day will have doorbells ringing more than any other day of the year. The day recognizes the little buzzer, unique tones, and rings that alert us to visitors to our doors every day of the year. Read more…
On Deck for November 1, 2021
National Days
International Days
October 31st Celebrated (And Not So Celebrated) History
1868
The 22nd Postmaster General, Alexander Randall, issues an order describing letter carrier uniforms. The cadet blue uniforms included a black stripe on the pant leg. Throughout the U.S. Postal Service's history, the style and color of the uniforms have changed. Today, postal workers sport darker postal blue uniforms with the eagle emblem.
1888
Veterinarian John Boyd Dunlop invents the pneumatic tire for bicycles.
1905
Joseph H. Campbell Co. trademarks Campbells for its baked beans.
1941
When the money ran out, work stopped on the giant sculpture started by Gutzon Borglum at Mount Rushmore. Even though Borglum's designs included a more complete sculpture, the mountain sculpture in the Black Hills of South Dakota remains unchanged since this date.
1956
Pilot Lt. Commander Conrad C. Shinn lands a plane at the South Pole for the first time.
2000
The Soyuz TM 31 delivers the first resident crew to the International Space Station (ISS). For over 20 years later, teams of astronauts have continually manned the ISS without interruption.
Recipe of the Day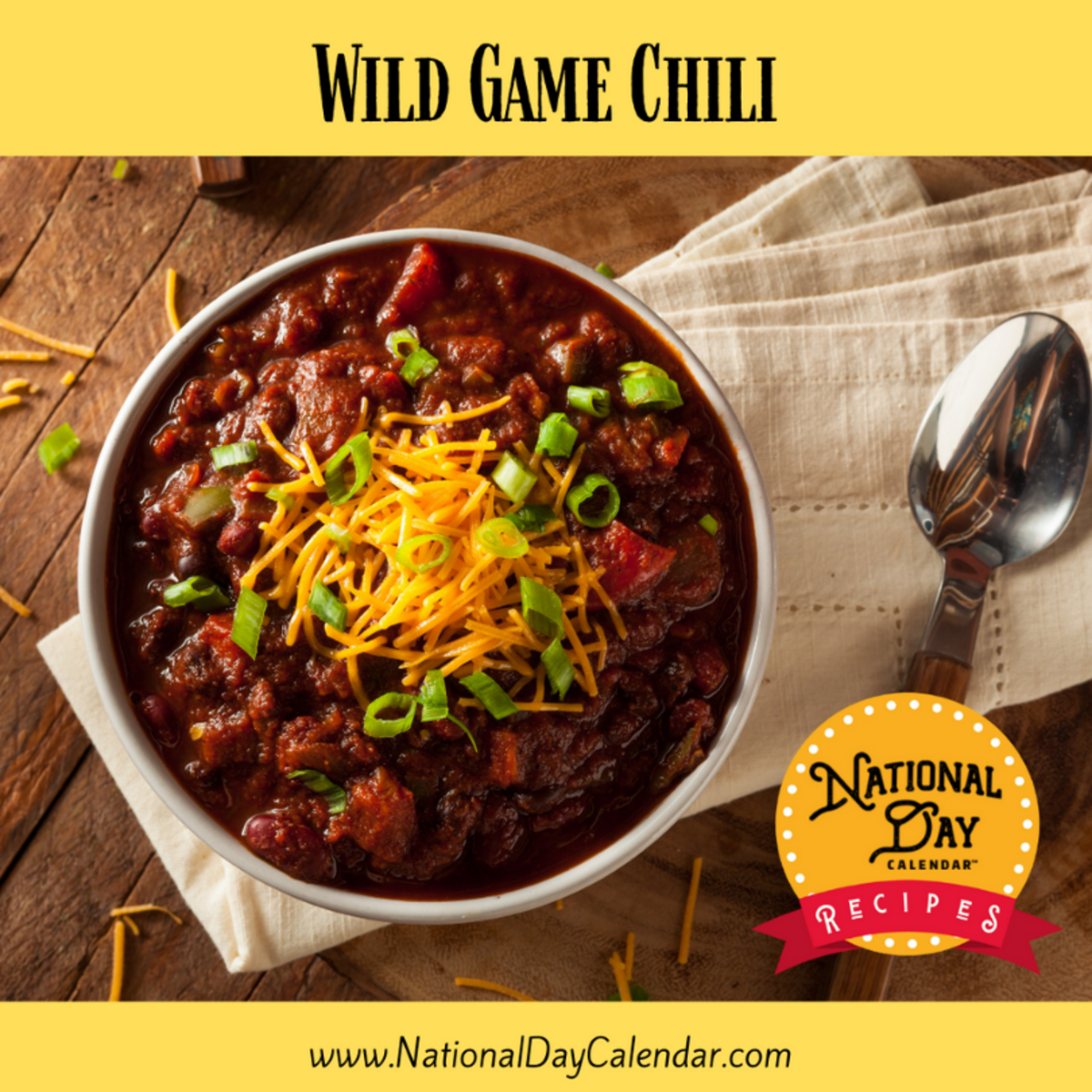 Wild Game Chili
Prep time: 15 minutes
Cook time: 1 hour
Total Cook: 1 hour 15 minutes
Servings: 16
Ingredients
2 tablespoons olive oil
2 onions, diced
2 green peppers diced
3 cloves garlic, minced
1 pound bacon, cut into 1 inch pieces
1 lb ground venison, elk, or moose
1 lb ground bison
1 lb ground pork
2 packages of seasoning mix
1 15-ounce can black beans, drained
1 15-ounce can kidney beans, drained
1 15-ounce can chili beans
1 28-ounce can diced tomatoes
1 4-ounce can green chilis
1 cup frozen or fresh corn
1 16-ounce jar of chunky salsa
1 6-ounce can tomato paste
1 tablespoon liquid smoke
1 bottle/can of beer
Instructions
In a large stew pot or Dutch oven, saute onions and peppers in olive oil over medium-high heat until onions are translucent. Add garlic and cook until fragrant – about 1 minute. Add bacon and cook until crisp. Mix in ground meats and chili seasonings. Brown meat, breaking it up into crumbled pieces. Stir in the remaining ingredients. Let simmer uncovered until the chili has reduced by 1/4 and is thick.
Salt to taste.
Serve topped with sour cream, cheddar cheese, or cottage cheese.
This chili freezes well in sealed containers or freezer bags.
Recipe Credit: Michele S. – North Dakota
October 31st Celebrated (And Not So Celebrated) birthdays
Julia Peterkin – 1880
The Southern author of seven books is best known for her novel Scarlet Sister Mary for which she won a Pulitzer Prize.
Ethel Waters – 1896
The singer and actress began her career as a blues singer. Her musical talents brought her critical acclaim on both stage and screen. She was noted for her work in the Broadway hit Cabin in the Sky and the film Pinky.
Michael Collins – 1930
The astronaut piloted two spacecraft during his career. His first mission on Apollo 11 landed the first men on the Moon.
Katherine Paterson – 1932
The award-winning children's author is best known for her novel Bridge to Terabithia.
Isabel Alvarez – 1933
The Cuban-born pitcher played five seasons in the All American Girls Professional Baseball League.
John Candy – 1950
The comedian appeared in more than 60 films, including Planes, Trains and Automobiles, Spaceballs, Canadian Bacon, and Uncle Buck.
Vanilla Ice – 1967
The rapper turned DIY television host released his first album in 1989. Hooked featured his hit song "Ice Ice Baby."
​
About National Day Calendar
National Day Calendar® is the authoritative source for fun, unusual and unique National Days! Since our humble beginnings on National Popcorn Day in 2013, we now track nearly 1,500 National Days, National Weeks and National Months. In addition, our research team continues to uncover the origins of existing National Days as well as discover new, exciting days for everyone to celebrate.

There's a celebration for everyone. While National Road Trip Day satisfies the itch to wander, many pet days let us share our love of animals. National 3-D Day and National Astronaut Day honor the advancement of technology, too. Every food day you can imagine (National Avocado Day, for example), will keep you celebrating, also!
Be sure to stay in the know by signing up for our e-mail updates. Also, follow us on Facebook, Twitter, and Instagram.
Our Ambassador Program is another way #CelebrateEveryDay®! Whether you become an ambassador or follow one of the savvy ambassadors, their fun videos and posts will keep you prepared for every holiday.