Looking Back
October 29, 2022 - NATIONAL TRICK OR TREAT DAY – NATIONAL CAT DAY – WORLD STROKE DAY – NATIONAL OATMEAL DAY – NATIONAL HERMIT DAY
OCTOBER 29, 2022 | NATIONAL TRICK OR TREAT DAY | NATIONAL CAT DAY | WORLD STROKE DAY | NATIONAL OATMEAL DAY | NATIONAL HERMIT DAY
NATIONAL TRICK OR TREAT DAY
National Trick or Treat Day on the last Saturday in October extends one of the country's favorite holidays – Halloween! Read more…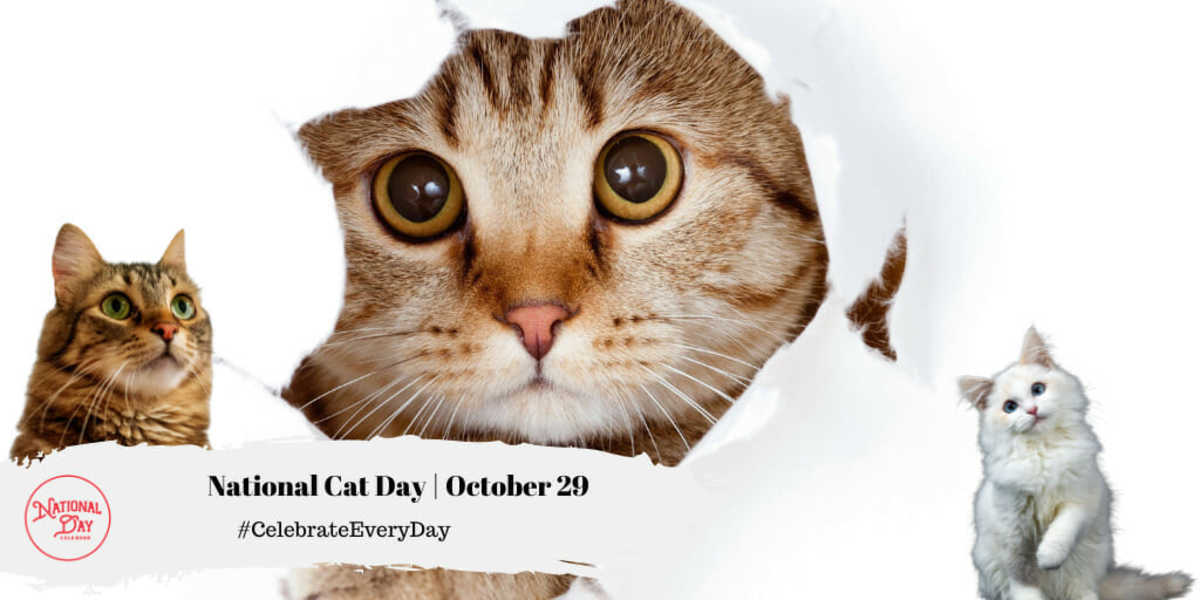 NATIONAL CAT DAY
National Cat Day on October 29th is the purrfect day to give extra attention to your feline friends. Read more…
WORLD STROKE DAY
World Stroke Day, on October 29th, seeks to emphasize the serious nature and high rates of stroke. The day is also observed to raise awareness of the prevention and treatment of strokes. Read more…
NATIONAL OATMEAL DAY
Hearts get healthy on National Oatmeal Day! Not only is oatmeal one of America's favorite breakfast foods, but we also celebrate it annually on October 29th. It's a perfect day to enjoy one of America's favorite breakfast foods. Read more…
NATIONAL HERMIT DAY
National Hermit Day on October 29th recognizes the hermit in all of us. A hermit is a person who lives, to some degree, in seclusion from society. Read more…
On Deck for October 30, 2022
National Days
International Days
Recipe of the Day
Baked Oatmeal
Prep: 10 minutes
Cook: 45 minutes
Total Prep: 55 minutes
Servings: 6
Ingredients:
2 cups steel-cut oats (not instant)
3/4 cup brown sugar
1 cup walnuts or pecans (divided)
1/2 cup raisins or dates
1 teaspoon baking powder
2 teaspoons cinnamon
1/2 teaspoon nutmeg
1/2 teaspoon salt
2 large eggs, well beaten
2 cups milk
1 teaspoon vanilla extract
4 tablespoons unsalted butter, melted
2 cups chopped fruit – such as apples, peaches, pears, persimmons, apricots, blueberries, or bananas work well
Instructions:
Preheat the oven to 325°. Prepare a 9-inch baking dish by greasing the sides and bottom.
Spread the two cups of fruit evenly along the bottom of the baking dish.
In a medium bowl, mix the dry ingredients and 1/2 of the nuts together. Once mixed, add melted butter. Stir until ingredients are mixed well.
In a separate bowl, whisk the eggs, milk, and vanilla together until combined.
Combine dry ingredients with wet ingredients. Mix thoroughly.
Pour over the fruit in the baking dish. Sprinkle the remaining nuts over the top of the mixture.
Bake in 325° oven for 40-45 minutes until golden brown and the oatmeal is set.
Serve hot or let cool and refrigerate covered overnight. Reheat, covered with aluminum foil at 325°F.
October 29th Celebrated History
1945
In New York City, Gimbel's began selling the first commercially produced ballpoint pen manufactured by Reynolds International Pen Company. The pen sold for $12.50 each.
1971
After nearly a decade of study, a technique using electricity to heal bone succeeds. The team, led by Dr. Carl T. Brighton developed the treatment for broken bones that resist traditional treatment. Their success came after applying the procedure to a 50-year-old woman.
1991
The Galileo space probe flies by the asteroid Gaspra. During its flyby, the probe captured the first photos of the asteroid, images that revealed large craters along the surface.
2009
John Sandford Hart reaches the summit of Mount Kilimanjaro on crutches. His ascent, which took 4 days, 20 hours, and 30 minutes, set a world speed record for climbing the mountain on crutches.
October 29th Celebrated Birthdays
Harriet Powers – 1837
Born into slavery, Powers created intricate quilts representing her life and events from history. In 2015, author Barbara Herkert published Sewing Stories: Harriet Powers' Journey from Slave to Artist.
Carl Djerassi – 1923
The chemist and author contributed to the development of the contraceptive pill.
Bob Ross – 1942
The American painter hosted The Joy of Painting on PBS for 11 years. Through the show, he taught millions of people how to paint landscape paintings.
Melba Moore – 1945
Born into a musical family, Moore rose to fame during the 1970s. The award-winning performer became the first African-American woman cast in the role of Fantine in Les Misérables.
Lee Child – 1954
The author is best known for his Jack Reacher series.
Winona Ryder – 1971
The award-winning actress has appeared in more than 60 films over her 35-year career. From Beetlejuice and Heathers to the television hit Stranger Things, Ryder has played a variety of roles.
About National Day Calendar
National Day Calendar is the original and authoritative source for fun, unusual and unique National Days! Since our humble beginnings on National Popcorn Day in 2013, we have been tracking the National Days, National Weeks, National Months, and International Days. We became the first calendar of its kind to curate the days all in one place and tell their stories, too! Here at National Day Calendar, we are on a mission to Celebrate Every Day with you! And by you, we mean families, businesses, educators, and strangers we meet on the street. There's more than one day for everyone.
At National Day Calendar, we discovered the National Days have a way of inspiring us. We're honored to tell the stories behind the days and provide you with informational ways to incorporate the National Days into your business, family, schools, and home!