Looking Back
October 26, 2022 - NATIONAL PUMPKIN DAY – NATIONAL DAY OF THE DEPLOYED – NATIONAL MULE DAY – NATIONAL FINANCIAL CRIME FIGHTER DAY – NATIONAL MINCEMEAT DAY – NATIONAL TENNESSEE DAY
OCTOBER 26, 2022 | NATIONAL PUMPKIN DAY | NATIONAL DAY OF THE DEPLOYED | NATIONAL MULE DAY | NATIONAL FINANCIAL CRIME FIGHTER DAY | NATIONAL MINCEMEAT DAY | NATIONAL TENNESSEE DAY
NATIONAL PUMPKIN DAY
National Pumpkin Day recognizes a favored autumn decoration and food on October 26th. Not only do they make great fall decorations, but the pumpkin also completes a variety of tasty recipes. Join a pumpkin competition or visit any of the many fall festivals featuring beautiful gourds. Read more…
NATIONAL DAY OF THE DEPLOYED
On October 26th, National Day of the Deployed annually honors the United States military personnel deployed around the globe. Read more…
NATIONAL MULE DAY
National Mule Day, on October 26th, recognizes an intelligent pack animal many mistaken to be stubborn. Read more…
NATIONAL FINANCIAL CRIME FIGHTER DAY
On October 26th, National Financial Crime Fighter Day recognizes the Bank Secrecy Act (BSA) and Anti-Money Laundering (AML) professionals. Because not all superheroes wear capes. Sometimes, they wear business suits, dresses, or jeans and serve in the back offices of financial institutions. These are the people who protect the United States financial industry. They include law enforcement officers and other government personnel. Read more…
National Mincemeat Day celebrates a 15th-century English recipe mixing spiced meat and fruit. Bake up a batch on October 26th! Read more…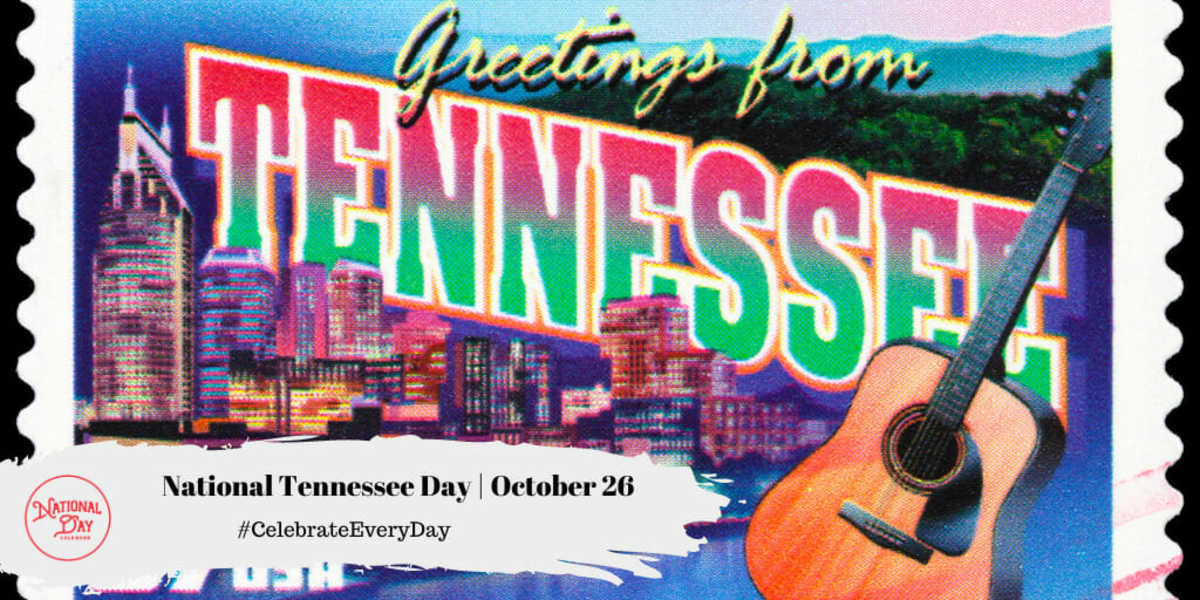 NATIONAL TENNESSEE DAY
National Tennessee Day recognizes the Volunteer State on October 26. Tennessee was the 16th state admitted to the union. The great state brings with it the Great Smoky Mountains, centers for blues and country music, and depth of history that surges through art. Read more…
On DEck for October 27, 2022
National Days
International Days
Recipe of the Day
Spiced Raisin Bars
Prep: 15 minutes
Cook: 20 minutes
Total Prep: 35 minutes
Servings: 80 servings
Ingredients:
2 cups sifted all-purpose flour
1/4 teaspoon baking soda
1/2 teaspoon salt
1 teaspoon ground cinnamon
1/2 teaspoon ground ginger
1/2 teaspoon ground allspice
1/2 teaspoon ground nutmeg
1/4 teaspoon ground cloves
2/3 cup vegetable shortening
1/3 cup sugar
1/4 cup molasses
1 large egg, lightly beaten
1 teaspoon rum extract
2 tablespoons water
1 tablespoon apple cider vinegar
1 – 1/2 cups golden raisins
3/4 cup walnuts, chopped
Glaze (optional):
1/2 cup confectioners' sugar
2 teaspoons rum
2 teaspoons water
Instructions:
Preheat oven to 375°F.
Prepare a 15x10x1 jelly roll pan by greasing bottom the bottom and sides.
Mix together flour, baking soda, salt, cinnamon, ginger, allspice, nutmeg, and cloves. Sift all ingredients together twice.
Cream together shortening and sugar.
Add molasses, egg, rum extract, water, and vinegar.
Pour batter into baking pan evenly.
Bake 17-20 minutes until bars turn light brown and a toothpick inserted in the middle comes out clean.
Let cool for 10 minutes.
Turn the pan onto a cooling rack to cool for an additional 10 minutes.
Place on a cutting board.
Glaze (optional):
Combine confectioners' sugar, rum, and water in a small bowl.
Brush glaze over the bars and allow to harden.
Cut bars into desired serving sizes.
October 26th Celebrated History
1785
George Washington receives the first male donkey in the U.S. as a gift from King Charles III of Spain.
1825
Governor DeWitt Clinton of New York officially opens the Erie Canal. The canal took more than two years to dig. Connecting the Great Lakes to the Atlantic Ocean, the 425-mile stretch of man-made waterway carried products all along its path. Two years later the Erie Canal would be connected to the Wabash Canal creating the largest canal system in the United States.
1858
Hamilton Smith invents an improved washing machine that rotates and includes slots that carry dirt particles away from the clothes. The inventional also adds a heating element to circulate warm water through the vessel.
1917
The International Women's Bowling Congress hosts its first meeting in St. Louis, MO.
1970
Garry Trudeau debuts his Doonesbury comic strip in 26 newspapers across the country.
1972
Inventor Edwin Land introduces the Polaroid SX 70 in a presentation at the Fontainebleau Hotel in Miami, FL. The camera is the first to easily produce instant images.
1977
Ali Maow Maalin is diagnosed with smallpox – the last known person in the world to be diagnosed with the disease. Smallpox is the only disease in history to be eradicated. Maalin dedicated the rest of his life to eradicating another disease – polio – a goal the world is close to achieving.
1984
Starring Arnold Swartzeneger and directed by James Cameron, The Terminator is released in the United States. The apocalyptic film where machines take over the world created a 5-film franchise.
October 26th Celebrated Birthdays
C.W. Post – 1854
The American industrialist was a pioneering force behind the production of cereals and other prepared foods. In 1895, he produced his first cereal beverage called Postum. The warm beverage is still made today in a variety of flavors.
Abby Aldrich Rockefeller – 1874
Against her husband's objections, the philanthropist joined with her friends Lilli P. Bliss and Mary Quinn Sullivan to establish the Museum of Modern Art (MoMA). Today the museum's growing collection of almost 200,000 pieces include Vincent van Gogh's "The Starry Night," "Self-Portrait with Cropped Hair" by Frida Kahlo, "Boy Leading a Horse" by Pablo Picasso, and "Reflections of Clouds on the Water-Lily Pond" by Claude Monet.
Henrietta Hill Swope -1902
As an astronomer, Swope dedicated her career to studying variable stars. The Swope Telescope at the Las Campanas Observatory in Chile is named in her honor.
Mahalia Jackson – 1911
Considered the Queen of Gospel, Jackson rose to fame in the 1940s when she recorded the highest-selling gospel single of all time – "Move On Up a Little Higher."
Edward W. Brooke – 1919
In 1967, Edward W. Brooke III became the first African American elected to the U.S. Senate since Blanch K. Bruce left office in 1881.
Lee Surkowskie – 1925
The Canadian outfielder played five seasons with the All American Girls Professional Baseball League.
Hillary Clinton – 1947
The 44th First Lady of the United States also served as a Senator from New York and the U.S. Secretary of State under the Obama administration.
Keith Urban – 1967
The award-winning singer-songwriter also served as a celebrity judge/coach on the singing competition shows The Voice and American Idol.
Seth MacFarlane – 1973
The animator, producer, and actor is best known for creating the animated television series Family Guy and co-creating American Dad.
About National Day Calendar
National Day Calendar is the original and authoritative source for fun, unusual and unique National Days! Since our humble beginnings on National Popcorn Day in 2013, we have been tracking the National Days, National Weeks, National Months, and International Days. We became the first calendar of its kind to curate the days all in one place and tell their stories, too! Here at National Day Calendar, we are on a mission to Celebrate Every Day with you! And by you, we mean families, businesses, educators, and strangers we meet on the street. There's more than one day for everyone.
At National Day Calendar, we discovered the National Days have a way of inspiring us. We're honored to tell the stories behind the days and provide you with informational ways to incorporate the National Days into your business, family, schools, and home!