Looking Back
October 25, 2022 - NATIONAL MERRI MUSIC DAY - SOUREST DAY – NATIONAL GREASY FOODS DAY – CHUCKY, THE NOTORIOUS KILLER DOLL DAY
OCTOBER 25, 2022 | NATIONAL MERRI MUSIC DAY | SOUREST DAY | NATIONAL GREASY FOODS DAY | CHUCKY, THE NOTORIOUS KILLER DOLL DAY
NATIONAL MERRI MUSIC DAY | October 25
October 25 celebrates National Merri Music Day to honor an innovative sound system and a music concept that began post-World War II in Jamaica. Read more…
SOUREST DAY | OCTOBER 25
Sourest Day follows on the heels of Sweetest Day. This sourest day of the year is observed annually on October 25th. Read more…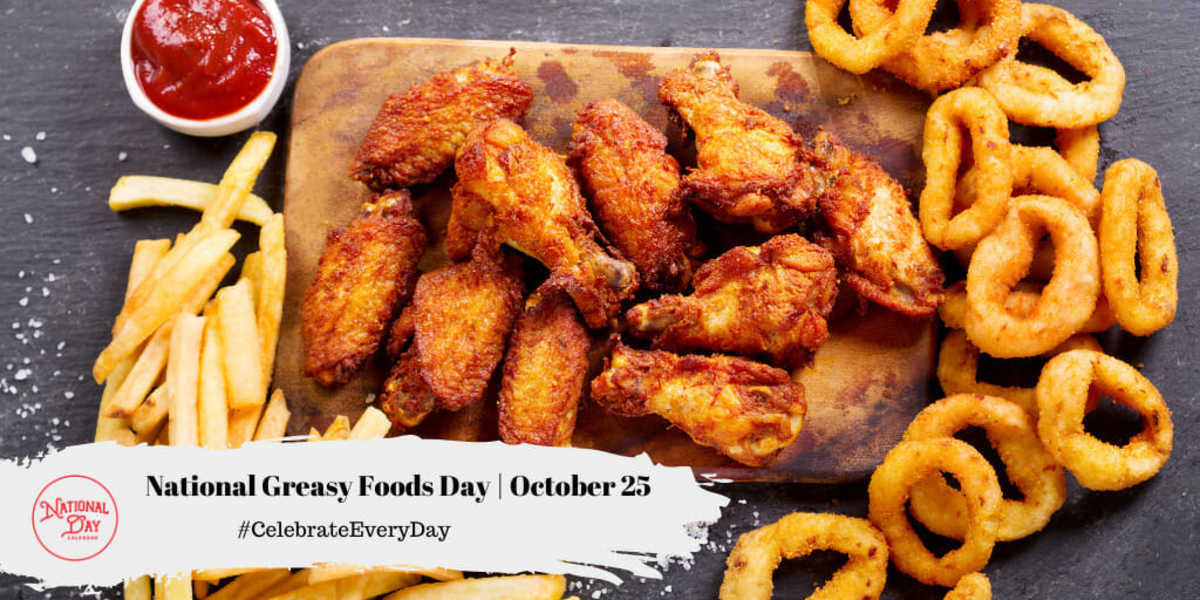 NATIONAL GREASY FOODS DAY | OCTOBER 25
Those watching the scale beware. Augment the diet for National Greasy Foods Day on October 25th. Read more…
CHUCKY, THE NOTORIOUS KILLER DOLL DAY
Chucky, the Notorious Killer Doll Day is observed annually on October 25th. Read more…
On Deck for October 26, 2022
National Days
Recipe of the Day
Easy Fried Fish Filets
Prep: 20 minutes
Cook: 6 – 8 minutes
Serves 3-4
Ingredients:
2 small eggs
1/4 cup milk
1/3 cup cornmeal
1/2 cup crushed crackers
6 – 8. fish filets
1/4 cup oil
Pinch to a teaspoon of salt, garlic, and pepper.
Instructions:
Rinse and paper towel dry filets.
Combine cornmeal, cracker, and seasonings with milk and eggs, and mix thoroughly.
While oil heats in the frying pan add filets one at a time to batter mix covering both sides.
Fry in hot oil for 6 – 8 minutes or until golden brown.
Serve with your choice of side dishes.
October 25th Celebrated History
1854
During the Crimean War, Allied troops met the Imperial Russian Army in the Battle of Balaclava. Alfred, Lord Tennyson would immortalize the 600 plus troops who fought in the failed battle in his poem The Charge of the Light Brigade.
1939
DuPont sold the first nylon stockings to its employees in Wilmington, DE before they were sold to consumers.
1940
Davis entered the military in 1898. During his career, he became the first African-American to earn the rank of Brigadier General.
1955
For the first time, home cooks could prepare a meal in a microwave oven designed for home use. At a cost of $1,295, Tappan brought the domestic microwave oven to the market.
2008
At the Rig Technical University of Latvia, 2,208 dancers set a record for the longest contra line.
October 25th Celebrated Birthdays
Helen Blanchard – 1840
The prolific inventor achieved her greatest success with the invention of a zig-zag machine.
Pablo Picasso – 1881
The artist exerted an immense influence on 20th-century art. In a variety of media, Picasso produced more than 20,000 pieces.
Bobby Knight – 1940
The notorious basketball coach started his coaching career in 1964 at West Point. He ultimately coached for Indiana University bringing home 11 Big Ten Conference titles and 3 NCAA championships as well as coaching the 1984 Olympic basketball team to gold. Knight wrapped up his coaching career with Texas Tech University and retired in 2008.
Speech – 1968
Born Todd Thomas, the rapper is a member of the hip-hop group Arrested Development.
Katy Perry – 1984
The award-winning singer-songwriter rose to prominence with hits like "I Kissed a Girl" and "Dark Horse." In 2017, she joined judges Luke Bryan and Lionel Richie in the re-launch of the singing competition show American Idol.
About National Day Calendar
National Day Calendar is the original and authoritative source for fun, unusual and unique National Days! Since our humble beginnings on National Popcorn Day in 2013, we have been tracking the National Days, National Weeks, National Months, and International Days. We became the first calendar of its kind to curate the days all in one place and tell their stories, too! Here at National Day Calendar, we are on a mission to Celebrate Every Day with you! And by you, we mean families, businesses, educators, and strangers we meet on the street. There's more than one day for everyone.
At National Day Calendar, we discovered the National Days have a way of inspiring us. We're honored to tell the stories behind the days and provide you with informational ways to incorporate the National Days into your business, family, schools, and home!