Looking Back
October 24, 2021 - NATIONAL FOOD DAY – UNITED NATIONS DAY – NATIONAL MOTHER-IN-LAW DAY – NATIONAL BOLOGNA DAY
OCTOBER 24, 2021 | NATIONAL FOOD DAY | UNITED NATIONS DAY | NATIONAL MOTHER-IN-LAW DAY | NATIONAL BOLOGNA DAY
NATIONAL FOOD DAY
National Food Day focuses on healthy and nutritious food and takes place annually on October 24th.
One of the themes of the day aims to help people to "Eat Real." This theme is defined as "cutting back on sugar drinks, overly salted packaged foods and fatty, factory-farmed meats in favor of vegetables, fruits, whole grains and sustainably raised protein." The observance involves some of the country's most prominent food activists, too. Their vision includes food that can be healthy, affordable, and produced. At the same time, the goal is to produce food with care for the environment, farm animals, and the people who grow, harvest, and serve it in mind.
The movement seeks a balance between nutrition, affordability and the environment. They strive to meet these goals by consistently addressing policy. In 2012, there were 3,200 events taking place from community festivals to a national conference in Washington, D.C. to thousands of school activities.
HOW TO OBSERVE #NationalFood Day
Attend an event near you. Learn about healthful eating and sustainable farming. Other ways to celebrate include:
Reading some food labels. Learn where the food you eat every day comes from, what's in it, and more.

Challenge yourself to try a food you've never eaten before.

Plant herbs to use in your kitchen.

Start a compost pile to use in your garden.

Discover a healthier way to cook your favorite foods.
Enjoy some of your favorite healthy foods and use #NationalFoodDay to post on social media.
NATIONAL FOOD DAY HISTORY
The Center for Science in the Public Interest (CSPI) initiated National Food Day 2011. The nationwide celebration of healthy, affordable, and sustainably produced food is a grassroots campaign for better food policies. This project builds throughout the year and culminates on October 24th of each year.
UNITED NATIONS DAY
United Nations Day recognizes the founding of the United Nations (UN) in 1945. The celebration is observed annually on October 24th.
U.N. Day has traditionally been marked throughout the world by meetings, discussions, and exhibits about the achievements and goals of the organization.
The United Nations works for the entire human family of seven billion people and cares for the Earth, our one and only home. ~ Secretary-General Ban Ki-moon
Today the United Nations consists of 193 member states and 2 observer states. The mission of the United Nation is to maintain international peace and security.
The UN also sets terms for protecting human rights around the world. In 1948, they created international law with a Universal Declaration of Human Rights.
The member nations deliver humanitarian aid to populations in crisis. The first aid delivered was an immediate response to the devastation following World War II.
Another aim of the international organization is to promote sustainable development.
Some major achievements of the UN include:
The UN peacekeeping budget is less than 0.5% of global military spending
Their World Food Programme (WFP) provides food and assistance to 91 million people in 83 countries
They also supply vaccines to 45% of the world's children
The UN helps people who displaced by violence, conflict, and persecution
HOW TO OBSERVE #UNITED NATIONS DAY
Throughout the day, the United Nations Educational, Scientific and Cultural Organization (UNESCO) in Paris hosts conferences and meetings. They also display exhibits of UN achievements. On United Nations Day, schools throughout the world celebrate the diversity of their student bodies. These schools also hold cultural performances and food fairs.
A UN Day concert is held each year to commemorate the day. The concert is held at the General Assembly Hall at the United Nations Headquarters in New York City. Performers at the concert have included the KBS Traditional Music Orchestra, Stevie Wonder, the Harlem Boys Gospel Choir, and the Qatar Philharmonic Orchestra.
To participate in United Nations Day, think about how diversity makes our lives better. Make it a goal to learn something about each of the 193 countries that make up the United Nations. Find out what all the flags of each country look like. If you know someone who is of a different nationality, ask them questions about their country of origin. To spread awareness, share #UnitedNationsDay on social media.
NATIONAL UNITED NATIONS DAY HISTORY
Franklin D. Roosevelt coined the name "United Nations" during World War II. Twenty-six nations united to pledge their governments to continue fighting against the Axis Powers. In 1945, delegates from 51 countries drew up the United Nations Charter in San Francisco, California. They signed the Charter on June 26th, 1945 and it was ratified on October 24th, 1945. United Nations Day originated in 1948.
NATIONAL MOTHER-IN-LAW DAY
National Mother-in-Law Day on the fourth Sunday in October honors that special woman who brought the love of your life into this world.
Like Mother's Day in May, this day celebrates the other mom in many people's lives. She makes room for her expanding family. While opening her arms wide, she babysits and gives advice. From swapping holidays to putting extra leaves in the table, the mother-in-law aims for her children to be whole and secure.
Sometimes, it takes years to develop a relationship with your mother-in-law. In other cases, an immediate bond is made. When their children are happy and healthy in their relationships, it makes their jobs as mothers-in-law easy. All they have to do is love their children.
The day honors all that mothers-in-law do to support their children's families. From the newest to the more mature relationships, each and every family member knows the mother-in-law is a vital part of the family.
HOW TO OBSERVE #MotherInLawDay
Whether you're close to your mother-in-law or not, celebrate her. Even the smallest gesture will make her day. Offer to take her to her favorite restaurant. Ask her what task needs doing around the house. Play her favorite card came with her. Better still, ask her to teach you to do something only she knows how to do – making that special recipe, editing a resume or speaking in public. Be sure to compliment her, too. Mothers-in-law will appreciate you thinking of them. Smile for family pictures! You know what makes her happy. Be sure to use #MotherInLawDay when posting on social media.
NATIONAL MOTHER-IN-LAW DAY HISTORY
Gene Howe, the editor of a local Amarillo newspaper, initiated this holiday in honor of mothers-in-law. Modeled after Mother's Day, the first observance was celebrated on March 5, 1934, in Amarillo, Texas.
Through the years, celebrants observed the day on various days. In later years, the Mother-in-Law Day Committee developed and selected honorees each year. Then in the 1970s, the American Society of Florists proclaimed the last Sunday in October to be National Mother-In-Law-Day. The date has been observed since.
NATIONAL BOLOGNA DAY
Each year on October 24th, people across the nation make a sandwich to participate in National Bologna Day. This would be a good day to have a bologna sandwich for lunch.
Sometimes this specialty meat is spelled baloney since that's how many people pronounce it. However, the more common spelling is Bologna. That's because it originated in the city of Bologna, Italy. This type of sausage is similar to the Italian mortadella. The finely ground pork or beef sausage or a combination is smoked and cured. In Italy, bologna includes a variety of spices not found in American bologna. In fact, in the United States, regulations require American bologna to be finely ground and without visible lard pieces. It hardly resembles anything found in Italy. It can also be made from chicken, turkey, venison, or soy protein.

Many people enjoy bologna sandwiches with a variety of garnishes. Some of those include mustard, ketchup, mayonnaise, cheese, lettuce, pickles, tomato, and onion.
Bologna Bowl – When a slice of bologna is heated, the fat renders and the round slice takes the shape of a bowl which may be filled with cheese or other fillings.
Makers offer a wide variety of bologna to choose from, too!
German Bologna

Kosher or halal bologna

Lebanon bologna

Lauantaimakkara

Rag bologna

South African polony

Vegetarian
HOW TO OBSERVE #NationalBolognaDay
Pick out your favorite bologna. Make a sandwich or two. Share with us your favorite toppings, too! Do you toast your bread? Before you take a bite, take a picture to share. Also, if you have a favorite deli serving bologna, give them a shout out!
Celebrate by trying something new and enjoy these bologna recipes:
Fried Bologna Casserole
Various Bologna Recipes
Fried Bologna, Egg on Challah Bread with an American Cheese Rarebit Sauce
Big Daddy's Prize-Winning Bologna Sandwich
Barbecued Bologna
Use #NationalBolognaDay to post on social media.
NATIONAL BOLOGNA DAY HISTORY
National Day Calendar® continues researching the origins of this tasty food holiday.
On Deck for October 25, 2021
National Days
International Days
October 24th Celebrated (And Not So Celebrated) History
1861
The first transcontinental telegraph line in the United States began operation. Only 17 months before, the Pony Express had been the fastest means of delivering a message on the frontier. With the telegraph now connecting the country from coast to coast, the iconic and short-lived era of the Pony Express came to an end.
1938
With the passage of the Fair Labor Standards Act, the 40-hour workweek went into effect in the United States.
1926
Harry Houdini took the stage for his final performance. However, neither he nor his audience at the Garrick Theatre in Detroit know that Houdini was falling ill. He died a few days later on October 31st from a ruptured appendix.
1992
Winning the World Series in 6 games, the Toronto Blue Jays become the first team outside the United States to win the championship. They defeated the Oakland A's 4 games to 2.
Recipe of the Day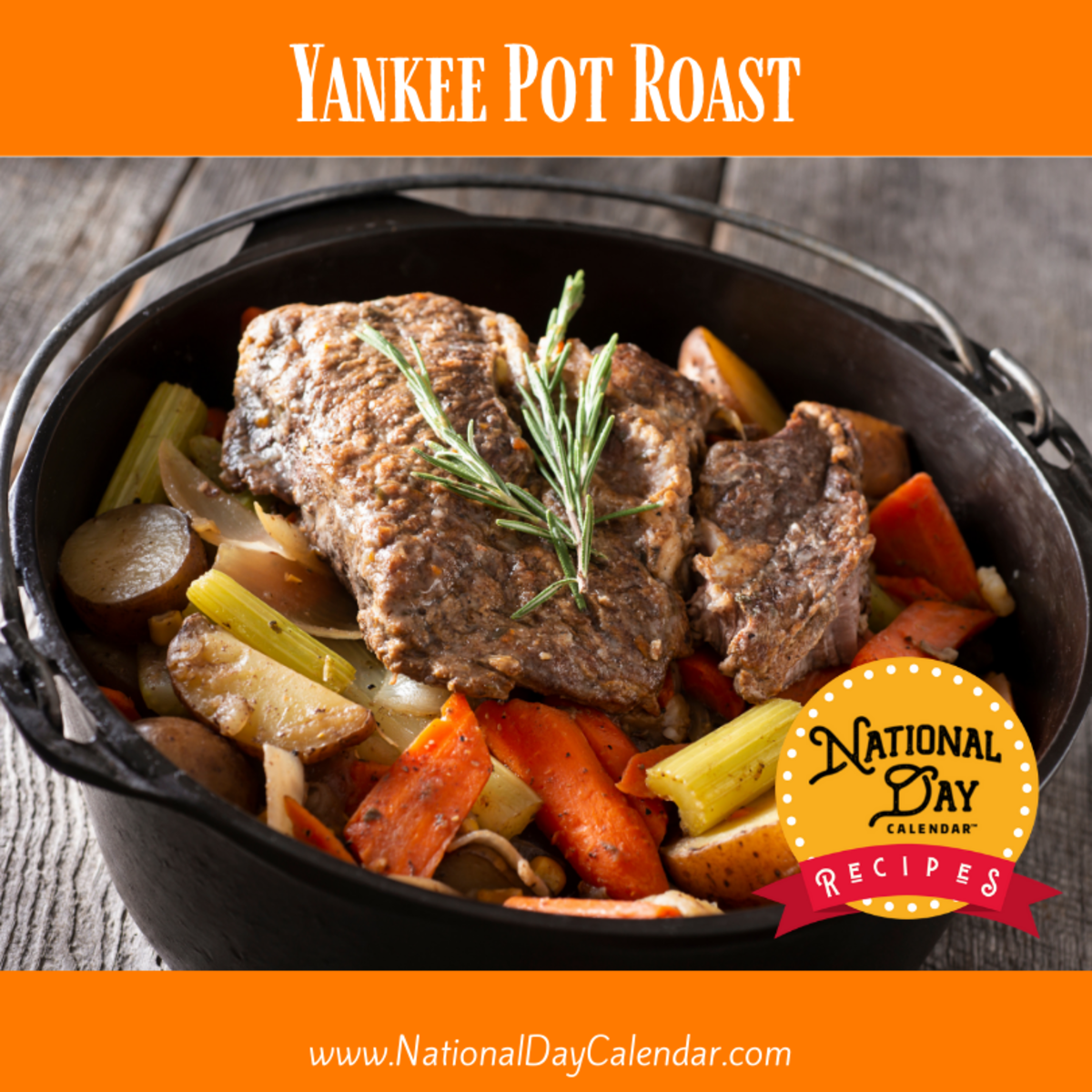 Yankee Pot Roast
Prep: 20 minutes
Cook: 2 hours 40 minutes
Total: 3 hours
Serves 8
Ingredients
1 4-lb pot roast
1 table vegetable oil
2 large yellow onions, diced
2 cups sliced carrots
2 cups sliced celery
2 14.5-ounce cans stewed tomatoes
1 3/4 cup beef broth
1/2 teaspoon thyme
1/2 teaspoon rosemary
1/4 teaspoon pepper
4 medium russet potatoes, cubed
Instructions
In a large Dutch oven, brown the pot roast in vegetable oil on all sides over medium-high heat. Remove roast and add onion, carrots, celery, stewed tomatoes, broth, thyme, rosemary, and pepper. Bring to a simmer. Return roast to the pot, cover, and simmer for 2 hours. Add potatoes and cook for an additional 40 minutes.
October 24th Celebrated (And Not So Celebrated) Birthdays
Belva Ann Bennett Lockwood – 1830
As an attorney, Lockwood lobbied for equal rights for women including suffrage, property, guardianship, and pay. In 1874, Lockwood drafted a bill that would allow her to be admitted to the Supreme Court bar. It took five years to pass both the House and Senate and on February 15, 1879, President Rutherford B. Hayes signed the bill into law. In March, Lockwood became the first woman admitted to the Supreme Court bar. The following year, she became the first woman to argue a case before the Supreme Court.
Marjorie Joyner – 1896
The cosmetologist was a woman of many firsts. She was the first African American to graduate from the A.B. Molar Beauty School. As a teacher for Madam C.J. Walker, she invented and patented the first permanent-wave machine. Seeing the need for students and educators to network, Joyner founded the Alpha Chi Pi Omega Sorority and Fraternity for beauty students and United Beauty School Owners and Teachers Association.
Melvin Purvis – 1903
Working for the Justice Department under J. Edgar Hoover, Purvis was charged with capturing the gangster and bank robber, John Dillinger. After several near misses, on July 22, 1934, Purvis and his agents received a tip that led them to Dillinger. Outside the Biograph Theater, a shootout between Dillinger and Purvis's agents resulted in the gangster's death.
Nathaniel Wyeth – 1911
The mechanical engineer's development of a type of polyethylene terephthalate made it possible to bottle carbonated beverages in plastic containers.
Bob Kane – 1915
The comic book writer created, along with Milton Finger, the DC Comics character Batman.
Marie Foster – 1917
The Civil Rights activist helped thousands of African-Americans to register to vote and overcome voter suppression.
About National Day Calendar
National Day Calendar® is the authoritative source for fun, unusual and unique National Days! Since our humble beginnings on National Popcorn Day in 2013, we now track nearly 1,500 National Days, National Weeks and National Months. In addition, our research team continues to uncover the origins of existing National Days as well as discover new, exciting days for everyone to celebrate.

There's a celebration for everyone. While National Road Trip Day satisfies the itch to wander, many pet days let us share our love of animals. National 3-D Day and National Astronaut Day honor the advancement of technology, too. Every food day you can imagine (National Avocado Day, for example), will keep you celebrating, also!
Be sure to stay in the know by signing up for our e-mail updates. Also, follow us on Facebook, Twitter, and Instagram.
Our Ambassador Program is another way #CelebrateEveryDay®! Whether you become an ambassador or follow one of the savvy ambassadors, their fun videos and posts will keep you prepared for every holiday.