Looking Back
October 22, 2022 - NATIONAL MAKE A DOG'S DAY – NATIONAL NUT DAY – NATIONAL COLOR DAY – NATIONAL MAKE A DIFFERENCE DAY
OCTOBER 22, 2022 | NATIONAL MAKE A DOG'S DAY | NATIONAL NUT DAY | NATIONAL COLOR DAY | NATIONAL MAKE A DIFFERENCE DAY
NATIONAL MAKE A DOG'S DAY | October 22
National Make A Dog's Day on October 22 is a Subaru holiday that invites dog-lovers everywhere to go the extra mile for their pup. Read more…
NATIONAL NUT DAY
National Nut Day is observed annually on October 22nd. This day is NOT about the neighbor that lives down the street or the co-worker who sings with their headphones on. It is a food holiday celebrating a healthy and nutritious snack. Read more…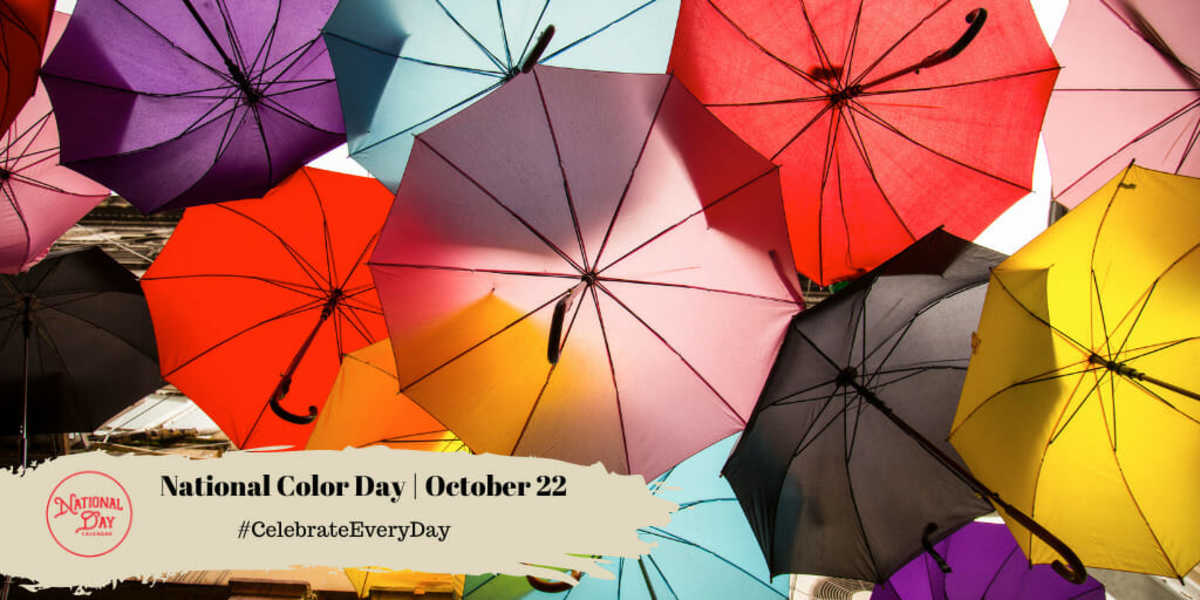 N

ATIONAL COLOR DAY
National Color Day focuses on the impact color has on each of us. The observance takes place each year on October 22nd. Color is powerful. It can affect a mood, draw attention, and even cause alarm. Read more…
NATIONAL MAKE A DIFFERENCE DAY
National Make A Difference Day brings community service to a whole new level each year. Organizations join forces on the fourth Saturday in October to make a difference, big or small. Read more…
On Deck for October 23, 2022
National Days
International Days
Recipe of the Day
Name: Old Fashioned Date Nut Bread
Prep: 30 minutes
Cook: 50 minutes
Total Prep: 1 hour 20 minutes
Servings: 1 loaf
Ingredients:
3/4 cup chopped dates
1/2 cup chopped walnuts
1/2 teaspoon baking soda
1/4 teaspoon salt
3 tablespoons shortening
3/4 cup boiling water
2 eggs, beaten
1 cup sugar
1 1/2 cup flour
Instructions:
Mix dates, nuts, soda, and salt in a medium bowl. Add shortening and boiling water. Stir until shortening melts. Let stand 20 minutes. Add eggs and vanilla. Mix well. Add sugar and flour gradually. Stir until well incorporated.
Bake in a 350°F oven for 50 minutes or until a toothpick inserted into the center comes out clean.
Cool for 10 minutes before removing to a wire rack to cool completely.
Let stand, wrapped for 24 hours or longer before slicing.
October 22 Celebrated History
1907
Barnum and Bailey Circus sold to Ringling Bros. for a reported $410,000. With the purchase, Ringling Bros. becomes not only the "Greatest Show on Earth" but also the largest.
1938
Using photoconductive materials, Chester Carlson invents the xerographic process. His process was used to develop the Xerox copier.
1966
The Supreme's album Supremes A' Go-Go hits #1 making them the first all-female music group to attain #1 status.
1981
The USDA approves table use of artificial sweetener aspartame.
October 22 Celebrated Birthdays
Sarah Bernhardt – 1844
Born Henriette-Rosine Bernard, the French actress attained fame in the late 1860s after years of struggle. By 1880, she achieved an international reputation for her starring roles with a traveling company.
Ettore Hector Boiardi – 1897
The Italian chef is the man behind the Chef Boyardee product line.
Karl Jansky – 1905
Early in the days of the telephone, radio interference caused issues with communications. When engineer, Karl Jansky joined the Bell Telephone Laboratories in 1928, he was charged with identifying the source of the interference. Four years later, Jansky reported that the source of the radio interference came from the center of the Milky Way Galaxy.
Jeff Goldblum – 1952
From Igby Goes Down and The Fly to Jurassic Park and Independence Day, actor Jeff Goldblum has earned critical and financial success in the roles he's played.
Toby Mac – 1964
Born Toby Mckeehan, the award-winning gospel artist is also a producer and writer.
About National Day Calendar
National Day Calendar is the original and authoritative source for fun, unusual and unique National Days! Since our humble beginnings on National Popcorn Day in 2013, we have been tracking the National Days, National Weeks, National Months, and International Days. We became the first calendar of its kind to curate the days all in one place and tell their stories, too! Here at National Day Calendar, we are on a mission to Celebrate Every Day with you! And by you, we mean families, businesses, educators, and strangers we meet on the street. There's more than one day for everyone.
At National Day Calendar, we discovered the National Days have a way of inspiring us. We're honored to tell the stories behind the days and provide you with informational ways to incorporate the National Days into your business, family, schools, and home!