Looking Back
October 20, 2022 - NATIONAL CHICKEN AND WAFFLES DAY – GET TO KNOW YOUR CUSTOMERS DAY – NATIONAL YOUTH CONFIDENCE DAY – NATIONAL GET SMART ABOUT CREDIT DAY – NATIONAL BRANDIED FRUIT DAY
OCTOBER 20, 2022 | NATIONAL CHICKEN AND WAFFLES DAY | GET TO KNOW YOUR CUSTOMERS DAY | NATIONAL YOUTH CONFIDENCE DAY | NATIONAL GET SMART ABOUT CREDIT DAY | NATIONAL BRANDIED FRUIT DAY
NATIONAL CHICKEN AND WAFFLES DAY
Savory and sweet collide for a soulful celebration of flavor on October 20th as we celebrate National Chicken and Waffles Day. Imagine a world where ingredients of every spice and spirit find their way into the honeycombs of thick and crispy waffles. Well, that day has arrived. Read more…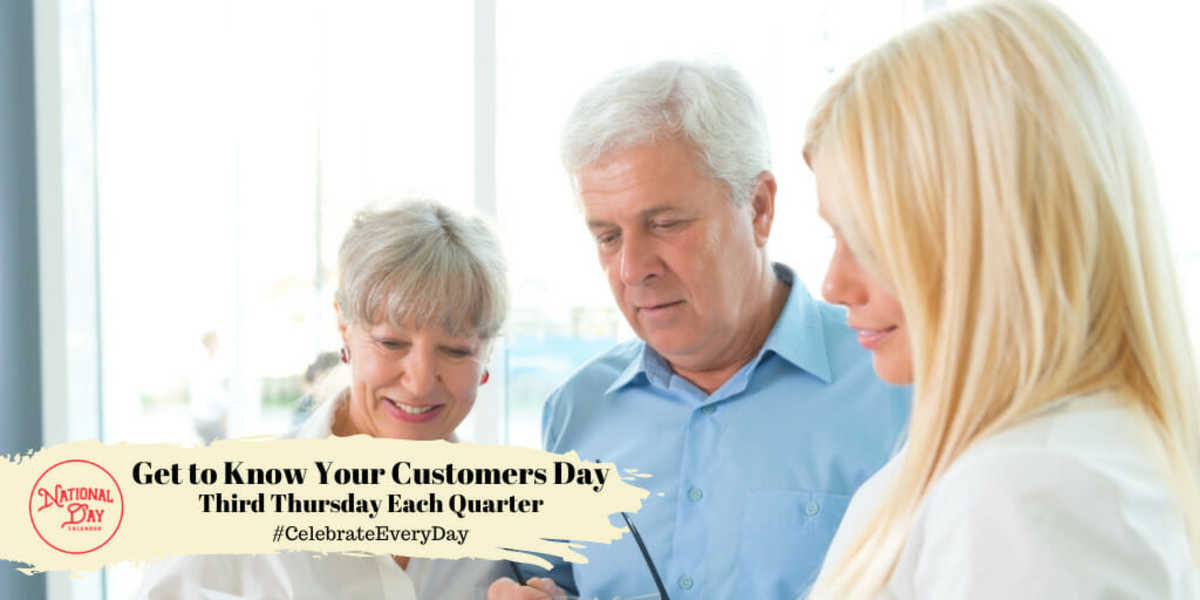 GET TO KNOW YOUR CUSTOMERS DAY
Get to Know Your Customers Day reminds businesses to reach out to patrons and get to know them better. The day is observed annually on the third Thursday of each quarter (January, April, July, October). Read more…
NATIONAL YOUTH CONFIDENCE DAY
Building a framework of positive role models is vital to developing responsible, confident young adults. Incidentally, National Youth Confidence Day, on October 20, encourages us to connect and inspire today's youth for tomorrow's success. Read more…
NATIONAL GET SMART ABOUT CREDIT DAY
National Get Smart About Credit Day on the third Thursday in October annually promotes learning about good credit. It is a national campaign where volunteer bankers help counsel young people on responsible credit habits. Read more…
NATIONAL BRANDIED FRUIT DAY
On October 20th each year, we celebrate the delicious food holiday known as National Brandied Fruit Day! Read more…
On Deck for October 21, 2022
National Days
International Days
Recipe of the Day
Crispy Fried Chicken
Prep: 30 minutes
Cook: 20 minutes
Total Prep: 50 minutes
Servings: 6
Crispy Fried Chicken makes for perfect picnicking. It's all delicious any time of the year! Serve macaroni and cheese, watermelon, or your favorite side dishes!
Ingredients:
3 cups all-purpose flour
1 1/2 tablespoons garlic salt
1 tablespoon black pepper
1 tablespoon paprika
1/2 teaspoon poultry seasoning
1 1/3 cups all-purpose flour
1 teaspoon salt
1/4 teaspoon black pepper
2 egg yolks, beaten
1 1/2 cups beer or water
1-quart vegetable oil for frying
1 three pounds whole chicken, cut up
Instructions:
In a medium bowl, mix 3 cups flour, garlic salt, 1 tablespoon pepper, paprika, and poultry seasoning.
Using a separate bowl, mix 1 1/3 cups flour, salt, 1/4 teaspoon pepper, yolks, and beer or water. Thin the batter with additional beer if it is too thick.
Heat oil in a deep-fryer to 350 degrees.
Dampen chicken with water, then coat with the dry mix. Tap off the excess and dip into the batter. Coat with dry ingredients once more.
Place chicken gently into the hot oil.
Fry 15-20 minutes, or until golden brown. Cooking time will vary depending on the size of the pieces. Remove fried chicken from the oil to drain on paper towels.
October 20th Celebrated History
1811
The steamboat named New Orleans is launched. It is the first steamboat to travel the Mississippi River.
1917
In January, Alice Paul joins thousands of other women marching for women's right to vote. Charged and convicted of obstructing traffic, Paul began a seven-month jail sentence on October 20th. However, she continued her protest for women's suffrage by going on a hunger strike.
1924
The Kansas City Monarchs triumphed over the Hilldale Athletic Club in the first Negro League World Series. Nearly 50 thousand fans attended the nine-game-series, watching future Hall-of-Famers such as Judy Johnson and Bullet Rogan.
1927
Ford produces the first Model A. The new model came in four colors and replaced the Model T.
1955
Harry Belafonte records the "Banana Boat Song" written by Irving Burgie and William Attaway. Belefonte featured the song on his Calypso album.
1984
The Monterey Bay Aquarium in California opens. At the time, it was the largest aquarium in the United States. Today, the aquarium hosts numerous exhibits and teaches visitors about the importance of conservation.
1987
Geffen records release its first album. Donna Summer's The Wanderer hit number 13 on the Billboard 200 and was a certified gold hit.
1992
Major League Baseball plays the first World Series game outside the United States. The Toronto Blue Jays beat Atlanta 3-2.
October 20th Celebrated Birthdays
Bela Lugosi – 1882
A native of Hungary, Lugosi is one of the best-remembered actors to ever play Count Dracula in film.
Enolia McMillan – 1904
The civil rights activist was the first woman president of the (National Association for the Advancement of Colored People) NAACP.
Joyce Brothers – 1927
Often called America's favorite shrink, the psychologist hosted a television talk show and wrote a syndicated advice column.
Mickey Mantle – 1931
The Hall of Famer played 18 seasons with the New York Yankees. The savvy hitter also played outfield.
Tom Petty – 1950
The award-winning singer-songwriter led Tom Petty and the Heartbreakers and joined the Traveling Wilburys before launching into a solo career.
Julie Payette – 1963
In 2017, the former astronaut was elected to the office of Governor-General of Canada.
Snoop Dogg – 1971
Born Calvin Broadus, the talented rapper and actor has won numerous awards for his music. However, to date, he has not won a Grammy despite being nominated 16 times. In 2018, he earned a star on the Hollywood Walk of Fame.
About National Day Calendar
National Day Calendar is the original and authoritative source for fun, unusual and unique National Days! Since our humble beginnings on National Popcorn Day in 2013, we have been tracking the National Days, National Weeks, National Months, and International Days. We became the first calendar of its kind to curate the days all in one place and tell their stories, too! Here at National Day Calendar, we are on a mission to Celebrate Every Day with you! And by you, we mean families, businesses, educators, and strangers we meet on the street. There's more than one day for everyone.
At National Day Calendar, we discovered the National Days have a way of inspiring us. We're honored to tell the stories behind the days and provide you with informational ways to incorporate the National Days into your business, family, schools, and home!