Looking Back
October 15, 2022 - NATIONAL WHOLE HOG BARBECUE DAY - NATIONAL SWEETEST DAY – NATIONAL SHAWARMA DAY – NATIONAL PREGNANCY AND INFANT LOSS REMEMBRANCE DAY – NATIONAL I LOVE LUCY DAY – NATIONAL GROUCH DAY – NATIONAL AESTHETICIAN DAY – NATIONAL CHEESE CURD DAY – WHITE CANE SAFETY DAY – NATIONAL LATINO AIDS AWARENESS DAY
OCTOBER 15, 2022 | NATIONAL WHOLE HOG BARBECUE DAY | NATIONAL SWEETEST DAY | NATIONAL SHAWARMA DAY | NATIONAL PREGNANCY AND INFANT LOSS REMEMBRANCE DAY | NATIONAL I LOVE LUCY DAY | NATIONAL GROUCH DAY | NATIONAL AESTHETICIAN DAY | NATIONAL CHEESE CURD DAY | WHITE CANE SAFETY DAY | NATIONAL LATINO AIDS AWARENESS DAY
NATIONAL WHOLE HOG BARBECUE DAY | Third Saturday in October
The third Saturday in October is National Whole Hog Barbecue Day and we invite you to indulge in one of the South's most revered traditions. Read more…
NATIONAL SWEETEST DAY | THIRD SATURDAY IN OCTOBER
National Sweetest Day is observed on the third Saturday in October by people of all ages. Read more…
NATIONAL SHAWARMA DAY | OCTOBER 15
National Shawarma Day on October 15th celebrates the Middle Eastern rotisserie method of cooking meats such as lamb, chicken, and beef and the dishes it makes. Not only does shawarma bring a mouth-watering flavor, but it also can be enjoyed in a variety of ways. Read more…
NATIONAL PREGNANCY AND INFANT LOSS REMEMBRANCE DAY
National Pregnancy and Infant Loss Remembrance Day on October 15th offers a day of remembrance to parents, family, and friends for pregnancy loss and infant death. Read more…
NATIONAL I LOVE LUCY DAY | OCTOBER 15
On October 15th, National I Love Lucy Day celebrates one of television's all-time greatest shows; I Love Lucy. Read more…
NATIONAL GROUCH DAY | OCTOBER 15
National Grouch Day on October 15th sends out notices to all the grouches of the world to be their truest grouch. If you are a grouch, today is your special day. According to Sesame Street Magazine, the day celebrates all grouches and their way of life. Read more…
NATIONAL AESTHETICIAN DAY | OCTOBER 15
On October 15th, we shine the spotlight on the skincare professionals who keep us looking our best. It's National Aesthetician Day! Read more…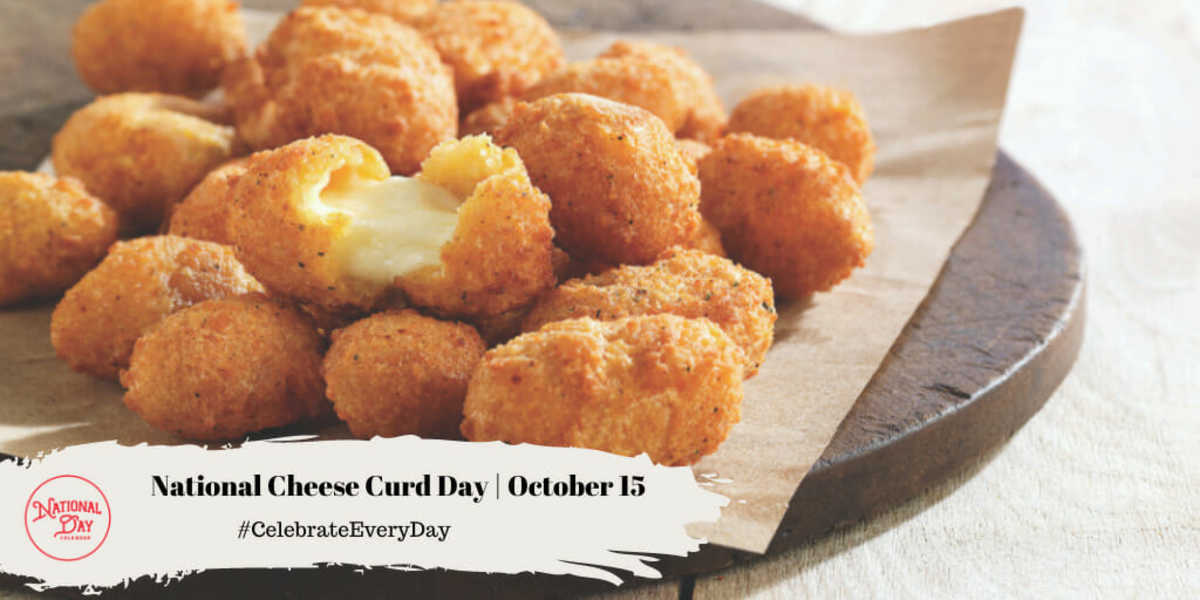 NATIONAL CHEESE CURD DAY | OCTOBER 15
On October 15th, National Cheese Curd Day celebrates the velvety goodness of cheese curds. Read more…
WHITE CANE SAFETY DAY | OCTOBER 15
National White Cane Safety Day on October 15th annually celebrates the achievements of people who are blind or visually impaired. The day marks the importance of recognizing the white cane. The white cane is not only a tool. It also represents the independence of those who are blind worldwide. Read more…
NATIONAL LATINO AIDS AWARENESS DAY | OCTOBER 15
National Latino AIDS Awareness Day on October 15th encourages prevention, testing, and open dialogue concerning HIV and AIDS. Read more…
On Deck for October 16, 2022
National Days
International Days
Recipe of the Day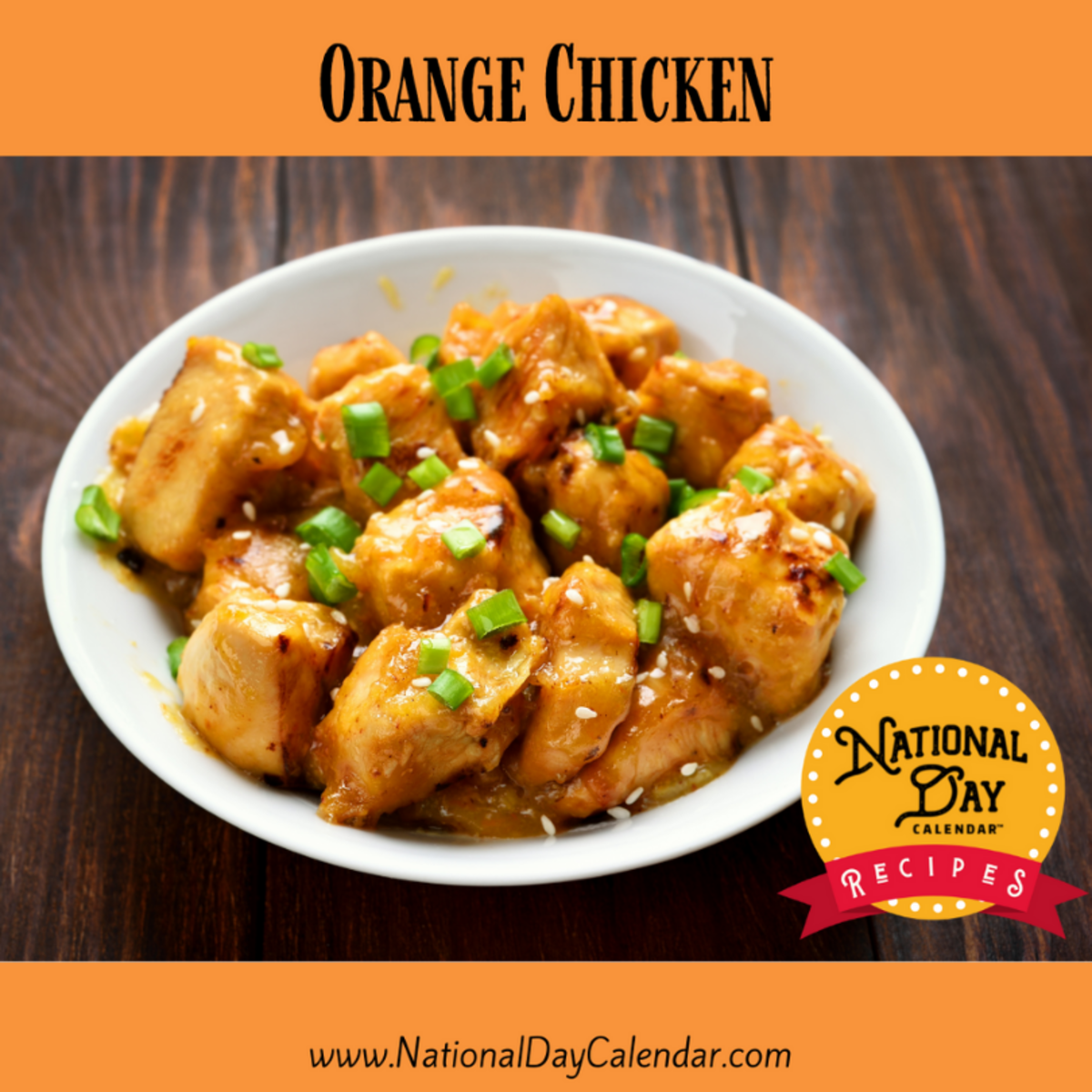 Orange Chicken
Prep time: 15 minutes
Cook time: 20 minutes
Total: 35 minutes
Serves: 4
Ingredients
2 pounds boneless chicken breasts, cut into bite-sized pieces
salt
Vegetable oil
Orange sauce
1 1/2 tablespoon corn starch
1/4 cup cold water
1/3 cup orange juice
3 tablespoons soy sauce
1/4 teaspoon red pepper flakes
2 tablespoons brown sugar
2 garlic cloves, minced
1 tablespoon rice wine vinegar
1 tablespoon orange zest
1 green onion, diced
1 tablespoon toasted sesame seeds
Instructions
Heat oven to 375°F. Pat chicken breasts dry with a paper towel and place them on a baking sheet. Drizzle with olive oil and season both sides with salt. Bake chicken for 20 minutes or until cooked.
In a small bowl, mix cornstarch with cold water. Over medium heat, bring the starch mixture to a simmer in a small saucepan. Add orange juice, soy sauce, brown sugar, garlic, rice wine vinegar. Simmer until thickened, about 3-4 minutes.
Mix in orange zest. Pour sauce over baked chicken and toss to coat. Serve over white rice. Garnish with onion and sesame seeds.
October 15th Celebrated History
1860
Looking out for candidate Abraham Lincoln, eleven-year-old Grace Bedell wrote to him and encouraged him to grow out his whiskers. She wrote: "I have got 4 brother's and part of them will vote for you any way and if you will let your whiskers grow I will try and get the rest of them to vote for you you would look a great deal better for your face is so thin. All the ladies like whiskers and they would tease their husband's to vote for you and then you would be President." [Sic] Not only did the candidate grow a beard, but he also responded to the insightful supporter.
1895
Henry D. Perky receives a patent for a method of preparing bread that describes how to make Shredded Wheat. Patent No. 548,086 describes the use of rollers and presses to bake a biscuit that maintains the bran and berry of wheat without over-processing.
1928
The Graf Zeppelin completes the first commercial passenger flight by an airship when it lands at Lakehurst, New Jersey, United States. Four days prior, the ship departed Friedrichshafen, Germany.
1937
French chef Marcel Boulestin debuts the television show Dish of the Month. He's the first regularly broadcast television chef in history. In the first episode, Boulestin demonstrates how to make a kebab.
1940
Charlie Chaplin releases the film The Great Dictator starring himself.
1951
The television sitcom I Love Lucy premieres starring Lucille Ball and Dezi Arnez.
1952
Children's author E.B. White publishes Charlotte's Web about a relationship between a spider and a pig.
1967
Located on Mamayev Kurgan in Volgograd, Russia, the statue is part of the monument called "Heroes of the Battle of Stalingrad." It's the world's tallest statue of a woman, towering 279 feet from sword tip to base. Sculpted by Yevgeny Vuchetich, the statue overlooks the memorial complex commemorating one of the bloodiest battles in history.
October 15th Celebrated Birthdays
Isabella Bird – 1831
The world traveler was the first woman elected Fellow of the Royal Geographical Society. She helped establish two hospitals; the Henrietta Bird Hospital in Amristar and the John Bishop Memorial Hospital in Srinigar.
Marion Donovan – 1917
Following her invention of a waterproof diaper cover, Donovan developed the first disposable diaper.
Mario Puzo – 1920
The author and screenwriter is best known for the novel and film The Godfather.
Lee Iacocca – 1924
Following a 32-year career with Ford Motor Company, Iacocca joined the Chrysler Corporation. His notable accomplishments include bringing the iconic sports car, the Mustang, to market for Ford and bringing Chrysler to profitability.
Jeannette Charles – 1927
Since 1974, Charles has portrayed Queen Elizabeth II in films and television.
Penny Marshall – 1943

The actress, director and producer rose to fame in the role of Laverne DeFazio in the television sitcom Laverne and Shirley. Some of her best-known films included A League of Their Own, Renaissance Man and Riding in Cars with Boys.
About National Day Calendar
National Day Calendar is the original and authoritative source for fun, unusual and unique National Days! Since our humble beginnings on National Popcorn Day in 2013, we have been tracking the National Days, National Weeks, National Months, and International Days. We became the first calendar of its kind to curate the days all in one place and tell their stories, too! Here at National Day Calendar, we are on a mission to Celebrate Every Day with you! And by you, we mean families, businesses, educators, and strangers we meet on the street. There's more than one day for everyone.
At National Day Calendar, we discovered the National Days have a way of inspiring us. We're honored to tell the stories behind the days and provide you with informational ways to incorporate the National Days into your business, family, schools, and home!