Looking Back
October 14, 2021 - NATIONAL DESSERT DAY – BE BALD AND BE FREE DAY
OCTOBER 14, 2021 | NATIONAL DESSERT DAY | BE BALD AND BE FREE DAY
NATIONAL DESSERT DAY
People around the country indulge every October 14th on National Dessert Day! Celebrated by way of the local bakery, grandma's house or chocolate shop, desserts include candies, pies, ice cream, fruits, cookies, pastries, cobblers, and donuts, too.
The available ingredients affect the range of desserts made in each region. The very first desserts required minimal effort or preparation since ancient cultures were more focused on the nutrition in foods to survive. Over the years, desserts have changed from natural candies and nuts to complex soufflés and multi-layered cakes. In modern culture, there are many more options available in desserts.
Seize the moment. Remember all those women on the Titanic who waved off the dessert cart. ~ Erma Bombeck
Throughout the year, we see seasonal delights. As we near the holiday season, the flavors change. For some, the taste of gingerbread or fruitcake may come to mind. Others will pull out recipes handed down for generations. Pecan, pumpkin, and apple pies come to mind. Other rich desserts round out the dessert table, too. Flan, tarts, and everything with maple glaze.
HOW TO OBSERVE #NationalDessertDay
This is an excellent day to order dessert first! Whether you go out to your favorite bakery or whip up something delicious at home, share your celebrations with others. Give a shout out to your favorite baker or share your go-to recipe. What's your favorite dessert? Pie, cake, or something in between? Post photos on social media using #NationalDessertDay.
Pumpkin Ginger Cupcakes
Apple Pie by Grandma Ople
Chocolate Mint Cookies
Hot Fudge Ice Cream Bar
Uncooked Banana Pudding
Lemon Cake
NATIONAL DESSERT DAY HISTORY
National Day Calendar® continues researching the origins of the sweet food holiday.
BE BALD AND BE FREE DAY
Be Bald and Be Free Day on October 14th celebrates the naked crown. Sometimes the day is referred to as Bald and Free Day.
Bared noggins take the spotlight during this holiday. It recognizes the beauty of a naked scalp. Baldness comes in several forms, too. Partial or total, sometimes a chrome dome is by choice. Others come by it naturally.
Whether your 'chrome dome' is the result of hair loss or shaving your head, this National Day celebrates you! And not everyone goes bald from traditional aging and hair loss. Some lose their hair from medical treatments making this observance extra special for these individuals.
HOW TO OBSERVE #BeBaldAndBeFreeDay
Naturally, we want you to share your bald selfies with us on social media. The day offers an opportunity to support those going through treatment as well. And definitely be sure to use #BeBaldAndBeFreeDay as a hashtag to post on your social media accounts.
Also, give a shout-out to those you know who are clean on top. Whether using the day to tease or support a friend, be sure everyone enjoys the day.
BE BALD AND BE FREE DAY HISTORY
This day was founded by Thomas and Ruth Roy from Wellcat.
On Deck for October 15, 2021
National Days
International Days
October 14th Celebrated (And Not So Celebrated) History
1834
Henry Blair receives his first patent. He was only the second African American to be granted a patent in the United States. His first patent was for a corn planter that made it easier for farmers to sow their cornfields. A few years later, Blair received his second patent. The invention was a modification of his first invention to accommodate planting cotton seeds. In 1821, Thomas Jennings received the first patent granted to an African American.
1863
Alfred Nobel is granted a patent for the preparation of nitroglycerin. It is his first Swedish patent, and the scientist would continue to pursue improvements to the handling of this explosive compound, eventually leading to the development of dynamite.
1926
A.A. Milne publishes the illustrated children's book, Winnie-the-Pooh. The lovable, honey-loving bear and colorful characters became a worldwide hit. The classic illustrations by E.H. Shepard were later recreated by Disney artists.
1944
During her service with the Women Airforce Service Pilots (WASP), Carl became the first woman test pilot. On October 14, 1944, Carl flew a Bell YP-59A becoming the first woman to fly a jet aircraft.
1947
Piloting the Bell X-1, Major Charles E. Yeager became the first person to fly at supersonic speeds. The aircraft broke the sound barrier at 662 miles (1,066 kilometers) per hour.
1968
On the 4th day of their mission, the Apollo 7 crew transmits the first live television broadcast from space. It would be the first of four broadcasts from the three-person space mission.
​
Recipe of the Day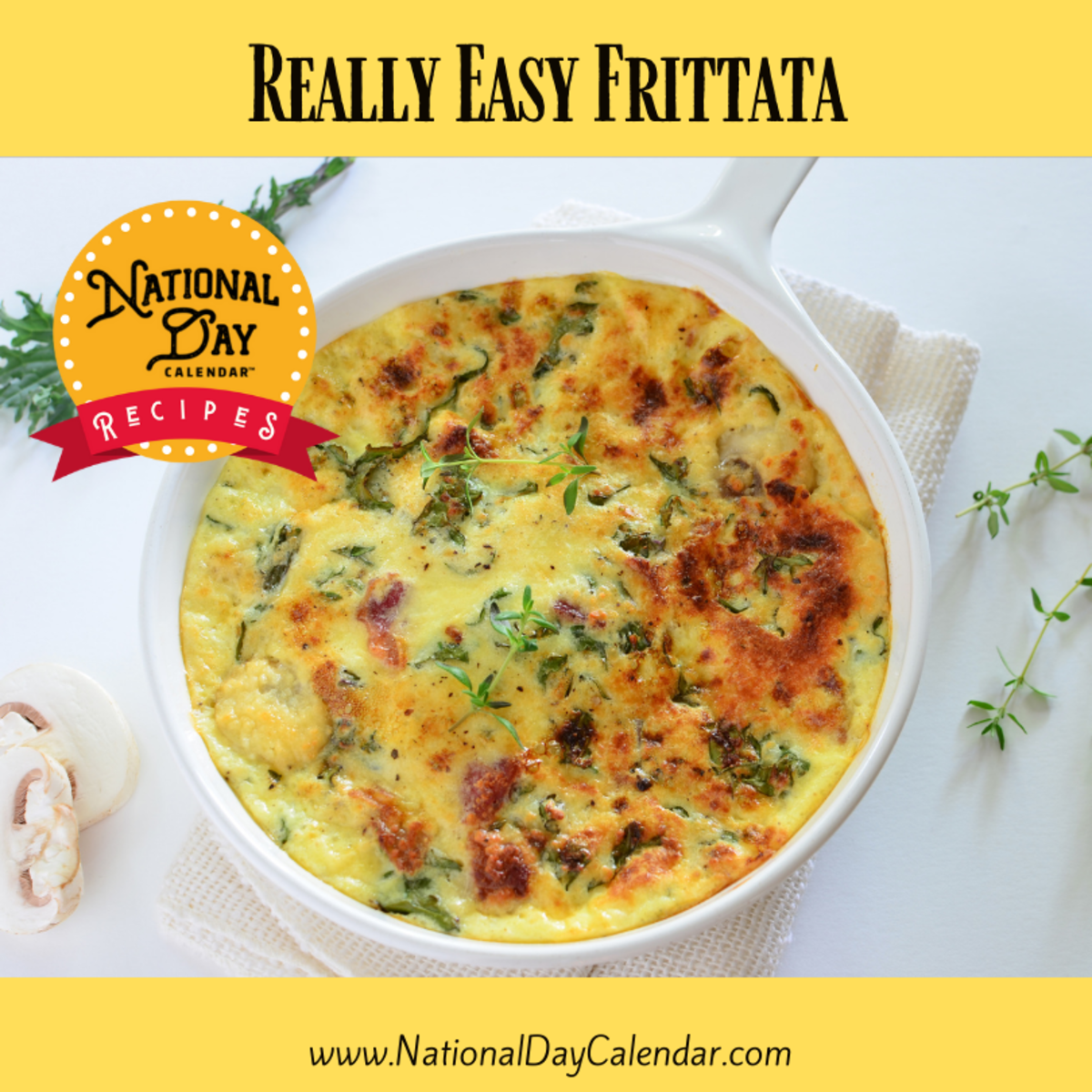 Really Easy Frittata
Prep time: 10 minutes
Cook time: 15 minutes
Total: 25 minutes
Serves: 4
Ingredients
1/2 cup tomato, diced
1 bell pepper, diced
6 large eggs
1/3 cup heavy whipping cream
1/2 cup crumbled bacon, divided
1 cup spinach
1/2 cup feta cheese
1 cup grated parmesan
Instructions
Heat oven to 400°F. Prepare a baking dish with cooking spray.
Layer the tomatoes and peppers on the bottom of the pan.
In a medium bowl, whisk eggs, heavy cream, and salt together. Reserve half the bacon and stir the other half into the eggs. Add the spinach. Pour the egg mixture over the top of the vegetables. Add cheese evenly over the top of the eggs.
Bake for 10 minutes and then add the remaining bacon. Bake an additional 5-7 minutes or until the eggs are set and the cheese is lightly browned.
October 14th Celebrated (And Not So Celebrated) Birthdays
Dwight D Eisenhower – 1890
After serving as commanding general of the U.S. forces in World War II, Eisenhower was elected as the country's 34th president. He served two terms from 1953-1961, navigating the country through the early years of the Cold War.
Lois Lenski – 1893
The Newbery Award-winning author and illustrator published her first books in 1927. She's best known for her book Strawberry Girl and illustrating the Betsy-Tacy books by Maud Hart Lovelace.
EE Cummings – 1894
Through his poetry, Cummings expressed a unique style that was simplified, precise, and sparse. Full of innuendo and sentiment, some of his most popular poems include 'spring omnipotent goddess' and 'I carry your heart with me.'
Charles Everett Koop – 1916
The pediatric surgeon served as the 13th Surgeon General of the United States. His career is full of innovative treatments, advancements, and firsts in medicine. During his two terms as Surgeon General, he brought focus and confidence to public health. He also steadily steered the country through the AIDS pandemic.
Ralph Lauren – 1939
Born Ralph Lifshitz, the fashion designer founded the Ralph Lauren Company in 1967. His first products were a line of men's ties.
Usher – 1978
The award-winning singer, songwriter and dancer was born Usher Raymond IV. His #1 hit song "Yeah!" featured Lil Jon and Ludacris. Some of his other Billboard hits include "Burn" and "Scream."
About National Day Calendar
National Day Calendar® is the authoritative source for fun, unusual and unique National Days! Since our humble beginnings on National Popcorn Day in 2013, we now track nearly 1,500 National Days, National Weeks and National Months. In addition, our research team continues to uncover the origins of existing National Days as well as discover new, exciting days for everyone to celebrate.

There's a celebration for everyone. While National Road Trip Day satisfies the itch to wander, many pet days let us share our love of animals. National 3-D Day and National Astronaut Day honor the advancement of technology, too. Every food day you can imagine (National Avocado Day, for example), will keep you celebrating, also!
Be sure to stay in the know by signing up for our e-mail updates. Also, follow us on Facebook, Twitter, and Instagram.
Our Ambassador Program is another way #CelebrateEveryDay®! Whether you become an ambassador or follow one of the savvy ambassadors, their fun videos and posts will keep you prepared for every holiday.