Looking Back
November 5, 2022 - NATIONAL DONUT DAY – NATIONAL BISON DAY NATIONAL – LOVE YOUR RED HAIR DAY – NATIONAL PLAY OUTSIDE DAY
NOVEMBER 5, 2022 | NATIONAL DONUT DAY | NATIONAL BISON DAY NATIONAL | LOVE YOUR RED HAIR DAY | NATIONAL PLAY OUTSIDE DAY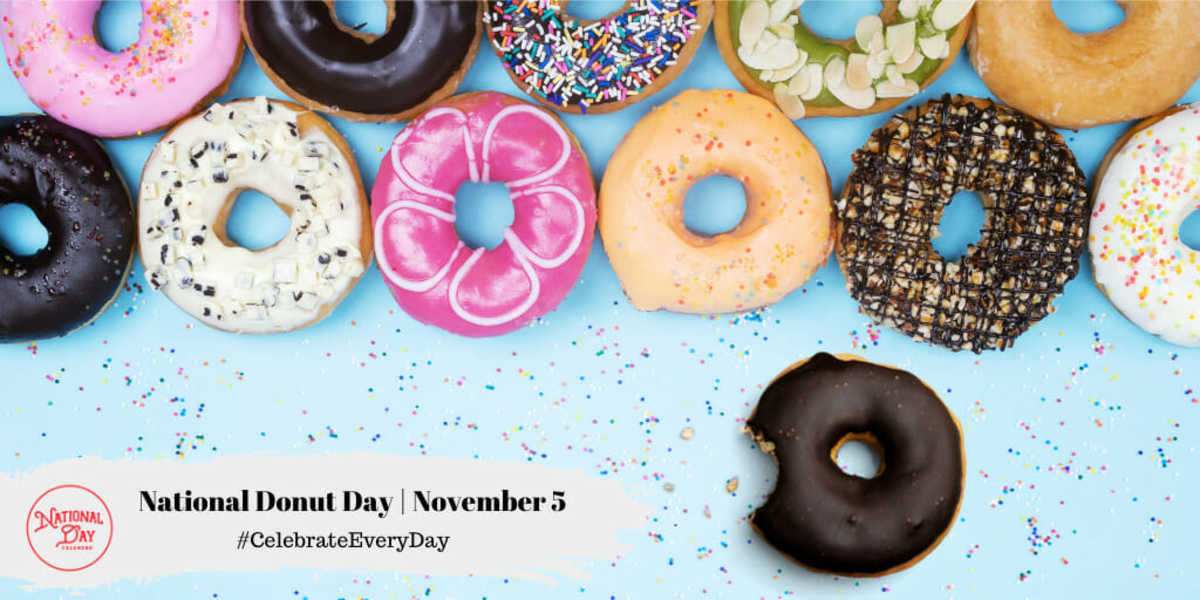 NATIONAL DONUT DAY
National Donut Day (also known as National Doughnut Day) on November 5th is one of two observed by donut lovers across the nation. The first Friday in June is the other day donuts steal the bakery case spotlight ready to tease their way into white bakery box and go home! Read more…
NATIONAL BISON DAY
National Bison Day, on the first Saturday in November, honors one of the most majestic beasts to roam the land. Read more…
NATIONAL LOVE YOUR RED HAIR DAY
National Love Your Red Hair Day celebrates the beauty of those gorgeous red tresses annually on November 5th. There's no reason to be shy. Redheads get the spotlight to show off the unique qualities of red hair. Read more…

NATIONAL PLAY OUTSIDE DAY
If it's the first Saturday of the month, it's National Play Outside Day. So, no matter what month it is, everyone put down their electronic devices and get outside! Read more…
On Deck for November 6, 2022
National Days
International Days
Recipe of the Day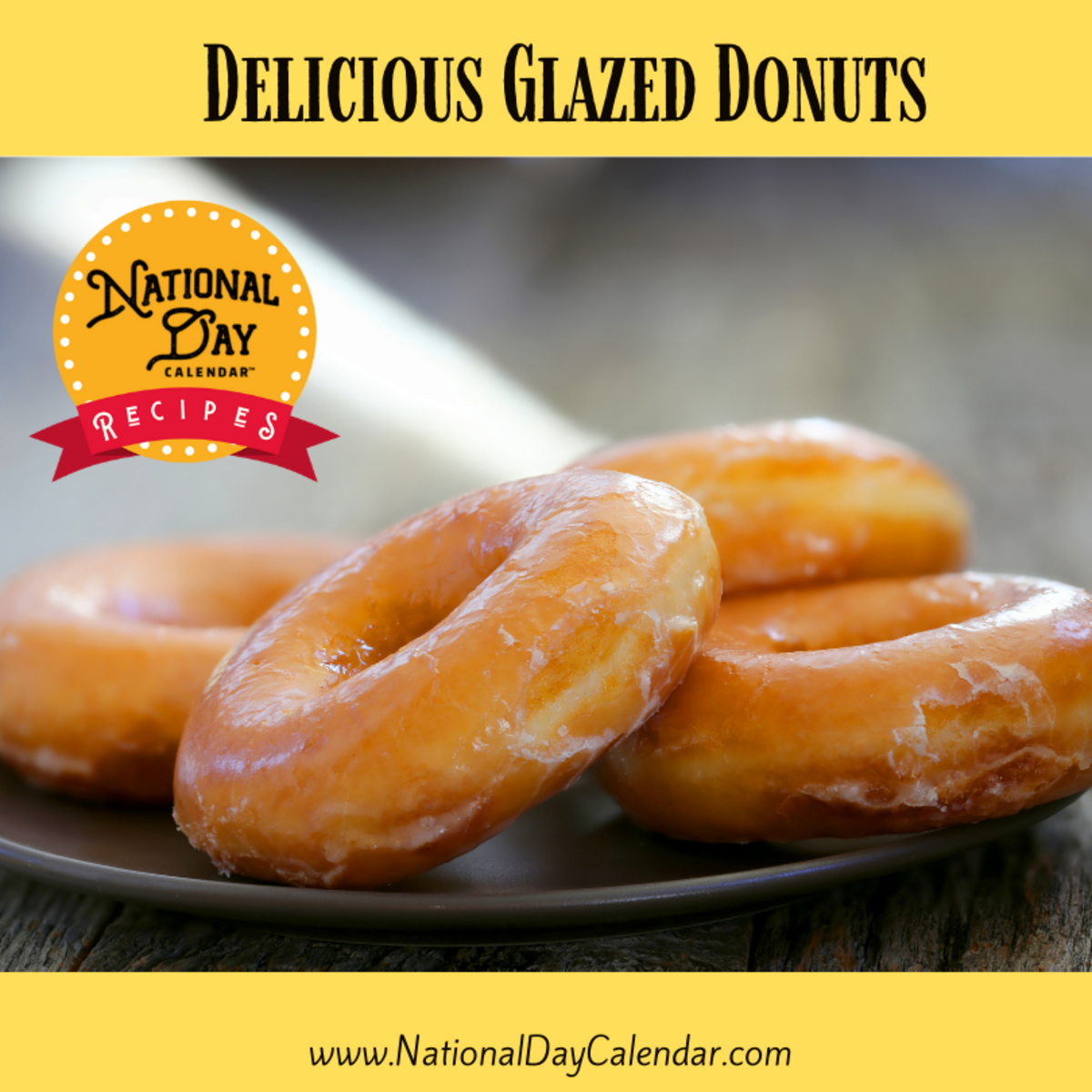 Delicious Glazed Donuts
Prep Time: 1 hour 45 minutes
Cook Time: 15 minutes
Total: 2 hours
Servings: 18 donuts
Ingredients
Dough
1 packet active dry yeast
1/4 cup lukewarm water
1 1/2 cups warm milk
1/3 cup granulated sugar
3 large eggs, room temperature
5-5 1/2 cups all-purpose flour
1 teaspoon salt
1/2 cup unsalted butter, softened
Shortening for frying
Glaze
3 cups powdered sugar
1 teaspoon pure vanilla extract
3-5 tablespoons milk
1 teaspoon vanilla
Instructions
In a large mixing bowl, dissolve the yeast and sugar in warm water. When bubbles begin to form in the yeast mixture, stir in the milk and eggs. Cut the butter into the mixture. Gradually add flour and salt, scraping sides as you stir. When a dough forms, turn the dough onto a floured surface. If the dough is sticky, add a little more flour, but not too much or donuts will be tough. Knead the dough until it becomes smooth. Form a ball and place it in a greased bowl. Cover and place in a warm place to let the dough rise.
When the dough is double in size, turn out onto a floured surface and knead. Divide dough in half and cover. Allow to rest 10-15 minutes.
In a small bowl, mix glaze ingredients. Add enough milk to create a thin, pourable glaze.
Line a baking sheet with parchment.
Turn one half the dough onto a floured surface and roll the dough into about 1/2 inch thickness. Dust donut cutter with flour and cut out donuts. Place on baking sheet. Cover and allow the donuts to rise until doubled in size.
Set a cooling rack on a baking sheet. Heat cooking oil in a deep-fryer or large pot to 350-375°F.
Drop donuts into the hot oil, 1-2 minutes per side. Using a slotted spoon, remove doughnuts and place them on the cooling rack.
Drizzle glaze over the tops of the doughnuts while the donuts are warm but slightly cooled.
November 5th Celebrated History
1872
Susan B. Anthony along with fourteen other women presented themselves for voter registration in Rochester, NY. After being permitted to register, they cast their ballots. Several days later, United States Commissioner William Storrs issued a warrant for their arrest.
1889
Wyoming voters ratify the first constitution in the world granting full voting rights to women.
1895
George B. Selden receives the first U.S. patent for an automobile. Even though he never built a car, he collected royalties from car manufacturers for years.
1906
Marie Curie gives her first lecture at the Sorbonne. After her husband's death, she took over his role becoming the first woman professor at the Sorbonne.
1930
Sinclair Lewis, the author of Arrowsmith, Mainstreet, and Babbitt, became the first U.S. writer to earn the Nobel Prize in Literature.
1940
The voters of the United States elect Franklin D. Roosevelt to a third term for the first and only time in United States history.
November 5th Celebrated Birthdays
Ida Tarbell – 1857
The investigative journalist wrote a series of articles named The History of the Standard Oil Company and earned a name for her type of journalism – muckraking. However, the article exposed the unfair business practices of monopolies. She would later pursue advanced education at the Sorbonne and write several biographies.
James Ward Packard – 1863
In 1899, the industrialist co-founded the Packard Motor Car Company in Warren, OH. He remained the company's president until 1909. In 1956, the last Packard rolled off the assembly line.
Evelyn Bryan Johnson – 1909
A colonel in the Civil Air Patrol, Bryan has logged more flying hours than any other woman in the world. In 1945, she earned her private pilot's license, but that was only the beginning. Bryan would go on to earn her commercial license, become a flight instructor, and run her own flying service.
Roy Rogers – 1911
The actor and singer appeared in more than 100 westerns, usually as himself.
Peter Pace – 1945
In 2005, Pace became the first Marine to serve as the Chairman of the Joint Chiefs of Staff. His already long career now encompassed increased efforts to overcome terrorism and weapons of mass destruction. He served two years in the position and retired from active duty after 40 years of military service.
Bryan Adams – 1959
The award-winning Canadian musician rose to fame in the early 1980s. His first taste of success came with his album Cuts Like A Knife.
Tatum O'Neal – 1963
The actress won her first award at the age of 10 for her role as Addie Loggins in the film Paper Moon.
About National Day Calendar
National Day Calendar is the original and authoritative source for fun, unusual and unique National Days! Since our humble beginnings on National Popcorn Day in 2013, we have been tracking the National Days, National Weeks, National Months, and International Days. We became the first calendar of its kind to curate the days all in one place and tell their stories, too! Here at National Day Calendar, we are on a mission to Celebrate Every Day with you! And by you, we mean families, businesses, educators, and strangers we meet on the street. There's more than one day for everyone.
At National Day Calendar, we discovered the National Days have a way of inspiring us. We're honored to tell the stories behind the days and provide you with informational ways to incorporate the National Days into your business, family, schools, and home!