Looking Back
November 4, 2021 - NATIONAL CHICKEN LADY DAY – NATIONAL CANDY DAY – NATIONAL MEN MAKE DINNER DAY – NATIONAL CASH BACK DAY
NOVEMBER 4, 2021 | NATIONAL CHICKEN LADY DAY | NATIONAL CANDY DAY | NATIONAL MEN MAKE DINNER DAY | NATIONAL CASH BACK DAY
NATIONAL CHICKEN LADY DAY
National Chicken Lady Day on November 4th annually honors Dr. Marthenia "Tina" Dupree. Read more…
NATIONAL CANDY DAY
On November 4th, we celebrate the sweet holiday, National Candy Day. Candies have a long history of attracting us with their bright colors and delightful flavors. They also come in a variety of fun sizes and shapes. Read more…
NATIONAL MEN MAKE DINNER DAY
National Men Make Dinner Day on the first Thursday in November places the man of the house in charge of the kitchen and the evening's meal. Read more…
NATIONAL CASH BACK DAY
National Cash Back Day on the first Thursday in November speaks to the savvy shopper in all of us. It's one big day of exclusive offers that gives you the gift of cash back. Read more…
On Deck for November 5, 2021
National Days
International Days
November 4th Celebrated (And Not So Celebrated) History
1924
Upon being elected, Nellie T. Ross became the first woman governor in the United States.
1952
After a review of the coordination efforts regarding communications intelligence in the U.S. government, the National Security Agency is established.
1960
Dr. Jane Goodall observes chimpanzees creating tools for the first time. Before her observance, it was thought only humans created tools.
1973
Due to rising gas prices, the Netherlands establishes the first Car-Free Sunday.
2008
Barack Obama becomes the 44th United States President and the first biracial and first African American president.
Recipe of the Day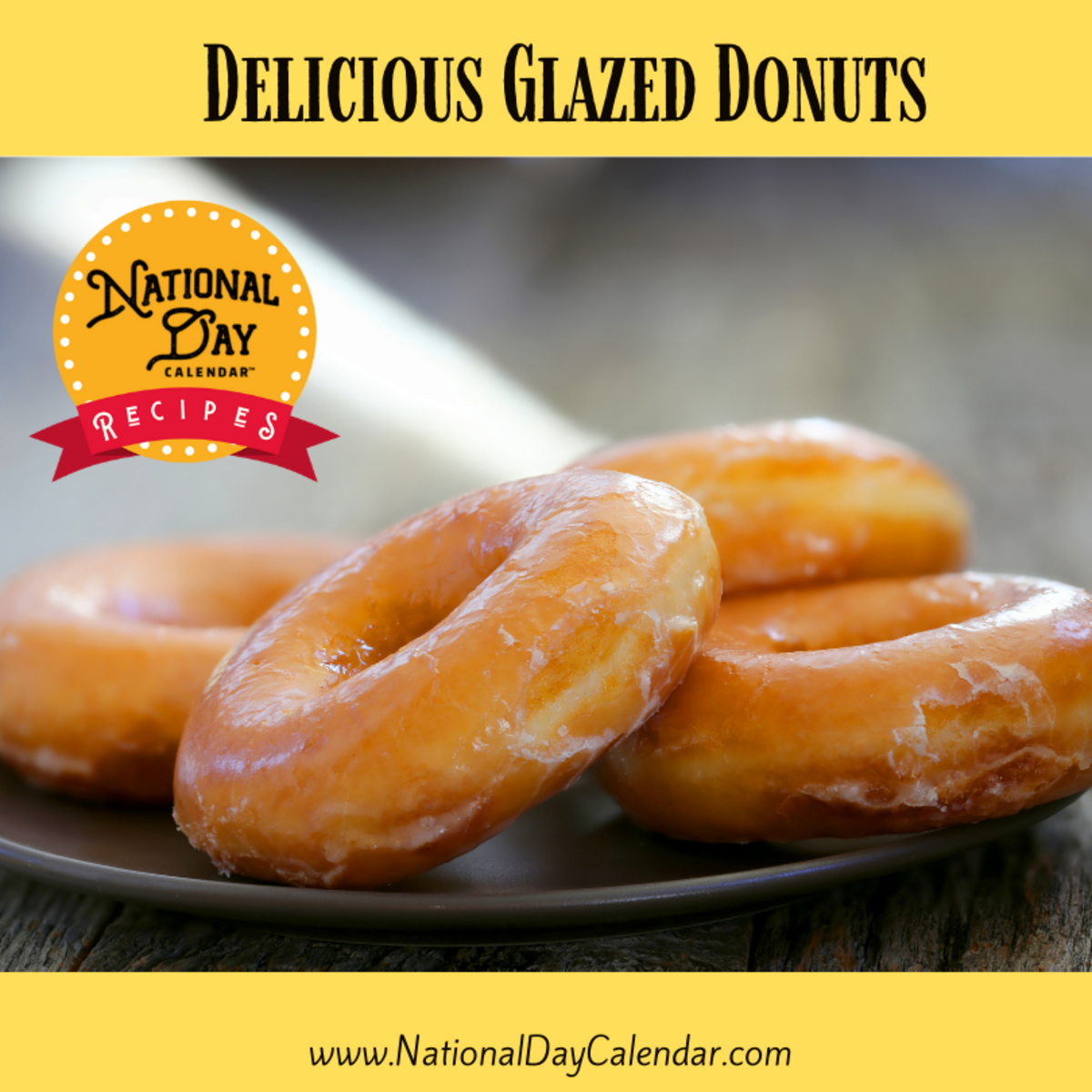 Delicious Glazed Donuts
Prep Time: 1 hour 45 minutes
Cook Time: 15 minutes
Total: 2 hours
Servings: 18 donuts
Ingredients
Dough
1 packet active dry yeast
1/4 cup lukewarm water
1 1/2 cups warm milk
1/3 cup granulated sugar
3 large eggs, room temperature
5-5 1/2 cups all-purpose flour
1 teaspoon salt
1/2 cup unsalted butter, softened
Shortening for frying
Glaze
3 cups powdered sugar
1 teaspoon pure vanilla extract
3-5 tablespoons milk
1 teaspoon vanilla
Instructions
In a large mixing bowl, dissolve the yeast and sugar in warm water. When bubbles begin to form in the yeast mixture, stir in the milk and eggs. Cut the butter into the mixture. Gradually add flour and salt, scraping sides as you stir. When a dough forms, turn the dough onto a floured surface. If the dough is sticky, add a little more flour, but not too much or donuts will be tough. Knead the dough until it becomes smooth. Form a ball and place it in a greased bowl. Cover and place in a warm place to let the dough rise.
When the dough is double in size, turn out onto a floured surface and knead. Divide dough in half and cover. Allow to rest 10-15 minutes.
In a small bowl, mix glaze ingredients. Add enough milk to create a thin, pourable glaze.
Line a baking sheet with parchment.
Turn one half the dough onto a floured surface and roll the dough into about 1/2 inch thickness. Dust donut cutter with flour and cut out donuts. Place on baking sheet. Cover and allow the donuts to rise until doubled in size.
Set a cooling rack on a baking sheet. Heat cooking oil in a deep-fryer or large pot to 350-375°F.
Drop donuts into the hot oil, 1-2 minutes per side. Using a slotted spoon, remove doughnuts and place them on the cooling rack.
Drizzle glaze over the tops of the doughnuts while the donuts are warm but slightly cooled.
Next Week
Week Observances
In the Classroom
November 4th Celebrated (And Not So Celebrated) Birthdays
Will Rogers – 1879
The vaudeville and film actor was known for his performances in numerous westerns and comedies. He also authored six books and wrote a newspaper column called "Daily Telegrams" that often commented humorously on current events.
Harry Ferguson – 1884
With a love for aviation and motors, Ferguson built a modern tractor with a three-point linkage system. His design was so successful that by the end of his career, he merged with Massey Harris.
Ralph Macchio – 1961
Best known for his role as Daniel LaRusso in The Karate Kid films, he also starred in The Outsiders and My Cousin Vinny. On television, he appeared in hit shows such as Ugly Betty and a revival of the Karate Kid in Cobra Kai.
Sean Combs – 1969
The award-winning rapper also goes by the names Puff Daddy, P Diddy, Puffy and Diddy. His rise to fame began in 1997 when his first single and debut album reached number 1 on the Billboard Hot 100. The artist has also developed successful acting and producing careers.
About National Day Calendar
National Day Calendar® is the authoritative source for fun, unusual and unique National Days! Since our humble beginnings on National Popcorn Day in 2013, we now track nearly 1,500 National Days, National Weeks and National Months. In addition, our research team continues to uncover the origins of existing National Days as well as discover new, exciting days for everyone to celebrate.

There's a celebration for everyone. While National Road Trip Day satisfies the itch to wander, many pet days let us share our love of animals. National 3-D Day and National Astronaut Day honor the advancement of technology, too. Every food day you can imagine (National Avocado Day, for example), will keep you celebrating, also!
Be sure to stay in the know by signing up for our e-mail updates. Also, follow us on Facebook, Twitter, and Instagram.
Our Ambassador Program is another way #CelebrateEveryDay®! Whether you become an ambassador or follow one of the savvy ambassadors, their fun videos and posts will keep you prepared for every holiday.