Looking Back
November 23, 2021 - NATIONAL ESPRESSO DAY - NATIONAL CASHEW DAY - NATIONAL EAT A CRANBERRY DAY
NOVEMBER 23, 2021 | NATIONAL ESPRESSO DAY | NATIONAL CASHEW DAY | NATIONAL EAT A CRANBERRY DAY

NATIONAL ESPRESSO DAY
Get the pure coffee essence on National Espresso Day! Whether you sip one cup or keep buzzing all day long, November 23rd is the day. The word espresso (/ɛˈsprɛsoʊ/; Italian pronunciation: [eˈsprɛsso]) in Italian means… Read more…
NATIONAL CASHEW DAY
A favorite snacking and party nut is recognized each year on November 23rd during National Cashew Day. The cashew nut is a seed harvested from the cashew tree. The tree originated in… Read more…

NATIONAL EAT A CRANBERRY DAY
On November 23rd, National Eat a Cranberry Day encourages us to take a bite of the bright red cranberry. But brace yourself! Found in acidic bogs throughout the cooler regions of the northern hemisphere, cranberries are a group of… Read more…
On Deck for November 24, 2021
Recipe of the Day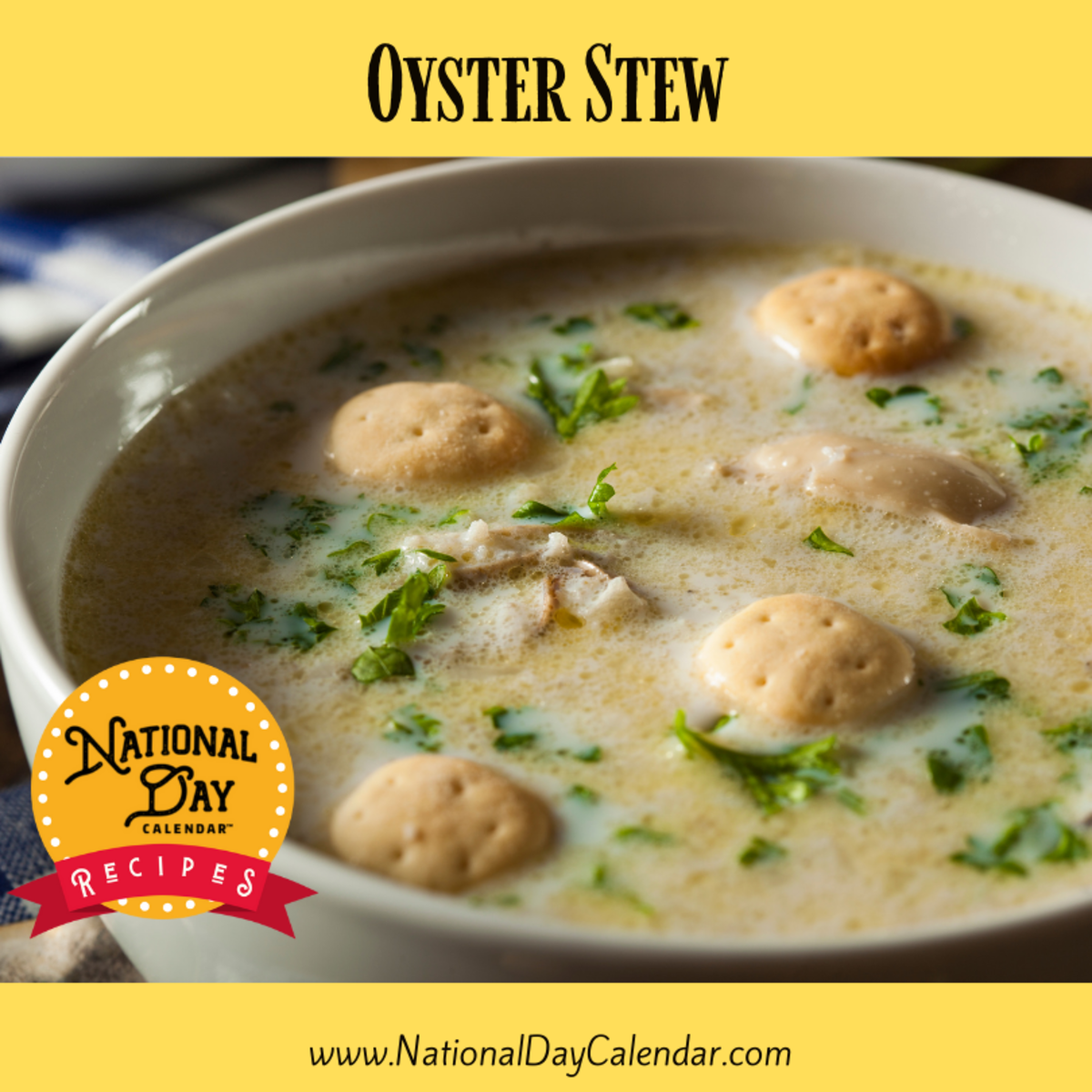 Oyster Stew
Prep time: 5 minutes
Cook time: 25 minutes
Total: 30 minutes
Serves: 4
Ingredients
2 pints of fresh raw oysters in their juice
1/4 cup unsalted butter
1 clove garlic, minced
2 tablespoons all-purpose flour
1 teaspoon salt
1 teaspoon Worcestershire sauce
1 quart whole milk
ground black paper
chopped fresh parsley for garnish
Instructions
Drain the oysters, reserving the liquid. Note: Your local deli will have fresh oysters in their seafood section.
Melt the butter in a large saucepan over medium to medium-low heat. Add garlic and cook until fragrant. Whisk in flour to create a roux. Add salt and Worcestershire sauce and stir well. While whisking, cook for one minute.
Stir in the reserved oyster juice. Slowly add the milk while stirring.
Cook slowly over medium-low heat, careful not to scald or boil the milk. Stir often. The stew will begin to steam and bubbles will form along the sides. Reduce the heat to low to prevent scalding and cook for 10 minutes.
Add oysters. Cook until the oysters begin to curl – about 2-3 minutes. Salt and pepper to taste. Serve with a garnish of parsley.
November 23rd Celebrated (And Not So Celebrated) Birthdays
Donald Deskey – 1894
The graphic and industrial designer launched the design firm Donald Deskey Associates in the mid-1940s. His art deco designs won him the design competition for Radio City Music Hall's interiors. He also created several designs for products such as Crest, Tide, and Clorox.
Rachel Fuller Brown – 1898
In 1948, the chemist collaborated with microbiologist Elizabeth Lee Hazen on the antibiotic nystatin. In 1975, the American Institute of Chemists honored both women with the Chemical Pioneer Award.
Vera Simons – 1920
In 1949, Vera and her husband Otto founded Winzen Research, Inc. During her career, she perfected balloon construction and obtained several patents. Simons also organized several balloon projects around the world.
Betty Everett – 1939
The 1960s soul singer gained popularity with her hit single "Shoop Shoop Song" from 1963. Another popular hit for Everett was a duet with Jerry Butler, "Let It Be Me."
Rick Bayless – 1953
The award-winning chef is known for his Mexican cuisine and is the owner of several restaurants. He hosted a PBS series in 1978-1979 and is the founder of the Frontera Farmer Foundation.
November 23rd Celebrated (And Not So Celebrated) History
1889
Louis Glass and William S. Arnold install the first jukebox in the Palais Royale Saloon in San Francisco, CA. The Edison Class M Electric Phonograph with an oak cabinet included a coin-operated mechanism.
1897
The U.S. Patent Office granted patent No. 594,114 to John Lee Love of Fall River, MA, for the invention of a portable pencil sharpener.
1921
President Warren G. Harding signs the Willis-Campbell Act restricting physicians from prescribing beer or liquor to their patients, further restricting the means by which people could obtain alcohol early in the Prohibition Era.
1963
The first-ever episode of the Doctor Who series airs on the BBC. William Hartnell played the Doctor in "An Unearthly Child," and it was directed by Waris Hussein.
1992
IBM releases Simon, a personal digital assistant. The device, with its touch screen and interface, is considered the first smartphone.
About National Day Calendar
National Day Calendar® is the original and authoritative source for fun, unusual and unique National Days! Since our humble beginnings on National Popcorn Day in 2013, we have been tracking the National Days, National Weeks, National Months, and International Days. We became the first calendar of its kind to curate the days all in one place and tell their stories, too! Here at National Day Calendar, we are on a mission to Celebrate Every Day with you! And by you, we mean families, businesses, educators, and strangers we meet on the street. There's more than one day for everyone.
At National Day Calendar, we've found the National Days have a way of inspiring us. We're honored to tell the stories behind the days and provide you with informational ways to incorporate the National Days into your business, family, schools, and home!