Looking Back
November 20, 2022 - NATIONAL ABSURDITY DAY - NATIONAL CHILD'S DAY - NATIONAL PEANUT BUTTER FUDGE DAY
NOVEMBER 20, 2022 | NATIONAL ABSURDITY DAY | NATIONAL CHILD'S DAY | NATIONAL PEANUT BUTTER FUDGE DAY
NATIONAL ABSURDITY DAY
On November 20th, National Absurdity Day reigns supreme. Oddness and weirdness take over. We're not sure why, but it does. Read more…
NATIONAL CHILD'S DAY
November 20th each year recognizes National Child's Day and all the potential represented by our children's ambitions, dreams, and goals. Through educational goals, STEAM projects, and academic missions, educators and families join forces to provide an excellence at all levels of education. Read more…
NATIONAL PEANUT BUTTER FUDGE DAY
Peanut butter lovers and fudge lovers come together on November 20th to celebrate National Peanut Butter Fudge Day. Read more…
On Deck for November 21, 2022
National Days
National Gingerbread Cookie Day
National Red Mitten Day
National Stuffing Day
International Days
National Red Mitten Day
World Television Day
World Hello Day
World Philosophy Day
Recipe of the Day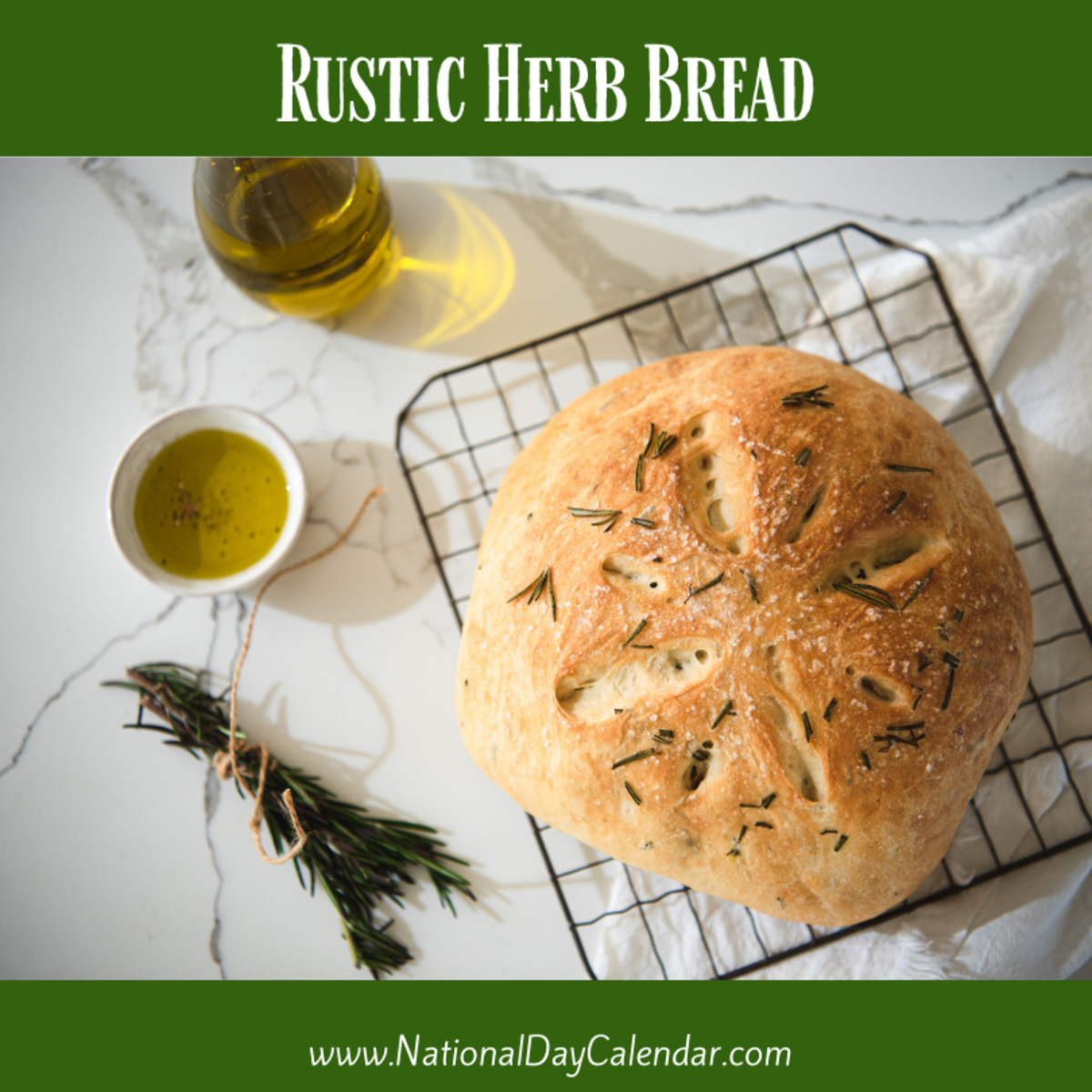 Rustic Herb Bread
Prep: 15 minutes
Rise: 1-2 hours
Cook: 50 minutes
Total Prep: 3 hours 10 minutes
Servings: 1 loaf
Ingredients:
3 to 3 1/2 cups all-purpose flour
1/2 tablespoons sugar
1/2 tablespoon salt
1 tablespoons shortening
1 package regular or quick active dry yeast
1 cup very warm water (120 to 130 F)
1 tablespoon dried rosemary
1/4 tablespoon freshly ground pepper
1/2 teaspoon dried oregano
1 head roasted garlic
1 tablespoon olive oil
1 sprig of fresh rosemary
Instructions:
Stir 1 1/2 cups of flour, sugar, salt, shortening, and yeast into a large bowl. Add warm water. Set electric mixer to low speed and beat for 1 minute. Scrape sides while mixing. Stir in remaining flour 1/2 cup at a time until dough is tacky but not sticky.
Add rosemary, pepper, and oregano.
Turn dough onto a lightly floured surface and knead for 5 minutes or until dough is tacky but manageable. Add garlic and knead for an additional 5 minutes and the dough is smooth. Oil a large bowl, and place dough in the bowl. Turn it once to coat all sides with the oil. Cover bowl with a towel or plastic wrap and place in a warm place. Allow dough to double in size – 40-60 minutes.
Prepare a baking sheet with parchment paper. Punch down the dough and shape it into a round loaf. Place on baking sheet. Cut an X with a sharp knife. Cover with a large bowl and place in a warm place. Allow dough to rise until double in size – about 1 hour.
Brush with melted butter. Cover and let rise in a warm place for 35-50 minutes or until it has doubled in size.
Brush with olive oil and place sprigs of rosemary on the dough.
Heat over to 425°F. Place loaf on the lowest rack. Bake 25 to 30 minutes. The bread is done when it is golden brown and sounds hollow when it is tapped.
November 20th Celebrated History
1789
New Jersey is the first state to ratify the first 10 amendments to the United States Constitution – The Bill of Rights.
1866
The United States Patent Office issues a patent for a bandelore to James L. Haven and Charles Hettrick of Cincinnati, OH. Patent No. 59,745 describes a yo-yo.
1923
The United States Patent Office awarded Garret Morgan a patent for a three-way automatic traffic signal. The invention allowed traffic to clear the intersection before allowing it to flow in the other direction.
1962
Wilbur Hardee registers the restaurant chains Hardee's trademark.
November 20th Celebrated Birthdays
Chiyono Hasegawa – 1896
She lived to 115 years, 12 days, and was the oldest person living in Japan and Asia at the time of her death. During her lifetime, Japan experienced the Russo-Japanese War. The country launched Hosho, the first Japanese aircraft carrier. During World War II, atomic bombs were dropped on the cities of Hiroshima and Nagasaki. The country hosted the 1964 Summer Olympics in Tokyo. They endured the Great Hanshin earthquake and the Tohoku earthquake and tsunami.
Chester Gould – 1900
In 1931, the cartoonist created the comic strip detective, Dick Tracy. Gould would draw and write for the comic strip and its line up of criminal characters until 1977.
Anna Pauline Murray – 1910
Before Rosa Parks, there was Pauli Murray. The co-founder of the National Organization for Women was a pioneering face of racial equality years before the Civil Rights Movement began.
Ann Turner Cook – 1926
Cook was the original face of the Gerber Product Company. Her cherub-like face graced the packages of baby food all over the country.
Dominique Dawes – 1976
In 1996, the gymnast became the first African American to win gold in women's gymnastics at the Atlanta Summer Olympics.
About National Day Calendar
National Day Calendar is the original and authoritative source for fun, unusual and unique National Days! Since our humble beginnings on National Popcorn Day in 2013, we have been tracking the National Days, National Weeks, National Months, and International Days. We became the first calendar of its kind to curate the days all in one place and tell their stories, too! Here at National Day Calendar, we are on a mission to Celebrate Every Day with you! And by you, we mean families, businesses, educators, and strangers we meet on the street. There's more than one day for everyone.
At National Day Calendar, we discovered the National Days have a way of inspiring us. We're honored to tell the stories behind the days and provide you with informational ways to incorporate the National Days into your business, family, schools, and home!