Looking Back
November 18, 2021 - MICKEY MOUSE BIRTHDAY – WORLD PANCREATIC CANCER DAY – NATIONAL PRINCESS DAY – NATIONAL VICHYSSOISE DAY – NATIONAL RURAL HEALTH DAY – GREAT AMERICAN SMOKEOUT
NOVEMBER 18, 2021 | MICKEY MOUSE BIRTHDAY | WORLD PANCREATIC CANCER DAY | NATIONAL PRINCESS DAY | NATIONAL VICHYSSOISE DAY | NATIONAL RURAL HEALTH DAY | GREAT AMERICAN SMOKEOUT
MICKEY MOUSE BIRTHDAY
On November 18th, Mickey Mouse Birthday commemorates the debut of a lovable mouse that was once a rabbit called Oswald. His character got his start on film on November 18, 1928, but before that, the story begins in 1927, when Walt Disney first sketched a floppy-eared bunny while under contract to Universal Studios. The events that unraveled brought us… Read more…

WORLD PANCREATIC CANCER DAY
On the third Thursday in November each year, the world turns purple in support of improved treatment, screenings, and research for World Pancreatic Cancer Day. The observance takes place during Pancreatic Awareness Cancer Month and serves as a reminder to take action and help spread the word about the dangers of pancreatic cancer. The unfortunate truth is, pancreatic cancer has the lowest… Read more…

NATIONAL PRINCESS DAY
Celebrate the Princess in every girl by taking part in National Princess Day on November 18th! Perhaps you know a Princess who shines because of her gift of laughter, making everyone around them smile. Maybe your Princess…Read more…
NATIONAL VICHYSSOISE DAY
November 18th recognizes a cold soup that is loved by many. It is National Vichyssoise Day. Made thick with pureed leeks, onions, potatoes, cream and chicken stock, Vichyssoise is traditionally served… Read more…
NATIONAL RURAL HEALTH DAY
National Rural Health Day focuses on the medical resources rural communities offer and how it impacts small towns and their citizens. The third Thursday in November each year highlights the varied opportunities rural health offers and the benefits it brings to these modest hubs of… Read more…
GREAT AMERICAN SMOKEOUT
Each year on the third Thursday in November, the American Cancer Society sponsors the Great American Smokeout. This is an annual social engineering event to encourage Americans to stop… Read more…
On Deck for November 19, 2021
National Days
International Days
Recipe of the Day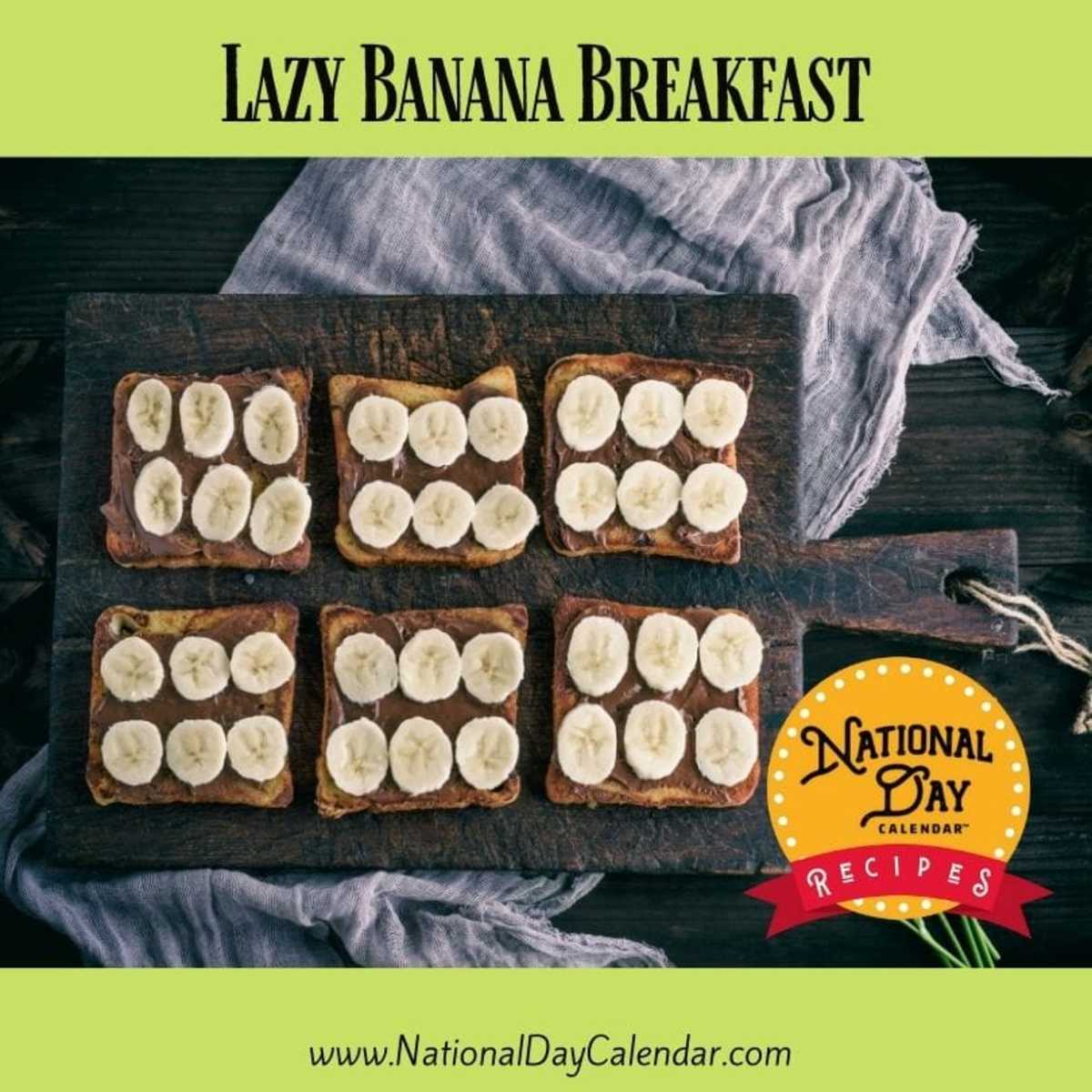 Lazy Banana Breakfast
Prep time: 5 minutes
Cook time: 10 minutes
Total: 15 minutes
Servings: 6
Ingredients
6 slices of bread
6 tablespoons chocolate hazelnut spread
2 bananas, sliced
1 tablespoon cinnamon sugar (optional)
Instructions
Toast bread. Slice bananas. Spread one tablespoon of chocolate hazelnut spread on each slice of toast. Top with sliced bananas. Sprinkle with cinnamon sugar if desired.
November 18 Celebrated (And Not So Celebrated) Birthdays
Rose Markwood Knox – 1857
From a $5,000 investment, she and her husband, Charles, began a gelatin business that grew into the brand name we recognize today.
Dorothy Dix – 1861
Considered the first syndicated advice columnist, Dorothy Dix was born Elizabeth Meriwether Gilmer. Much of the journalist's career is noted for her coverage of high profile murder cases.
Frances Marion – 1888
The noted screenwriter, journalist, and writer won two Academy Awards during her career. The first was for Best Writing for The Big House in 1930 and the second was for Best Story for The Champ in 1932.
Johnny Mercer – 1909
In 1942, the lyricist co-founded Capitol Records with Buddy DeSylva and Glenn E. Wallichs.
Alan Shepard Jr. – 1923
On May 5, 1961, aboard the Mercury Redstone-3, Alan Shepard was launched into space. The successful mission made him the first American in space. He's also one of 12 people who have walked on the moon.
Wilma Mankiller -1945
In 1985, the Cherokee activist and social worker became the first woman named the Principle Chief of the modern Cherokee Nation.
November 18th Celebrated (And Not So Celebrated) History
1914
Mary McDermott gave birth to triplets weighing a total of 24 pounds (10.9 kg), the heaviest set of triplets ever born. During their lifetime, she and her husband Michael would have three sets of twins and six single babies.
1928
Walt Disney's animated cartoon Steamboat Willie premiered at the Colony Theatre in New York City debuting the character Mickey Mouse.
1949
Vice-President Alben W. Barkley and Jane Rucker Hadley wed in St. Louis, MO. The event marks the first marriage of a vice-president while in office.
1970
The University of Stanford Chemist and Nobel Laureate Linus Pauling shared his findings that high doses of Vitamin C could ward off the common cold.
2006
The Celtic Woman set a world record with their self-title album when it spends 108 weeks on Billboards World Album's chart from March 26, 2005, to November 18, 2006.
About National Day Calendar
National Day Calendar® is the original and authoritative source for fun, unusual and unique National Days! Since our humble beginnings on National Popcorn Day in 2013, we have been tracking the National Days, National Weeks, National Months, and International Days. We became the first calendar of its kind to curate the days all in one place and tell their stories, too! Here at National Day Calendar, we are on a mission to Celebrate Every Day with you! And by you, we mean families, businesses, educators, and strangers we meet on the street. There's more than one day for everyone.
At National Day Calendar, we've found the National Days have a way of inspiring us. We're honored to tell the stories behind the days and provide you with informational ways to incorporate the National Days into your business, family, schools, and home!