Looking Back
November 16, 2021 - NATIONAL CHECK YOUR WIPERS DAY – NATIONAL FAST FOOD DAY – NATIONAL BUTTON DAY – NATIONAL INDIANA DAY
NOVEMBER 16, 2021 | NATIONAL CHECK YOUR WIPERS DAY | NATIONAL FAST FOOD DAY | NATIONAL BUTTON DAY | NATIONAL INDIANA DAY

NATIONAL CHECK YOUR WIPERS DAY
National Check Your Wipers Day on November 16th reminds drivers to regularly check their windshield wipers to ensure optimum visibility in the event of inclement weather on the road. In 2020, AAA reported 50.6 million people traveled by automobile for the Thanksgiving holiday, making it one of the year's… Read more…
NATIONAL FAST FOOD DAY
On November 16th, food lovers get a dose of their favorite convenience food. Whether they use the drive-thru, dine-in, or get it to go, National Fast Food Day calls for us to grilled, fried, and broiled menu staples. First popularized in the United States in the 1950s, fast food is considered any meal with low… Read more…
NATIONAL BUTTON DAY
National Button Day on November 16th celebrates the function of buttons and the hobby of button collection. Step aside zippers, laces, and snaps. Honor the button. Founded in 1938, the National Button Society recognized button collecting as an organized hobby. Both novice and advanced button collectors celebrate… Read more…
NATIONAL INDIANA DAY
On November 16th, National Indiana Day revs up its engines for the state that's the home of the Indy 500 and Hoosier hospitality, too. Indiana was the 19th state to enter the Union. James Monroe had just defeated Rufus King in the 1816 presidential race to become the… Read more…
On Deck for November 17, 2021
National Days
International Days
Recipe of the Day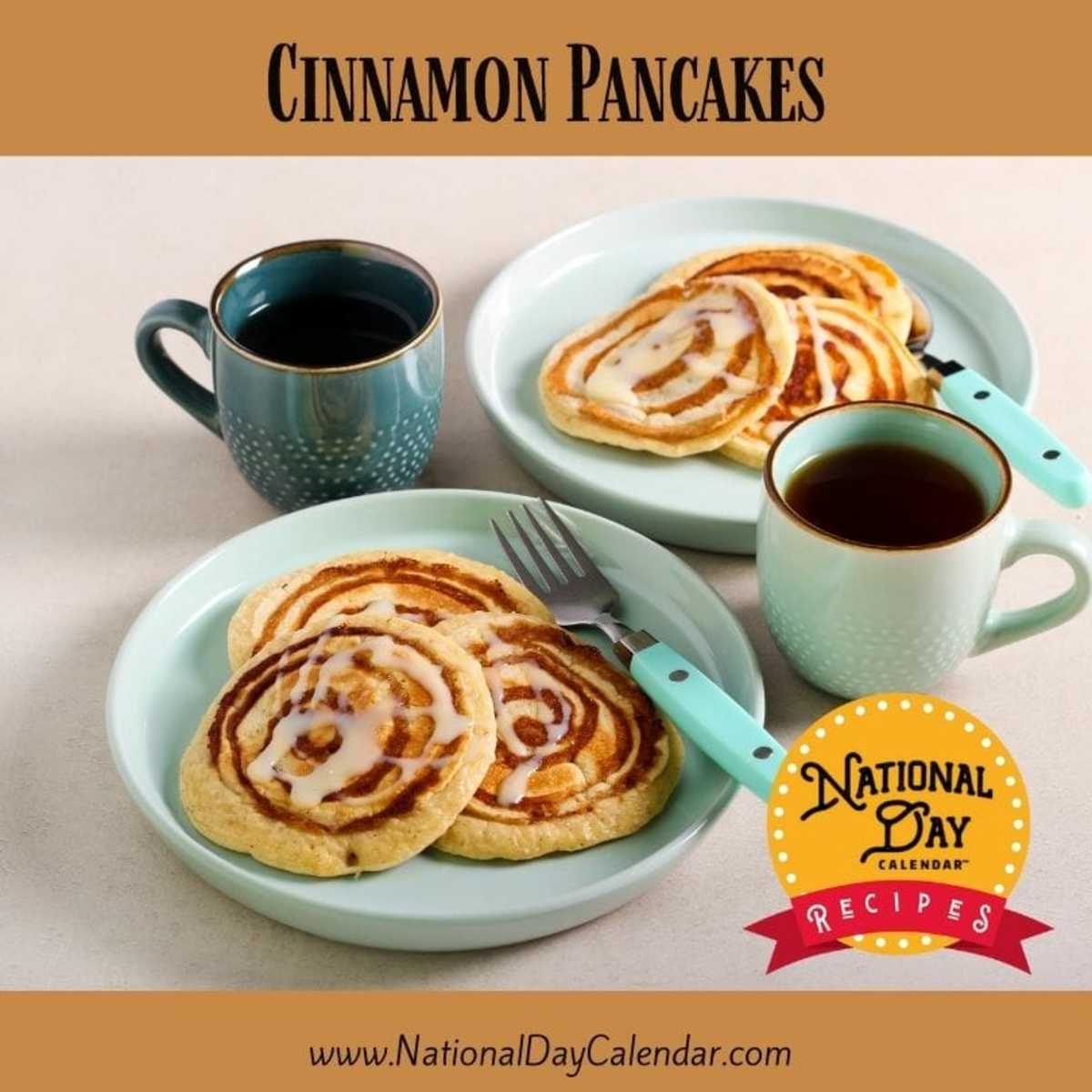 Cinnamon Pancakes
Prep time: 10 minutes
Cook time: 10 minutes
Total: 20 minutes
Servings: 12 pancakes
Ingredients
Pancakes
1 cup all-purpose flour
3/4 tablespoon baking powder
1/2 teaspoon baking soda
1/4 teaspoon salt
1 tablespoon sugar
1/2 tablespoon cinnamon
1 egg
1 cup milk
1 tablespoon butter, melted
Cinnamon Drizzle
1 cup confectioner's sugar
2 tablespoons brown sugar
1/2 teaspoon cinnamon
2-3 tablespoons apple cider
In a small bowl, mix sugars, cinnamon, and apple cider. Add more or less apple cider until a drizzly consistency forms.
Heat griddle over medium-high heat and spray with oil.
Combine the flour, baking powder, baking soda, salt, and sugar in a medium bowl. Mix in egg, milk, and butter until just combined.
Using 1/3 cup of batter per pancake, pour the batter onto the hot griddle. With a spoon, drizzle the cinnamon drizzle over the pancake batter. Flip the pancakes when bubbles begin to form. Cook until lightly brown and done in the middle.
Serve with warm syrup.
November 16th Celebrated (And Not So Celebrated) Birthdays
Mary Peabody Mann – 1806
She and her husband, Horace Mann, were proponents of free education for all. Together they studied educational methods and applied them in the schools they established. Even after her husband's death, she continued the work and even published a book about Friedrich Froebel's ideas about kindergarten.
David Kalakaua – 1836
In 1874, Kalakaua was elected king of Hawaii. However, his reign was marked by corruption and mismanagement. He died in 1891.
William C. Handy – 1873
The career of the self-proclaimed Father of the Blues spanned for more than 66 years. In that time, he encouraged other blues musicians and singers while continuing to write and perform.
Mary Margaret McBride – 1899
The radio commentator and journalist conducted over 1200 interviews during her career.
Amy Applegren – 1926
For nine years, the left-handed pitcher dominated the mound in the All American Girls Professional Baseball League.
Lawrence Dawsey – 1967
Dawsey played eight seasons as a wide receiver in the NFL. In 2009, he became the Co-offensive Coordinator for the Florida Seminoles.
1801
The New York Evening Post published its first issue. Established by Alexander Hamilton as a way to provide a Federalist viewpoint, the Post is now the oldest continuously running newspaper in the United States.
1920
Pitney Bowes introduces the first commercially available postage meter in the world, the Model M.
1965
The Soviet Union launches Venera 3 space probe with a mission to land on the planet Venus. On March 1, 1966, the space probe impacted Venus, but due to communication system failure, no data was returned.
1972
NASA launches Skylab's third crewed mission from Cape Canaveral, Florida. A three-person crew completed the 84-day space flight, the longest on record until 1995.
About National Day Calendar
National Day Calendar® is the authoritative source for fun, unusual and unique National Days! Since our humble beginnings on National Popcorn Day in 2013, we now track nearly 1,500 National Days, National Weeks and National Months. In addition, our research team continues to uncover the origins of existing National Days as well as discover new, exciting days for everyone to celebrate.

There's a celebration for everyone. While National Road Trip Day satisfies the itch to wander, many pet days let us share our love of animals. National 3-D Day and National Astronaut Day honor the advancement of technology, too. Every food day you can imagine (National Avocado Day, for example), will keep you celebrating, also!
Be sure to stay in the know by signing up for our e-mail updates. Also, follow us on Facebook, Twitter, and Instagram.
Our Ambassador Program is another way #CelebrateEveryDay®! Whether you become an ambassador or follow one of the savvy ambassadors, their fun videos and posts will keep you prepared for every holiday.