Looking Back
November 10, 2022 - NATIONAL CIVIC PRIDE DAY - NATIONAL VANILLA CUPCAKE DAY - UNITED STATES MARINE CORPS BIRTHDAY - NATIONAL FORGET-ME-NOT DAY
NOVEMBER 10, 2022 | NATIONAL CIVIC PRIDE DAY | NATIONAL VANILLA CUPCAKE DAY | UNITED STATES MARINE CORPS BIRTHDAY | NATIONAL FORGET-ME-NOT DAY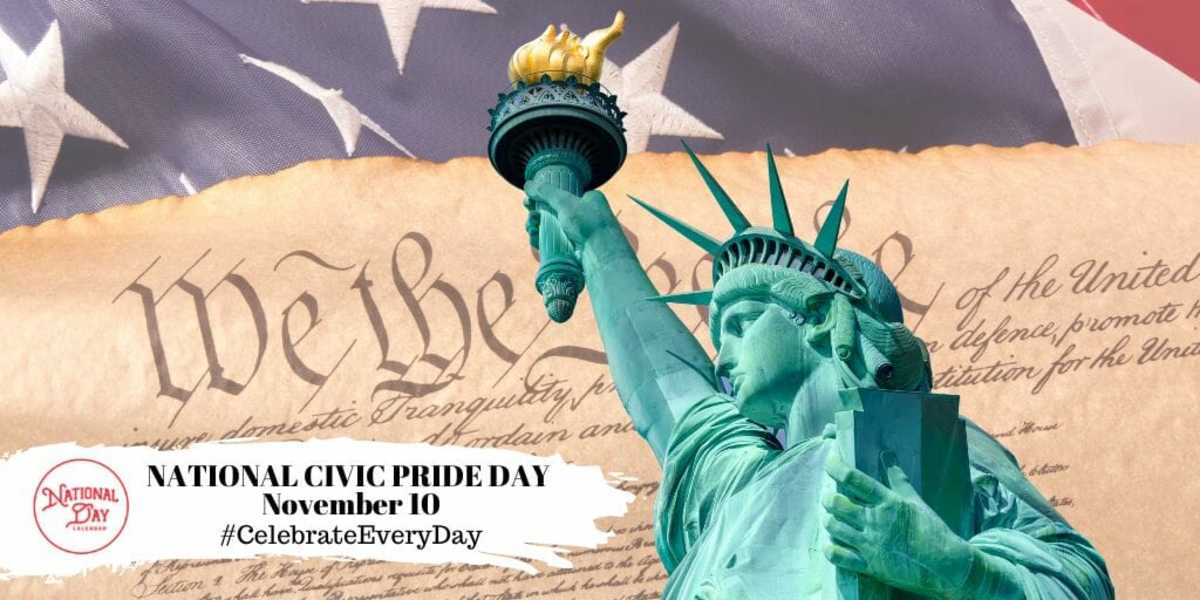 NATIONAL CIVIC PRIDE DAY | November 10
On November 10 we celebrate National Civic Pride Day and inspire everyone to promote the dynamic communities they live in. Read more…
NATIONAL VANILLA CUPCAKE DAY
Cupcake lovers celebrate each year on National Vanilla Cupcake Day. These small cakes get their day on November 10th. Indulge in one or several. Read more…
UNITED STATES MARINE CORPS BIRTHDAY
On November 10th, The United States Marine Corps Birthday commemorates the establishment of the Continental Marines. Read more…
NATIONAL FORGET-ME-NOT DAY
National Forget-Me-Not Day on November 10th reminds Americans of the sacrifices returning soldiers have made of body, blood, and limb. Created in 1921, National Forget-Me-Not Day originally raised funds to provide services for injured soldiers returning home. At the time, the existing hospitals were insufficient to support the number of returning disabled veterans. Read more…
On Deck for November 11, 2022
National Days
National Sundae Day
Veterans Day
International Days
International Origami Day
Remembrance Day
Singles Day (China)
Recipe of the Day
Tapioca Pudding
Prep: 30 minutes
Cook: 30 minutes
Total Prep: 60 minutes
Serves 4
Ingredients:
1/2 cup small pearl tapioca
3/4 cup water
2 – 1/4 cups 2% milk
1/4 teaspoon salt
1/2 cup sugar divided
2 eggs separated
1/2 teaspoon vanilla

Instructions:
Soak the tapioca in water for 30 minutes in a 1-1/2 quart saucepan.
Do not drain any remaining liquid from the tapioca.
Lightly beat egg yolks and add to tapioca along with milk, salt and 1/4 cup of sugar.
Simmer over low heat for 10-15 minutes and stir frequently.
Beat together egg whites and remaining sugar until soft peaks form.
Fold in a portion of the hot tapioca into the egg whites, then carefully fold the mixture back into the saucepan.
Continue to stir over low heat for approximately 3 minutes.
Allow the tapioca to cool for 15 minutes, then add the vanilla.
Serve the tapioca warm or chilled.
As an added treat, top with fruit, nuts, whipped cream, cinnamon or other seasonal favorites.
November 10th Celebrated (And Not So Celebrated) History
1775
The Continental Congress establishes the Continental Marines creating two battalions to protect and fight from land and sea.
1871
Journalist Henry Morton Stanley arrives in the village Ujiji in Tanzania after an eight-month-long search for the man he'd been looking for. "Mr. Livingstone, I presume?" he asks the thin and disheveled explorer many had assumed dead.
1969
Full of approachable Muppet characters and educational themes, Sesame Street debuted on PBS television.
1991
Home Alone starring Macaulay Culkin premiered in Chicago theaters.
November 10th Celebrated (And Not So Celebrated) Birthdays
Michael Strank – 1919
In 1939, Strank enlisted in the Marine Corps and attained the rank of sergeant. He was one of the six men raising the American flag on top of Mount Suribachi, Iwo Jima on February 23, 1945, during World War II. Sgt. Strank was killed only a few days later on March 1st.
Russell Means – 1939
Best known for his roles in Last of the Mohicans and Natural Born Killers, the actor and producer also served as the first national director of the American Indian Movement.
James Hood – 1942
Hood became one of the first African Americans to integrate the University of Alabama. In 1963, he and Vivian Malone drew national attention when Alabama Governor George Wallace defied the deputy attorney general. Later, the National Guard was called to assist and federalized by President John F. Kennedy to permit the students to attend.
Ellen Pompeo – 1969
The award-winning actress has played the role of Dr. Meredith Grey on Grey's Anatomy since 2005.
About National Day Calendar
National Day Calendar is the original and authoritative source for fun, unusual and unique National Days! Since our humble beginnings on National Popcorn Day in 2013, we have been tracking the National Days, National Weeks, National Months, and International Days. We became the first calendar of its kind to curate the days all in one place and tell their stories, too! Here at National Day Calendar, we are on a mission to Celebrate Every Day with you! And by you, we mean families, businesses, educators, and strangers we meet on the street. There's more than one day for everyone.
At National Day Calendar, we discovered the National Days have a way of inspiring us. We're honored to tell the stories behind the days and provide you with informational ways to incorporate the National Days into your business, family, schools, and home!