(Last Updated On: August 5, 2022)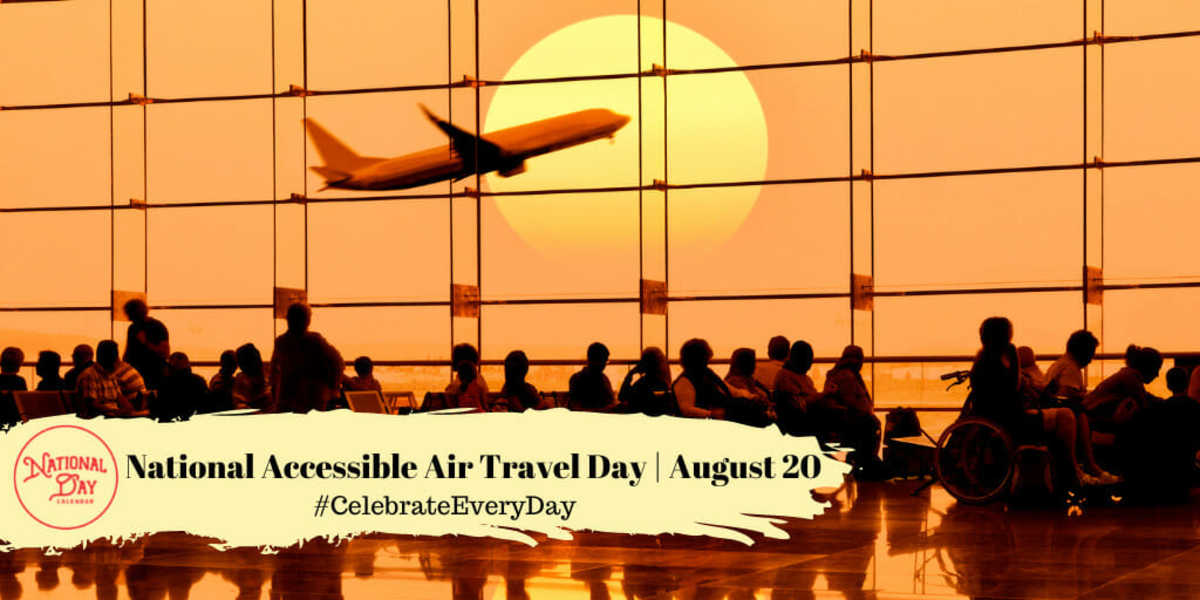 NEW DAY PROCLAMATION | NATIONAL ACCESSIBLE AIR TRAVEL DAY | AUGUST 20
On August 20, National Accessible Air Travel Day focuses on the need for accessible air travel for people with disabilities.
#NationalAccessibleAirTravelDay
Today, we highlight the need for accessible air travel for people with disabilities. While providing education and recognizing achievements made to assist people with disabilities, the day also encourages everyone to recognize how airplane accommodations are necessary for millions of people with disabilities to travel safely.
Air Carrier Access Act
People with disabilities are entitled to the same accommodations as any other individual when traveling, including air travel. All airlines are required to follow the Air Carrier Access Act (ACAA), which provides all passengers disability assistance with:
Wheelchairs
Boarding and deplaning
Connecting flights
Personal belongings
Assistance with service animals
Interpreters
Technology (TTY) to communicate
Airline carriers are required to follow the ACAA, which became law in 1986. The federal law prohibits discrimination against any individual with a disability during air travel. It also ensures people with disabilities have the same rights as other passengers when flying. In 2022, the U.S. Department of Transportation (DOT) published the Airline Passengers with Disabilities Bill of Rights. This Bill of Rights describes the fundamental rights of air travelers with disabilities under the ACAA and its implementing regulation, 14 Code of Federal Regulations (CFR) Part 382.
The Air Carrier Access Act makes it illegal for airlines to discriminate against any passenger with a disability.
SUPPORT NATIONAL ACCESSIBLE AIR TRAVEL DAY
Join an organization that is raising awareness and funding projects to develop innovative technologies making air travel accessible for people with disabilities.

Donate to an organization who fund projects that provide feasibility, safety and economic studies to create and make accommodations, including those required by the Federal Aviation Administration (FAA), airline carriers and legislators.

Participate and create an event in your community to promote awareness or raise funds to support a nonprofit.

Petition your local congressperson and write the FAA.

If you're an individual with a disability, share your travel stories to help raise awareness for others.

Post on social media using #NationalAccessibleAirTravelDay.
HISTORY
All Wheels Up (AWU), is a nonprofit organization that works to raise awareness for safe and dignified air travel for people with disabilities The organization founded National Accessible Air Travel Day in 2022 and recognizes the need to raise awareness about the need to improve accessible air travel for people with disabilities. As the only organization to crash test wheelchairs for commercial flight for a wheelchair spot, AWU focuses on funding research and advocating for safe accessible air travel with an emphasis on securing a wheelchair spot on airplanes.
AWU is dedicated to improving how people with disabilities travel, with a focus on:
Funding more wheelchair and wheelchair securement crash testing specific to FAA seat standards.
Working with regulators, such as the FAA, Congress, airplane manufacturers, and airlines, to secure a wheelchair spot on airplanes.
Developing educational tools and resources showing how to support wheelchair accessible air travel.
Making worldwide air travel fully accessible for millions of people who use wheelchairs.
Creating an annual awareness day on August 20 to encourage communities to join together and recognize the needs and achievements in air travel for people with disabilities.
Statistics
According to All Wheels Up, there are currently 4 million wheelchair users in the U.S. and growing. Adults with disabilities spend $17 billion on travel annually, with $4 million in European travel, plus millions more in other developing world countries. Sadly, there are NO wheelchair spot on planes, like there are on buses or trains. Thanks to the determination of AWU, people with disabilities will finally travel with comfort and dignity.
The FAA projects U.S. airline passenger growth to average 2% every year. In addition, the U.S. air travel demand to go from 756.3 million passengers in 2014. By 2035, those numbers will double and reach 1.14 billion passengers. The International Air Transport Association projects world airline passenger growth to average 3.8% ever year. World air travel demand will double from 3.5 billion passengers in 2015 to 7 billion by 2034.
Accessible Air Travel
Normally, when booking a flight, the customer is asked if they require special assistance. Oftentimes, these questions do not specify in detail what type of services might be needed. Because people with disabilities do not require the same types of services, it's very hard for people to make further arrangements. Understanding what services are available is just as important as the services themselves.
The Department of Transportation has a variety of easy-to-use material available for passengers with disabilities. This material is specifically designed to assist and make travel enjoyable.
Join us each year on August 20 as we celebrate National Accessible Air Travel Day to raises awareness with need for accessible air travel for people with disabilities.