(Last Updated On: November 9, 2022)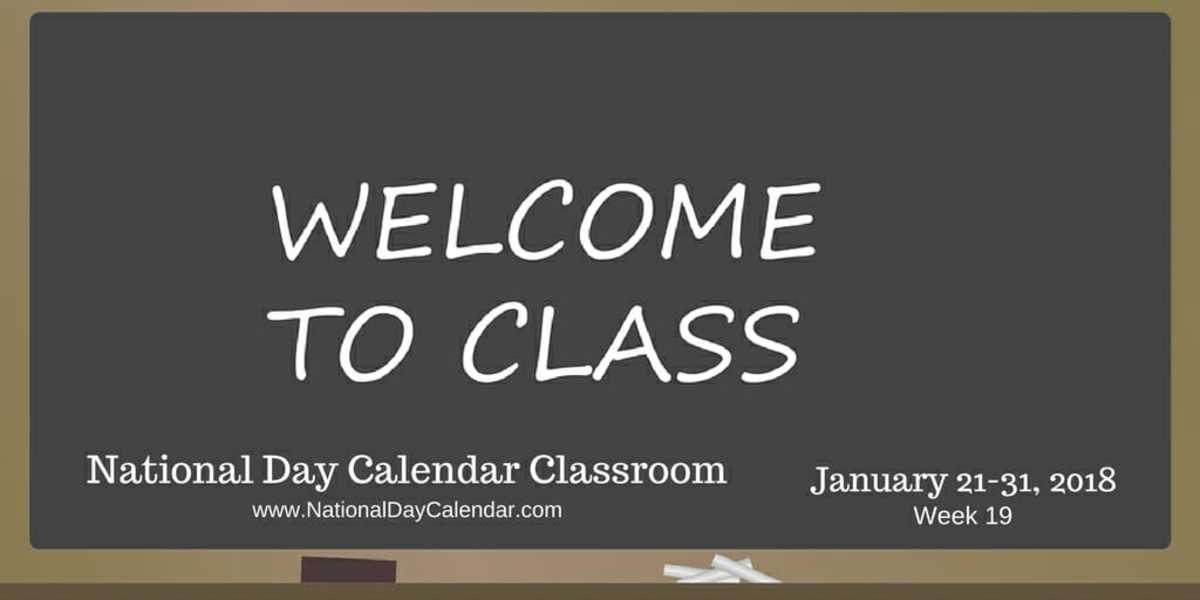 NATIONAL DAY CALENDAR CLASSROOM – January 21-31, 2018 – Week 19
The National Day Calendar Classroom visits several days on the calendar over the next ten days.
We will begin with National Handwriting Day on January 23.  With the advent of electronic media, handwriting seems to be a lost art.  However, generation after generation has learned that even as styles change, our ability to read vital historical and scientific documents depends on our ability to understand the handwritten word.  We will take a look at other reasons for maintaining classic handwriting.
On January 24, Library Shelfie Day gives us the opportunity to create a bookshelf of our liking.
National Opposite Day on January 25 will wake up the classroom and make the day more interesting.  We can also take a look this from an opposite position.
Finally, on Monday, January 29, National Bubble Wrap Appreciation Day the classroom will take a look at all the ways mistakes are one step closer to learning something new.
Students are always welcome to visit our  Today's Trivia page to test their knowledge from around the world.
NATIONAL HANDWRITING DAY – January 23
Studies at Indiana University by Dr. Karin Harman James support the scientific argument that children who learn the alphabet by writing it show more brain activity than those who don't.
Handwriting is a complex fine motor task. Coordinating the muscles of the hand, eyes and the brain to work together requires skills that once developed become second nature. These skills improve our daily language.
Researchers, Pam Mueller and Daniel Oppenheimer, published a paper in the journal Psychological Science suggesting handwriting plays an important role in memory.
All this is to say, handwriting still plays an important role in our everyday lives. The Smithsonian explores The Art of Handwriting and includes correspondence across the ages. Your assignment is to examine the letters through the ages with your students and see how handwriting evolves through the ages. Encourage your students to take their notes by hand and write as often as possible.
LIBRARY SHELFIE DAY – Fourth Wednesday in January
Assign your students to each bring one book to class to create a bookshelf that describes your classroom.  Take a shelfie of your bookshelf and post it on social media.
NATIONAL OPPOSITE DAY – January 25
Reverse the schedule. Read books backward. Eat dessert first.  Discuss what it might mean to live outside instead of inside.  Ask how it might feel to be sick instead of well. Or, to live by the ocean instead of a mountain.  Ask if that is considered an opposite?  Does everything have an opposite?  For example, is a cat the opposite of a dog?  National Day Calendar would love to hear your students' responses – Feel free to use the contact form at the bottom of the page to share.
NATIONAL BUBBLE WRAP APPRECIATION DAY – Last Monday in January
Thomas Edison said once, "I have not failed. I've just found 10,000 ways that won't work." Bubble wrap seemed like a failure. It was no good as wallpaper but as packaging for shipping fragile items, it became a genius invention. Play Dough started out as a wallpaper cleaner and transformed into a child's art supply.
Our students' young minds often have a million new ideas running through their heads every day.  Challenge them to execute something from their failures.
Write about a project that didn't go well.  What did you learn from what went wrong?
Describe a day where things went wrong. Was there anything that you could have done differently to make it go better? Did something better come of it that wouldn't have happened if things hadn't gone wrong?
Think of a mistake you made that ended up to be a good thing.  Describe what was good about it.
Find something broken around the house.  Ask permission to make it useful in another way.