Looking Back
May 19, 2022 - NATIONAL MAY RAY DAY – NATIONAL DEVIL'S FOOD CAKE DAY
MAY 19, 2022 | NATIONAL MAY RAY DAY | NATIONAL DEVIL'S FOOD CAKE DAY
NATIONAL MAY RAY DAY | MAY 19
This is the time of year the sunshine is bright and warm along with just a slight breeze to cool your skin which makes celebrating National May Ray Day on the 19th of May perfect. Whether your name is Ray or Betty, be sure to get outdoors and soak up some sun. Read more…
NATIONAL DEVIL'S FOOD CAKE DAY | MAY 19
Little is better than May 19th with the flavor and richness of National Devil's Food Cake Day to be enjoyed by chocolate cake lovers throughout the country and around the world. Read more…
On Deck for May 20, 2022
National Days
International Days
Recipe of the Day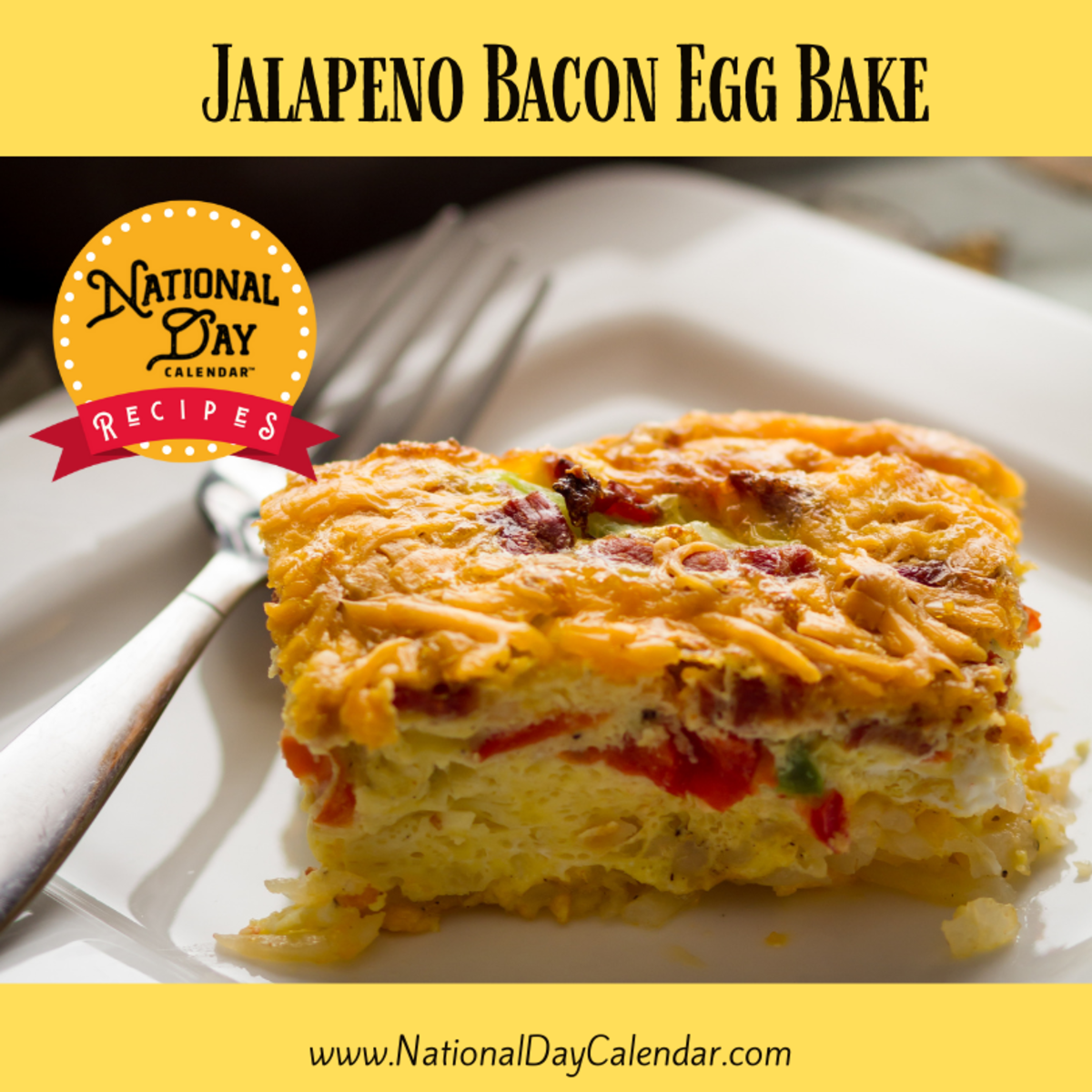 Jalapeno Bacon Egg Bake
Prep time: 15 minutes
Cook time: 50 minutes
Total: 1 hour 5 minutes
Servings: 10
Ingredients
1 pound bacon, crisped and crumbled, divided
3 jalapeno peppers, seeded and diced
1 red bell pepper, seeded and diced
1 yellow onion, diced
3 cloves garlic, minced
12 large eggs
1 cup milk
3 cups frozen diced potatoes
2 cups shredded cheddar cheese, divided
1 1/2 teaspoons salt
1/2 teaspoon ground black pepper
2 green onions, chopped
Instructions
Heat oven to 350°F. Prepare a 9×13 baking dish with cooking spray.
In a large skillet, cook onion and jalapenos over medium heat until tender. Add garlic and cook until fragrant. Remove from heat.
In a large bowl, beat eggs while whisking in the milk. Add the onion, jalapeno, potatoes (frozen, do not thaw), and 1 cup of shredded cheese. Reserve 3/4 cup of bacon and add the remaining bacon to the egg mixture. Season with salt and pepper.
Pour egg mixture into the prepared baking dish. Top with remain cheese and green onions. Bake 20 minutes. Add reserved bacon and bake for an additional 20-30 minutes. The eggs should be firm and the cheese golden brown.
May 19th Celebrated (and Not So Celebrated) History
1884
The Ringling Brothers stage their first circus.
1910
A month after Halley's Comet reached perihelion, the Earth passes through the comet's tail. Indecently, author Mark Twain was born during the comet's previous visit in 1835. The author predicted he would die during the comet's 1910 visit. He died on April 21, 1910, one day following the comet's perihelion.
1928
Calaveras County, California hosts their first Frog Jumping Jubilee.
1962
Marilyn Monroe sings "Happy Birthday" to President John F. Kennedy at his New York birthday celebration.
May 19th Celebrated (and Not So Celebrated) Birthdays
John Hopkins – 1795
Born to Quakers Samuel Hopkins and Hannah Janney, Johns Hopkins became a successful businessman and philanthropist. Hopkins' forward-thinking provided for the development of Johns Hopkins University, Johns Hopkins Hospital and Johns Hopkins School of Medicine among others. As a result, these facilities contribute to the advanced research into disease and healthcare.
Henry G. Ginaca – 1876
Through Henry Gabriel Ginaca, the pineapple is more readily packaged, shipped, and consumed. Ginaca engineered the machine that automatically peeled and cored the Hawaiian fruit for the Dole Packaged Foods Company in 1911.
Frank Luke – 1897
During World War I, Frank Luke became known as the second-ranked American fighting ace after Eddie Rickenbacker. He would be shot down after on September 29, 1918, after a string of victories. Luke was awarded the Congressional Medal of Honor posthumously.
Malcolm X – 1925
The one-time minister of the Nation of Islam, Malcolm X played a pivotal counterpoint to Dr. Martin Luther King Jr.'s peaceful activism the Civil Rights Movement, and racism. In later years, the eloquent orator found a renewed hope after divesting himself from the Nation of Islam. He was assassinated in 1965.
Loraine Hansberry – 1930
Lorraine Hansberry wrote the award-winning Broadway play A Raisin in the Sun.
Mario Chalmers – 1986
Mario Chalmers is a point guard for the Memphis Grizzlies. He was drafted as the 34th pick overall in the 2008 NBA draft by the Minnesota Timberwolves.
About National Day Calendar
National Day Calendar® is the original and authoritative source for fun, unusual and unique National Days! Since our humble beginnings on National Popcorn Day in 2013, we have been tracking the National Days, National Weeks, National Months, and International Days. We became the first calendar of its kind to curate the days all in one place and tell their stories, too! Here at National Day Calendar, we are on a mission to Celebrate Every Day with you! And by you, we mean families, businesses, educators, and strangers we meet on the street. There's more than one day for everyone.
At National Day Calendar, we've found the National Days have a way of inspiring us. We're honored to tell the stories behind the days and provide you with informational ways to incorporate the National Days into your business, family, schools, and home!
Be sure to stay in the know by signing up for our e-mail updates. Also, follow us on Facebook, Twitter, and Instagram.
Our Ambassador Program is another way #CelebrateEveryDay®! Whether you become an ambassador or follow one of the savvy ambassadors, their fun videos and posts will keep you prepared for every holiday.
© National Day Calendar® 2013 – 2021