(Last Updated On: May 15, 2023)
MAY 16, 2023 | NATIONAL BARBECUE DAY | NATIONAL LOVE A TREE DAY | NATIONAL CLASSIC MOVIE DAY | INTERNATIONAL DAY OF LIGHT | NATIONAL DO SOMETHING GOOD FOR YOUR NEIGHBOR DAY | INTERNATIONAL DAY OF LIVING TOGETHER IN PEACE | NATIONAL SEA MONKEY DAY | HONOR OUR LGBT ELDERS DAY | NATIONAL COQUILLES SAINT JACQUES DAY | NATIONAL MIMOSA DAY | NATIONAL CHECK YOUR WIPERS DAY | NATIONAL BIOGRAPHER'S DAY | NATIONAL PIERCING DAY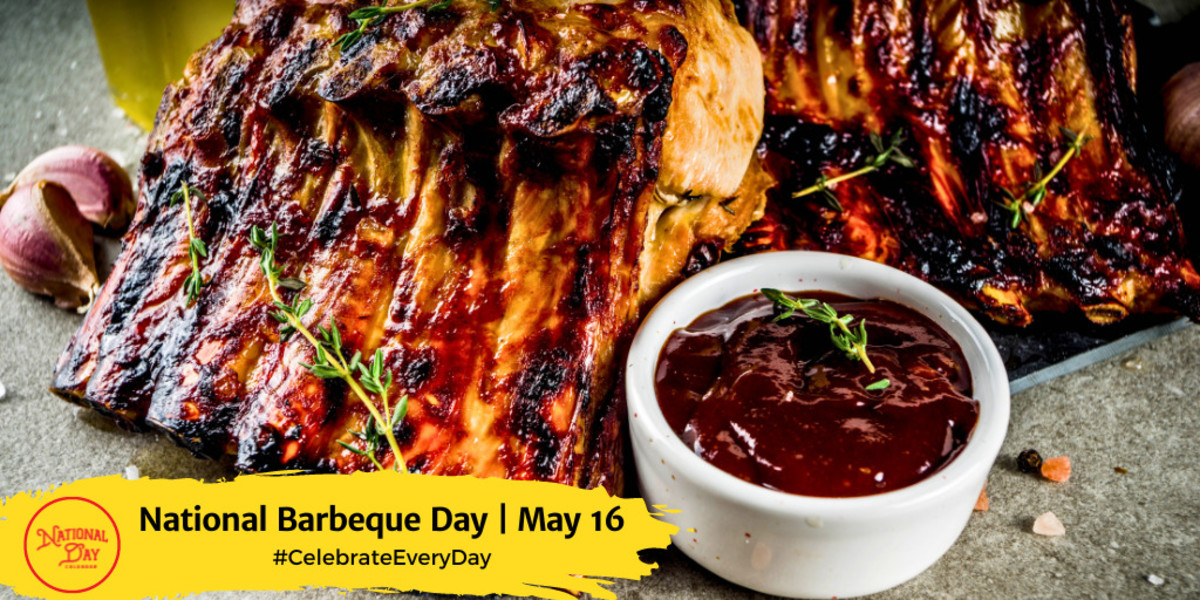 NATIONAL BARBECUE DAY
Each year on May 16 we celebrate National Barbecue Day in the United States. Whether you grill at home or grab some takeout, you will find Americans across the country enjoying an assortment of mouthwatering barbeque (BBQ) flavors and sauces. Read more…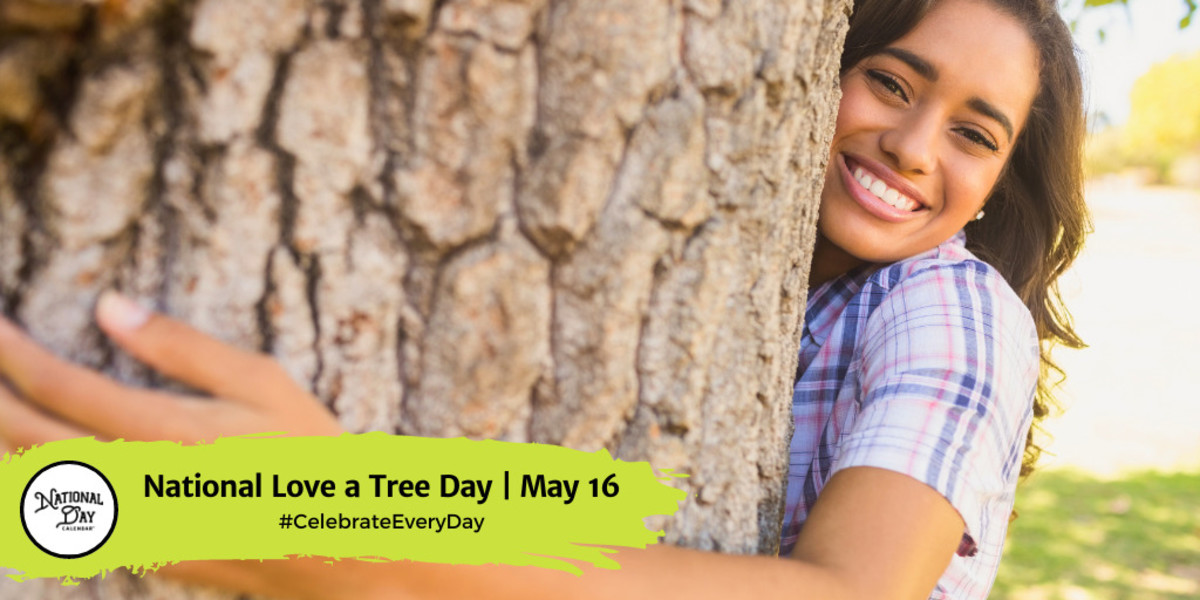 NATIONAL LOVE A TREE DAY
On May 16th each year, National Love a Tree Day celebrates the joys of life provided by trees. Reading in the shade or taking a bite out of a fresh fruit pie are but two examples. Of course, planting trees for future generations to love is beneficial too. Read more…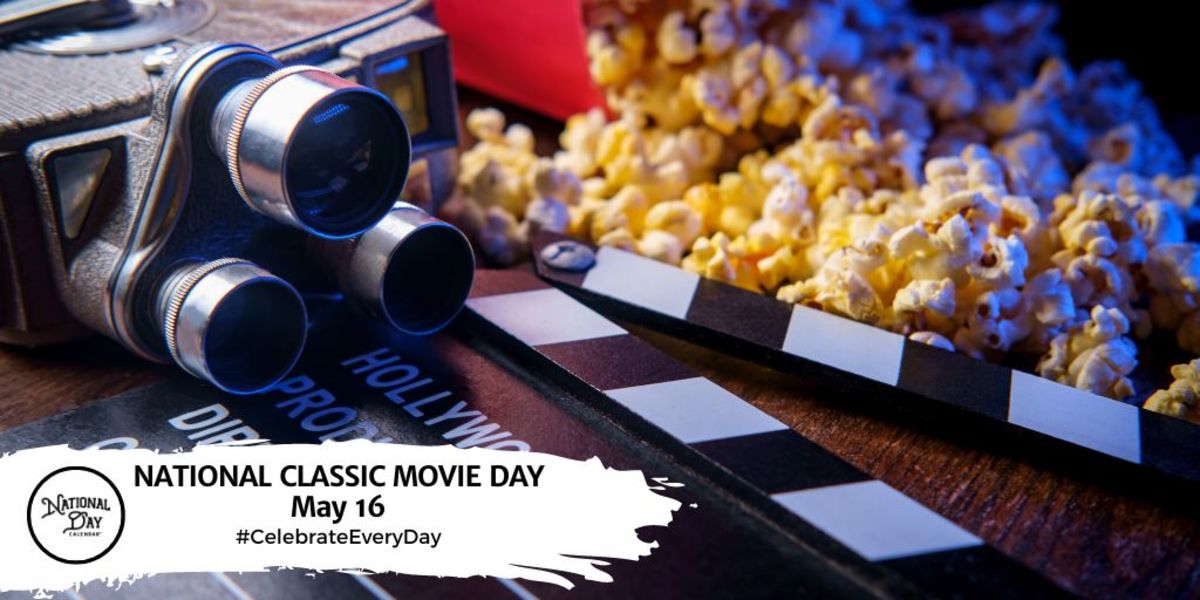 NATIONAL CLASSIC MOVIE DAY
Today is May 16 and we are celebrating National Classic Movie Day by reminiscing about the movies we have seen on the big screen. Grab some popcorn, a drink, and find a cozy chair to relax in as we celebrate National Classic Movie Day. Read more…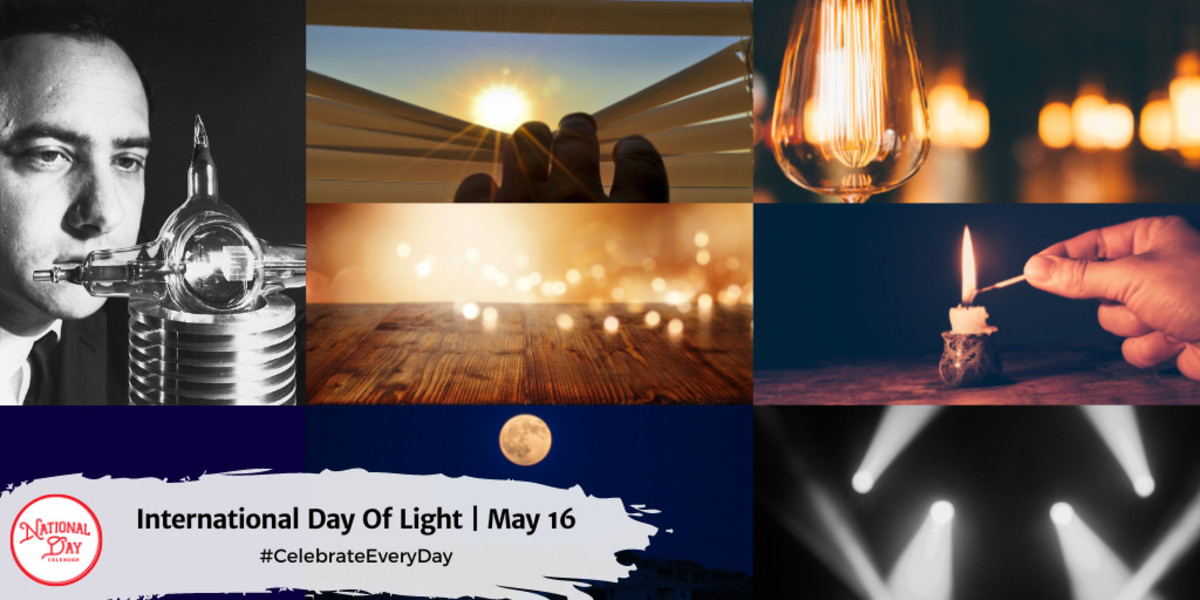 INTERNATIONAL DAY OF LIGHT
Every year on May 16th, the International Day of Light promotes awareness for the appreciation of light and the role it plays in science, art, education, and sustainable development. The day also recognizes the natural benefits of light, as well as its many technological applications. Read more…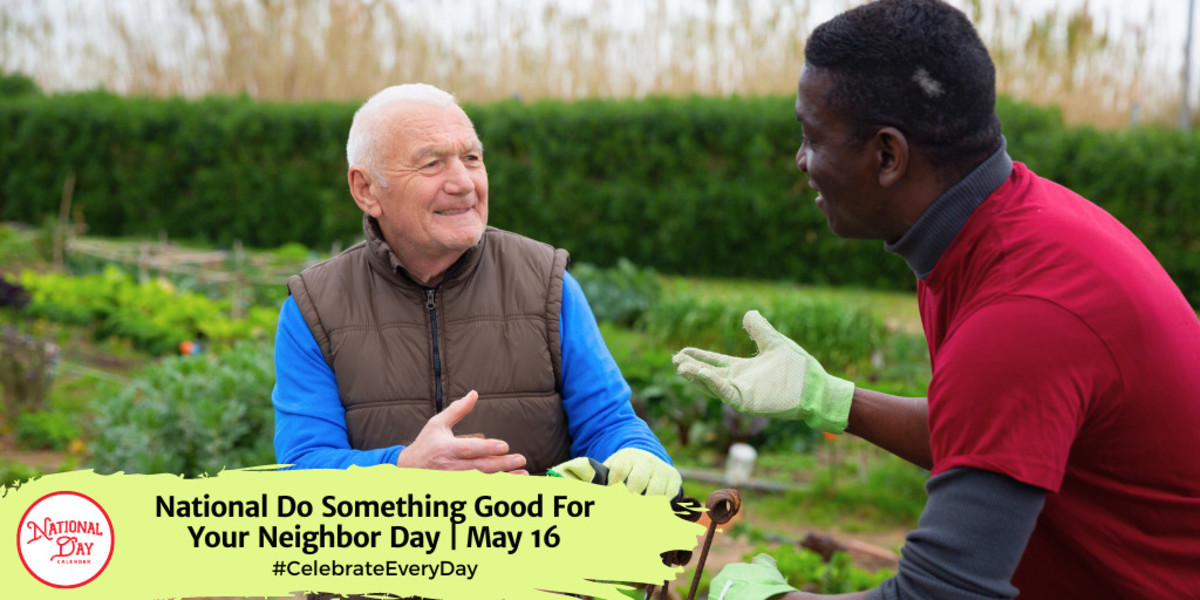 NATIONAL DO SOMETHING GOOD FOR YOUR NEIGHBOR DAY | MAY 16
You can never fail when following the Golden Rule, love your neighbor as yourself. National Do Something Good For Your Neighbor Day on May 16th encourages each of us to take a moment during our interaction with others and ask ourselves, how would I like to be treated right now? Read more…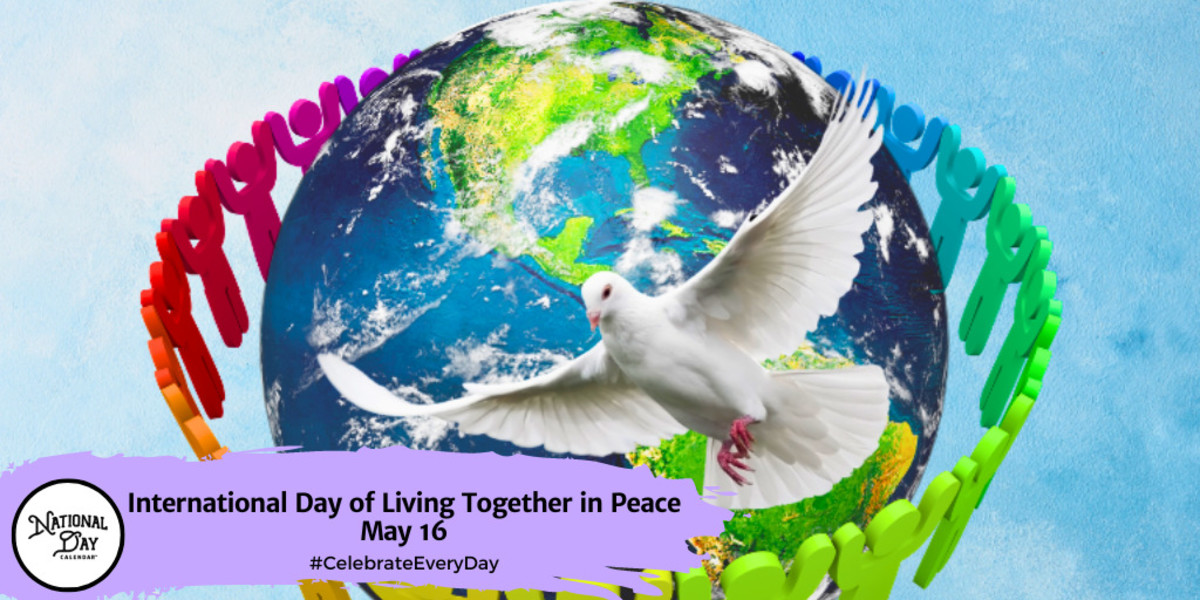 INTERNATIONAL DAY OF LIVING IN PEACE
Every year on May 16th, the International Day of Living Together in Peace urges people to live in a united and peaceful way by listening to, respecting, and appreciating others. Read more…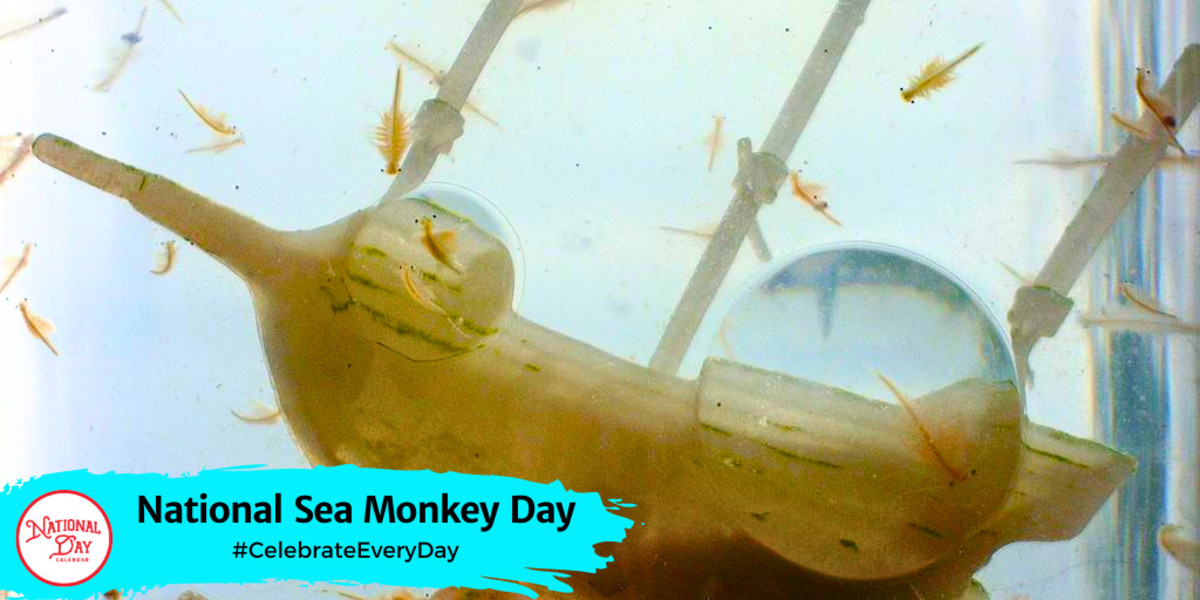 NATIONAL SEA MONKEY DAY | MAY 16
The tiny brine shrimp is better known by its brand name, Sea-Monkey. On the 16th of May each year, many of us celebrate fond childhood memories for National Sea Monkey Day as we look back to our aquariums filled with these magical little creatures that hatched and grew before our eyes. Read more…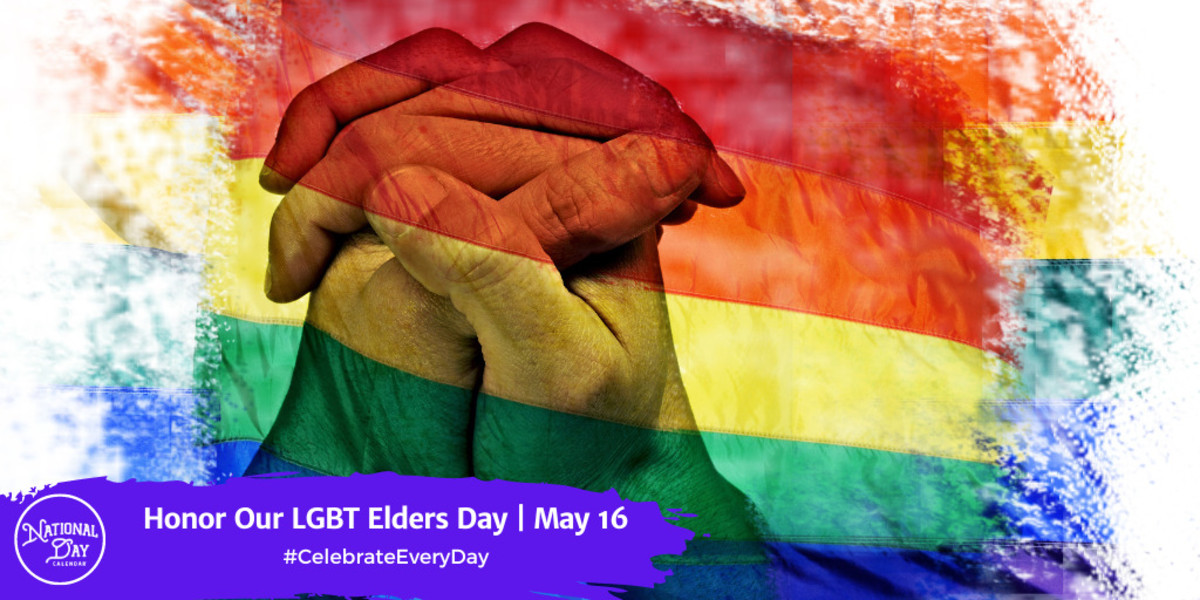 HONOR OUR LGBT ELDERS DAY | MAY 16
Honor Our LGBT Elders Day on May 16 recognizes the thousands of people in the LGBT community who have paved the way for access and social acceptance. Today, take the opportunity to explore, learn and support equality for all LGBT people. Read more…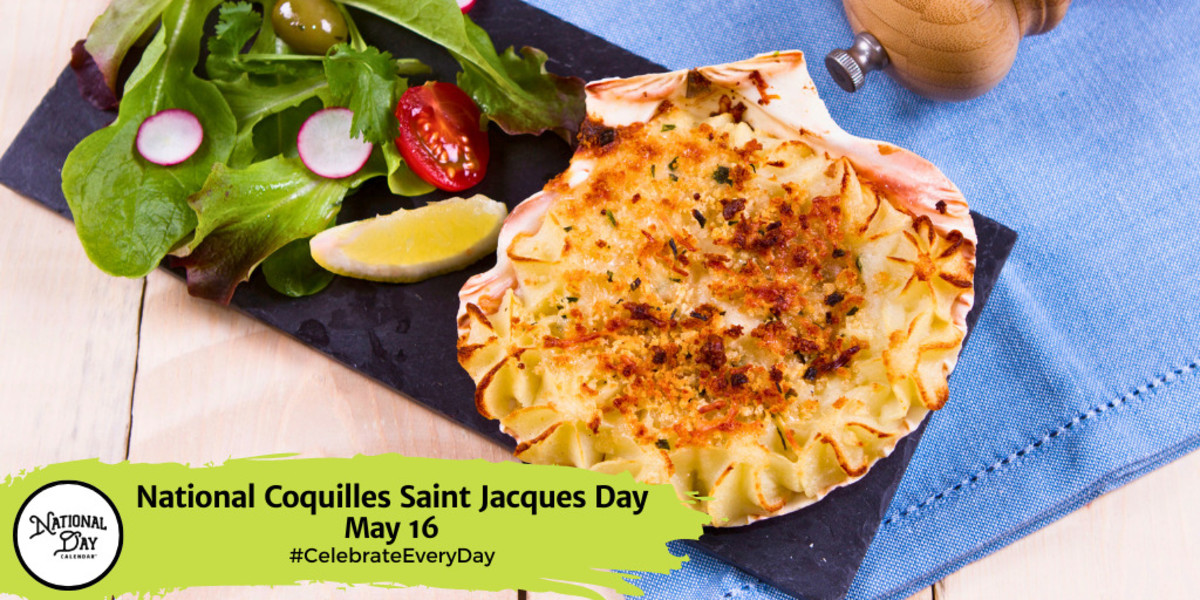 NATIONAL COQUILLES SAINT JACQUES DAY | MAY 16
On May 16th we celebrate National Coquilles Saint Jacques Day. This classic French dish is scallops in a creamy wine sauce, covered with breadcrumbs, and cheese, before it is browned, placed under a broiler. Cooks usually make this seafood scallop dish with a mixture of butter, cream, mushrooms, and their favorite cheese. Read more…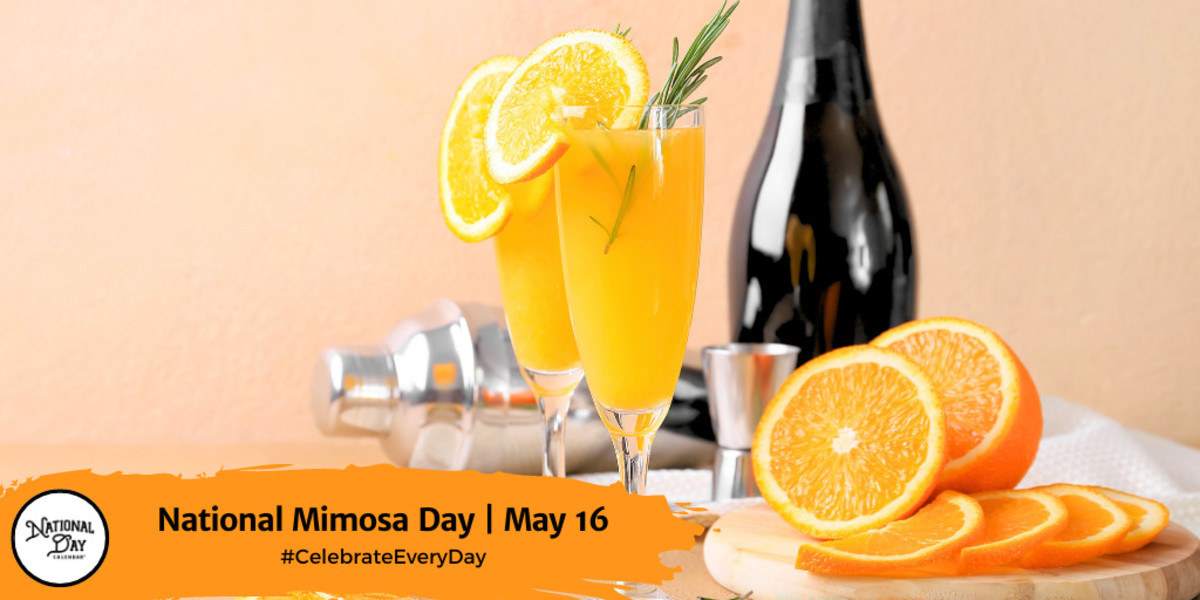 NATIONAL MIMOSA DAY | MAY 16
National Mimosa Day on May 16th gets its name from the Mimosa, a yellow flowering plant. This simple mixture of orange juice and champagne or sparkling wine resembles those flowers in color, however, the flavor adds a kick to most any brunch! Read more…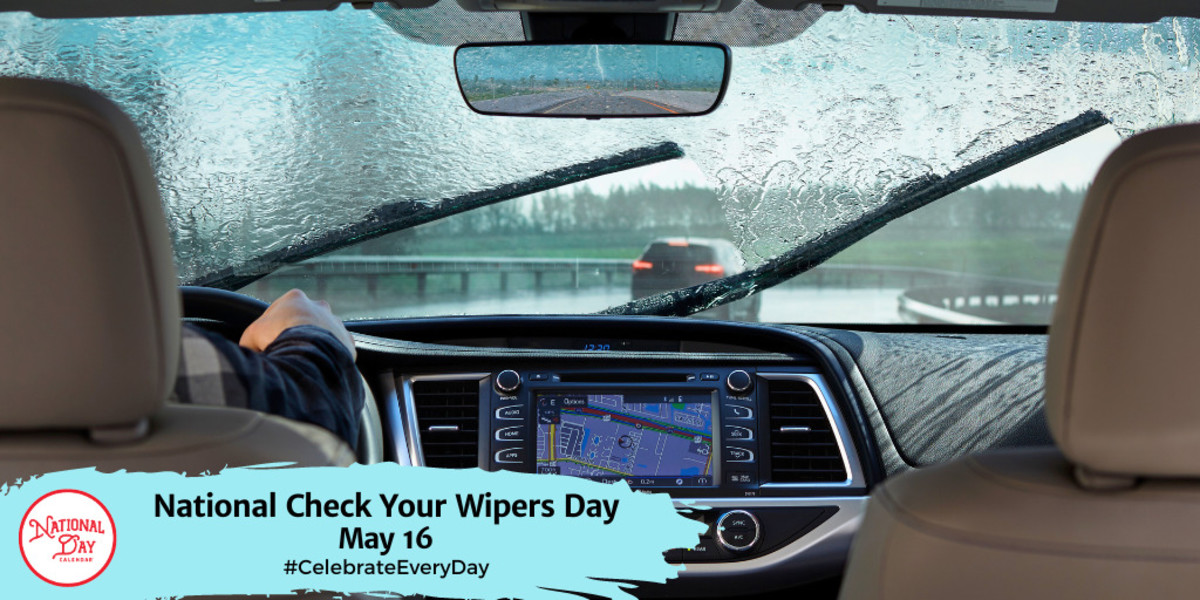 NATIONAL CHECK YOUR WIPERS DAY
National Check Your Wipers Day (Día Nacional de Revisar Tus Limpiaparabrisas), on May 16, reminds drivers in Latin America to regularly check their windshield wipers to ensure optimum visibility in the event of inclement weather on the road. Read more…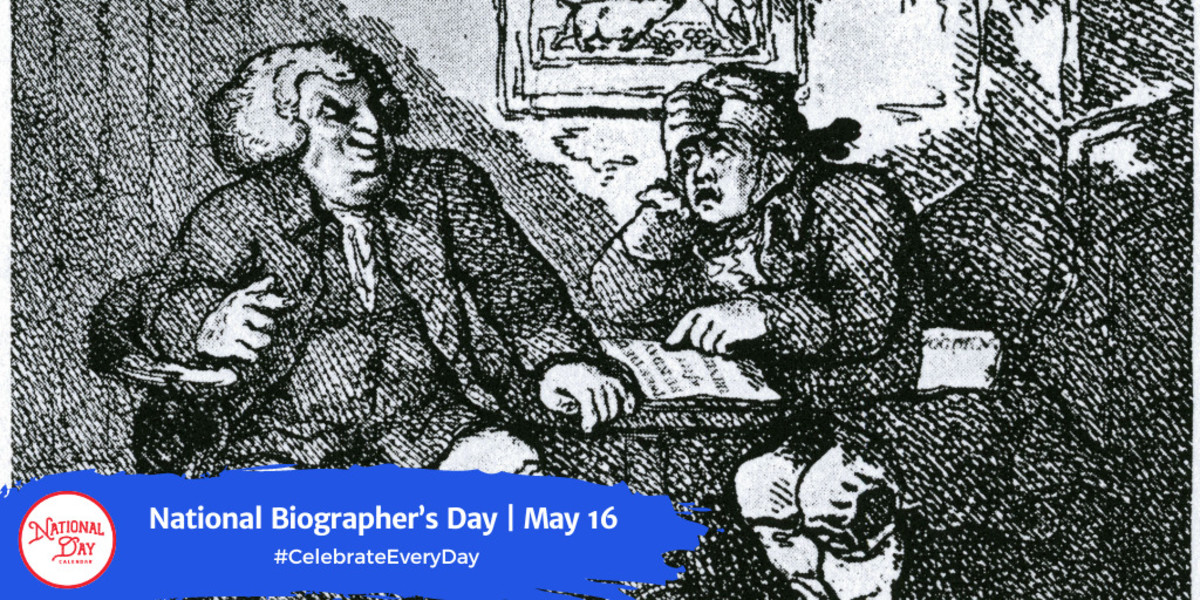 NATIONAL BIOGRAPHER'S DAY | MAY 16
Each 16th of May National Biographer's Day commemorates the anniversary of the first meeting of Samuel Johnson, an English writer, and his biographer James Boswell in London, England on May 16, 1763. Dr. Johnson was a famous playwright, poet, moralist, essayist, literary critic, editor, and lexicographer. Read more…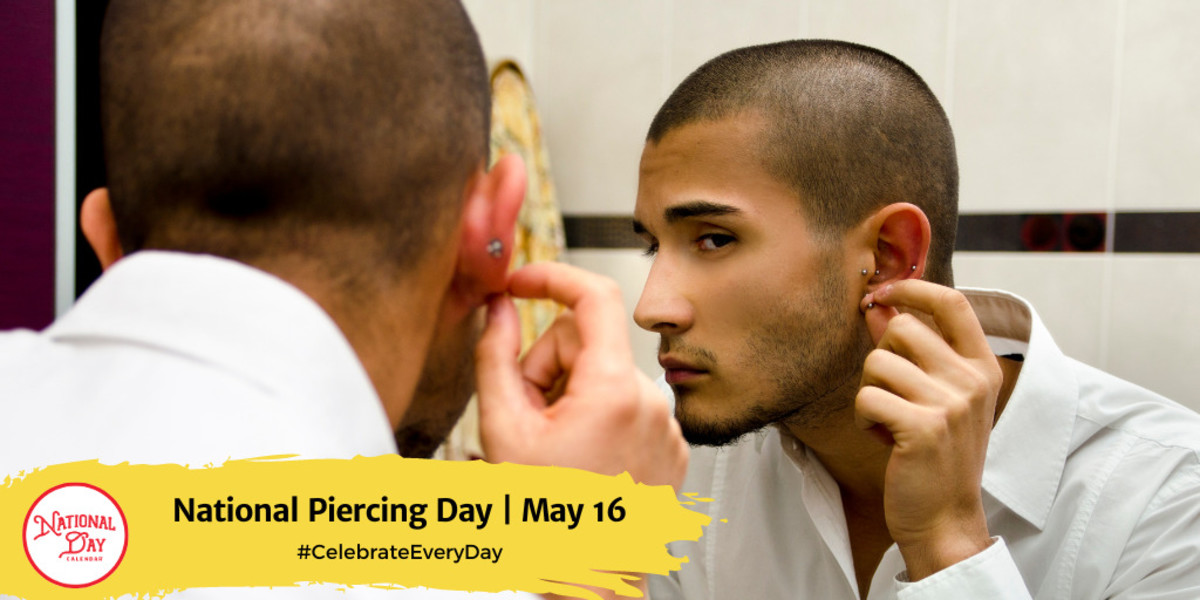 NATIONAL PIERCING DAY
National Piercing Day on May 16th Day promotes piercing. In times past, pierced ears were about the limits of what we once saw; today the number one type of piercing is the nose/nostril, and quite common. Yes body piercing has increased in popularity, its history dates back to biblical times. Read more…
On Deck for May 17, 2023
National Days
World Telecommunication And Information Society Day
World Hypertension Day
National Idaho Day
National Graduation Tassel Day
Emergency Medical Services For Children Day
National Walnut Day
National Cherry Cobbler Day
National Pack Rat Day
Recipe of the Day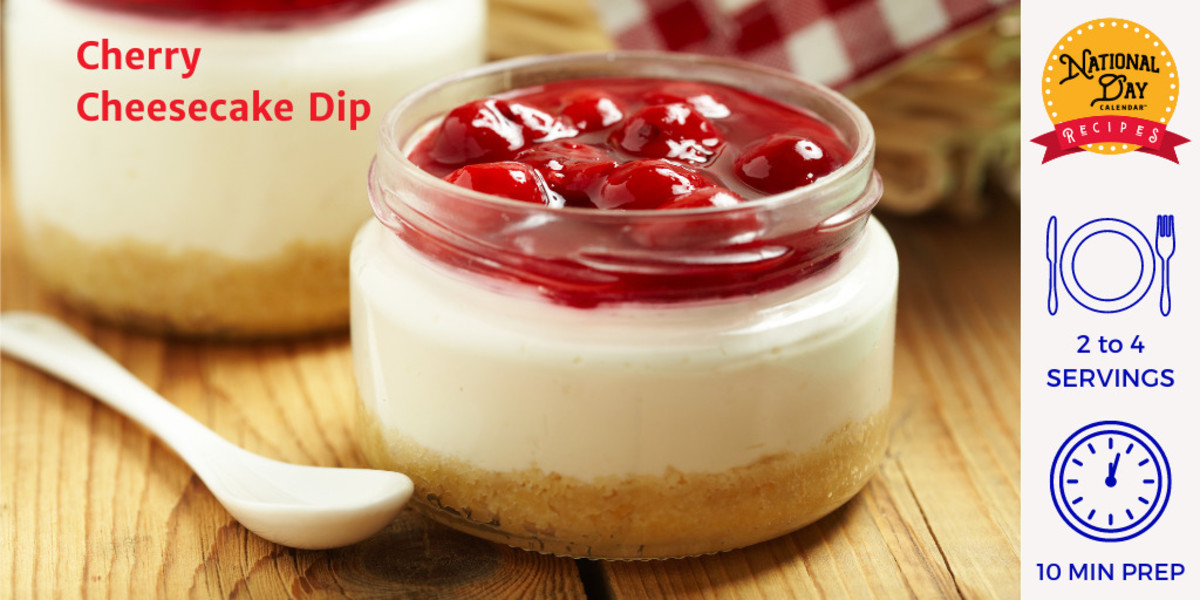 Cherry Cheesecake Dip
Prep: 5 minutes
Total Prep: 5 minutes
Servings: 2 to 4
Ingredients:
1 – 8 oz block of cream cheese softened
1 – 7 oz jar marshmallow cream
1 – 8 oz tub of whipped topping
1 – 21 oz can cherry pie filling
Graham crackers, vanilla wafers, or animal crackers
Instructions:
In a medium bowl, mix cream cheese and marshmallow cream together until well combined.
Add whipped topping and mix until just incorporated.
Pour the mixture into a 9-10 inch pie plate or a serving dish the same diameter.
Spread the cherry pie filling over the cheesecake mixture evenly.
Chill until served.
Dip with animal crackers, graham crackers or vanilla wafers.
May 16th Celebrated History
1866
Following the Civil War, the 39th Congress passes legislation creating a five-cent coin. The legislation also took a step to rectify and make illegal a previously issued five-cent note (paper money) known as fractional currency. When Congress authorized a third printing of the note, it intended to honor Meriwether Clark with his image on the note. However, the legislation only mentioned the explorer's last name. When Secretary of Treasury Spencer M. Clark received the authority to start designing the five-cent notes, the secretary placed his own image at the center of the fractional bill. The bill created the first five-cent coin while also making the previous five-cent notes illegal and eliminating Spencer Clark's legal image.
The five-cent coin, made of nickel and copper, became known as the nickel.
1929
The Academy of Motion Picture Arts and Sciences held the first Academy Awards ceremony at the Hollywood Roosevelt Hotel in Los Angeles, California. The event honored two years' worth of films and performances from 1927 and 1928.
1988
U.S. Surgeon General C. Everett Koop released his report declaring the nicotine in tobacco to be addictive similar to heroin and cocaine.
May 16th Celebrated Birthdays
Elizabeth Palmer Peabody – 1804
In 1860, Elizabeth Palmer Peabody opened the first English-language kindergarten in the United States. At the time, education for children younger than 6 years old was uncommon.
H.H. Holmes – 1896
Considered America's first serial killer before the term was even coined, H.H. Holmes confessed to 27 murders, though some estimate his total number of victims may be much higher. Born Herman Webster Mudgett, Holmes terrorized Chicago during the 1893 Chicago World's Fair.
Henry Fonda – 1905
An actor of both stage and screen, Henry Fonda earned critical acclaim for roles in The Grapes of Wrath and an Academy Award for On Golden Pond.
Liberace – 1919
Born Wladziu Valentino Liberace, the American pianist rose to prominence in 1951 when his self-named program The Liberace Show premiered.
Janet Jackson – 1966
The American singer, songwriter and performer won her first Grammy in 1989 for her Rhythm Nation 1814 video. That year she was also nominated for Best R&B vocal performance, Best Instrumental Arrangement Accompanying Vocals and Producer of the Year.
About National Day Calendar
At National Day Calendar, our mission is to spread joy and enthusiasm by celebrating the diverse and unique cultural traditions of the United States. We aim to inspire individuals, families, and communities to come together and enjoy the many fun and festive national days that mark our calendar year. Whether it's indulging in a favorite food, hitting the beach, or simply taking a moment to appreciate the things we love about our country and culture, we believe that National Days provide an opportunity for people to connect and find happiness in the shared experiences that make us all human.
Through our platform, we strive to create a sense of community and promote the joy of celebration by highlighting and commemorating the many national days that bring us together.