(Last Updated On: May 9, 2023)
MAY 12, 2023 | NATIONAL SAPPHIRE SEGULAH DAY | INTERNATIONAL NURSES DAY | NATIONAL PROVIDER APPRECIATION DAY | NATIONAL LIMERICK DAY | NATIONAL FIBROMYALGIA AWARENESS DAY | NATIONAL MILITARY SPOUSE APPRECIATION DAY | INTERNATIONAL ME/CFS AWARENESS DAY | NATIONAL NUTTY FUDGE DAY | NATIONAL ODOMETER DAY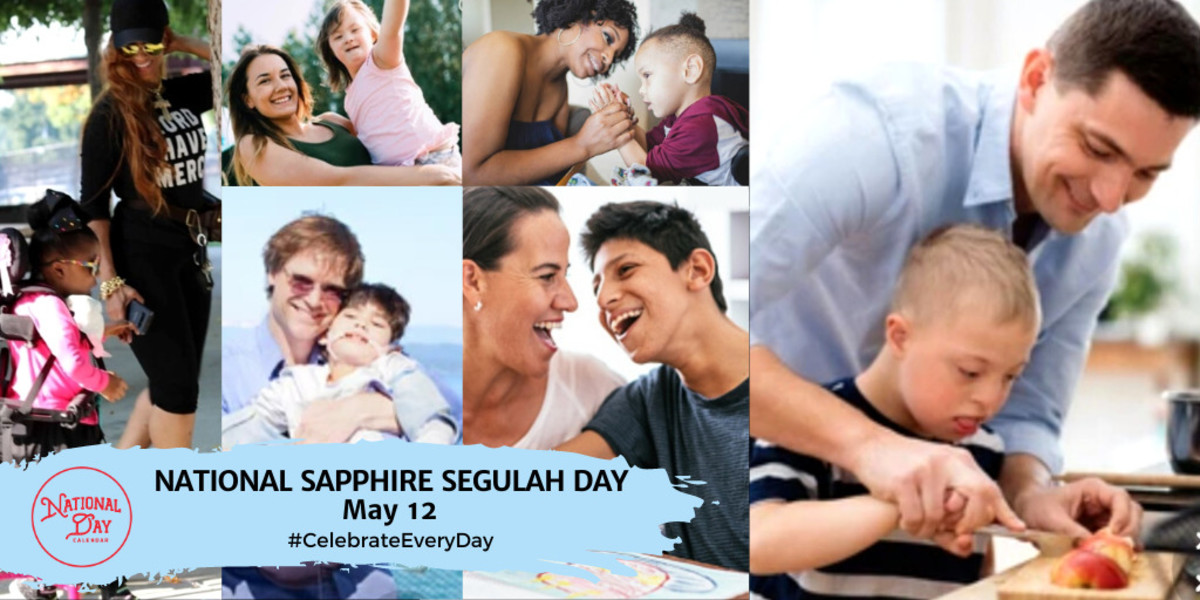 NATIONAL SAPPHIRE SEGULAH DAY | May 12
National Sapphire Segulah Day on May 12 is a day of gratitude for single parents of special needs children to remind them their service and sacrifices of love are seen, appreciated, and not in vain. Read more…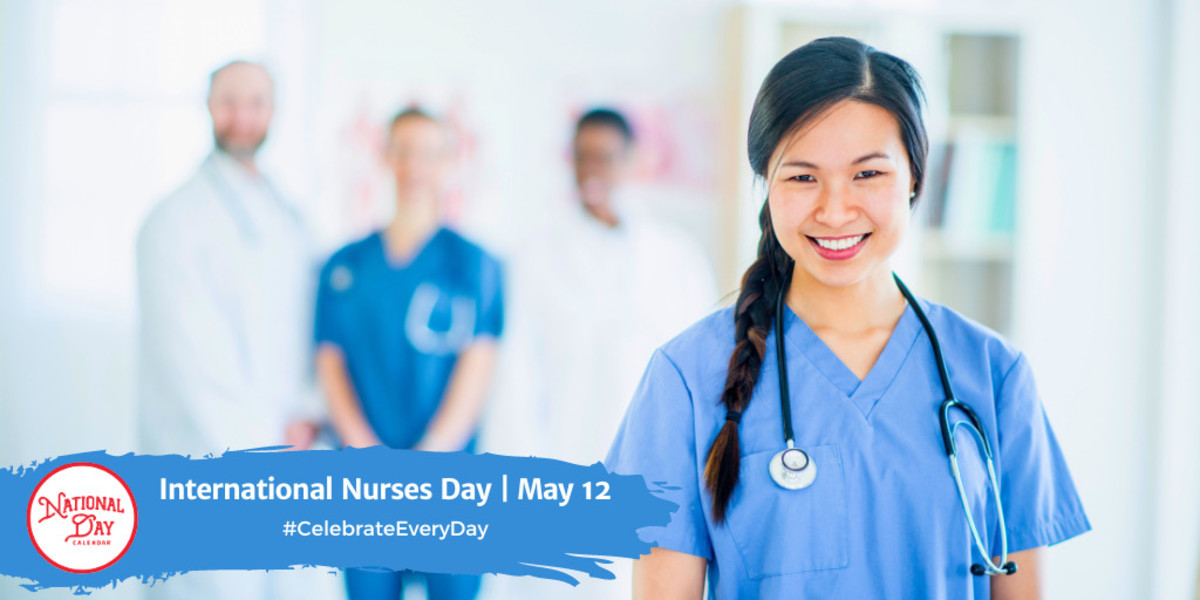 INTERNATIONAL NURSES DAY
International Nurses Day (IND) is observed around the world May 12 (the anniversary of Florence Nightingale's birth in 1820). The day is set aside to honor and note the many contributions nurses make to society. Nurses care for our loved ones at some of the most challenging times of their lives. They may run short of time, but not compassion. Read more…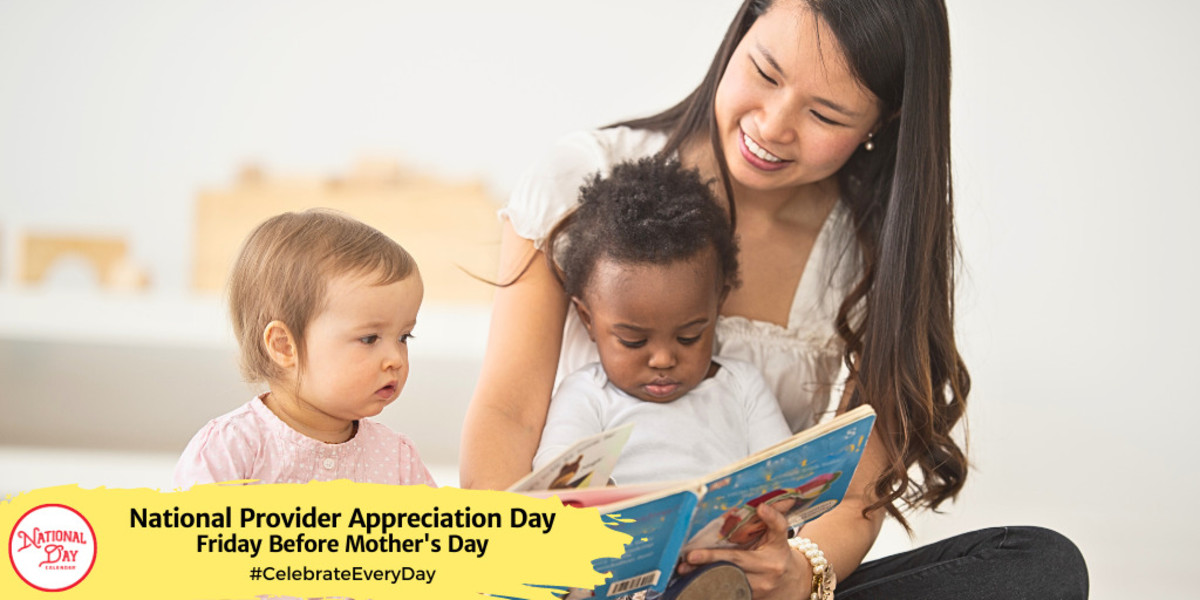 NATIONAL PROVIDER APPRECIATION DAY
National Provider Appreciation Day, also known as National Child Care Provider Day, is annually celebrated on the Friday before Mother's Day.  The special day recognizes child care providers, teachers, and other educators of young children everywhere. Read more…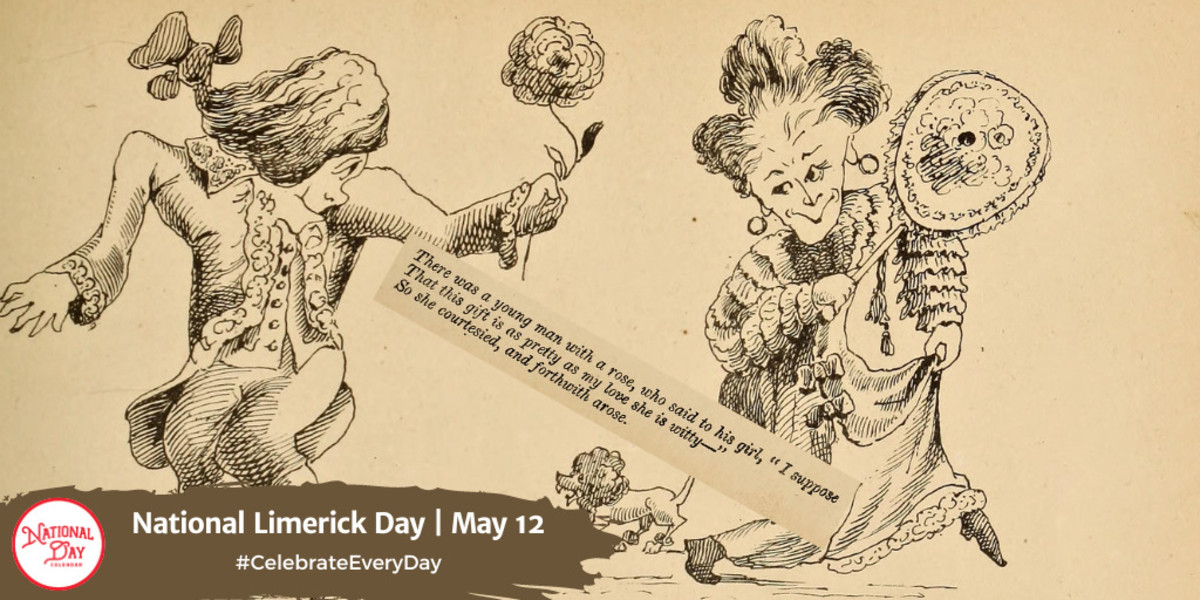 NATIONAL LIMERICK DAY
Observed annually on May 12th, National Limerick Day celebrates the birthday of English artist, illustrator, author, and poet Edward Lear (May 12, 1812 – Jan. 29, 1888).  Lear is known mostly for his literary nonsense in poetry, prose, and limericks. Read more…
NATIONAL FIBROMYALGIA AWARENESS DAY
Each year on May 12th, millions of people observe National Fibromyalgia Awareness Day.  This day shares the spotlight with other May 12th awareness days such as International Fibromyalgia Awareness Day, Fibromyalgia Awareness Day, International Awareness Day for Chronic Immunological and Neurological Diseases or International Awareness Day for MCS, ME/CFS and FM, which are observed globally. Read more…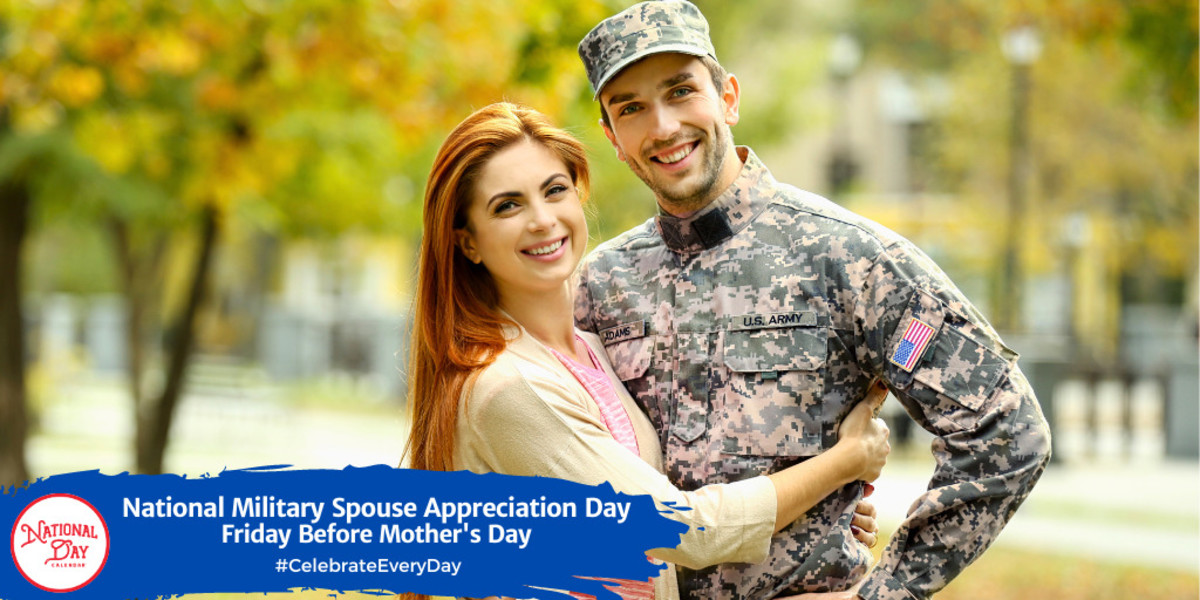 NATIONAL MILITARY SPOUSE APPRECIATION DAY
Always the Friday before Mother's Day, National Military Spouse Appreciation Day recognizes the significant contributions, support, and sacrifices of the spouses of the Armed Forces. National Military Spouse Appreciation Day is also sometimes known as Military Spouse Day. Read more…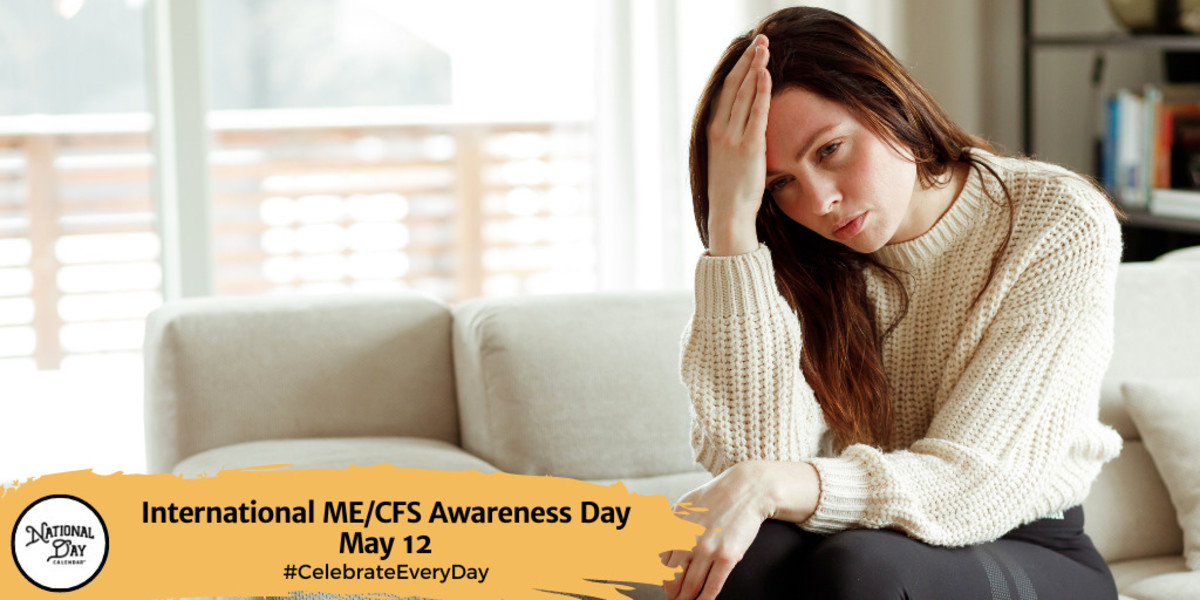 INTERNATIONAL ME/CFS AWARENESS DAY
Every year on May 12th, International ME/CFS Awareness Day spreads awareness for a condition called myalgic encephalomyelitis/chronic fatigue syndrome. It's also a day to draw attention to other chronic immunological and neurological diseases (CIND). Read more…
NATIONAL NUTTY FUDGE DAY
Each year on May 12th, National Nutty Fudge Day tempts you to indulge in smooth chocolate fudge filled with crunchy nuts. Read more…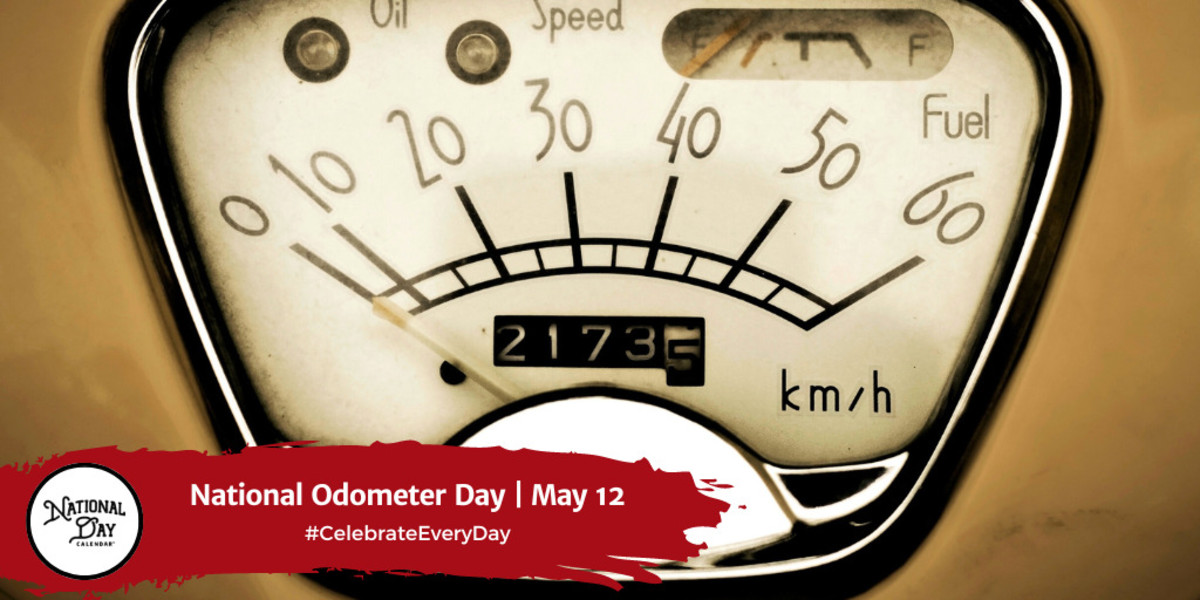 NATIONAL ODOMETER DAY
National Odometer Day on May 12th each year provides an opportunity to learn a little bit about the odometer. Read more…
On Deck for May 13, 2023
National Days
National Dog Mom's Day
National Crouton Day
National Archery Day
National Train Day
National Miniature Golf Day
National Babysitter's Day
Cornelia De Lange Syndrome Awareness Day
National Birth Mother's Day
Stamp Out Hunger Food Drive Day
National Fruit Cocktail Day
National Apple Pie Day
National Frog Jumping Day
Recipe of the Day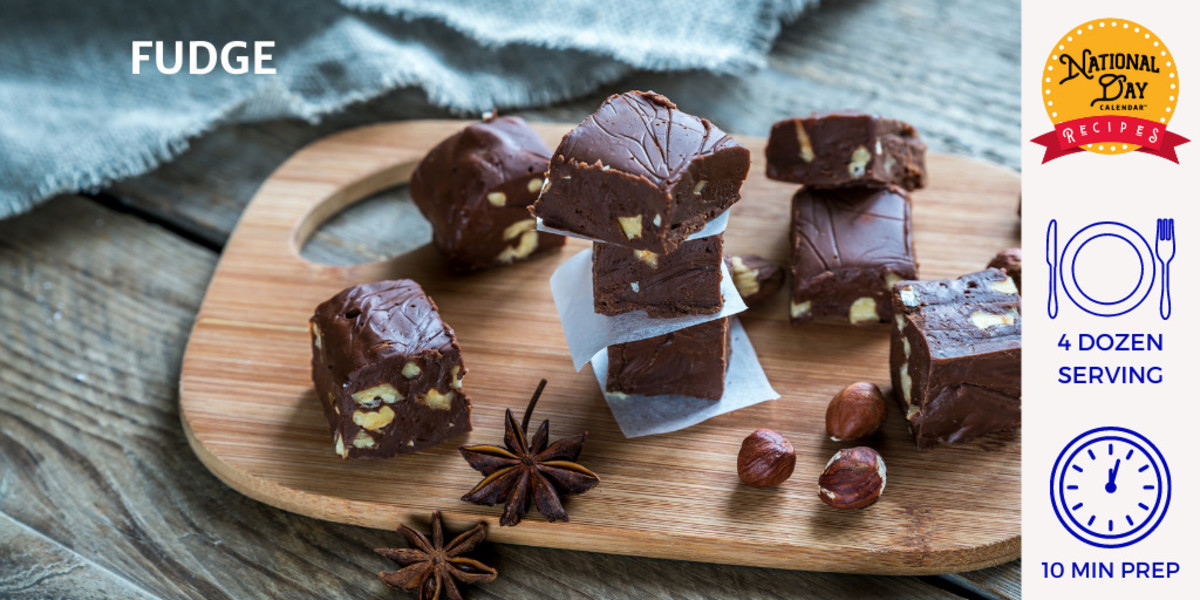 Fudge
Prep: 5 minutes
Cook: 5 minutes
Total Prep: 10 minutes
Servings: 4 dozen
DOWNLOAD NUTTY FUDGE RECIPE CARD
Ingredients:
2/3 cup evaporated milk
1 2/3 cup sugar
1/2 teaspoon salt
1 1/2 cup marshmallows
1 1/2 cup chocolate chips
1 Tablespoon vanilla
1/2 cup nuts
Instructions:
In a medium saucepan, cook evaporated milk, sugar, and salt over low heat for 5 minutes.
Add marshmallows, chocolate chips, vanilla, and nuts.
Pour into a buttered baking dish and let cool.
Cut into squares.
May 12th Celebrated History
1932
The infant son of Charles and Anne Lindbergh is found dead ten weeks after being abducted from his home.
1936
The United States Patent Office issued patent No. 2,040,248 for the Dvorak typewriter keyboard. According to its inventors, August Dvorak and William Dealey, the arrangement of the keys allowed for an increase in efficiency over the QWERTY keyboard design. However, the Dvorak keyboard never replaced the QWERTY keyboard despite many studies that support an increase (if minimal) in speed and efficiency.
1937
King George VI's coronation took place at Westminster Abbey, London.
2002
Former President Jimmy Carter visited Cuba. He was the first U.S. president in or out of office to visit the Caribbean country since the 1959 revolution.
May 12th Celebrated History
Florence Nightingale – 1820
Florence Nightingale was a celebrated English, social reformer, statistician, and the founder of modern nursing. She became well-known while taking care of the wounded soldiers during the Crimean War. Nightingale was dubbed "The Lady with the Lamp" because of her habit of making rounds at night.
Baron Clemens von Pirquet – 1874
In 1908, the Austrian physician published his diagnostic skin test for identifying the presence of tuberculosis.
Katherine Hepburn – 1907
Katharine Hepburn shunned the traditional starlet roles of Hollywood. Her bold attitude and strong will stole the stage. At a time when women rarely held the reins in Hollywood, Hepburn steered a prolific career with twelve Academy Award nominations and four wins.
Yogi Berra – 1925
"A nickel ain't worth a dime anymore." ~ Yogi Berra
Born Lawrence Peter Berra, the American professional catcher played 19 seasons in Major League Baseball. As a player, Berra spent most of his career with the New York Yankees shifting into a management position. In 1965, he joined the Mets, temporarily coming out of retirement to play once more. His phenomenal career is highlight by 13 World Series championships as a player, manager, and coach.
About National Day Calendar
At National Day Calendar, our mission is to spread joy and enthusiasm by celebrating the diverse and unique cultural traditions of the United States. We aim to inspire individuals, families, and communities to come together and enjoy the many fun and festive national days that mark our calendar year. Whether it's indulging in a favorite food, hitting the beach, or simply taking a moment to appreciate the things we love about our country and culture, we believe that National Days provide an opportunity for people to connect and find happiness in the shared experiences that make us all human.
Through our platform, we strive to create a sense of community and promote the joy of celebration by highlighting and commemorating the many national days that bring us together.