Looking Back
March 7, 2022 - NATIONAL CEREAL DAY – NATIONAL BE HEARD DAY – NATIONAL FLAPJACK DAY – NATIONAL CROWN ROAST OF PORK DAY
MARCH 7, 2022 | NATIONAL CEREAL DAY | NATIONAL BE HEARD DAY | NATIONAL FLAPJACK DAY | NATIONAL CROWN ROAST OF PORK DAY

NATIONAL CEREAL DAY
March 7th urges us to get our bowl spoon ready for National Cereal Day each year! Since the end of the 19th century, cereal has become America's most popular breakfast food. Now, not only is cereal eaten for breakfast, but it has become a popular bedtime snack. Some people even enjoy a… Read more…

NATIONAL BE HEARD DAY
Each year on the 7th day of March, National Be Heard Day encourages small businesses across the country to make their presence known. The day recognizes the over 145 million small businesses in the United States striving to be heard over the… Read more…

NATIONAL FLAPJACK DAY
March 7th delivers National Flapjack Day with piping hot flavor and goodness. The day honors the sturdy, wholesome cakes we've been cooking up for generations! Recipes handed down from grandmother to son and mother to daughter continue to bring smiles to… Read more…

NATIONAL CROWN ROAST OF PORK DAY
March 7th recognizes a delicious and elegant, savory dish on National Crown Roast of Pork Day. The menu calls for a beautifully set table ready to receive a feast worthy of royalty or a celebration. Crown roast of pork earns its name when a pork loin forms… Read more…
On Deck for March 8, 2022
National Days
International Days
Recipe of the Day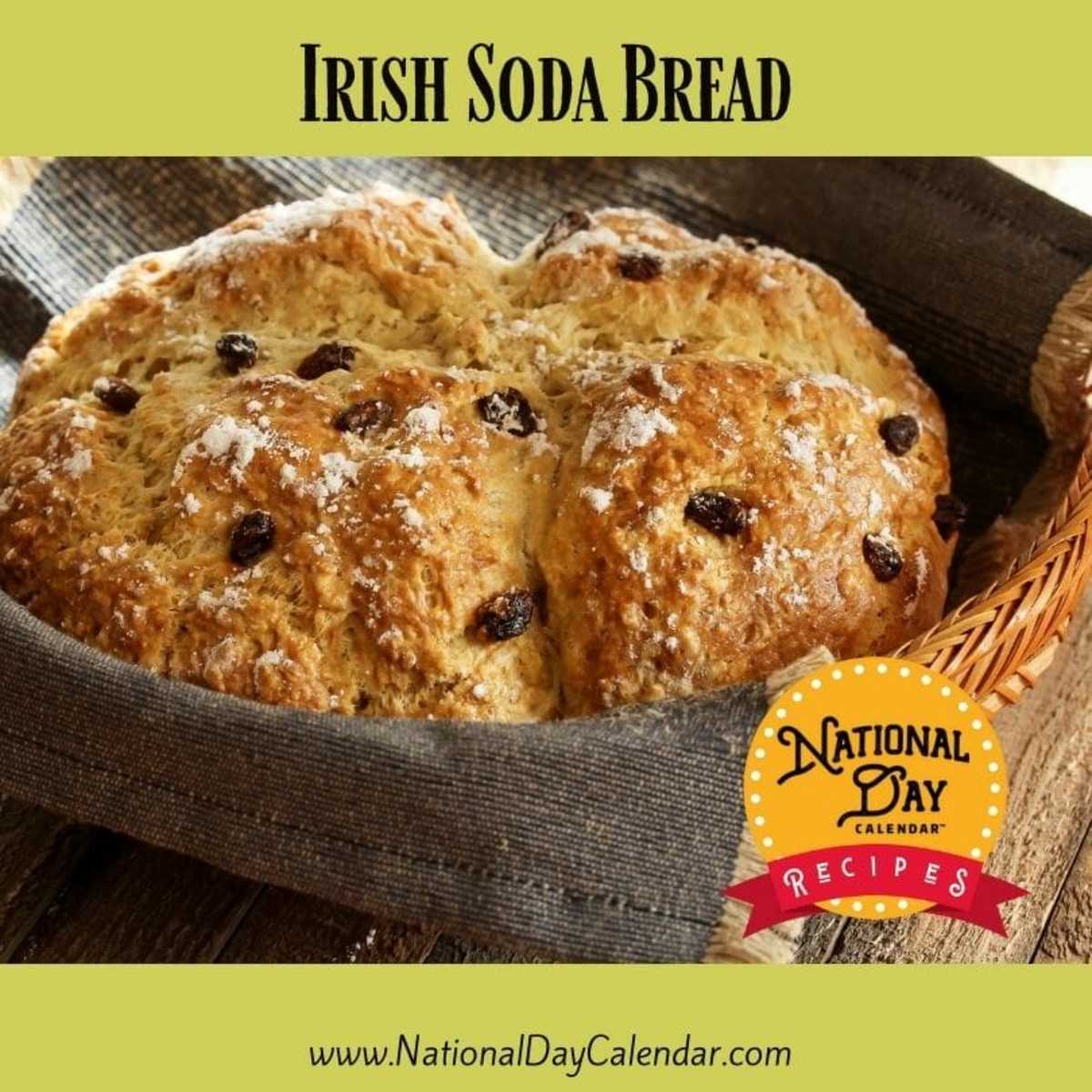 Name: Irish Soda Bread
Prep: 10 minutes
Cook: 45 minutes
Total Prep: 55 minutes
Servings: 12
Ingredients:
4 cups all-purpose flour
1/4 cup sugar
1 1/2 teaspoon baking soda
2 teaspoons baking powder
1/2 teaspoon salt
6 tablespoons shortening
1/2 cup raisins
1 tablespoon caraway seed
1 1/4 cups buttermilk
1 egg, beaten
2 tablespoons butter, melted
Cinnamon
Sugar
Instructions:
Heat oven to 375F. Prepare a baking sheet, stone, or two cast iron skillets with a light coat of oil.
Combine flour, sugar, baking soda, baking powder, and salt in a large mixing bowl.
Cut in shortening and mix into a coarse crumble. Add raisins and caraway.
In a separate bowl, mix buttermilk and egg. Stir into the dough mixture.
On a lightly floured surface, kneed the dough for 5-6 minutes. Divide into two and place on prepared baking sheet. Shape into round loaves. Use a sharp knife to cut an X in the middle of each loaf. Brush melted butter over the top of each loaf and sprinkle with cinnamon and sugar.
Bake for 40-45 minutes or until golden brown.
March 7th Celebrated (and Not So Celebrated) History
1876
The U.S. Patent Office issues patent no. 174,465 to Alexander Graham Bell for the telephone.
1965
As American civil rights activists campaigning for voting rights march across Edmund Pettus Bridge in Selma, Alabama, on their way to the state capitol, state troopers and local police use nightsticks and teargas to turn them back. The day became known as Bloody Sunday and a turning point in the Civil Rights movement.
1983
The Songwriter's Hall of Fame honored 10 new inductees during a ceremony at the Waldorf Astoria in New York City. Inductees included Fred Ebb, musical lyricist known for the Broadway hits "Cabaret" and "Chicago," and piano players Stevie Wonder and Neil Sedaka.
2010
The Academy Award for Best Director goes to Kathryn Bigelow for The Hurt Locker. It's the first time a woman wins Best Director honors.
March 7th Celebrated (and Not So Celebrated) Birthdays
Daniel David Palmer – 1849
In 1895, Palmer performed the first chiropractic adjustment and is considered the founder of chiropractic. He would later establish the Palmer School and Cure in Davenport, Iowa. It is now known as the Palmer College of Chiropractic.
Helen Parkhurst – 1857
In 1919, Helen Dalton developed the individual learning plan called the Dalton Plan and introduced it at a school for the handicapped. She then applied the model to the Dalton High School in Dalton, Mass.
Oseola McCarty – 1908
Small things greatly. Oseola McCarty always wanted to be a nurse and while her dream never came true, it didn't stop her from making it a possibility for others. In 1995, she left $150,000 to the University of Southern Mississippi in the hopes that others may have an education. The university established the Oseola McCarty Scholar Program and Scholarship.
Willard Scott – 1934
Before becoming NBC's Today show weatherman and birthday well-wisher, Scott was the original Ronald McDonald for the hamburger franchise.
Bret Easton Ellis – 1964
The American author and screenwriter is best known for the novels American Psycho and Less than Zero.
Notable Mentions
Juanita Kidd Stout – 1919
Michael Eisner – 1942
Lynn Swann – 1952
Bryan Cranston – 1956
Denyce Graves – 1964
Rachel Weisz – 1970
About National Day Calendar
National Day Calendar® is the original and authoritative source for fun, unusual and unique National Days! Since our humble beginnings on National Popcorn Day in 2013, we have been tracking the National Days, National Weeks, National Months, and International Days. We became the first calendar of its kind to curate the days all in one place and tell their stories, too! Here at National Day Calendar, we are on a mission to Celebrate Every Day with you! And by you, we mean families, businesses, educators, and strangers we meet on the street. There's more than one day for everyone.
At National Day Calendar, we've found the National Days have a way of inspiring us. We're honored to tell the stories behind the days and provide you with informational ways to incorporate the National Days into your business, family, schools, and home!
Be sure to stay in the know by signing up for our e-mail updates. Also, follow us on Facebook, Twitter, and Instagram.
Our Ambassador Program is another way #CelebrateEveryDay®! Whether you become an ambassador or follow one of the savvy ambassadors, their fun videos and posts will keep you prepared for every holiday.
© National Day Calendar® 2013 – 2021