(Last Updated On: March 1, 2023)
MARCH 4, 2023 | NATIONAL SONS DAY | NATIONAL GRAMMAR DAY | NATIONAL HUG A G.I. DAY | NATIONAL POUND CAKE DAY | MARCHING MUSIC DAY | NATIONAL PLAY OUTSIDE DAY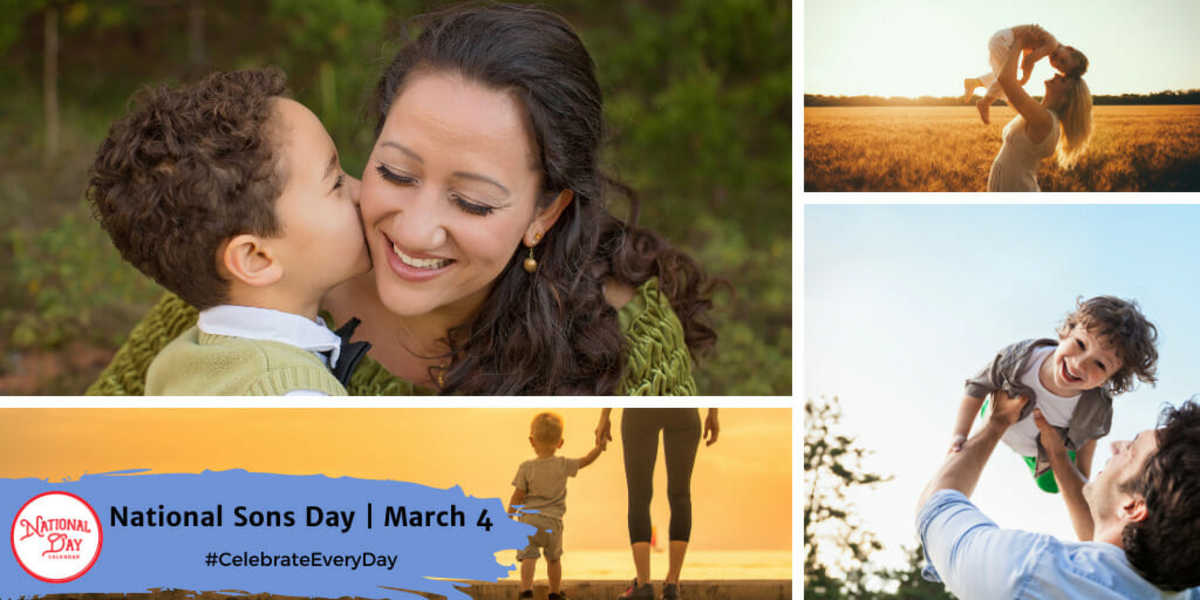 NATIONAL SONS DAY
Every year on March 4th, National Sons Day honors the sons of the world and those who raise them. The day also takes a look at a son's role and his relationship with those around him. Read more…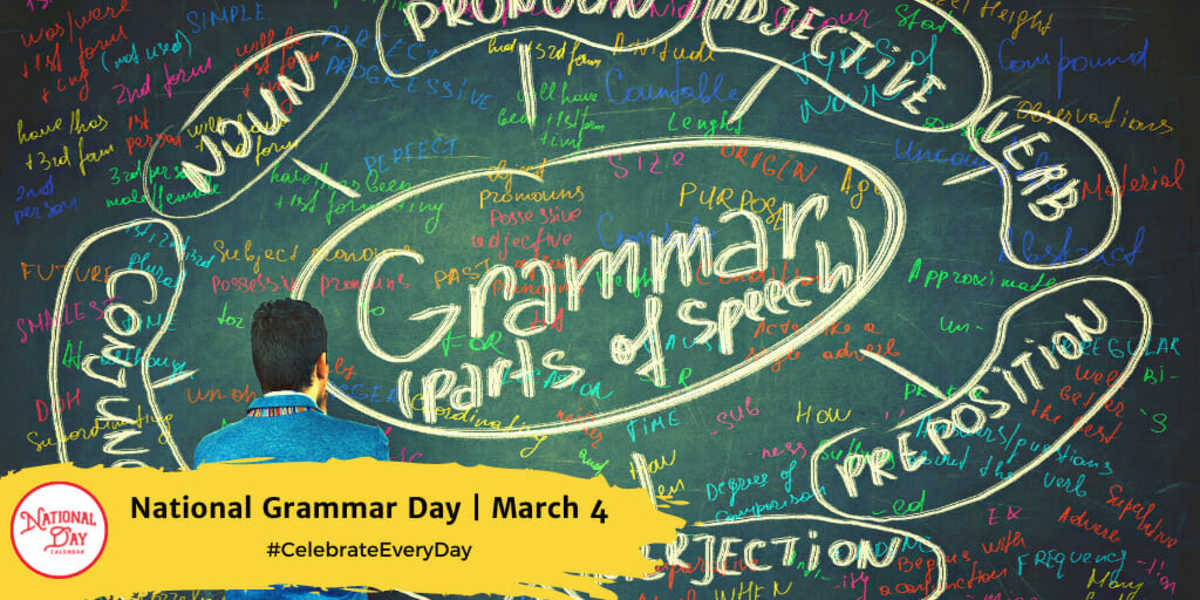 NATIONAL GRAMMAR DAY
National Grammar Day is observed across the United States each year on March 4th. The observance encourages the use of correct grammar in both verbal and written language. Read more…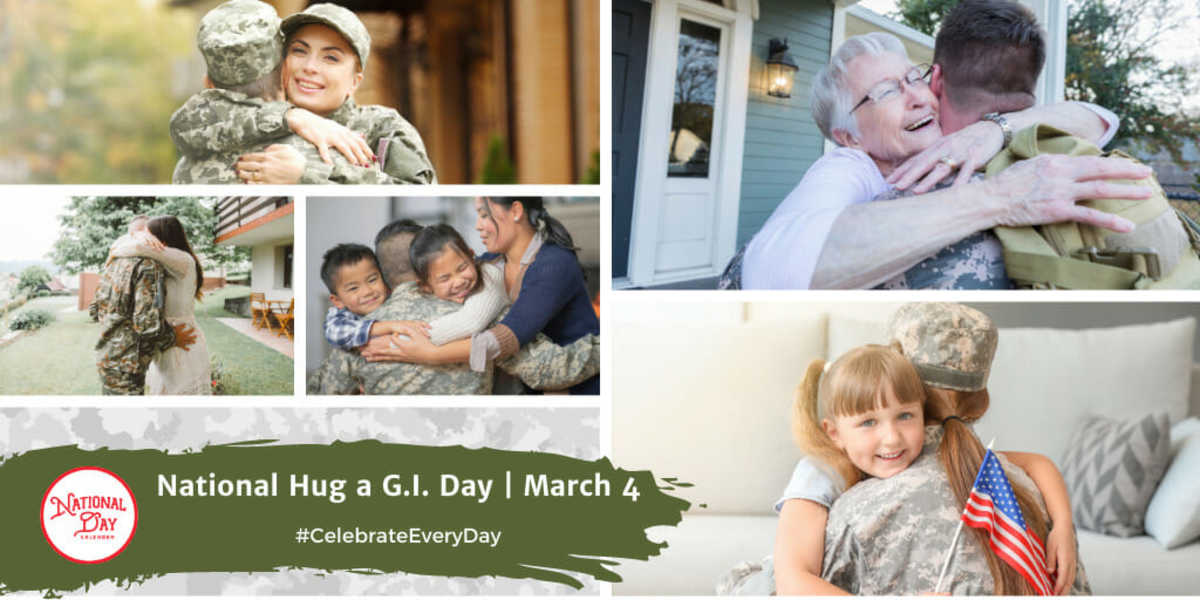 NATIONAL HUG A G.I. DAY
As the only day on the calendar that is mnemonically a military command, March 4th recognizes National Hug a G.I. Day. Read more…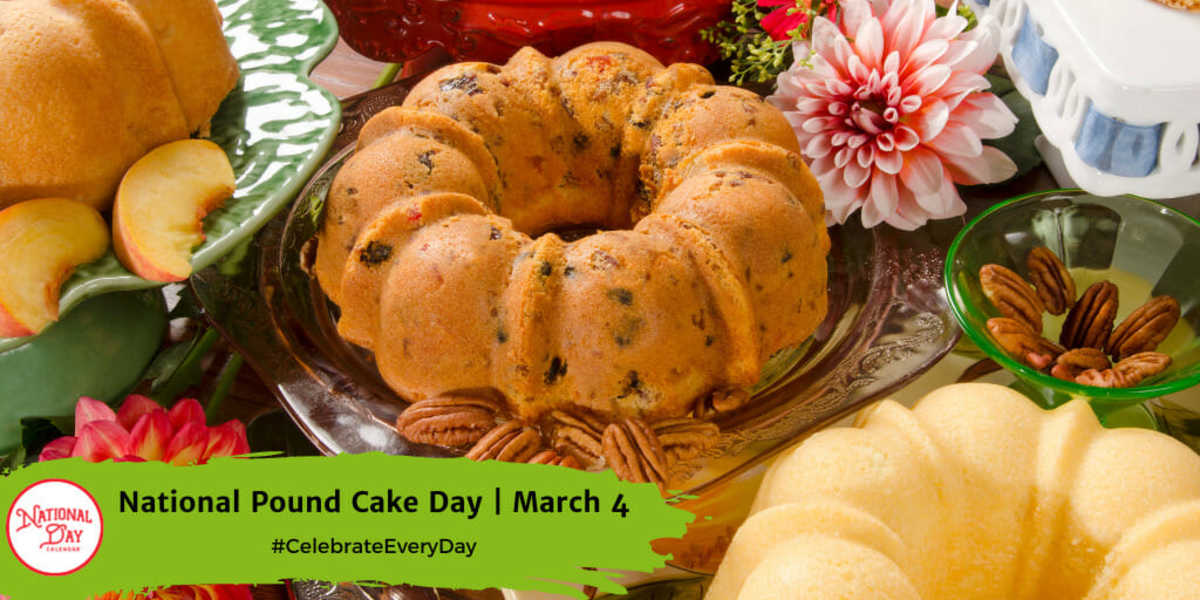 NATIONAL POUND CAKE DAY
On March 4th, National Pound Cake Day recognizes one of the dessert world's most versatile cakes. Each year it is celebrated by bakers and cake lovers alike. Celebrate with a piece (or two) of this deliciously rich delight. Read more…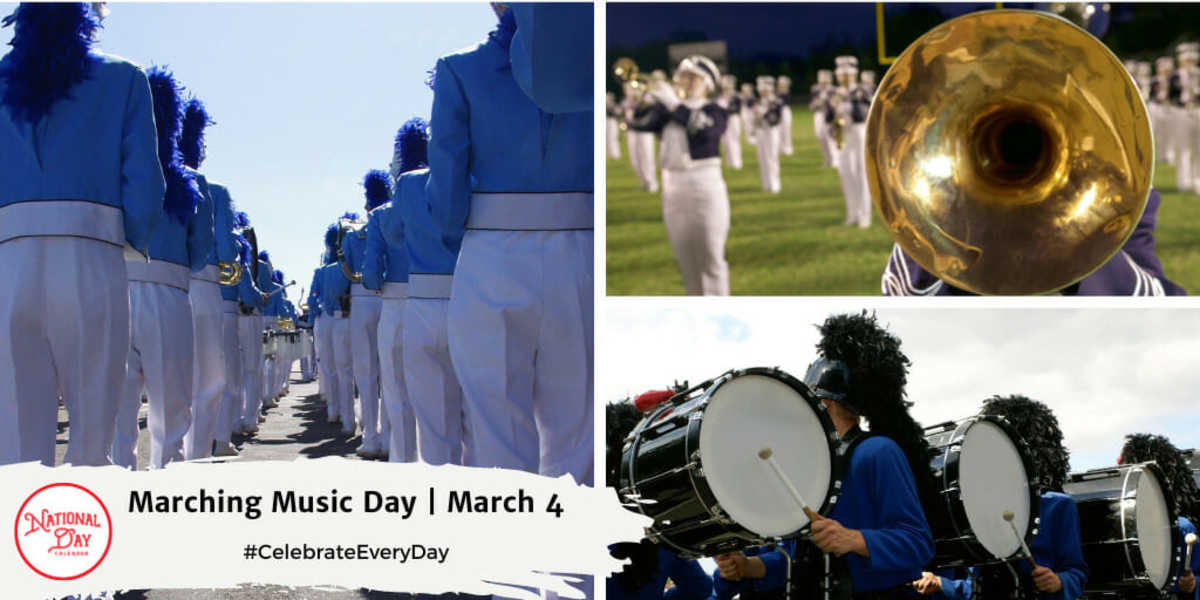 MARCHING MUSIC DAY
March forth to the rhythm of life on Marching Music Day every March 4th. Honor the dedicated musicians and performers of many diverse styles and backgrounds. Marching Music Day celebrates all varieties of art forms that bring us "music on the move." Read more…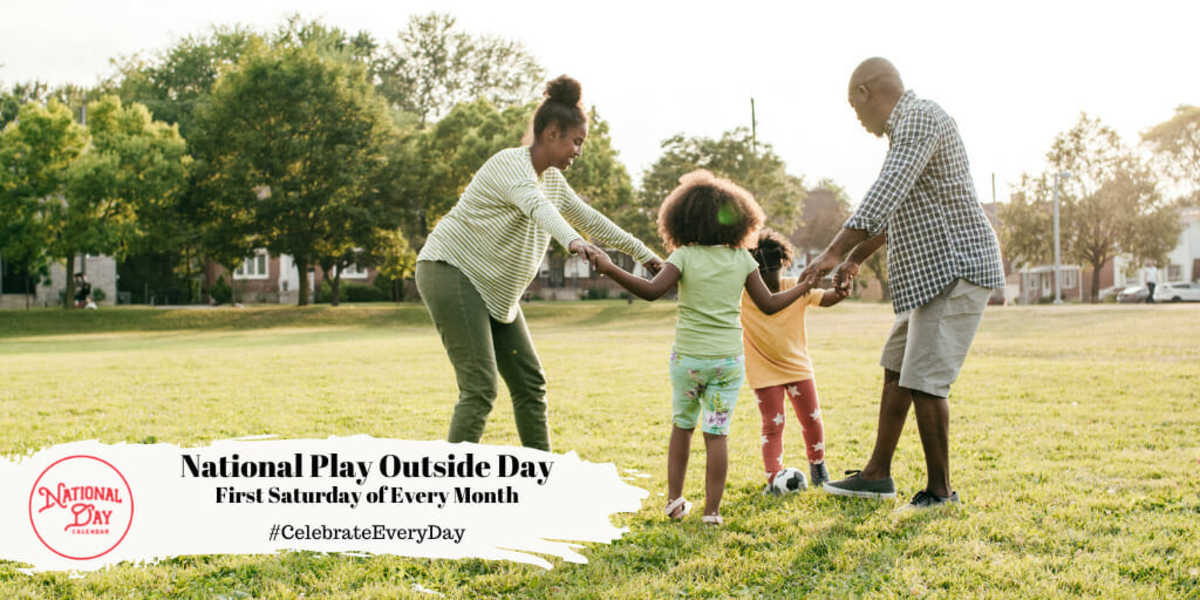 NATIONAL PLAY OUTSIDE DAY
If it's the first Saturday of the month, it's National Play Outside Day. So, no matter what month it is, everyone put down their electronic devices and get outside! Read more…
On Deck for March 5, 2023
National Days
FINISHER'S MEDAL DAY
NATIONAL ABSINTHE DAY
NATIONAL CHEESE DOODLE DAY
NATIONAL MULTIPLE PERSONALITY DAY
Recipe of the Day
Pound Cake
Prep: 10 minutes
Cook: 1 hour 15 minutes
Total Prep: 1 hour 25 minutes
Yield: 3 loaves or 1 bundt and 1 loaf
Ingredients:
1 pound cake flour (3-1/2 cups)
1 pound butter
1 pound sugar (2 cups)
1 pound eggs (9 large)
1 to 2 tablespoons vanilla or 1/2 to 1 tablespoon almond
Instructions:
Preheat oven to 300°F. Prepare two or three bread loaf pans or one bundt pan and a loaf pan.
Cream butter well, add sugar gradually and cream until light and fluffy.
Add eggs two at a time, and beat well after each. Add flavoring.
Add flour gradually and beat until smooth.
Pour mixture into pans. Bake about 1 hour and 15 minutes. Enjoy!
March 4th Celebrated History
1841
President William Henry Harrison sits for the first presidential photograph following his inauguration.
1872
The Boston Globe publishes its first issue.
1917
After being elected by the citizens of Montana, Jeannette Rankin becomes the first woman to become a member of the U.S. House of Representatives.
1902
Name your favorite road song. "I Can't Drive 55" by Sammy Hagar or "Life is a Highway" by Tom Cochrane. Nine motor clubs combined to form the American Automobile Association (AAA or Triple-A) in Chicago, Illinois.
1929
Charles Curtis takes the oath of office and becomes the first Native American vice president.
1933
The first woman Cabinet member takes office. President Franklin D. Roosevelt appointed Frances Perkins from Massachusetts to Secretary of Labor.
1975
In a private ceremony, Queen Elizabeth II knights Charlie Chaplin, Sir Charles Chaplin Knight Commander of the British Empire.
1975
The Grammy Award for Best Pop Vocal Performance and Record of the Year goes to Olivia Newton-John for "I Honestly Love You." Stevie Wonder wins Album of the Year for Fulfillingness' First Finale and Best Male Pop Performance.
March 4th Celebrated Birthdays
Garrett Morgan – 1877
Of the American inventor's patents, two provided significant progress in safety. The first was a gas mask, and the second was a three-position traffic. Similar to previous traffic signals, Morgan's include stop and go positions, but it also included an all-direction stop. This allowed the intersection to clear before giving traffic from the other direction the go signal.
Knute Rockne – 1888
Considered one of football's most storied players and coaches, Rockne coached Notre Dame's Fighting Irish for 13 seasons and 105 wins.
Barbara Newhall Follett – 1914
In 1927, the young American author published her first novel, The House Without Windows, at the age of twelve. The Lost Island: Plus Three Stories and an Afterword was published two years later.
Robert R. Wilson – 1914
Recruited by J. Robert Oppenheimer, Robert Wilson headed the cyclotron group for the Manhattan Project. Wilson's artistic talents became integral in his later career when his eye for aesthetics enhanced the design of Fermilab.
Miriam Makeba – 1932
The South African musical artist is known as "Mama Africa" and landed the lead in the Broadway show King Kong in 1959. After testifying before the United Nations in 1963 about apartheid, the South African government revoked her citizenship. In 1966, Makeba and Harry Belafonte won the Grammy for Best Ethnic or Traditional Folk Recording for An Evening with Belafonte/Makeba.
About National Day Calendar
National Day Calendar is the original and authoritative source for fun, unusual and unique National Days! Since our humble beginnings on National Popcorn Day in 2013, we have been tracking the National Days, National Weeks, National Months, and International Days. We became the first calendar of its kind to curate the days all in one place and tell their stories, too! Here at National Day Calendar, we are on a mission to Celebrate Every Day with you! And by you, we mean families, businesses, educators, and strangers we meet on the street. There's more than one day for everyone.
At National Day Calendar, we discovered the National Days have a way of inspiring us. We're honored to tell the stories behind the days and provide you with informational ways to incorporate the National Days into your business, family, schools, and home!