(Last Updated On: March 28, 2023)
MARCH 29, 2023 | MANATEE APPRECIATION DAY | NATIONAL VIETNAM WAR VETERANS DAY | NATIONAL LITTLE RED WAGON DAY | NATIONAL MOM AND POP BUSINESS OWNERS DAY | NATIONAL LEMON CHIFFON CAKE DAY | NATIONAL NEVADA DAY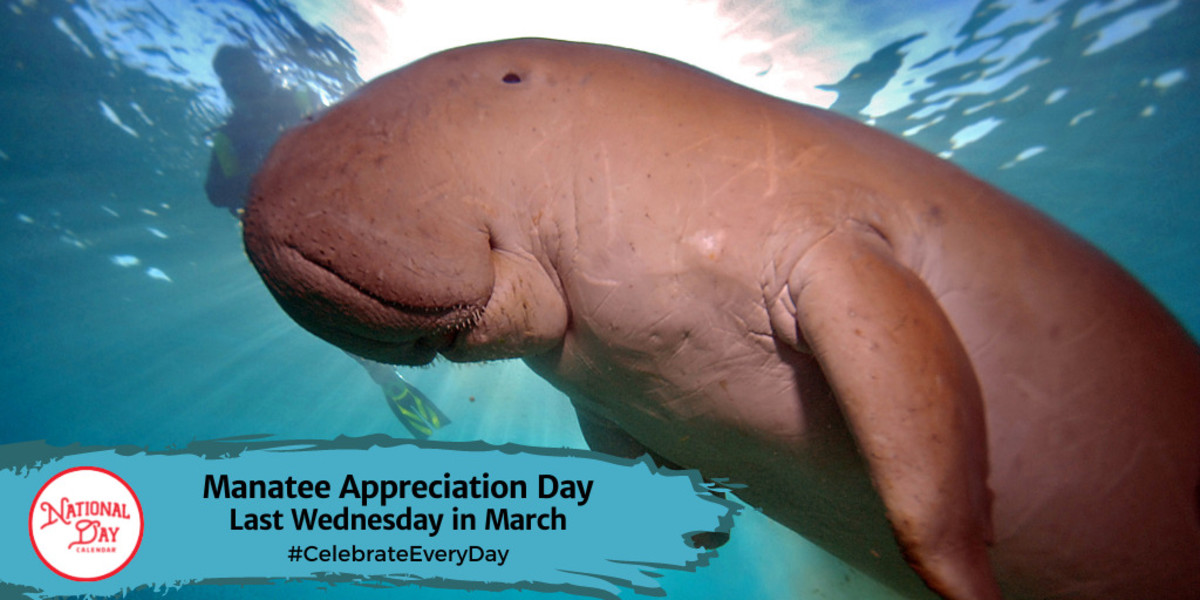 MANATEE APPRECIATION DAY
Manatee Appreciation Day on the Last Wednesday in March focuses the world's attention on an herbivore with no known natural enemy. Also known as the sea cow, manatees are a vulnerable species due to their contact with humans. Boating and pollution, as well as other external forces, threaten the manatee. Read more…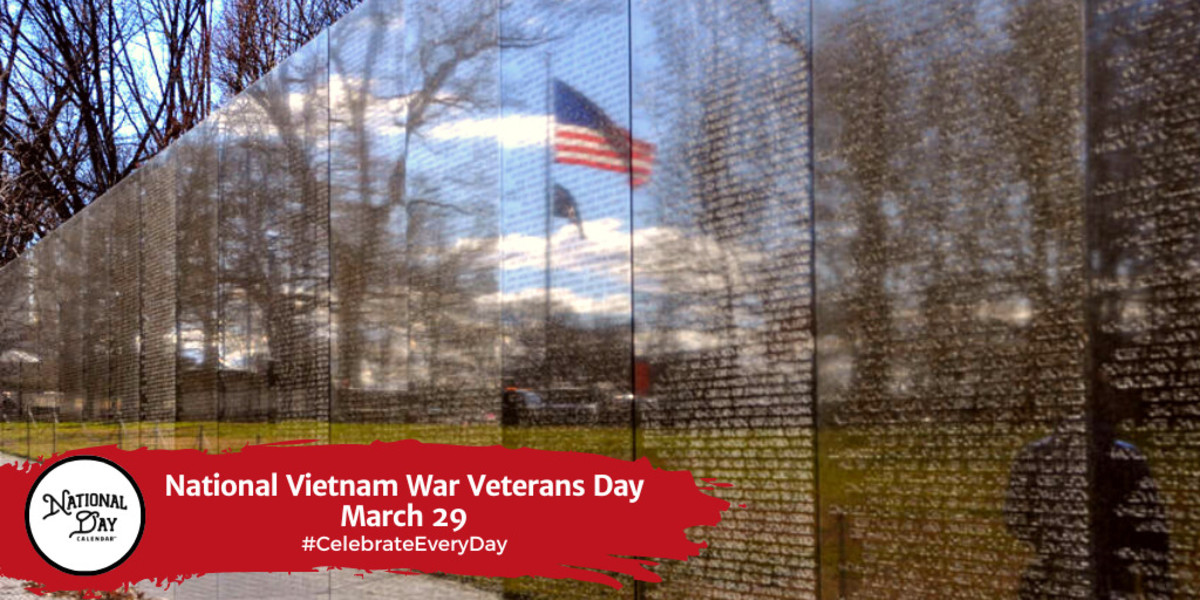 NATIONAL VIETNAM WAR VETERANS DAY
National Vietnam War Veterans Day on March 29 honors the men and women who served and sacrificed during the longest conflict in United States history. Read more…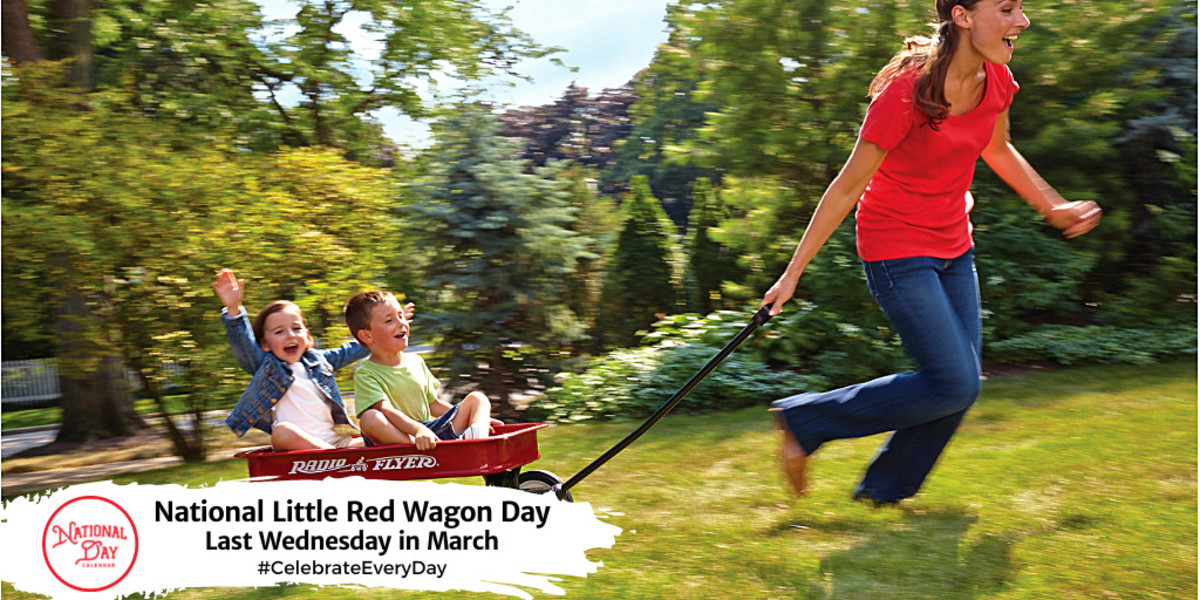 NATIONAL LITTLE RED WAGON DAY
On the last Wednesday in March, National Little Red Wagon Day celebrates the memories in the making and the ones already made. One iconic toy wields the power of imagination for adults and children alike as it brings us together to explore, laugh and play. Read more…
NATIONAL MOM AND POP BUSINESS OWNERS DAY
National Mom and Pop Business Owners Day honors all small business owners each year on March 29th. Read more…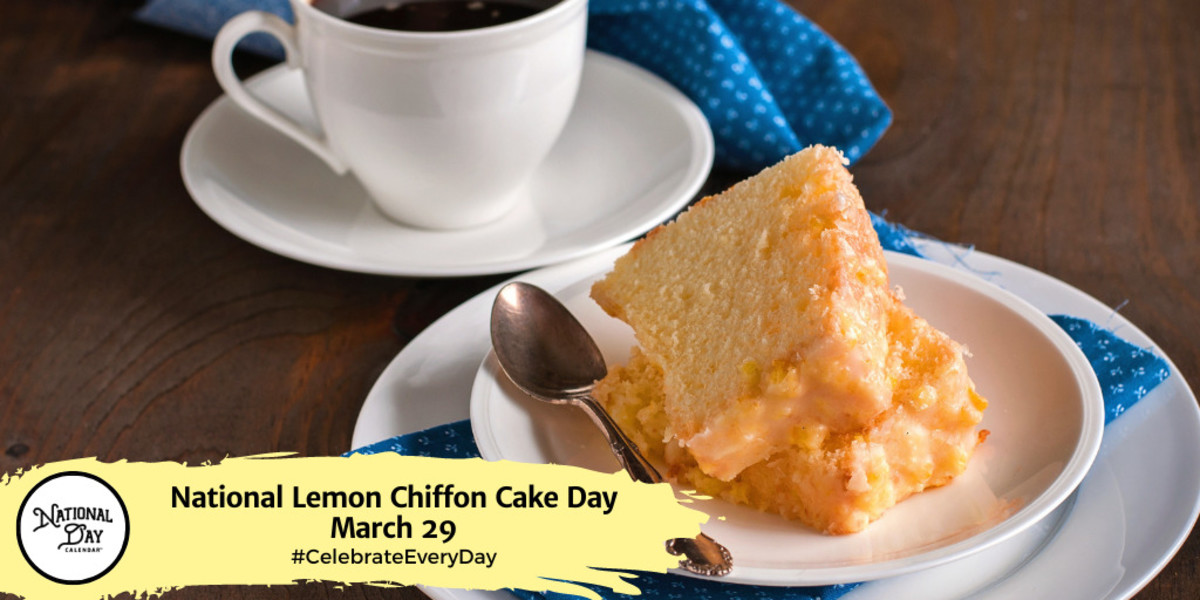 NATIONAL LEMON CHIFFON CAKE DAY
National Lemon Chiffon Cake Day on March 29th offers a bright and zesty celebration among the cake holidays. Read more…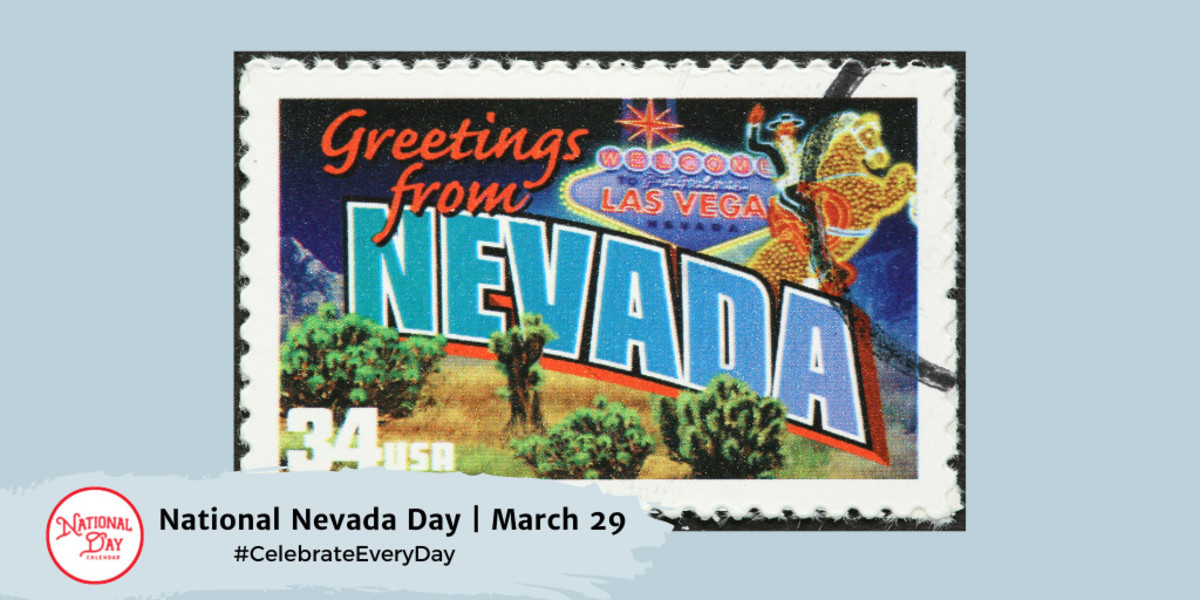 NATIONAL NEVADA DAY
On March 29th, National Nevada Day celebrates The Battle Born State and the 36th state to join the Union. Read more…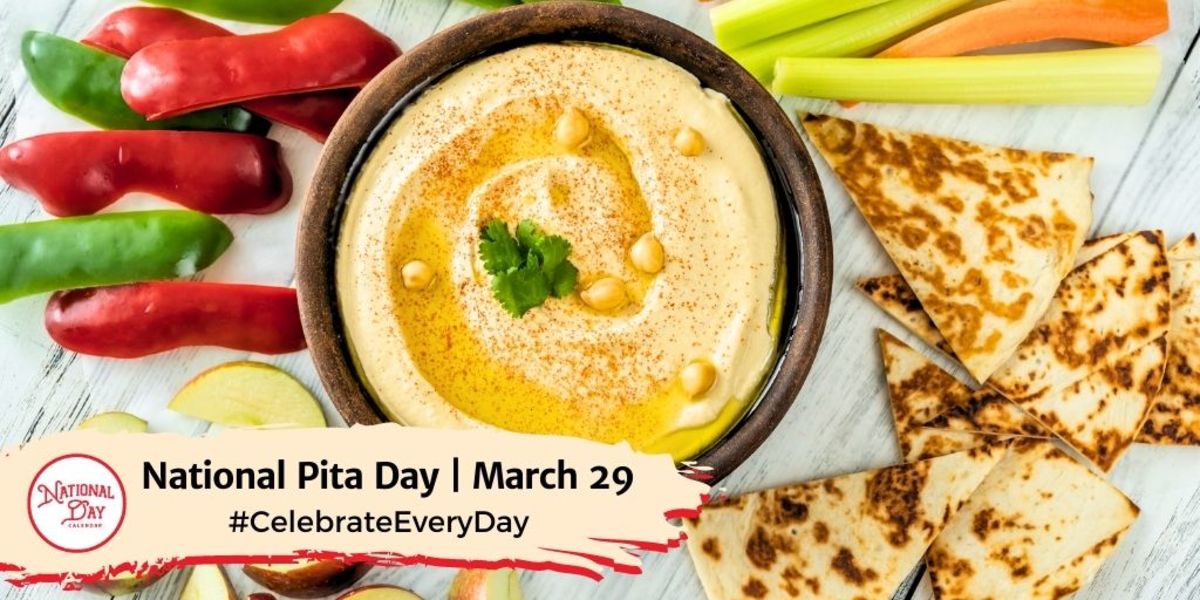 NATIONAL PITA DAY
National Pita Day is on March 29 and celebrates the dipping, scooping, and wrapping of as many ingredients as we can think of into this delicious bread. We want everyone from around the globe to celebrate with National Day Calendar as we indulge in a prehistoric delight from the Middle East. Read more…
On Deck for March 30, 2023
National Days
NATIONAL VIRTUAL VACATION DAY
NATIONAL DOCTORS DAY
NATIONAL TAKE A WALK IN THE PARK DAY
NATIONAL I AM IN CONTROL DAY
NATIONAL PENCIL DAY
NATIONAL TURKEY NECK SOUP DAY
Recipe of the Day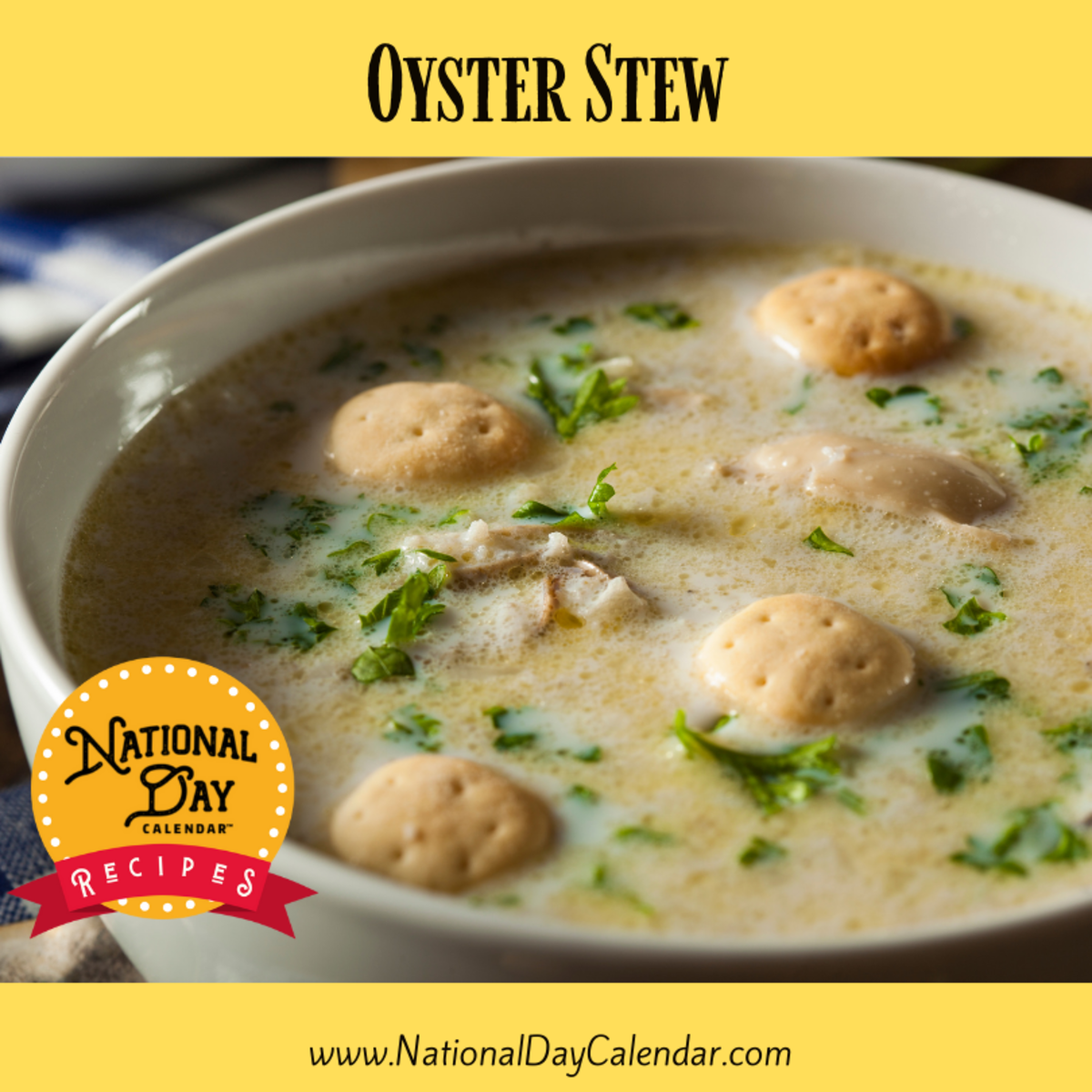 Oyster Stew
Prep time: 5 minutes
Cook time: 25 minutes
Total: 30 minutes
Serves: 4
Ingredients
2 pints of fresh raw oysters in their juice
1/4 cup unsalted butter
1 clove garlic, minced
2 tablespoons all-purpose flour
1 teaspoon salt
1 teaspoon Worcestershire sauce
1 quart whole milk
ground black paper
chopped fresh parsley for garnish
Instructions
Drain the oysters, reserving the liquid. Note: Your local deli will have fresh oysters in their seafood section.
Melt the butter in a large saucepan over medium to medium-low heat. Add garlic and cook until fragrant. Whisk in flour to create a roux. Add salt and Worcestershire sauce and stir well. While whisking, cook for one minute.
Stir in the reserved oyster juice. Slowly add the milk while stirring.
Cook slowly over medium-low heat, careful not to scald or boil the milk. Stir often. The stew will begin to steam and bubbles will form along the sides. Reduce the heat to low to prevent scalding and cook for 10 minutes.
Add oysters. Cook until the oysters begin to curl – about 2-3 minutes. Salt and pepper to taste. Serve with a garnish of parsley.
March 29th Celebrated History
1806
For the first time in history, Congress appropriates federal funds for a road. Section 6 appropriated the first $30,000 for the Cumberland Road which would extend from Maryland to Ohio. Eventually, the national highway would extend to St. Louis, Missouri, and the Mississippi River.
1886
In Atlanta, Ga, Dr. John Pemberton brewed the first batch of what is known today as Coca-Cola. He combined coca, wine, and other ingredients to create an elixir similar to that of Parisian chemist Angelo Mariani meant to cure headaches among other ailments. Not only did the tonic contain a form of cocaine (the coca plant is a source), but it was also an alcoholic beverage. Soon, prohibition came to Atlanta and Pemberton altered his recipe, removing the wine. Eventually, a process removing the cocaine from the coca leaves left Coca-Cola free of the schedule II drug.
1848
Niagara Falls comes to an almost complete stop due to an ice jam upstream.
1943
The U.S. Government begins rationing meat, cheese, butter, and other fats. These items are added to a growing list of rationed items including sugar, rubber, coffee, gas, shoes, and metals. Don't even ask about the toilet paper.
March 29th Celebrated Birthdays
John Tyler – 1790
In 1840, the country elected William Henry Harrison as the 9th President of the United States. John Tyler was his running mate, elected to the vice-presidency at Harrison's side. Just 31 days into office, Harrison was dead and Tyler became the first un-elected president to take office.
Denton True "Cy" Young – 1867
The American professional pitcher earned the nickname "Cy" for his powerful cyclone arm. During his career, he set numerous records, many of which stood for more than a century. After his death, Major League Baseball created the Cy Young Award, recognizing the best pitcher in baseball each year.
Lou Henry Hoover – 1874
Before becoming the 33rd First Lady of the United States, Lou Henry Hoover graduated from Stanford with a bachelor's degree in geology. She traveled to China in 1899 with her new husband, Herbert Hoover, where she learned to speak and write Mandarin. Her love of the outdoors also drew her to the Girl Scouts where she was not only a leader but a president as well. All of these roles she took on before moving into the White House in 1929.
James E. Casey – 1888
With a $100 loan, James E. Casey and Claude Ryan launch the American Messenger Service in Seattle, Washington. They deliver by foot, bicycle, and streetcar. And they also deliver parcels. Today the company is known as United Parcel Service, and they wear brown uniforms while driving brown trucks and vans.
Pearl Bailey – 1918
In 1968, the American actress and singer won a Tony award for her lead performance in Hello Dolly!
Sam Walton – 1918
In 1962 in Rogers, Arkansas, the American businessman opened the first in a chain of department stores called Wal-mart.
Walt Frazier – 1945
The American point guard played 13 seasons for the New York Knicks and the Cleveland Cavaliers. In 1970 and 1973, Frazier won NBA championships with the Knicks.
About National Day Calendar
National Day Calendar is the original and authoritative source for fun, unusual and unique National Days! Since our humble beginnings on National Popcorn Day in 2013, we have been tracking the National Days, National Weeks, National Months, and International Days. We became the first calendar of its kind to curate the days all in one place and tell their stories, too! Here at National Day Calendar, we are on a mission to Celebrate Every Day with you! And by you, we mean families, businesses, educators, and strangers we meet on the street. There's more than one day for everyone.
At National Day Calendar, we discovered the National Days have a way of inspiring us. We're honored to tell the stories behind the days and provide you with informational ways to incorporate the National Days into your business, family, schools, and home!