Looking Back
March 28, 2022 - NATIONAL WEED APPRECIATION DAY – NATIONAL SOMETHING ON A STICK DAY – NATIONAL BLACK FOREST CAKE DAY – NATIONAL TRIGLYCERIDES DAY
MARCH 28, 2022 | NATIONAL WEED APPRECIATION DAY | NATIONAL SOMETHING ON A STICK DAY | NATIONAL BLACK FOREST CAKE DAY | NATIONAL TRIGLYCERIDES DAY

NATIONAL WEED APPRECIATION DAY
National Weed Appreciation Day on March 28th each year reminds us that some weeds are beneficial to us and our ecosystem. Humans have used weeds for food and as herbs for much of recorded history. Some are edible and nutritious, while other weeds have… Read more…

NATIONAL SOMETHING ON A STICK DAY
Observed each year on March 28th, National Something on a Stick Day is a food holiday that lets you use your creative talents. Once you get started, the possibilities are endless. Foods that come on a stick are fun and easy to eat. There isn't much that can't be put on a stick when talking about food. Soup might be that one… Read more…

NATIONAL BLACK FOREST CAKE DAY
March 28th recognizes a decadent and delicious dessert on National Black Forest Cake Day. Black Forest cake is the English name for the German dessert Schwarzwalder Kirschtorte, meaning "Black Forest cherry torte." Most often, bakers layer several sheets of chocolate cake with whipped cream and…Read more…

NATIONAL TRIGLYCERIDES DAY
On March 28, National Triglycerides Day shines a spotlight on one of the key factors to a healthy lifestyle. The observance serves as a reminder to patients and practitioners to… Read more…
On Deck for March 29, 2022
Recipe of the Day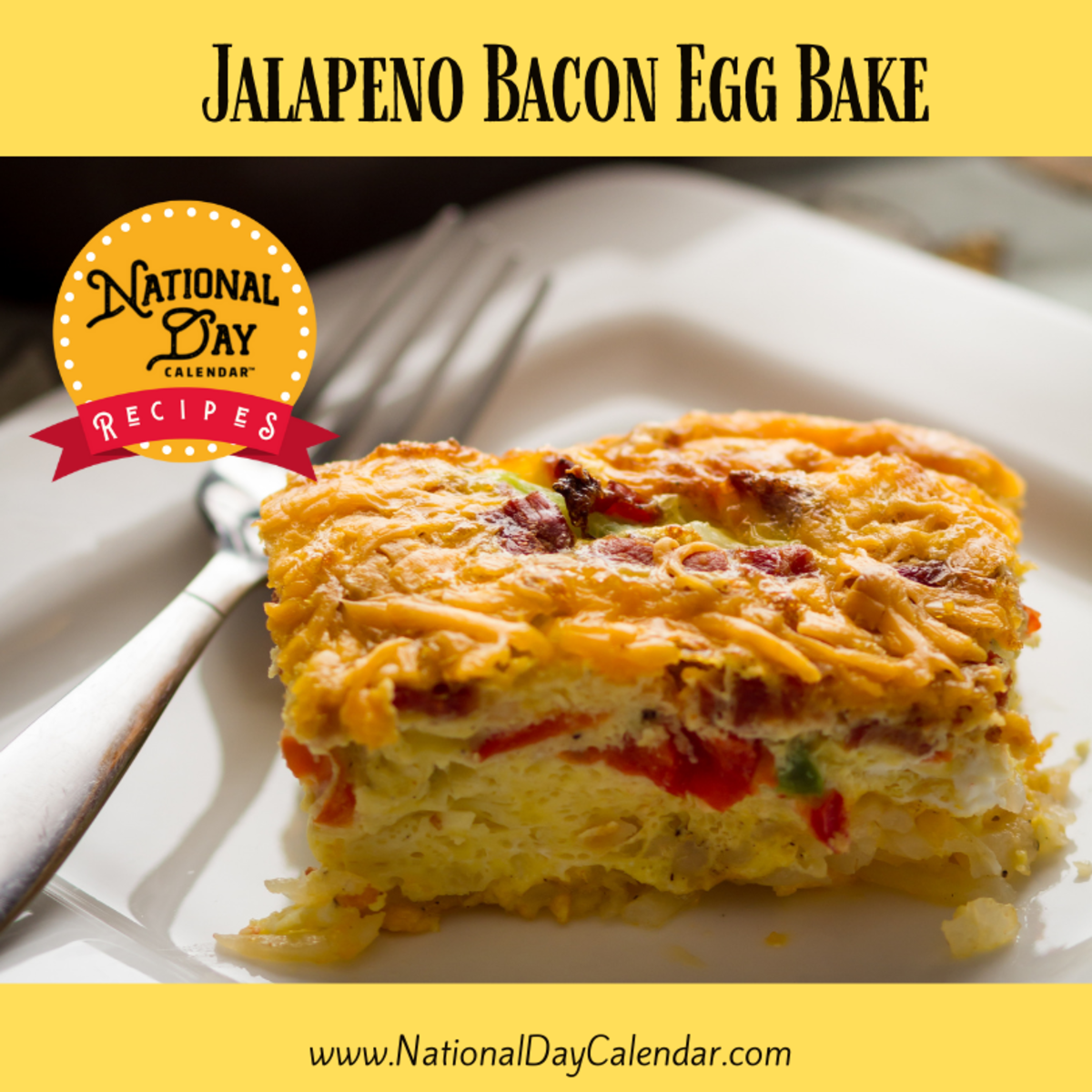 Jalapeno Bacon Egg Bake
Prep time: 15 minutes
Cook time: 50 minutes
Total: 1 hour 5 minutes
Servings: 10
Ingredients
1 pound bacon, crisped and crumbled, divided
3 jalapeno peppers, seeded and diced
1 red bell pepper, seeded and diced
1 yellow onion, diced
3 cloves garlic, minced
12 large eggs
1 cup milk
3 cups frozen diced potatoes
2 cups shredded cheddar cheese, divided
1 1/2 teaspoons salt
1/2 teaspoon ground black pepper
2 green onions, chopped
Instructions
Heat oven to 350°F. Prepare a 9×13 baking dish with cooking spray.
In a large skillet, cook onion and jalapenos over medium heat until tender. Add garlic and cook until fragrant. Remove from heat.
In a large bowl, beat eggs while whisking in the milk. Add the onion, jalapeno, potatoes (frozen, do not thaw), and 1 cup of shredded cheese. Reserve 3/4 cup of bacon and add the remaining bacon to the egg mixture. Season with salt and pepper.
Pour egg mixture into the prepared baking dish. Top with remain cheese and green onions. Bake 20 minutes. Add reserved bacon and bake for an additional 20-30 minutes. The eggs should be firm and the cheese golden brown.
March 28th Celebrated (and Not So Celebrated) History
1963
The Birds premieres in New York City. Director Alfred Hitchcock draws out the suspense as actors Tippi Hedren, Rod Taylor and Jessica Tandy encounter a series of increasingly aggressive birds.
1949
British mathematician and astronomer, Fred Hoyle, coined the term "big bang" in an attempt to dispute the theory that all matter was created from one giant explosion. Hoyle's description took place during the broadcast of the scripted radio show BBC Third Programme.
1977
Rocky wins Best Picture at the 49th Academy Awards. The film was nominated for eight other awards, including Best Screenplay and Best Actor, both of which would have gone to Sylvester Stallone had he won. Rocky did go on to win Best Director (John G. Avildsen) and Best Film Editing.
1979
Three Mile Island Nuclear accident occurred near Middletown, PA. Unit 2 of the nuclear power plant partially melted down causing the plant to be shut down.
1982
Norfolk Scope hosted the first Women's NCAA Basketball Championship where Louisiana Tech defeated the University of Cheney, Pennsylvania 76-62.
March 28th Celebrated (and Not So Celebrated) Birthdays
Frederick Pabst – 1836
The German-born businessman built a reputation in Milwaukee, Michigan, when he joined his father-in-law Philip Best's brewing company in the mid-1800s. In 1889, the business was renamed Pabst Brewing Company, and Pabst grew it into the largest brewery in the United States by the end of the century.
Ángela Ruiz Robles – 1895
In 1949, the Spanish teacher invented an electronic encyclopedia that is considered the precursor of today's e-books. She later designed an updated version that included options for sound recordings.
Victor Mills – 1897
While working for Proctor & Gamble in the 1950s, the American chemical engineer worked on many innovative projects. One of his most notable was the disposable diaper, Pampers.
August Anheuser Busch, Jr. – 1899
Heir to the Anheuser-Busch brewing company, "Gussie" Busch grew the brewery into the world's largest after his father saw it through Prohibition. In 1953, he bought the St. Louis Cardinals baseball team.
Marina Raskova – 1912
In 1934, Marina Raskova became the first woman in the Soviet Union to pass the aviation navigator exam and become the country's first licensed female navigator.
Reba McEntire – 1955
The award-winning American country singer-songwriter and actress has been performing since the early 1970s. She became a household name in the 1980s. In 1984, she won her first Country Music Award for Female Vocalist of the Year. It would not be her last.
Byron Scott – 1961
The American athlete played 10 seasons for the Los Angeles Lakers in the National Basketball Association bringing home three championship rings. He would continue his career as the head coach of the Lakers and then the Cleveland Cavaliers.
Stefani Joane Angelina Germanotta – 1986
Known as Lady Gaga, the singer-songwriter and actress rose to prominence during the 2010s and gained critical acclaim for her music and acting performances.
Notable Mentions
Maxim Gorky – 1868
Byrd Baylor – 1927
Mario Vargas Llosa – 1936
Bernice King – 1963
Vince Vaughn – 1970
Julia Stiles – 1970
About National Day Calendar
National Day Calendar® is the original and authoritative source for fun, unusual and unique National Days! Since our humble beginnings on National Popcorn Day in 2013, we have been tracking the National Days, National Weeks, National Months, and International Days. We became the first calendar of its kind to curate the days all in one place and tell their stories, too! Here at National Day Calendar, we are on a mission to Celebrate Every Day with you! And by you, we mean families, businesses, educators, and strangers we meet on the street. There's more than one day for everyone.
At National Day Calendar, we've found the National Days have a way of inspiring us. We're honored to tell the stories behind the days and provide you with informational ways to incorporate the National Days into your business, family, schools, and home!
Be sure to stay in the know by signing up for our e-mail updates. Also, follow us on Facebook, Twitter, and Instagram.
Our Ambassador Program is another way #CelebrateEveryDay®! Whether you become an ambassador or follow one of the savvy ambassadors, their fun videos and posts will keep you prepared for every holiday.
© National Day Calendar® 2013 – 2021