(Last Updated On: March 21, 2023)
MARCH 21, 2023 | NATIONAL COMMON COURTESY DAY | WORLD DOWN SYNDROME DAY | NATIONAL COUNTDOWN DAY | NATIONAL AG DAY | NATIONAL FRENCH BREAD DAY | NATIONAL 3-D DAY | NATIONAL SINGLE PARENT DAY | NATIONAL CALIFORNIA STRAWBERRY DAY | NATIONAL FRAGRANCE DAY | WORLD SOCIAL WORK DAY | NATIONAL MEMORY DAY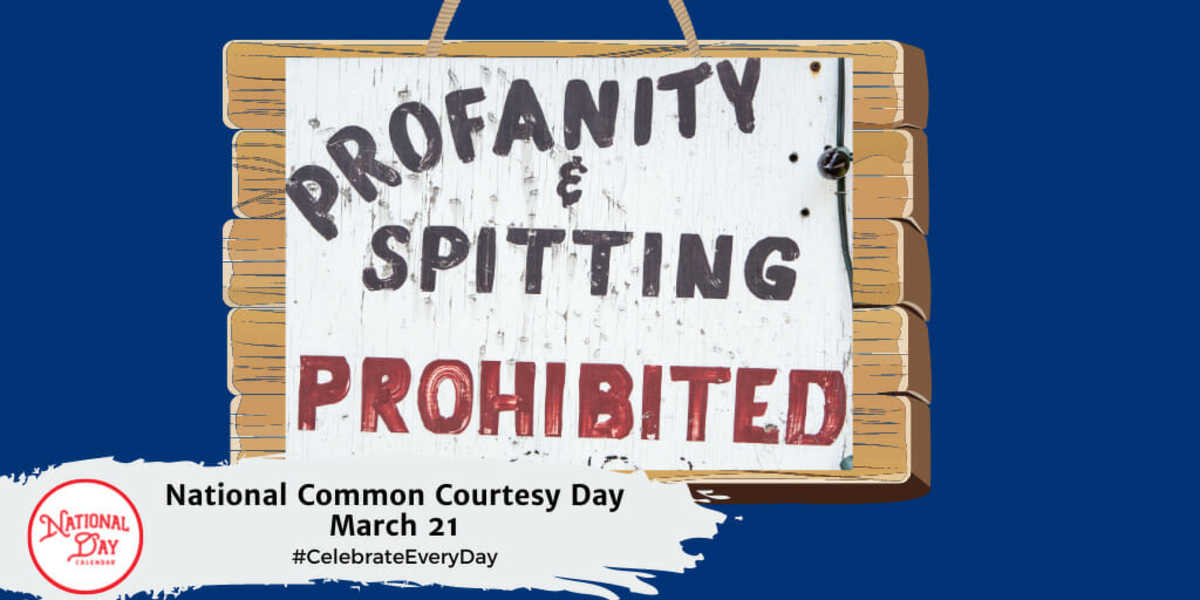 NATIONAL COMMON COURTESY DAY
National Common Courtesy Day on March 21st serves as a reminder of the behavior that keeps society from melting into a sea of madness. In addition, the day brings awareness to how crucial common courtesy is in our lives and provides examples to help us improve. Read more…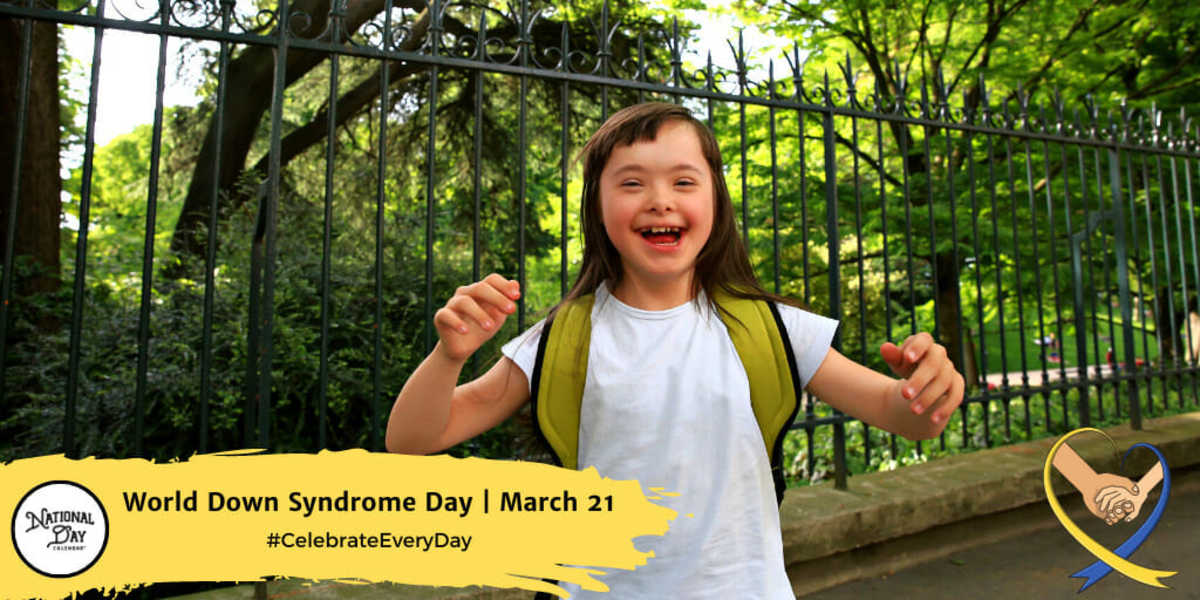 WORLD DOWN SYNDROME DAY
World Down Syndrome Day on March 21st gives people with Down Syndrome and their advocates a voice and an opportunity to be heard. It's a day where we assemble and organize activities to promote public awareness for the genetic disorder. The goal is to educate others on the importance of supporting our friends and family who have directly and indirectly experienced life with Down syndrome. Read more…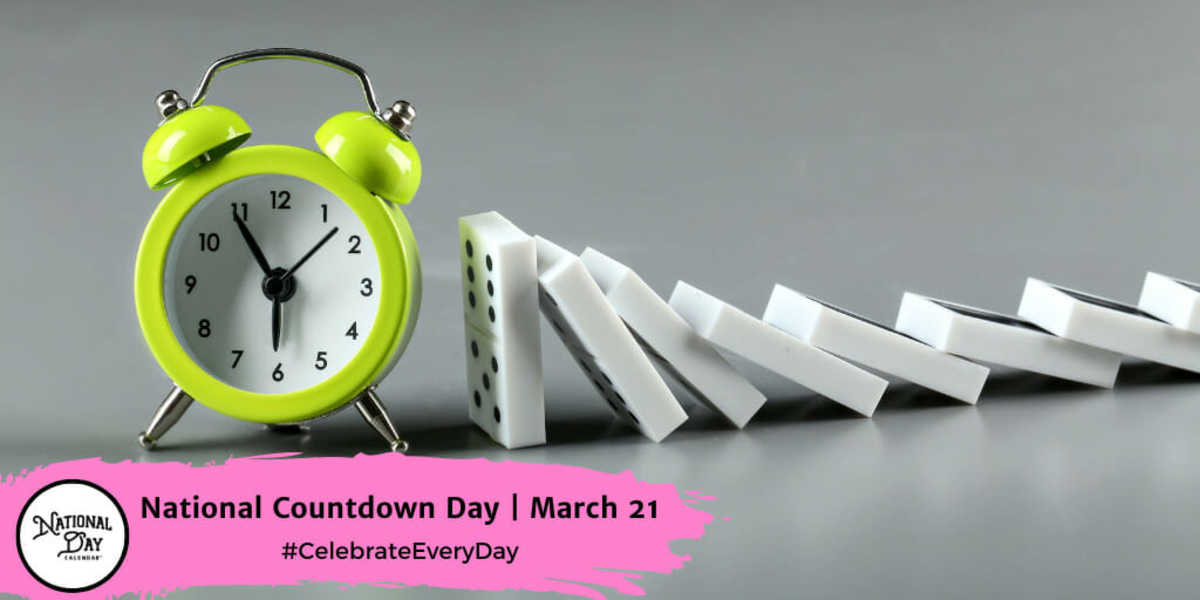 NATIONAL COUNTDOWN DAY
3…2…1…National Countdown Day on March 21 ticks down the minutes, seconds, or days to events big and small. Read more…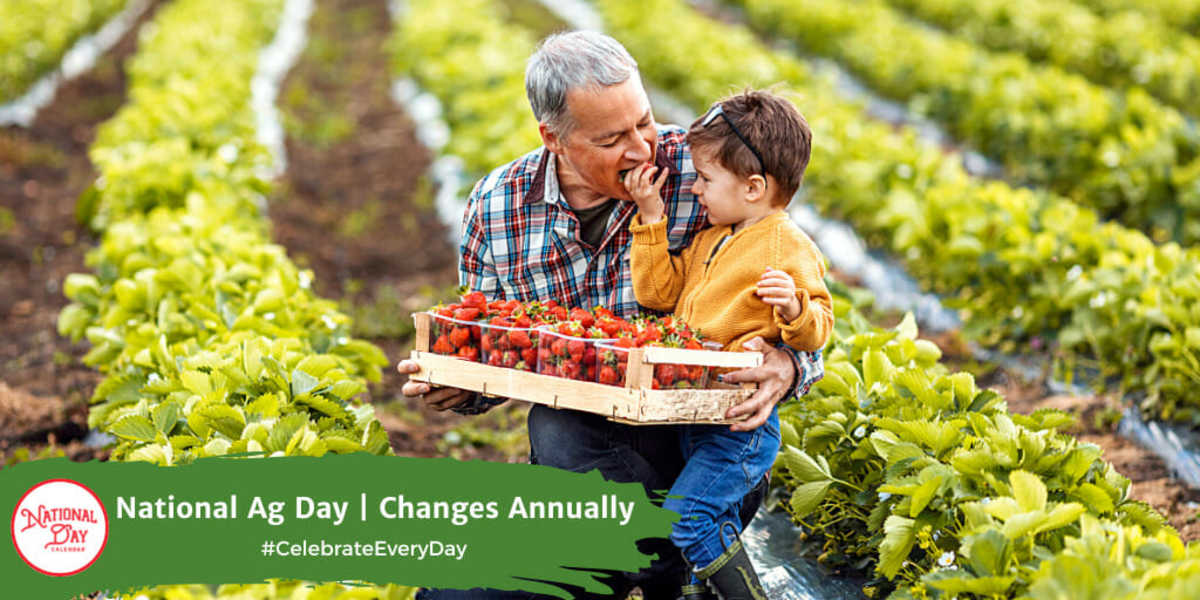 NATIONAL AG DAY
Each year, National Ag Day recognizes and celebrates the abundance provided by agriculture across the United States. American agriculture plays a critical economic and food security role in our country. Read more…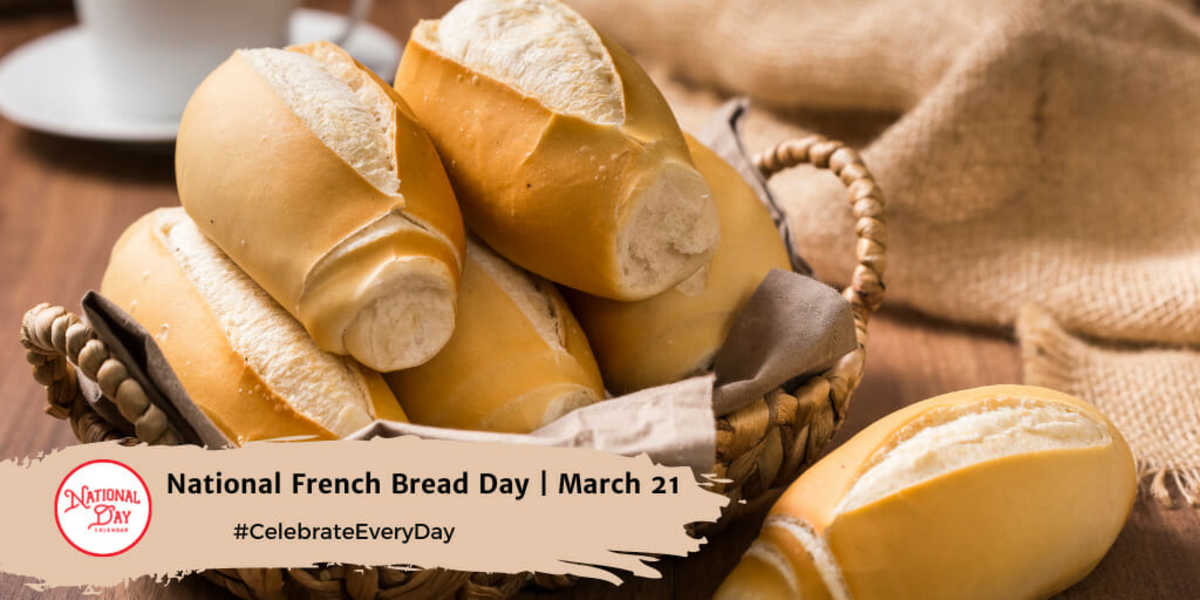 NATIONAL FRENCH BREAD DAY
National French Bread Day bakes up a delicious celebration enjoyed by millions across the United States each year on March 21st. Read more…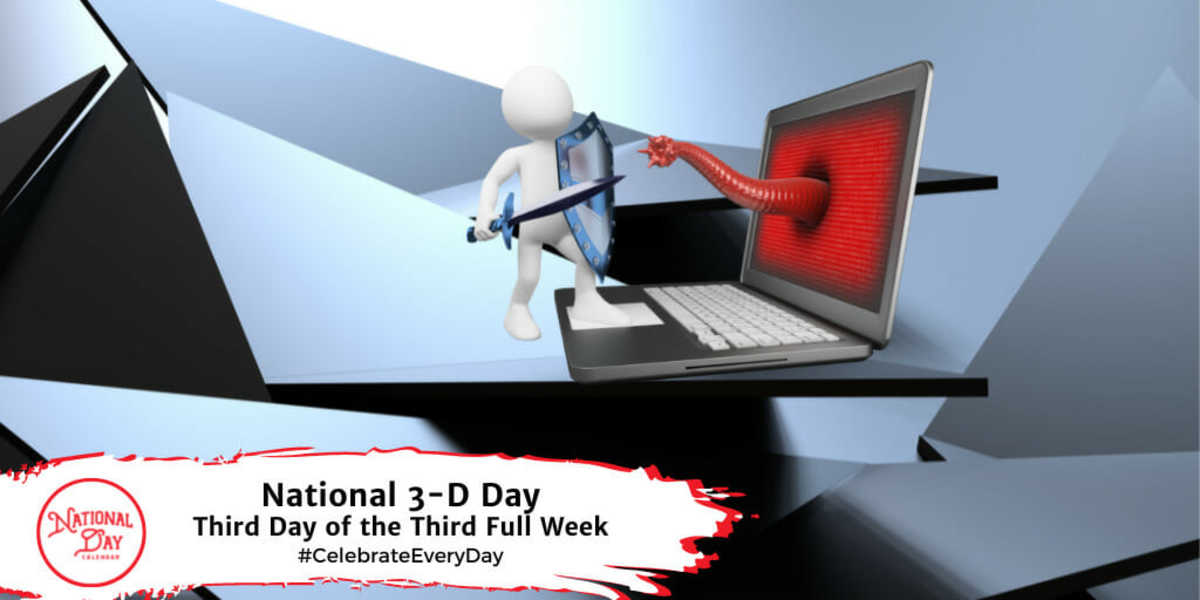 NATIONAL 3-D DAY
National 3-D Day celebrates the art, science, and history of stereoscopic 3-D imagery. Every year, in March, on the third day of the third week of the third month, we explore the technologies used to create 3-D photographs, movies, and art, and we celebrate the many ways that these images have been viewed and enjoyed. Read more…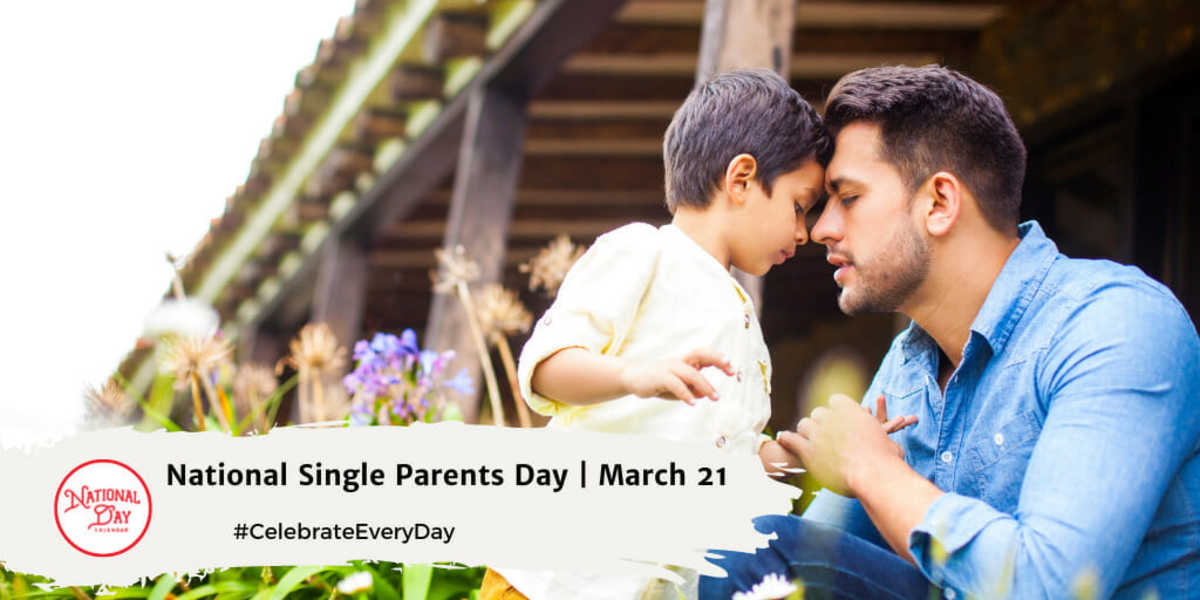 NATIONAL SINGLE PARENT DAY
On March 21st, National Single Parents Day honors the mothers and fathers holding down the fort with all the hard work, devotion, and sacrifices involved in single parenting. Raising children can be challenging. Doing it without a partner doubles the burden. Whether by choice or circumstance, single parents carry a heavy load. Between work, school, daycare, doctor visits, and the list goes on, one person can only do so much. Read more…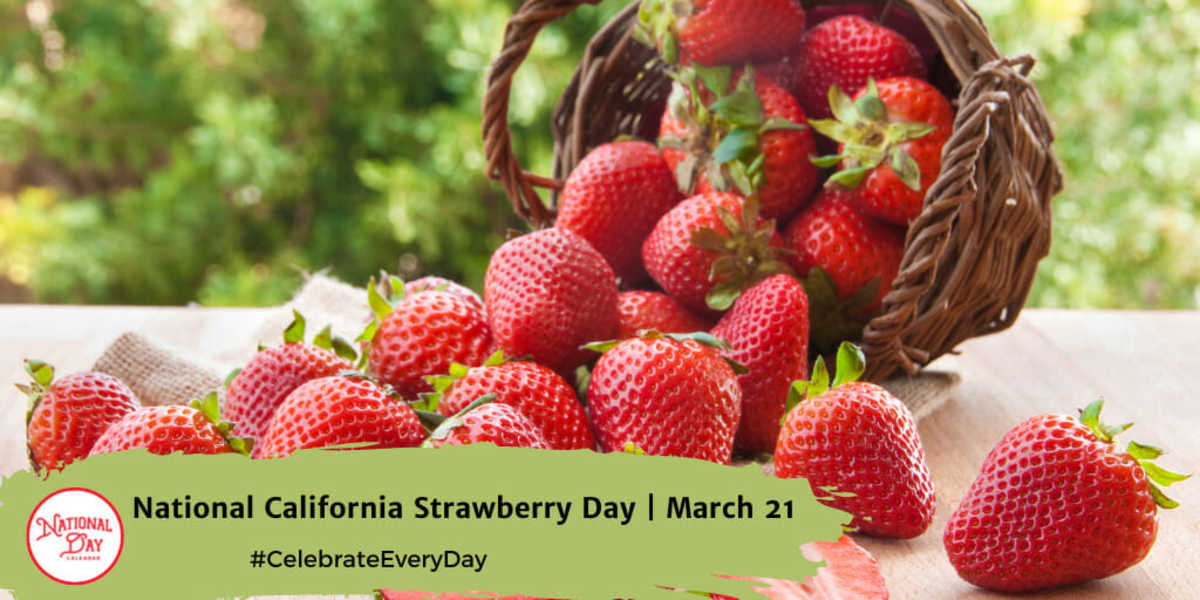 NATIONAL CALIFORNIA STRAWBERRY DAY
As part of National Nutrition Month, National California Strawberry Day kicks off the strawberry season in California. The celebration takes place annually on March 21st which is typically the first full day of spring. It's an ideal time to rejuvenate our senses and get excited about fresh fruit dishes, too. Read more…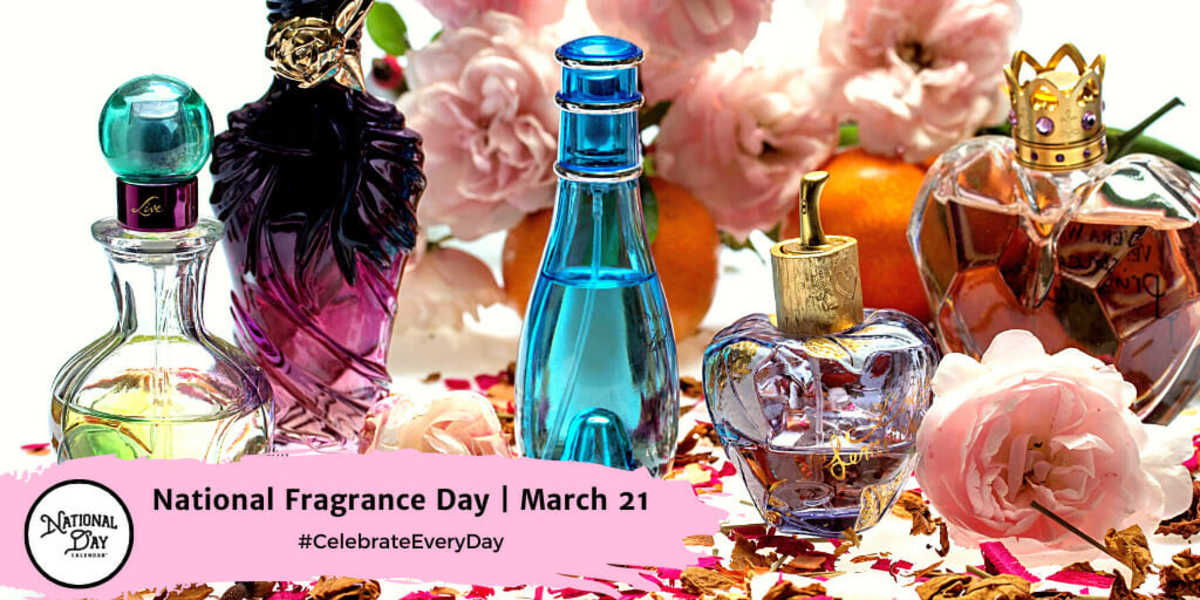 NATIONAL FRAGRANCE DAY
Spring is now in the air, and so is National Fragrance Day. Each year on March 21st, let your favorite scents lift your mood or carry you to another place. Read more…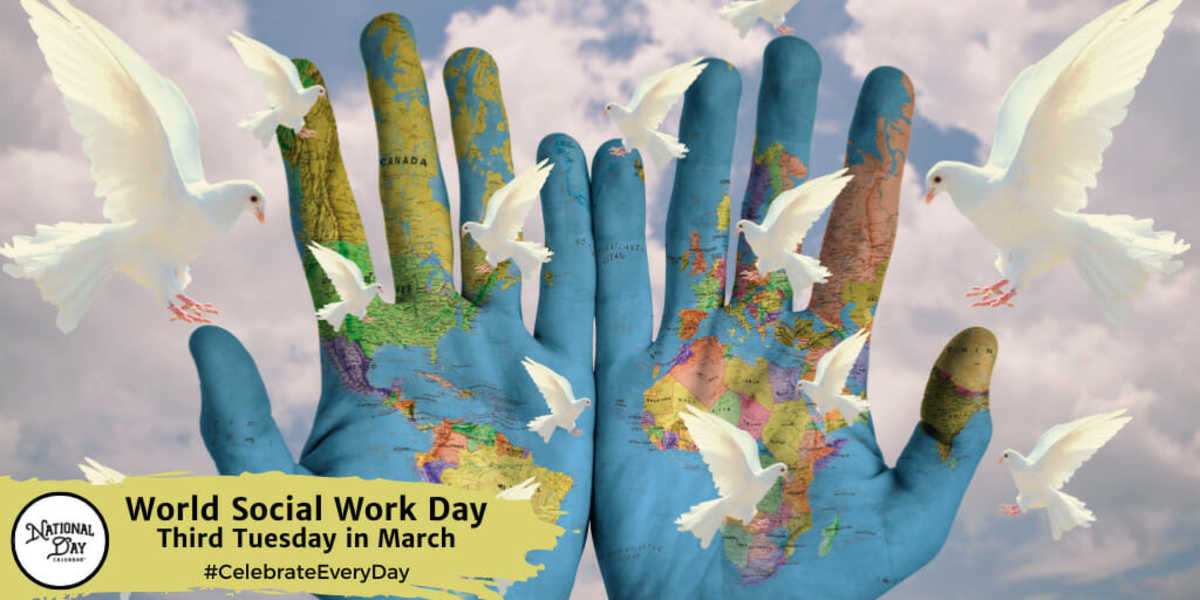 WORLD SOCIAL WORK DAY
World Social Work Day on the third Tuesday in March recognizes the hard work and dedication of social workers. A global organization of social workers comes together for social justice, human rights, and social development all through the promotion of best practices in social work. Read more…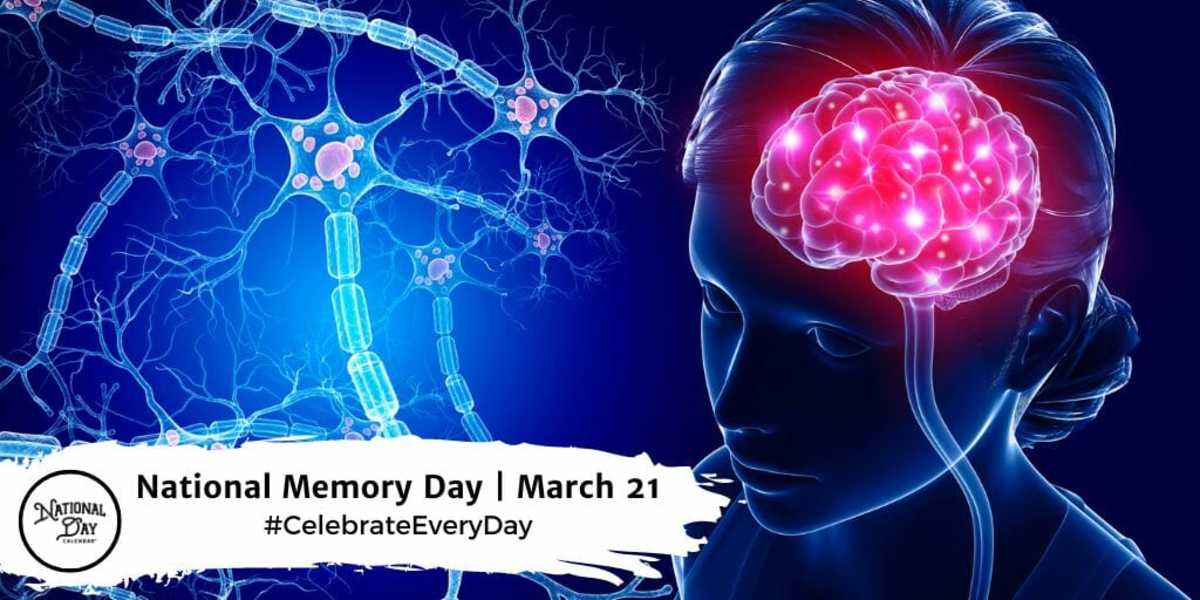 NATIONAL MEMORY DAY
National Memory Day on March 21 is a day celebrating the brain as a function of the human body that helps us to recall events and retrieve experiences from the past. Read more…
On Deck for March 22, 2023
National Days

NATIONAL GOOF OFF DAY
NATIONAL WEST VIRGINIA DAY
NATIONAL BAVARIAN CREPES DAY
Recipe of the Day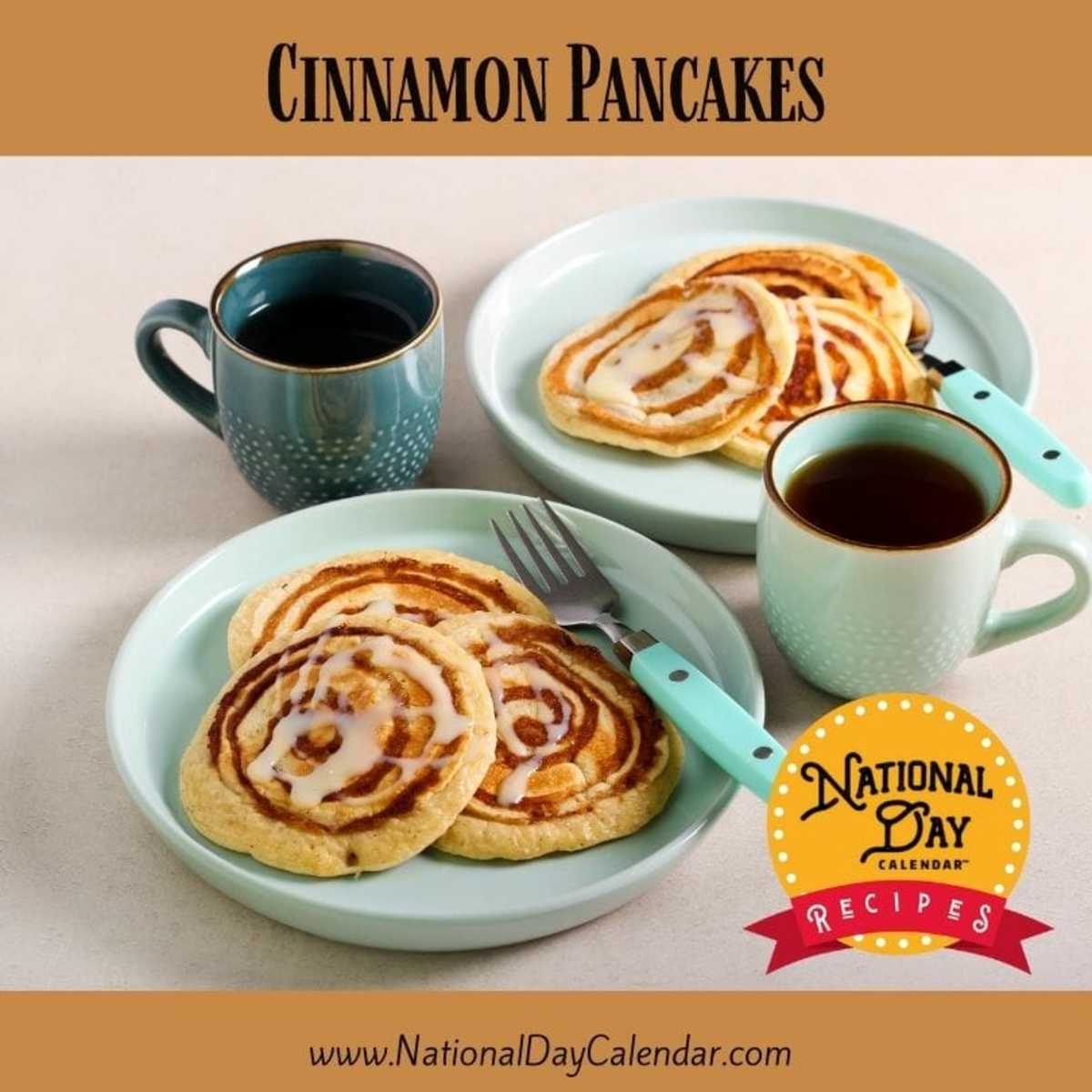 Cinnamon Pancakes
Prep time: 10 minutes
Cook time: 10 minutes
Total: 20 minutes
Servings: 12 pancakes
Ingredients
Pancakes
1 cup all-purpose flour
3/4 tablespoon baking powder
1/2 teaspoon baking soda
1/4 teaspoon salt
1 tablespoon sugar
1/2 tablespoon cinnamon
1 egg
1 cup milk
1 tablespoon butter, melted
Cinnamon Drizzle
1 cup confectioner's sugar
2 tablespoons brown sugar
1/2 teaspoon cinnamon
2-3 tablespoons apple cider
In a small bowl, mix sugars, cinnamon, and apple cider. Add more or less apple cider until a drizzly consistency forms.
Heat griddle over medium-high heat and spray with oil.
Combine the flour, baking powder, baking soda, salt, and sugar in a medium bowl. Mix in egg, milk, and butter until just combined.
Using 1/3 cup of batter per pancake, pour the batter onto the hot griddle. With a spoon, drizzle the cinnamon drizzle over the pancake batter. Flip the pancakes when bubbles begin to form. Cook until lightly brown and done in the middle.
Serve with warm syrup.
March 21st Celebrated History
1917
The first active-duty Navy woman, Loretta Walsh receives the rank of petty officer. She's the first woman enlisted in the United States Armed Forces in a non-nurse capacity.
1963
The Federal Bureau of Prisons closes Alcatraz Federal Penitentiary located on an island off the coast of San Francisco, California. The maximum-security prison is also known as The Rock housed some of the country's most notorious criminals including Al Capone, Robert "Birdman of Alcatraz" Stroud, George "Machine Gun" Kelly, and Alvin Karpis.
1970
The Mayor of San Francisco, Joseph Alioto proclaims the first Earth Day.
1980
Someone shoots J.R. on the popular television series Dallas.
2006
Jack Dorsey, one of Twitter's cofounders, sent the first public tweet. It read, "just setting up my twttr."
March 21st Celebrated Birthdays
Forrest Mars Sr. – 1904
The American businessman and heir of the Mars candy empire is best known for developing the Mars bar and M&Ms.
Jehane Benoît – 1904
In 1933, the Canadian cookbook author and broadcaster opened her own cooking school called the Fumet de la Vieille France in Montreal. Two years later, Benoît opened the vegetarian restaurant "The Salad Bar."
Henry O Flipper – 1856
On June 14, 1877, Cadet Henry O. Flipper became the first African American to graduate from West Point.
Julio Gallo – 1910
Along with his brother Ernest, Julio Gallo started a winery in 1933. From Modesto, California, they created a brand that dominated the inexpensive wine market. Gallo gained a reputation as a savvy businessman with marketing know-how. Over the years, Gallo eventually branched into finer wines.
About National Day Calendar
National Day Calendar is the original and authoritative source for fun, unusual and unique National Days! Since our humble beginnings on National Popcorn Day in 2013, we have been tracking the National Days, National Weeks, National Months, and International Days. We became the first calendar of its kind to curate the days all in one place and tell their stories, too! Here at National Day Calendar, we are on a mission to Celebrate Every Day with you! And by you, we mean families, businesses, educators, and strangers we meet on the street. There's more than one day for everyone.
At National Day Calendar, we discovered the National Days have a way of inspiring us. We're honored to tell the stories behind the days and provide you with informational ways to incorporate the National Days into your business, family, schools, and home!