(Last Updated On: March 14, 2023)
MARCH 19, 2023 | NATIONAL LET'S LAUGH DAY | NATIONAL CERTIFIED NURSES DAY | NATIONAL BACKYARD DAY | NATIONAL CHOCOLATE CARAMEL DAY | NATIONAL POULTRY DAY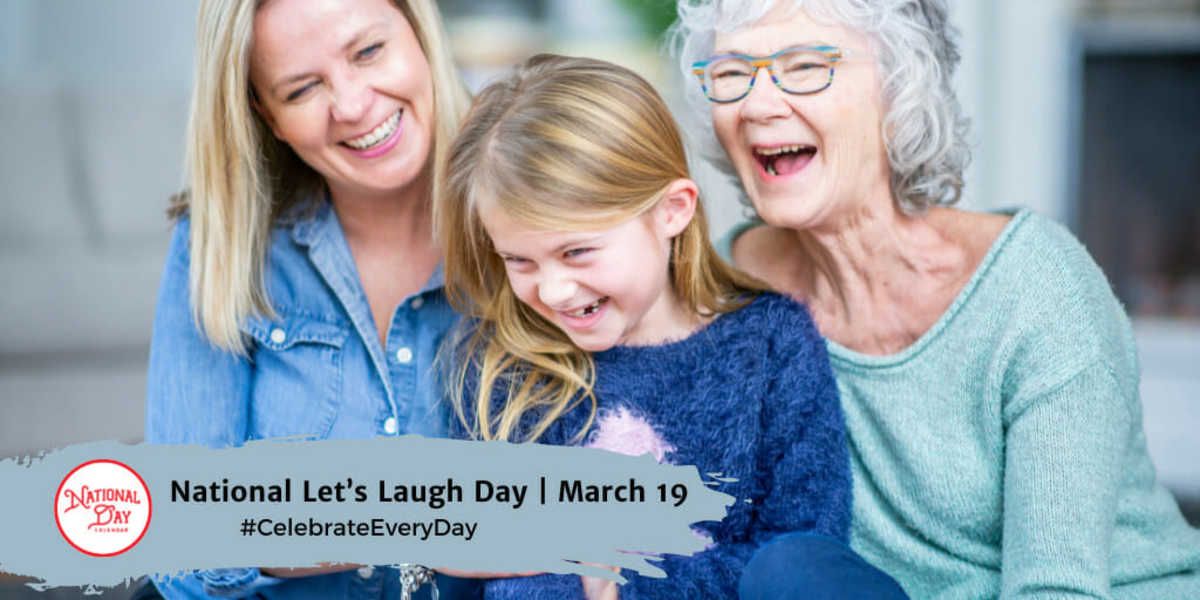 NATIONAL LET'S LAUGH DAY
Each year, National Let's Laugh Day on March 19th reminds us to add a little humor to our day. It's never good to be serious all the time and letting the laughter bubble up from time to time is good for all of us! Read more…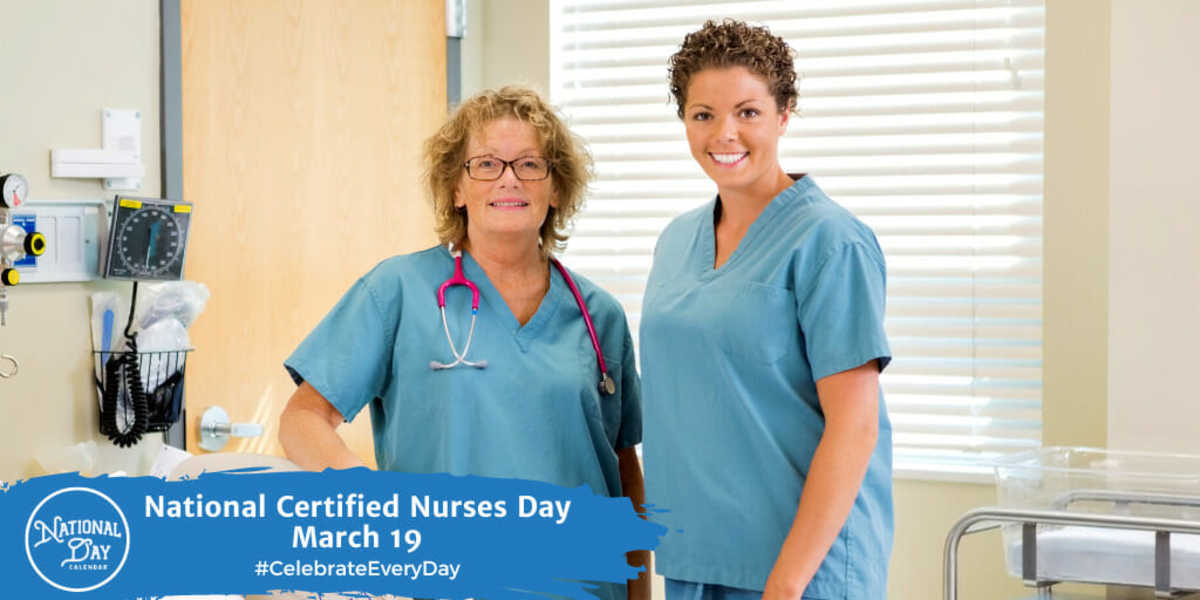 NATIONAL CERTIFIED NURSES DAY
Every March 19th, National Certified Nurses Day celebrates the certified nurses who impact lives every day. Read more…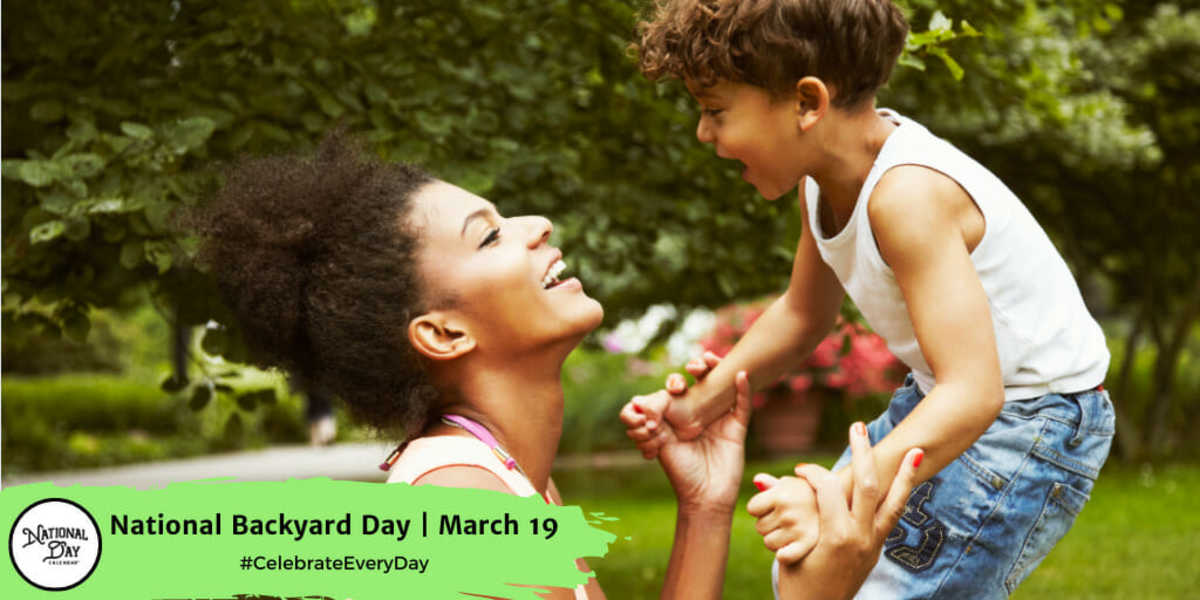 NATIONAL BACKYARD DAY
Our backyards have become our home away from home, our playgrounds, and an extension of our homes. On March 19th, we celebrate National Backyard Day and all the ways we've transformed the spaces and places we call our oasis. We celebrate our backyards. Read more…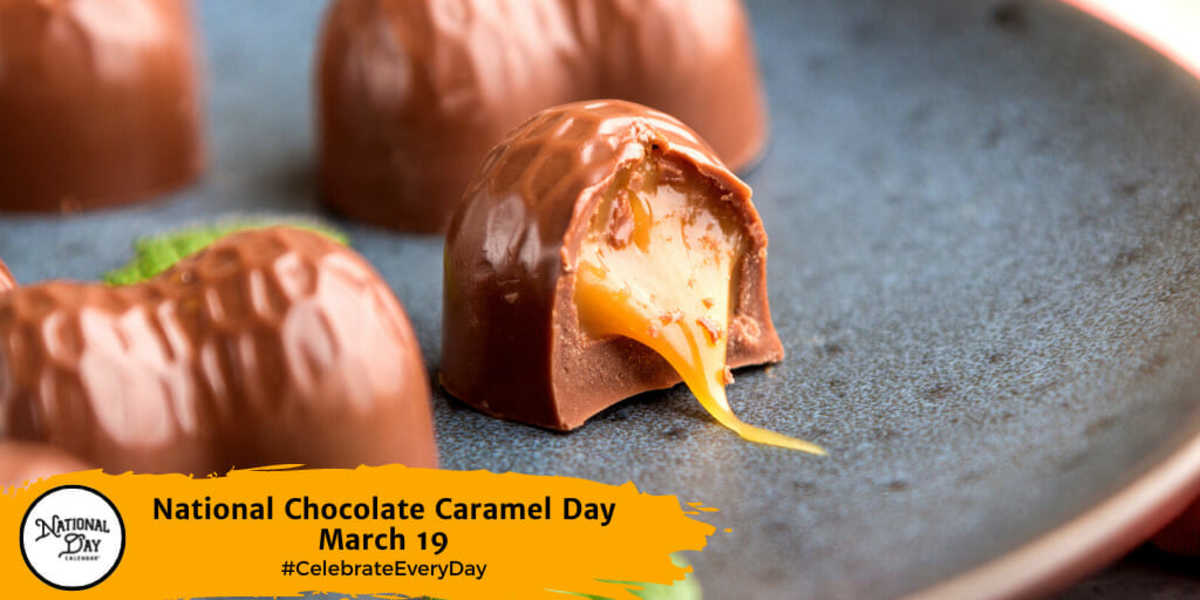 NATIONAL CHOCOLATE CARAMEL DAY
A great combination is celebrated each year on National Chocolate Caramel Day. On March 19th, enjoy chocolate and caramel in your favorite candy bar, ice cream, or dessert.  It will put a smile on most people's faces! The combination also invokes some cravings for chocolate caramel coffee, milkshakes, or just about any treat with this hard-to-resist combination. Read more…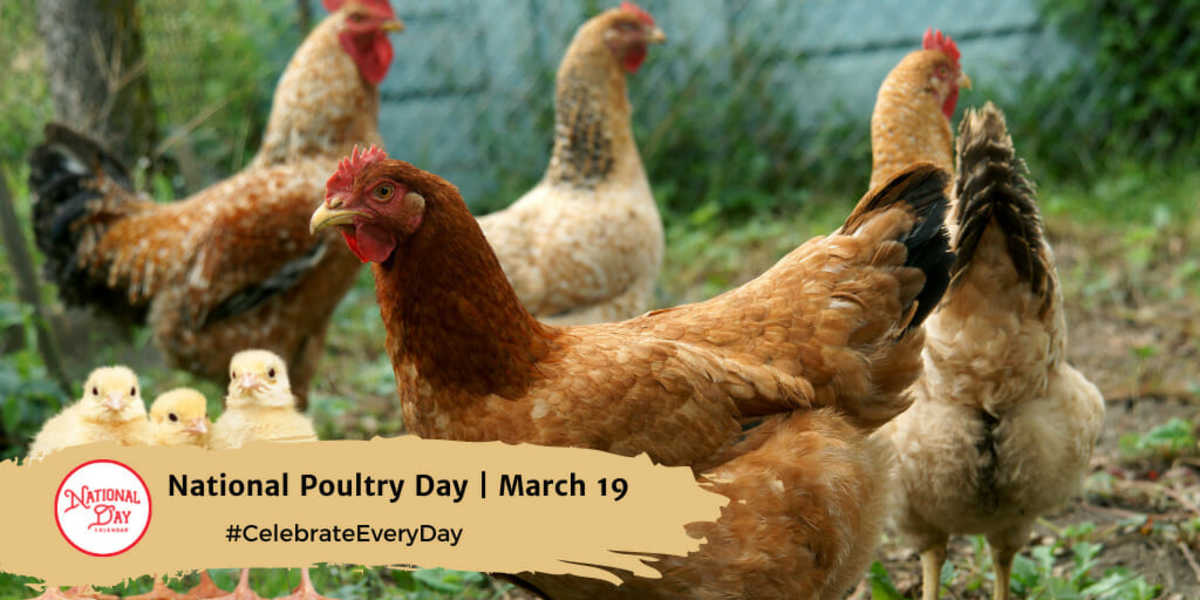 NATIONAL POULTRY DAY
Poultry is the theme for March 19th as it is National Poultry Day. No fowl moods or ruffled feathers. However, there may be some quacking and gobbling going on. Read more…
On Deck for March 20, 2023
National Days
National Native HIV/AIDS Awareness Day
National Proposal Day
National Ravioli Day
World Flour Day
Spring Begins – Changes Annually
Recipe of the Day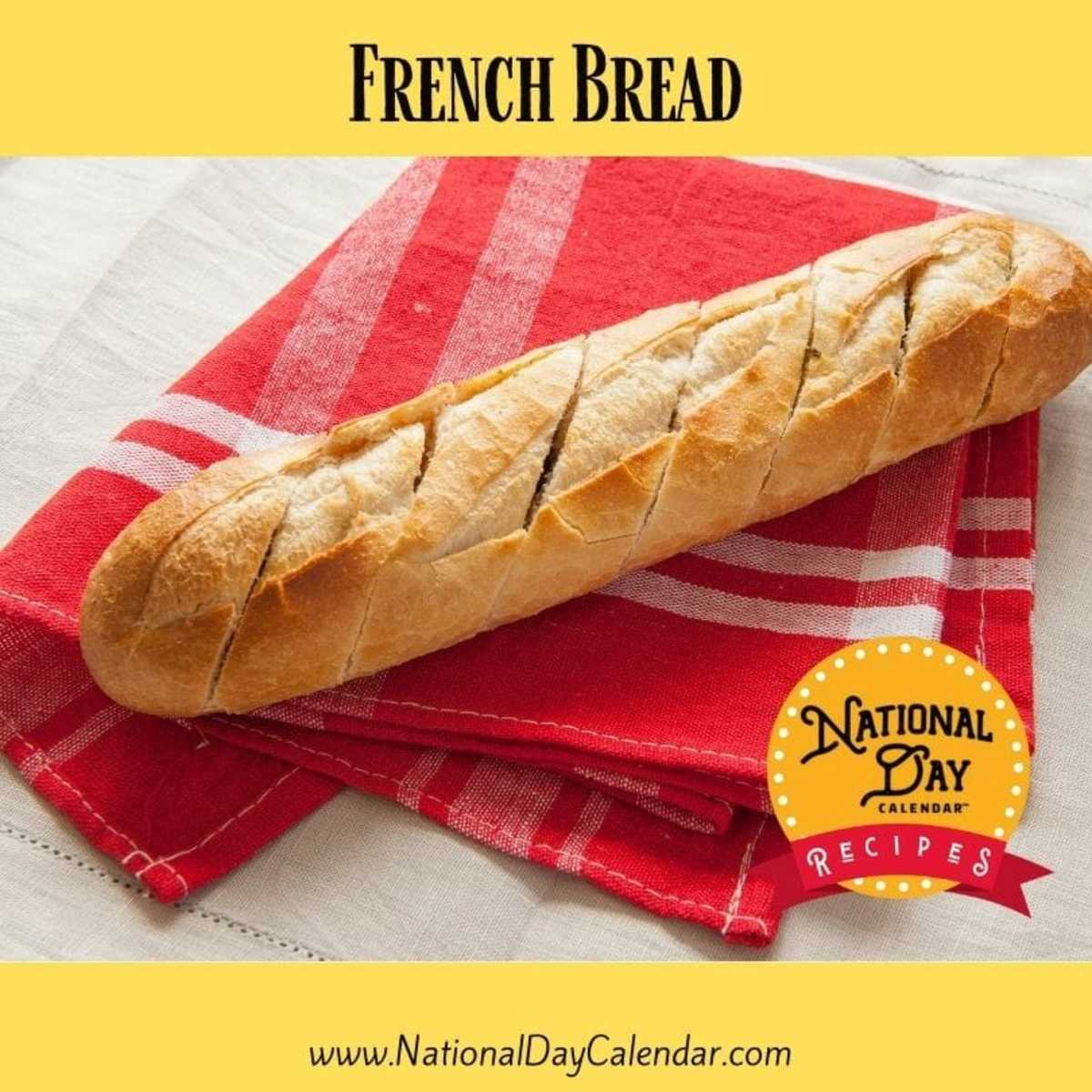 French Bread
Prep:  60 minutes
Bake:  20 minutes
Total Prep:  1 hour 20 minutes
Servings:  2 loaves
Ingredients:
2¼ cups water
2 tablespoons margarine or butter
1 tablespoon sugar
3 cups flour plus 3¼ to ¾ tablespoons
1 teaspoon salt
2 tablespoons yeast
Instructions:
Mix water and margarine or butter in saucepan and heat to 120°.
In separate bowl, add 3 cups flour, yeast, sugar and salt.
Slowly add liquid mixture to dry ingredients.
Add remaining flour and knead until smooth and not sticky.
Set aside and covered. Let rise until doubled in size.
Divide dough in half and shape l each half into a long cylinder shape.
Using a sharp knife, cut three slashes in the top. Cover and let rise again.
Make an egg wash using 1 egg and water mixed well. Brush across the top of each loaf.
Bake in a 375° oven for 20 minutes.
For added decoration, sprinkle sunflower seeds, sesame seeds, poppy seeds or toasted onion or garlic on dough before baking.
March 19th Celebrated History
1931
Nevada legalized gambling, setting the stage for "What happens in Vegas, stays in Vegas."
1953
NBC presents the first televised Academy Awards. Master of Ceremonies, Comedian Bob Hope opened the 25th Oscars at the RKO Pantages Theatre in Hollywood, California. The Greatest Show on Earth directed by Cecil B. DeMille took home Best Picture honors. Best Actor actor went to Gary Cooper for High Noon and Best Actress went to Shirly Booth in Come Back, Little Sheba.
1964
Geraldine Mock departs from Columbus, Ohio in her single-engine Cessna 180 christened the "Spirit of Columbus" in an ambitious adventure. She earned the nickname the "Flying Housewife" and became the first woman to fly around the world solo when she returned to Columbus on April 17, 1964.
1979
C-Span launches and begins broadcasting live from the U.S. House of Representatives.
March 19th Celebrated Birthdays
David Livingstone – 1813
The Scottish missionary and explorer took an expedition deep into south-central Africa. He explored the upper Zambezi River and discovered Victoria Falls. During his third expedition, Livingstone began a search for the source of the Nile. When no word from Livingston was received for many months, journalist Henry Morton Stanley set out to find him. On November 10, 1871, his search party arrived in the village Ujiji in Tanzania after an eight-month-long search for the explorer and spoke the now-famous phrase. "Mr. Livingstone, I presume?"
Wyatt Earp – 1848
In a short six years, Wyatt Earp developed a legendary status when at the age of 26 he turned from outlaw to lawman in Wichita, Kansas. Just a few short years later, the gunfight at the OK Corral in Tombstone, Arizona, between Earp, his brothers, Doc Holliday, and the Clanton and McLaury created pulp western fodder.
Josef Albers – 1888
The American-German visual artist is best known for his color square paintings and in 1971, his work became the subject of a solo exhibit at the Metropolitan Museum of Art in New York City, the first by a living artist.
Earl Warren – 1891
Before being named Chief Justice of the United States Supreme Court in 1953, Earl Warren served many roles as an attorney. He began as deputy district attorney before being elected Attorney General of California.
Moms Mabley – 1894
Born Loretta Mary Aiken, the African American comedian earned the stage name "Moms" for her motherly and mentoring spirit. With one of the most successful stand-up acts headlining on stages such as the Cotton Club and the Apollo Theater, her routines rarely avoided edgy or crude topics.
Glenn Close – 1947
The award-winning American actress best known for her role as Alex in the 1987 thriller Fatal Attraction began her acting career on stage. Close has been nominated for Best Actress or Best Supporting Actress eight times, the most recent for 2021's Hillbilly Elegy. It remains to be seen if she will finally win.
Bruce Willis – 1955
One of the biggest debates in December on social media is whether or not Die Hard is a holiday movie. One thing we know for sure, it is a Bruce Willis movie. The American actor came to prominence in the 1980s on the television sitcom Moonlighting. Since then, he's made numerous memorable films including The Sixth Sense, Pulp Fiction, 12 Monkeys, and Death Becomes Her.
Clayton Kershaw – 1988
The left-handed professional pitcher has played in 13 years in Major League Baseball for the Los Angeles Dodgers. In 2020, Kershaw and the Dodgers won the World Series Championship. It was Kershaw's first and the Dodger's first since 1988.
About National Day Calendar
National Day Calendar is the original and authoritative source for fun, unusual and unique National Days! Since our humble beginnings on National Popcorn Day in 2013, we have been tracking the National Days, National Weeks, National Months, and International Days. We became the first calendar of its kind to curate the days all in one place and tell their stories, too! Here at National Day Calendar, we are on a mission to Celebrate Every Day with you! And by you, we mean families, businesses, educators, and strangers we meet on the street. There's more than one day for everyone.
At National Day Calendar, we discovered the National Days have a way of inspiring us. We're honored to tell the stories behind the days and provide you with informational ways to incorporate the National Days into your business, family, schools, and home!