(Last Updated On: March 13, 2023)
March 17, 2023 | ST. PATRICK'S DAY | NATIONAL CORNED BEEF AND CABBAGE DAY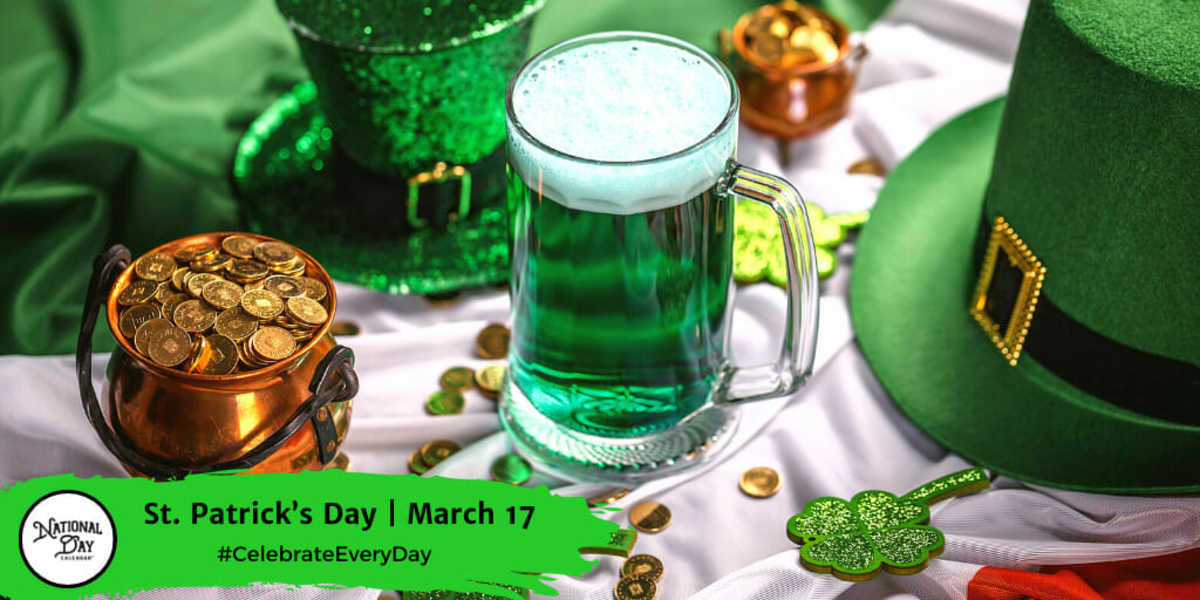 ST. PATRICK'S DAY
St. Patrick's Day kicks off a worldwide celebration also known as the Feast of St. Patrick. On March 17th, many will wear green in honor of the Irish and decorate with shamrocks. According to lore, the wearing of the green tradition dates back to a story written about St. Patrick in 1726. St. Patrick (c. AD 385–461) used the shamrock to illustrate the Holy Trinity and worn green clothing. And while the story is unlikely to be true, many will revel in the Irish heritage and eat traditional Irish fare, too. Read more…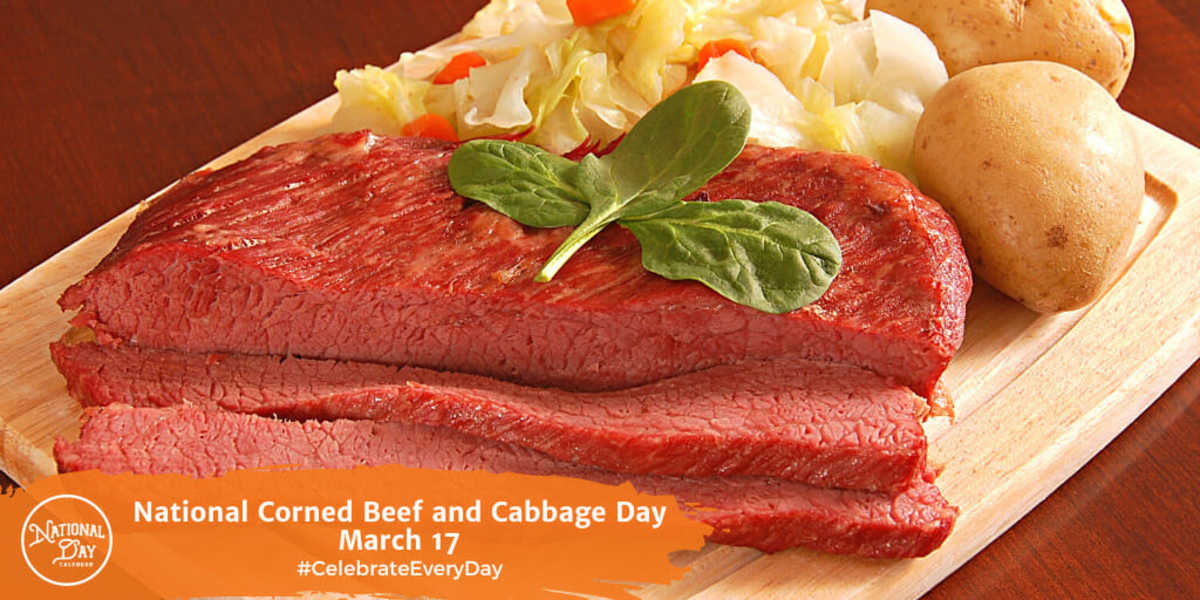 NATIONAL CORNED BEEF AND CABBAGE DAY
On March 17th National Corned Beef and Cabbage Day coincide with St. Patrick's Day in the United States. Read more…
On Deck for March 18, 2023
National Days
National Awkward Moments Day
National Biodiesel Day
National Lacy Oatmeal Cookie Day
National Sloppy Joe Day
National Supreme Sacrifice Day
National Corn Dog Day – First Saturday of March Madness
National Quilting Day – Third Saturday in March
Recipe of the Day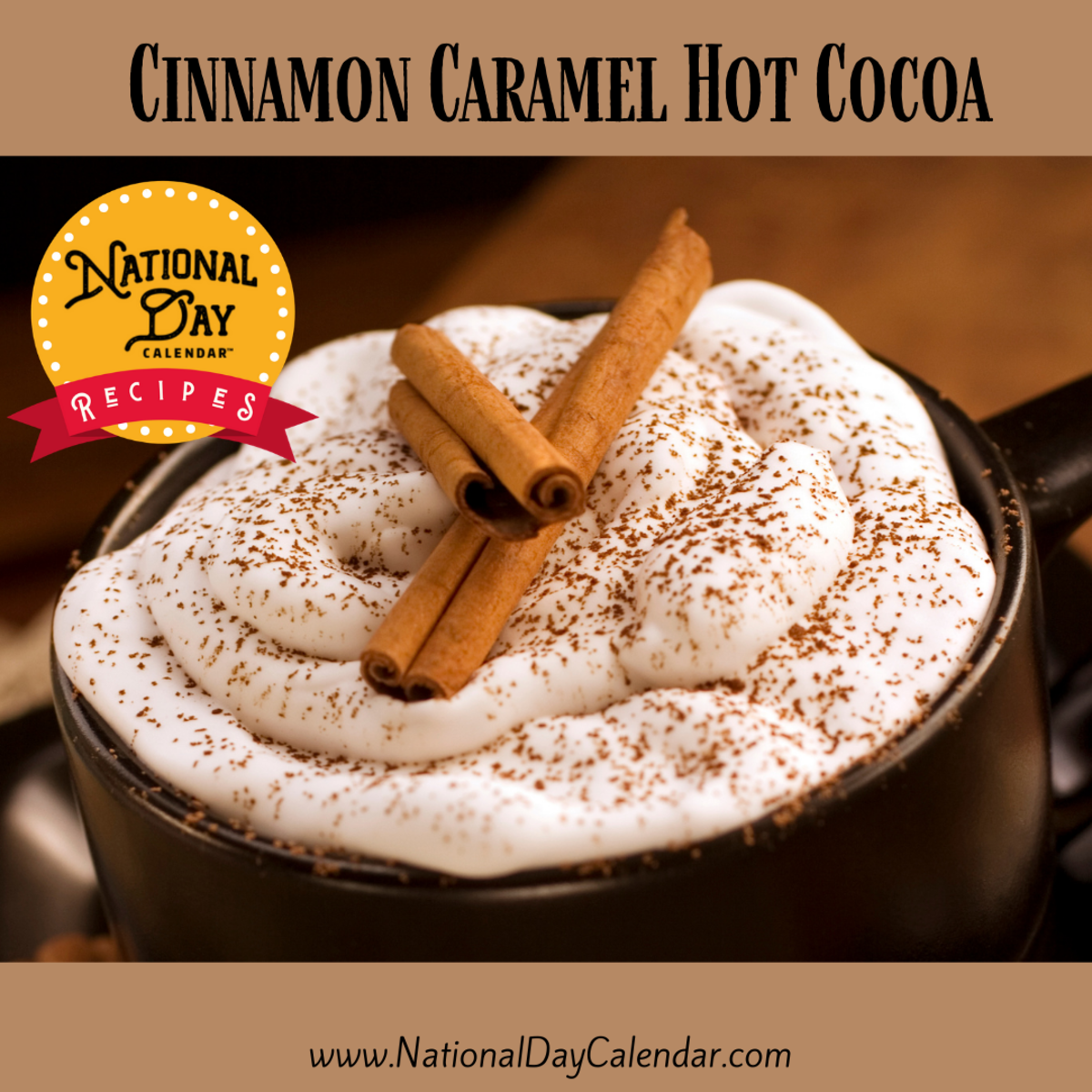 Cinnamon Caramel Hot Cocoa
Prep: 5 minutes
Cook: 6-8 minutes
Total Prep: 12 minutes
Servings: 5
Ingredients:
1/3 cup cocoa powder
1 tsp cinnamon + 1TBSP cinnamon
1/2 tsp vanilla
3/4 cup Ghiradelli caramel sauce
2 cups half and half
2 cups milk
2 TBSP granulated sugar
5 TBSP whipped cream
Instructions:
In a medium saucepan, mix cocoa, 1 teaspoon cinnamon, vanilla and caramel sauce until all the ingredients are well combined.
Gradually add milk and the half and half, whisking to a smooth texture.
Heat mixture on medium heat for 6-8 minutes. Occasionally stir and scrape sides of the pan. Once the mixture begins to steam, remove from heat. (Do not bring to a boil!)
In a small saucer, mix remaining cinnamon and sugar. Run a bead of caramel sauce along the rim of five mugs. Dip each one into the cinnamon sugar mixture. Divide cocoa mixture between the five mugs.
Top with whipped cream and dust with remaining cinnamon sugar.
March 17th Celebrated History
1910
Luther Halsey Gulick, M.D., and his wife, Charlotte Gulick found the Camp Fire Girls.
1933
D. Appleton and Company publishes Human Nature by Edith Wharton.
1946
Warming up. Jackie Robinson takes the field for the first time for the Brooklyn Dodgers in an exhibition game in Daytona Beach, Florida.
1969
Israel elects Golda Meir as its first female prime minister.
2008
New York state elected David Paterson as its first African American Governor.
March 17th Celebrated History
Bobby Jones – 1902
In 1934 the amateur golfer co-founded the Augusta National Invitation Tournament, known today as the Masters Tournament.
Nat King Cole – 1919
The jazz recording artist, songwriter, and pianist left a legacy of hit songs in his wake and a career full of internationally loved songs. Some of his most notable songs include "The Very Thought of You," "Unforgettable," "When I Fall in Love," and "Smile."
Myrlie Evers-Williams – 1933
on June 12, 1963, Medgar Evers died at the hand of an assassin. For 31 years and through two hung juries, his wife and fellow civil rights activist Myrlie Evers Williams persevered. She remained active in civil rights, advanced her education, was named the first African American woman to serve as commissioner for the Los Angeles, California Board of Public works, and served as chairperson for the NAACP in the 1990s. In 1993, Byron De La Beckwith was found guilty.
Robin Knox-Johnston – 1939
The British yachtsman became the first person to solo circumnavigate the globe non-stop. The 29-year-old Robin Knox Johnston departed from Falmouth, England, on June 14, 1968, in his yacht the Suhaili. His journey took 312 days and was completed on April 22, 1969. Queen Elizabeth knighted Johnston in 1995. In 2007, Sir Johnston once again circled the globe when he joined the Velux 5 Oceans around the world solo yacht race. At the age of 68, he became the oldest person to complete the journey.
Gary Sinise – 1955
The American actor, known for roles in television and film such as CSI: NY, Apollo 13, The Green Mile, and The Stand, also leads The Lt. Dan Band named after his Forest Gump character. Throughout his career, Sinise has been a fierce supporter of the military and first responders. In 2011, he founded The Gary Sinise Foundation to further support our country's heroes.
Mia Hamm – 1970
The American professional soccer player was a member of the United States women's national soccer team for 17 years earning two FIFA Women's World Championships and two Olympic gold medals.
About National Day Calendar
National Day Calendar is the original and authoritative source for fun, unusual and unique National Days! Since our humble beginnings on National Popcorn Day in 2013, we have been tracking the National Days, National Weeks, National Months, and International Days. We became the first calendar of its kind to curate the days all in one place and tell their stories, too! Here at National Day Calendar, we are on a mission to Celebrate Every Day with you! And by you, we mean families, businesses, educators, and strangers we meet on the street. There's more than one day for everyone.
At National Day Calendar, we discovered the National Days have a way of inspiring us. We're honored to tell the stories behind the days and provide you with informational ways to incorporate the National Days into your business, family, schools, and home!