(Last Updated On: March 7, 2023)
MARCH 12, 2023 | NATIONAL I AM DAY | DAYLIGHT SAVING TIME | NATIONAL PLANT A FLOWER DAY | NATIONAL WORKING MOMS DAY | NATIONAL GIRL SCOUT DAY | NATIONAL BAKED SCALLOPS DAY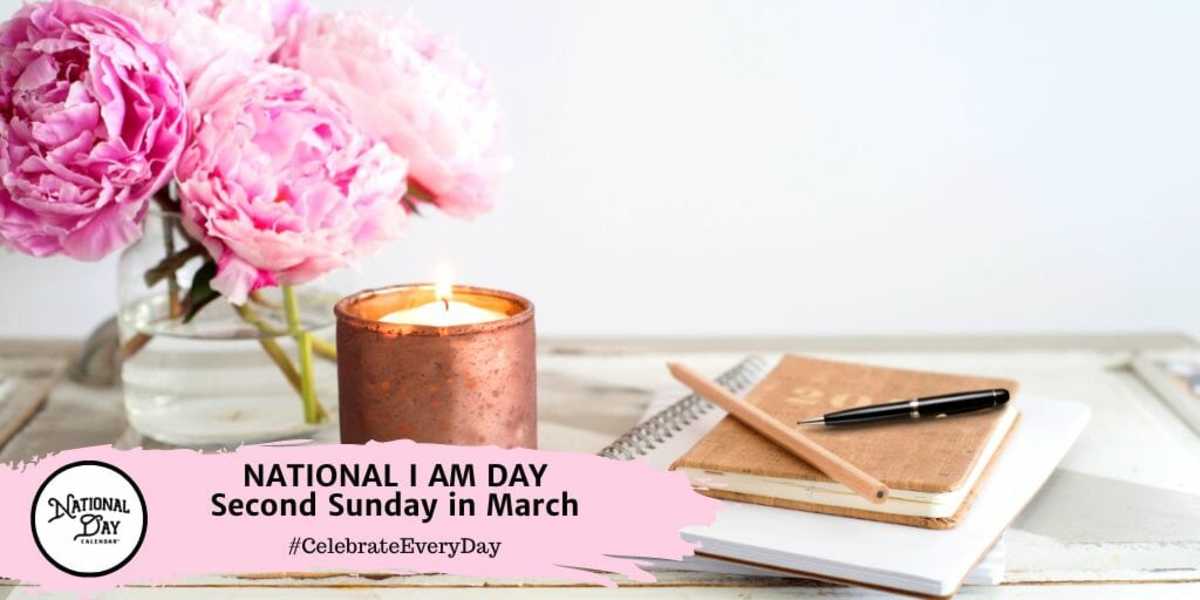 NATIONAL I AM DAY
The second Sunday in March celebrates National I AM Day as a reminder to set time aside for daily positive affirmation and self-care. Read more…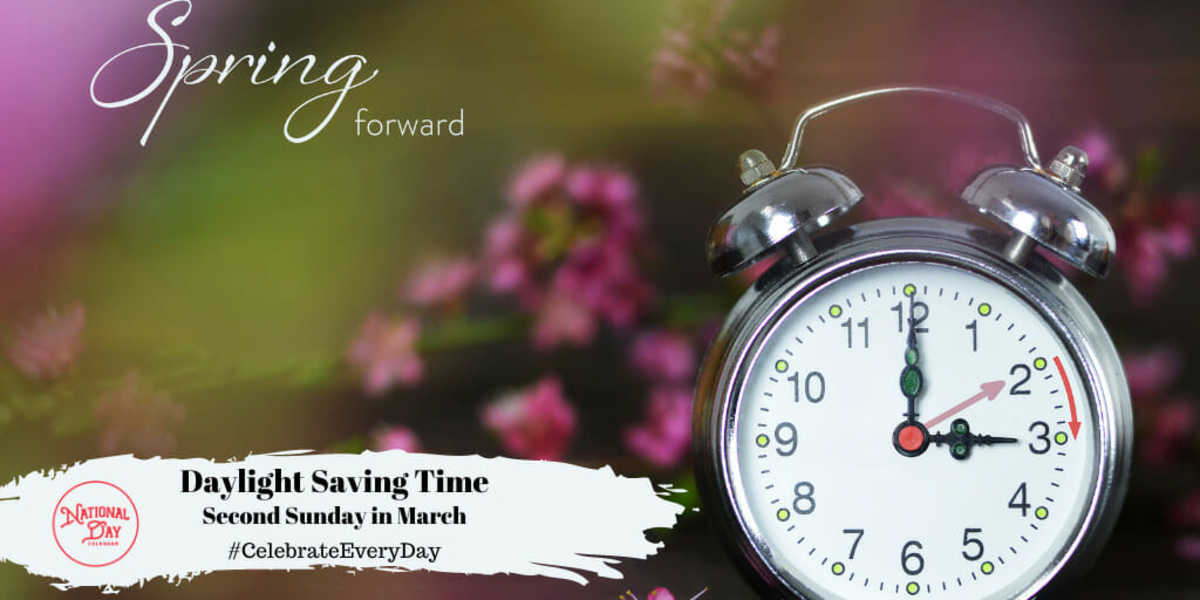 DAYLIGHT SAVING TIME
Daylight Saving Time begins on the second Sunday in March in the USA. The practice gives people an extra hour of sunlight in the evening by setting the clock ahead one hour on a predetermined date each year. Read more…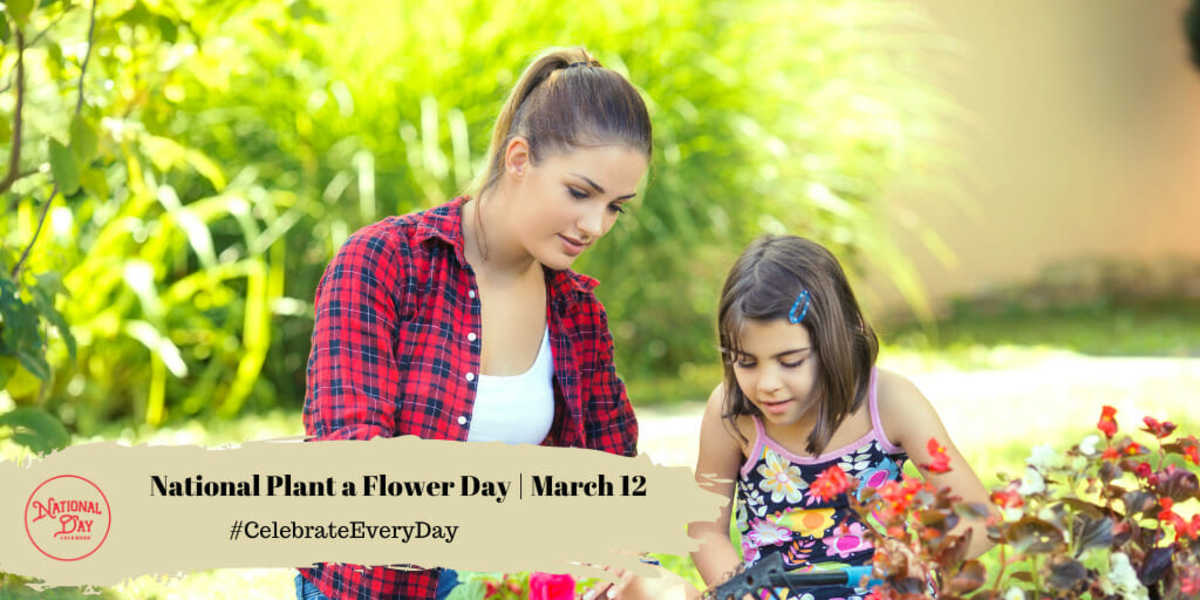 NATIONAL PLANT A FLOWER DAY
Spring is just around the corner, and March 12th is the day to participate in National Plant a Flower Day.  Each year this day is dedicated to the planting of flowers and looking forward to the spring season.  Flower gardening has become a hobby for many, young and old, and National Plant a Flower Day is a start to the new season each year. Read more…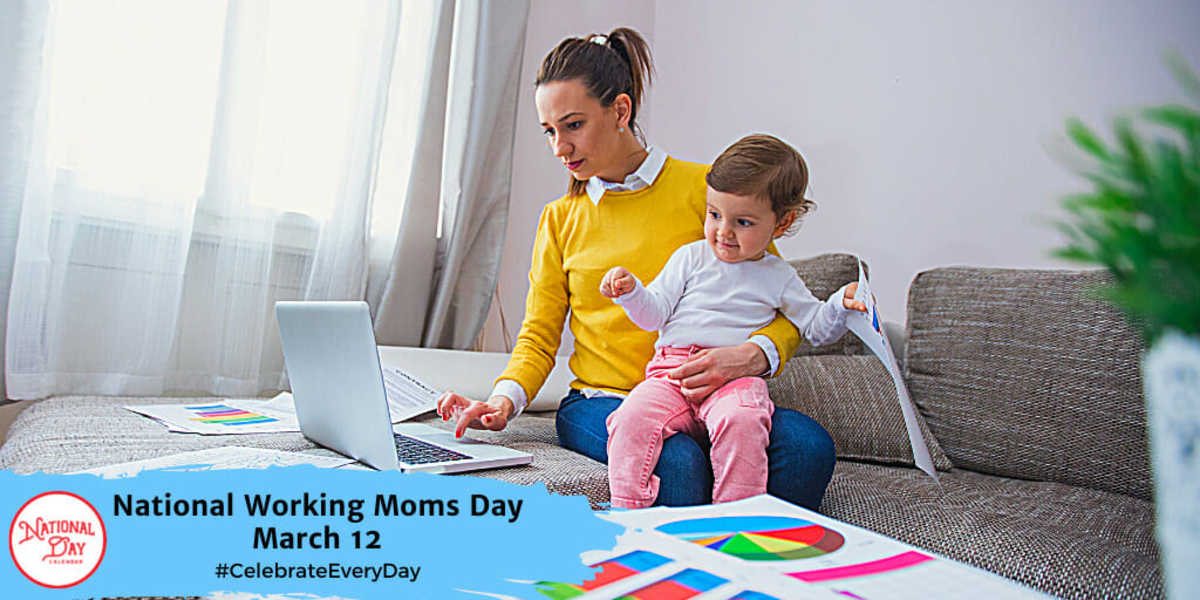 NATIONAL WORKING MOMS DAY
Every mom is a working mom. On March 12th, National Working Moms Day celebrates the breadwinners and the breadmakers, the educators and the role models, those resilient, inspirational fixtures in our children's lives. Read more…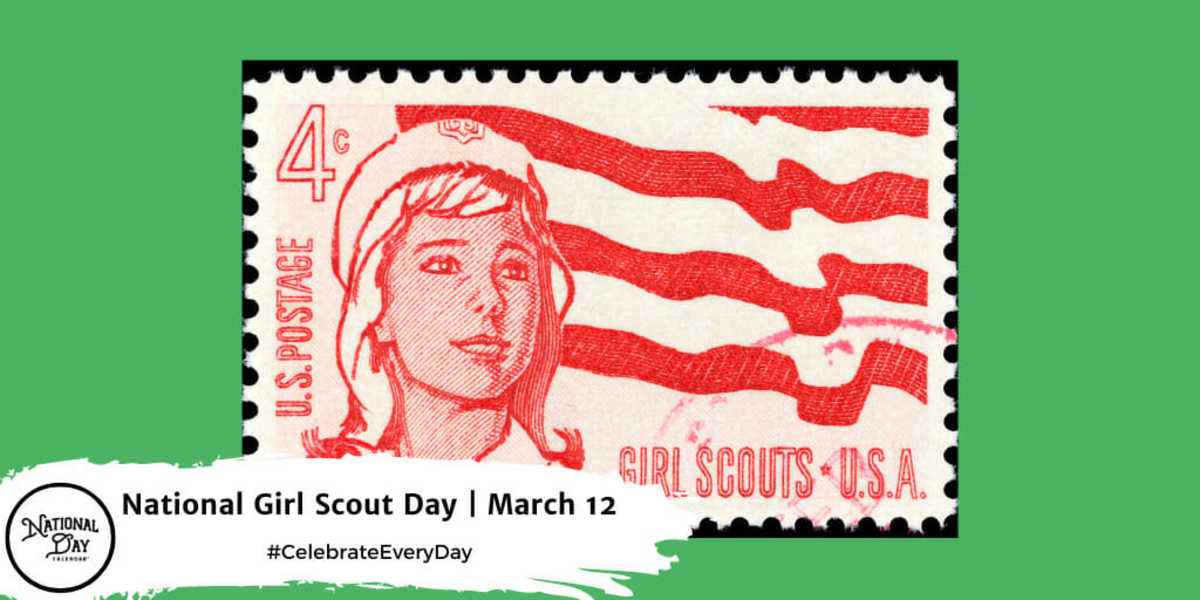 NATIONAL GIRL SCOUT DAY
As part of Girl Scout Week, National Girl Scout Day on March 12th honors the history and legacy of Girl Scouting in America each year. Read more…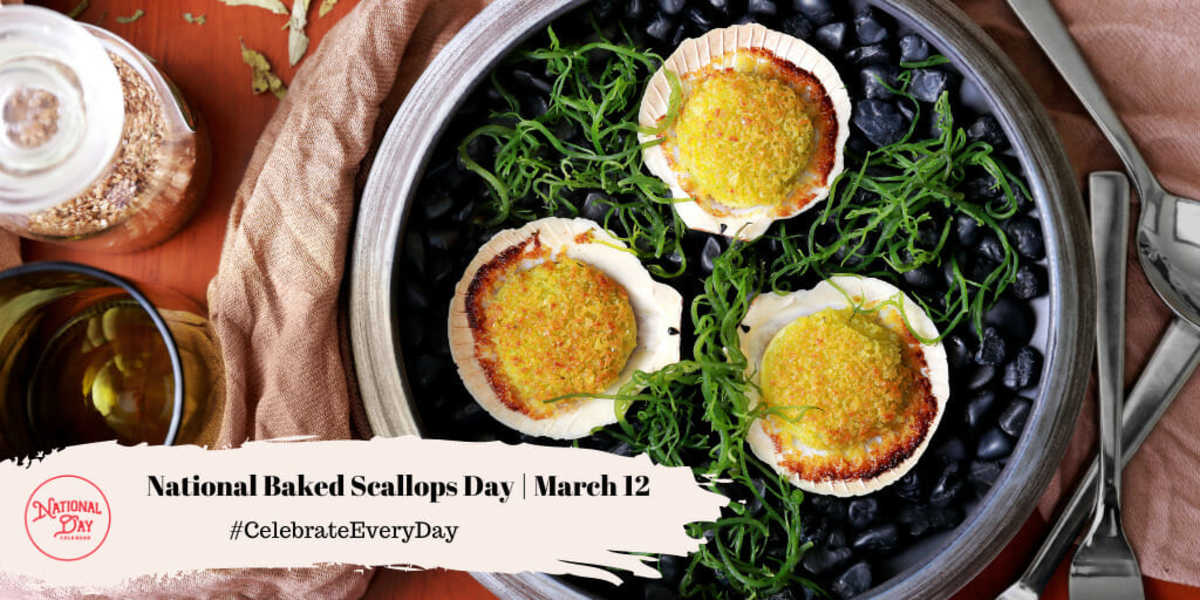 NATIONAL BAKED SCALLOPS DAY
March 12th celebrates National Baked Scallops Day and a popular delicacy, the scallop. Read more…
On Deck for March 13, 2023
National Days
National Coconut Torte Day
National Earmuff Day
National Good Samaritan Day
National Jewel Day
National K9 Veterans Day
National Open an Umbrella Indoors Day
National Napping Day – Day after Return of Daylight Savings Day
Recipe of the Day
Lobster Bisque
Prep time: 10 minutes
Cook time: 40 minutes
Total: 50 minutes
Serves: 6
Ingredients
4 lobster tails
2 tablespoons olive oil
1/2 cup onion, diced
1 clove garlic, minced
1 cup dry white wine
2 teaspoons Worcestershire sauce
2 celery ribs, diced
1 teaspoon dried tarragon
1 teaspoon dried thyme
1/2 teaspoon paprika
3 tablespoons flour
2 tablespoons tomato paste
2 cups lobster stock
2 cups heavy cream
4 tablespoons butter
Instructions
Bring a large stockpot filled with about two inches of water to a boil. Add lobster tails and until shells are bright red – about 8-10 minutes.
Remove the tails from the water and allow them to cool slightly. Once cool, remove shells and veins. Chop lobster meat into 1-inch pieces.
Place the shells back into the boiling water. Boil for an additional 10 minutes. Strain and reserve 2 cups of the lobster stock.
In a medium saucepan, heat olive oil over medium-high heat. Add onion and celery and cook until tender. Stir in the garlic and cook until fragrant. Lower the heat to medium or medium-low. Sprinkle flour into the pan and stir until thick.
Add the wine slowly and stir in the Worcestershire sauce, thyme, paprika, and pepper. Increase heat to medium-high. Stir in tomato paste and lobster stock. Allow to simmer for about 10 minutes.
In a blender, puree the mixture. Return to the stockpot and add the cream and butter. Salt to taste. Add lobster and simmer an additional 5-10 minutes.
Serve with a slice of crusty bread.
March 12th Celebrated History
1912
Juliette Gordon Low found the Girl Scouts of America when she organizes the first Girl Scout troop meeting in Savannah, Georgia.
1923
Inventor and radio pioneer Lee De Forest demonstrates synchronized music and film through his invention called Phonofilm for the first time. The film included musicians playing and dancers, though no voice was included with the film.
1993
Following unanimous confirmation by the Senate on March 11th, Janet Reno is sworn in as the first female Attorney General.
March 12th Celebrated birthdays
Clement Studebaker – 1831
As a blacksmith, Clement Studebaker went into business in the mid-1800s with his brother Henry making wagons. By the end of the century, brothers Peter, Jacob, and John would join them to begin making automobiles. Clem would die in 1901 before the first Studebaker car sold in 1902.
Jane Means Pierce – 1806
The 15th First Lady of the United States is one of the more tragic figures of the White House. Despite having left Washington years before and much to her relief, the Democratic party pulled her back when they nominated her husband, Franklin Pierce, for president in 1852. He ran against Whig Winfield Scott, winning 254 electoral votes. On the way to the inauguration, their last surviving son, Benjamin Pierce, died at the age of 11 in a train accident. The couple's first two sons had died in infancy and at the age of four respectively.
Charles Cunningham Boycott – 1832
When a community in Ireland ostracized Captain Charles Boycott for his role in a land war, his last name came to mean a voluntary avoidance of commercial or social entities as a means of protest.
Hall Johnson – 1888
During the Harlem Renaissance, Hall Johnson was known for composing and arranging African-American spirituals. He also coordinated several choirs.
Jack Kerouac – 1922
The American author is best known for his novel On the Road published in 1957. He wrote several more, including The Town and the City, The Dharma Bums, and Big Sur.
Walter Schirra – 1923
Walter Schirra was selected as one of the original seven astronauts for NASA's Project Mercury. His first space mission to place on October 3, 1962, when he piloted the space capsule Sigma 7.
Liza Minnelli – 1946
The legendary and award-winning performer followed in her mother's footsteps with stage and screen stealing performances. Best known for her role as Sally Bowles in Cabaret, Minnelli's career spans more than sixty years of stellar music and encore performances.
James Taylor – 1948
Since 1970, James Taylor has been producing hit music to popular and critical acclaim. He won his first Grammy Award in 1971 for Best Pop Vocal Performance for his song "You've Got A Friend," and since then has earned four more.
About National Day Calendar
National Day Calendar is the original and authoritative source for fun, unusual and unique National Days! Since our humble beginnings on National Popcorn Day in 2013, we have been tracking the National Days, National Weeks, National Months, and International Days. We became the first calendar of its kind to curate the days all in one place and tell their stories, too! Here at National Day Calendar, we are on a mission to Celebrate Every Day with you! And by you, we mean families, businesses, educators, and strangers we meet on the street. There's more than one day for everyone.
At National Day Calendar, we discovered the National Days have a way of inspiring us. We're honored to tell the stories behind the days and provide you with informational ways to incorporate the National Days into your business, family, schools, and home!