(Last Updated On: March 7, 2023)
MARCH 11, 2023 | NATIONAL 311 DAY | NATIONAL JOHNNY APPLESEED DAY | NATIONAL WORSHIP OF TOOLS DAY | NATIONAL PROMPOSAL DAY | NATIONAL FUNERAL DIRECTOR AND MORTICIAN RECOGNITION DAY | NATIONAL OATMEAL NUT WAFFLES DAY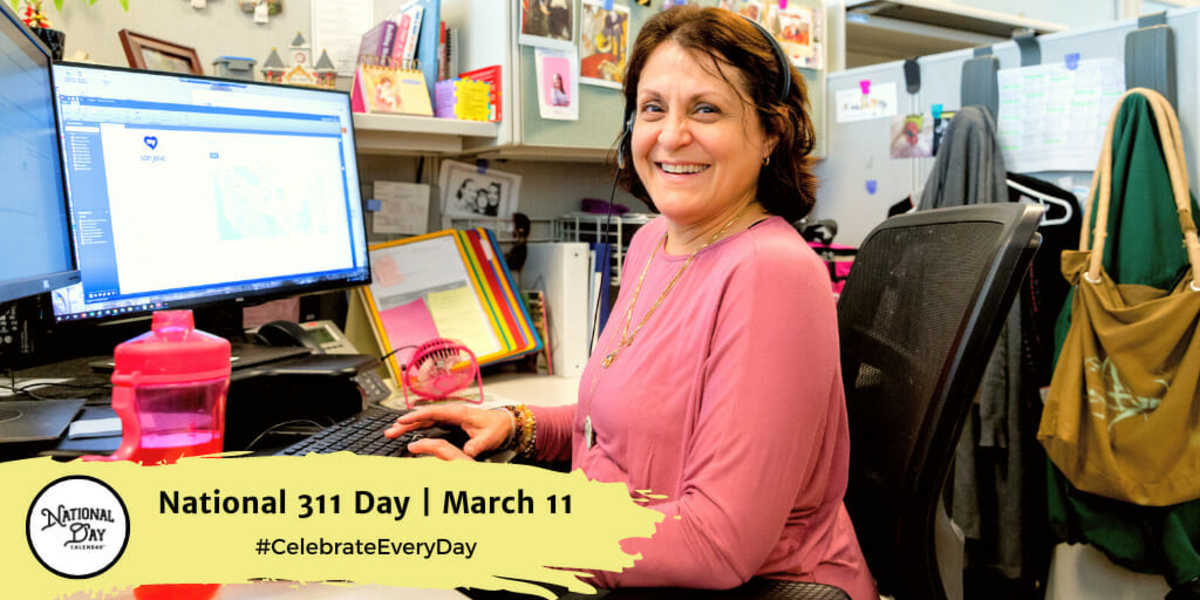 NATIONAL 311 DAY
On 3/11, National 311 Day offers an annual reminder that 311 is a resource for communities around the country to connect with their city and non-emergency services. The 311 system is the non-emergency number to call in many cities across the country for residents to report issues, find out about city services, and ask questions. Read more…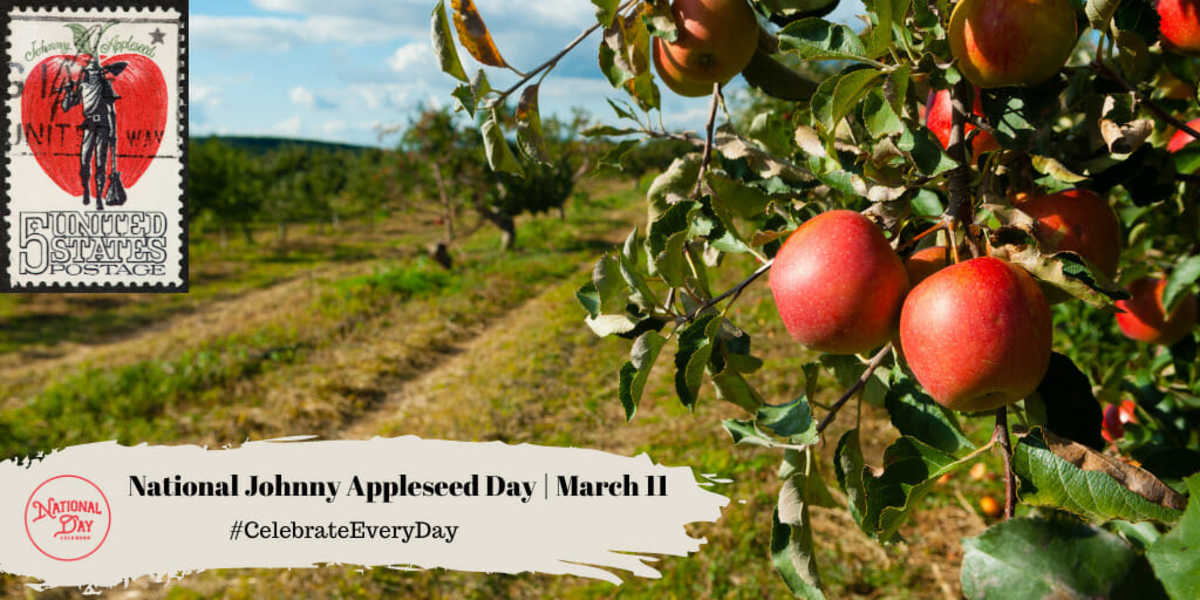 NATIONAL JOHNNY APPLESEED DAY
March 11th – On National Johnny Appleseed Day, we remember a man who made apple (and pear) trees bloom across the nation. The day celebrates a kindly legend who lived by sage teachings and labored to bring the shade of fruit trees across much of the United States. Read more…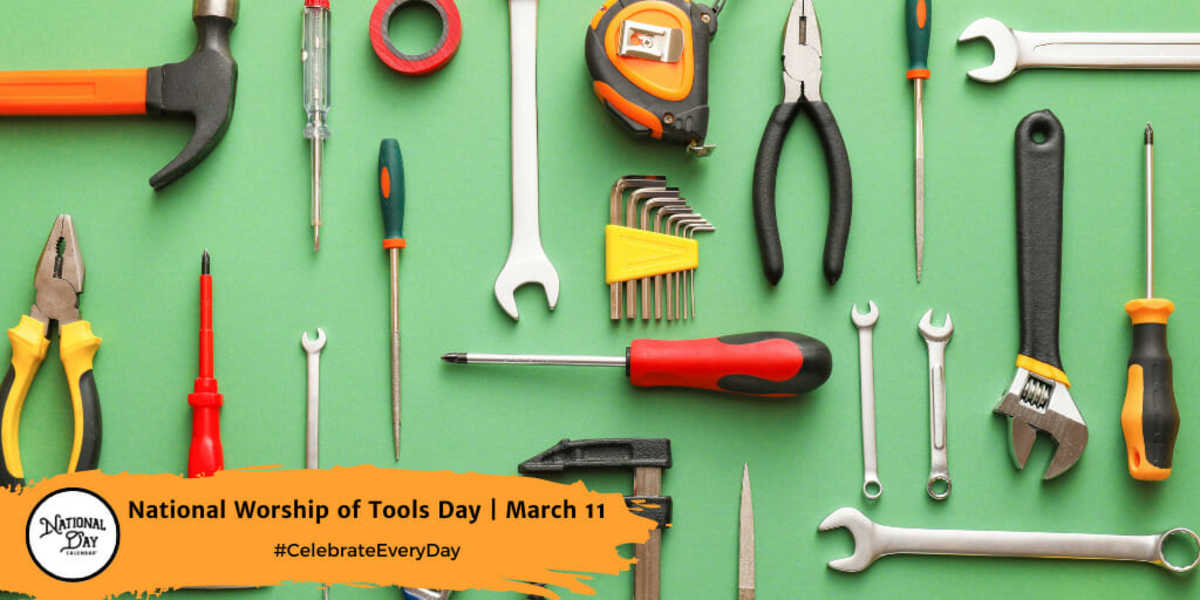 NATIONAL WORSHIP OF TOOLS DAY
March 11th is National Worship of Tools Day. This is a day to go out into the garage, the tool shed, the storage closet, or wherever it is you keep your tools.  You can clean them, reorganize them, make something new with them or maybe go to the store and buy a new one. Read more…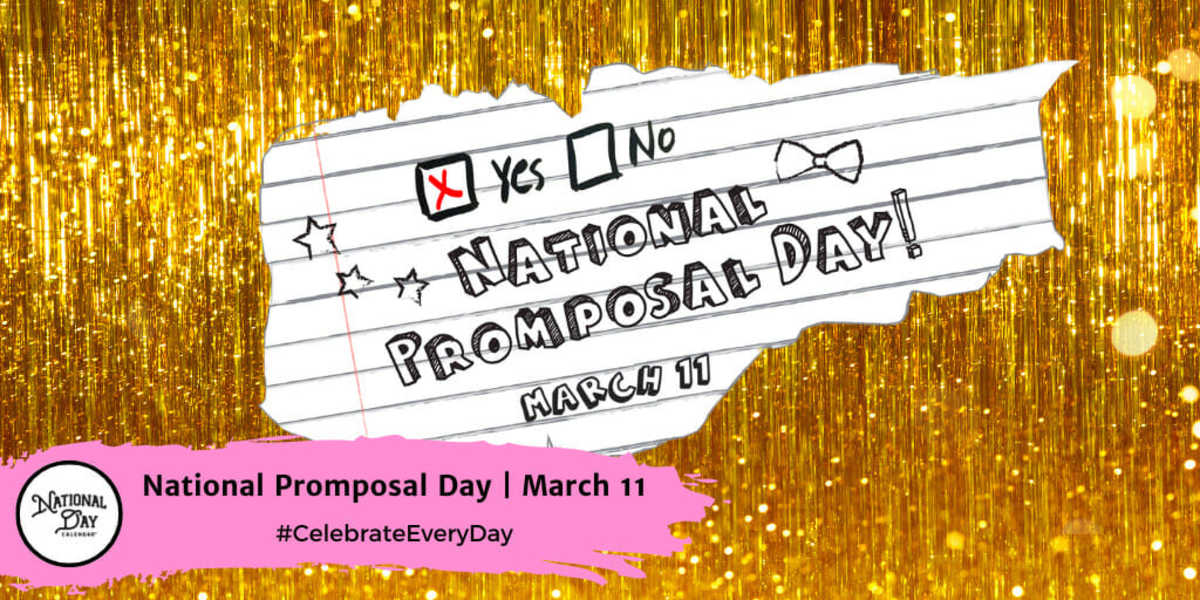 NATIONAL PROMPOSAL DAY
On March 11th, National Promposal Day prompts the ultimate question each year. "Will you go to prom with me?" It's the day for high school students across North America to craft their unique invitation to the event of the year. Read more…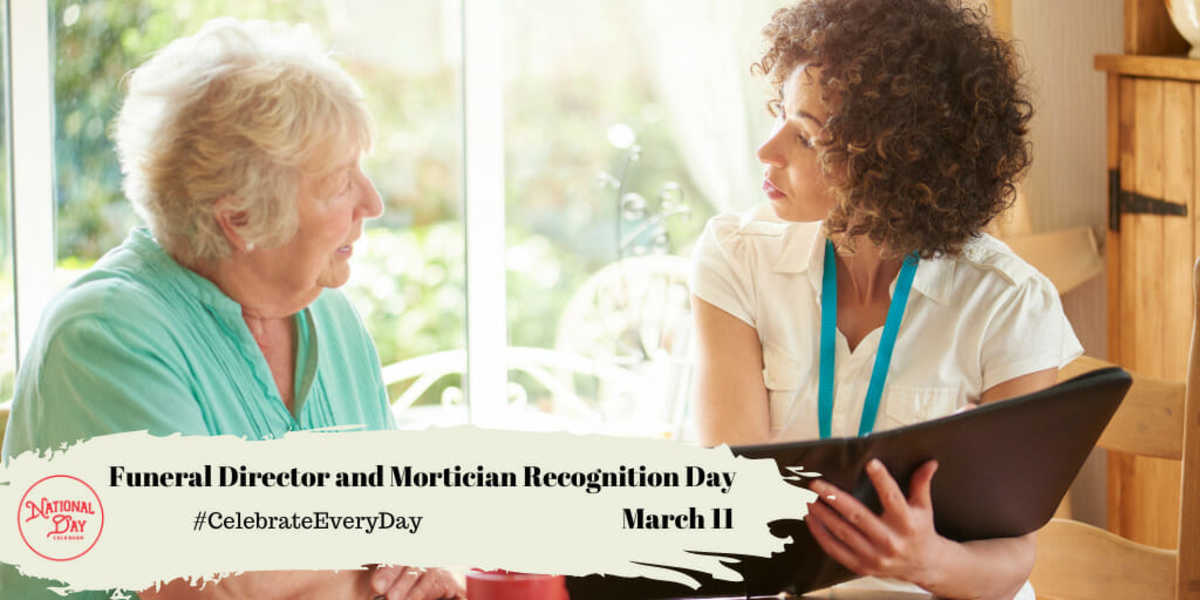 NATIONAL FUNERAL DIRECTOR AND MORTICIAN RECOGNITION DAY
National Funeral Director and Mortician Recognition Day on March 11th reminds us to thank the professionals who consider every need during the most challenging time in our lives. Read more…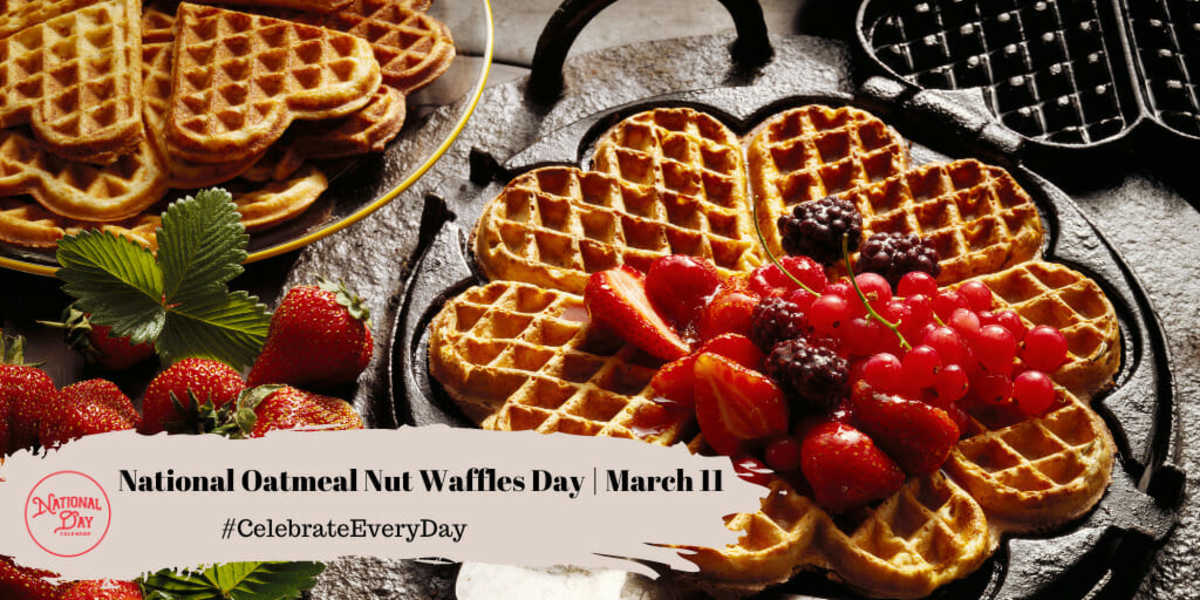 NATIONAL OATMEAL NUT WAFFLES DAY
National Oatmeal Nut Waffles Day on March 11th celebrates a healthier version of the classic waffle. Whole grain oats and chopped nuts mixed into a waffle recipe is a delicious, healthy way to start your morning. Read more…
On Deck for March 12, 2023
National Days
NATIONAL I AM DAY | Second Sunday in March
NATIONAL WORKING MOMS DAY
DAYLIGHT SAVING TIME – Second Sunday in March
NATIONAL BAKED SCALLOPS DAY
NATIONAL PLANT A FLOWER DAY
NATIONAL GIRL SCOUT DAY
Recipe of the Day
Apple Strudel
Prep: 15 minutes
Cook: 45 minutes
Total Prep: 1 hour
Servings: 12
Ingredients:
Filling
5 cups sliced apples
1 cup raisins
1 1/2 cups sugar
1 teaspoon cinnamon
1 Tablespoon flour
Dough
3 cups flour
1 cup shortening
1 egg yolk and white, divided
1/2 cup milk
Topping
1/4 cup powdered sugar
Instructions:
In a medium bowl, mix apples, raisin, sugar, cinnamon, and flour. Set aside.
Cream together flour and shortening. Mix in the milk and egg yolk. Divide dough in half and roll out the first layer to fit into the bottom of jelly roll pan.
Add filling evenly to the pan. Roll out the remaining dough and cover the filling.
Bake at 375° for 45 minutes.
Dust with powdered sugar. Serve with vanilla ice cream if desired.
March 11th Celebrated History
1869
Thanks to a pardon from out-going President Andrew Johnson, Dr. Samuel Mudd boards the steamer ship Liberty bound for his family in Maryland. He leaves behind his cell at Fort Jefferson located on an island of the Dry Tortugas off the Gulf Coast of Florida where he was imprisoned for the assassination of President Abraham Lincoln.
1930
President William Howard Taft is interred at Arlington National Cemetery. He's the first president and chief justice of the United States to be buried in the national cemetery. John F. Kennedy is the only other president buried there.
1959
The Ethel Barrymore Theatre on Broadway in New York City debuts Lorraine Hansberry's A Raisin in the Sun. It's the first production written by an African American woman to be seen on Broadway.
2020
World Health Organization Director-General Dr. Tedros Adhanom Ghebreyesus confirms the COVID-19 outbreak is a pandemic.
March 11th Celebrated Birthdays
Lawrence Welk – 1903
As a bandleader, Lawrence Welk, brought wholesome music into the family rooms for more than two decades thanks to a syndication deal. His unique brand of "Champagne Music" and family-friendly programming continues to be found on Public Broadcasting stations.
Wanda Gág – 1893
The internationally recognized illustrator and author is best known for her children's book Millions of Cats.
Dorothy Gish – 1898
The actress of both stage and screen found success during the silent era of film.
Ezra Jack Keats – 1916
The award-winning children's author and illustrator wrote the popular book The Snowy Day among many others.
Vinnette Carroll – 1922
In 1972, Vinnette Justine Carroll became the first African American woman to direct on Broadway and the first to earn a Tony nomination for directing when she directed the musical Don't Bother Me, I Can't Cope written by Micki Grant.
Sam Donaldson – 1934
For more than four decades, Donaldson served as an ABC News reporter and anchor. He also wrote the book Hold on, Mr. President.
Antonin Scalia – 1936
President Ronald Reagan appointed Antonin Scalia to the United States Supreme Court in 1986s after Chief Justice Warren Burger retired and Associate Justice William Rehnquist succeeded him. Associate Justice Scalia served the U.S. Supreme Court for 30 years until his death in 2016.
Jerry Zucker – 1950
Jerry Zucker is known mostly by the zany films he directs, produces, and writes. Films like Airplane! and The Naked Gun series full of parody and satirical comedy surely leave audiences weak in the knees for more. He's also dabbled in the romance genre with films like Ghost and A Walk in the Clouds.
About National Day Calendar
National Day Calendar is the original and authoritative source for fun, unusual and unique National Days! Since our humble beginnings on National Popcorn Day in 2013, we have been tracking the National Days, National Weeks, National Months, and International Days. We became the first calendar of its kind to curate the days all in one place and tell their stories, too! Here at National Day Calendar, we are on a mission to Celebrate Every Day with you! And by you, we mean families, businesses, educators, and strangers we meet on the street. There's more than one day for everyone.
At National Day Calendar, we discovered the National Days have a way of inspiring us. We're honored to tell the stories behind the days and provide you with informational ways to incorporate the National Days into your business, family, schools, and home!