(Last Updated On: February 27, 2023)
MARCH 1, 2023 | NATIONAL SUNKIST CITRUS DAY | NATIONAL PIG DAY | NATIONAL PEANUT BUTTER LOVER'S DAY | NATIONAL DADGUM THAT'S GOOD DAY | SELF-INJURY AWARENESS DAY | NATIONAL MINNESOTA DAY | NATIONAL HORSE PROTECTION DAY | NATIONAL FRUIT COMPOTE DAY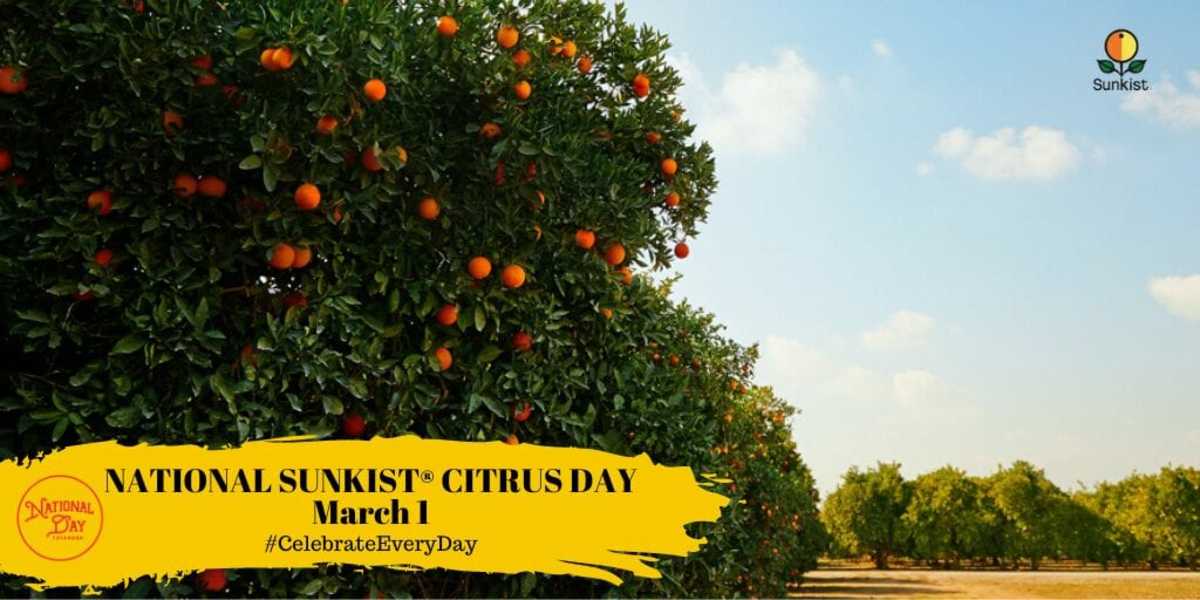 NATIONAL SUNKIST® CITRUS DAY | March 1
National Sunkist® Citrus Day on March 1 honors the rich history of California citrus, recognizes the legacy of multi-generational, family-owned Sunkist citrus farms, and celebrates the many health and wellness benefits that Sunkist citrus provides. Read more…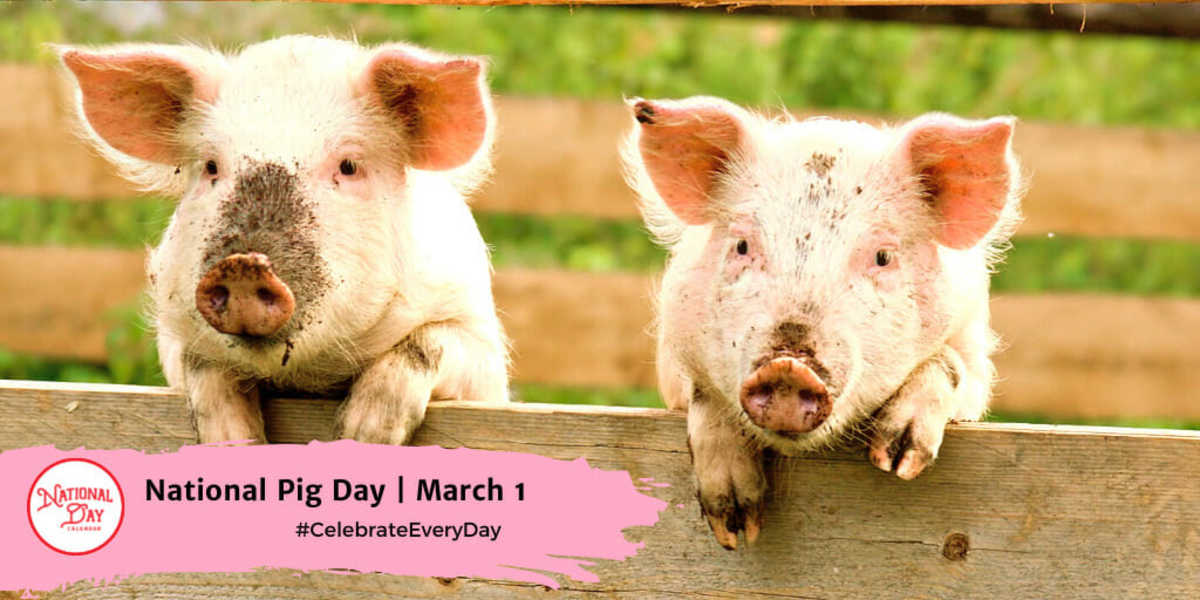 NATIONAL PIG DAY
National Pig Day, observed annually on March 1st, recognizes the domesticated pig. This holiday includes events and celebrations at zoos, schools, nursing homes, and sporting events around the United States. Pig parties, pig parades, and gatherings with pig collectibles are some of the other commemorated National Pig Day events. Read more…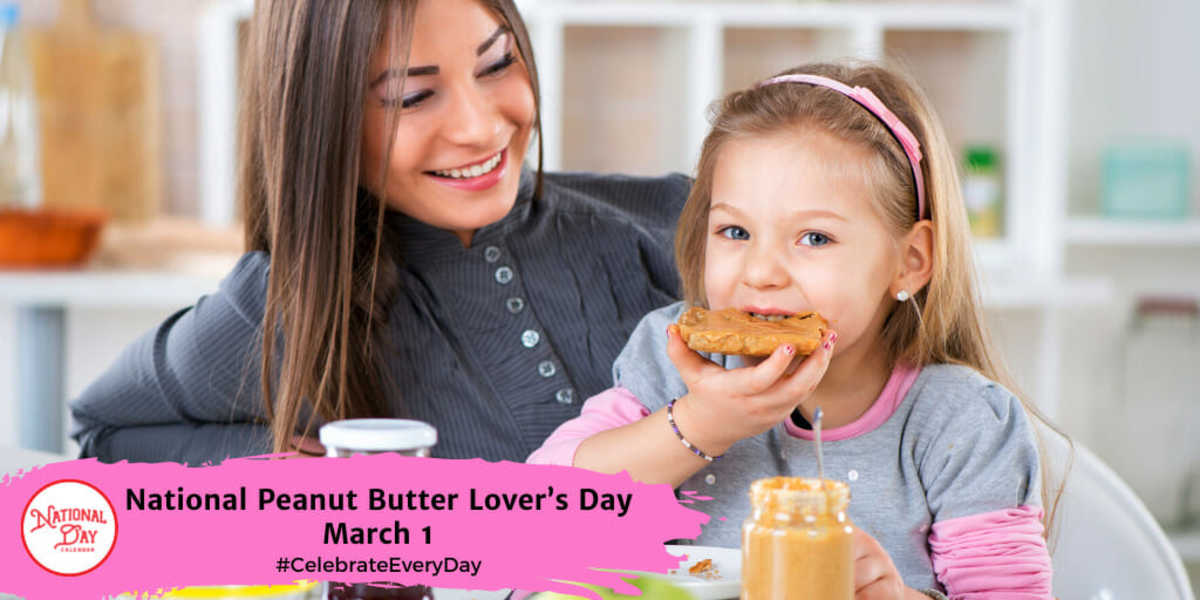 NATIONAL PEANUT BUTTER LOVER'S DAY
March 1st was made for National Peanut Butter Lover's Day. Ah, peanut butter. One day is not enough to recognize peanut butter. The goober has been paired, blended, and added with many tasty results! Read more…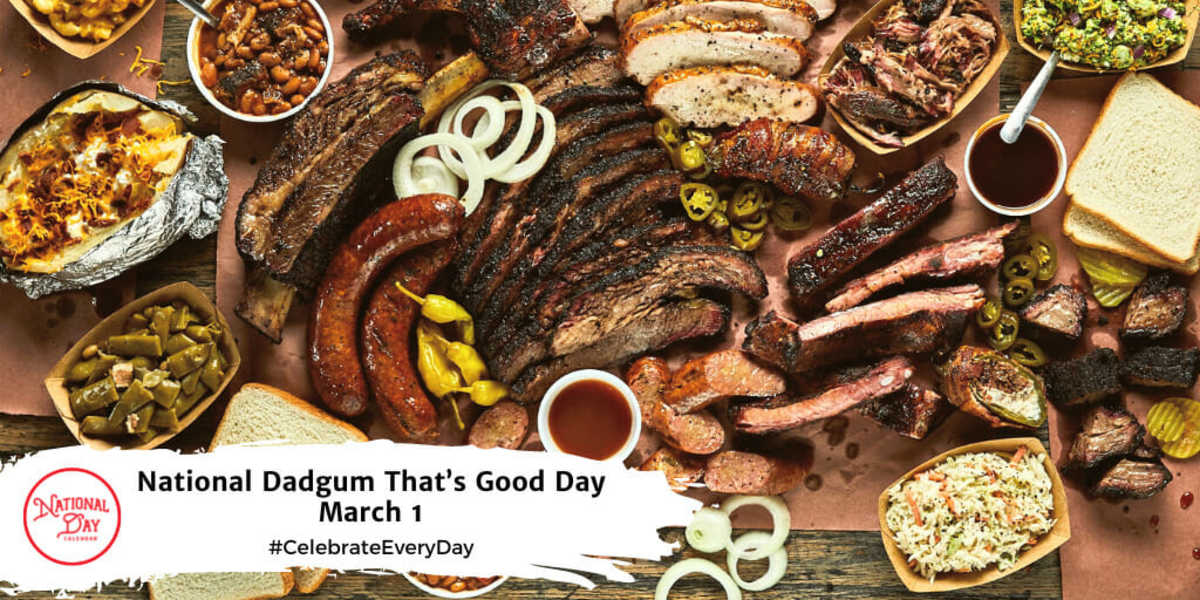 NATIONAL DADGUM THAT'S GOOD DAY
On March 1st, National Dadgum That's Good Day ushers in a season of satisfying seasonings, cooking and overall good times spent with family. "Dadgum, That's Good!"™ is much more than just a Southern phrase and the title of John McLemore's best-selling cookbook series. It's the summation of a life's work in creating delicious food with his world-class Masterbuilt cooking products.  Read more…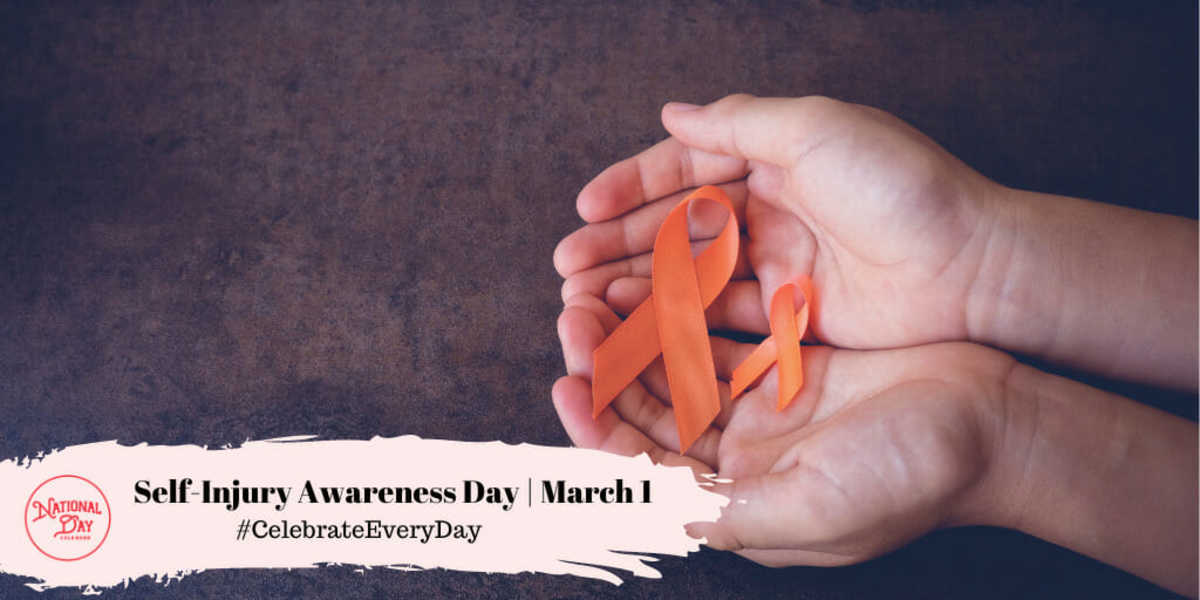 SELF INJURY AWARENESS DAY
Self-Injury Awareness Day on March 1st each year focuses on increasing education and support on a misunderstood problem. Read more…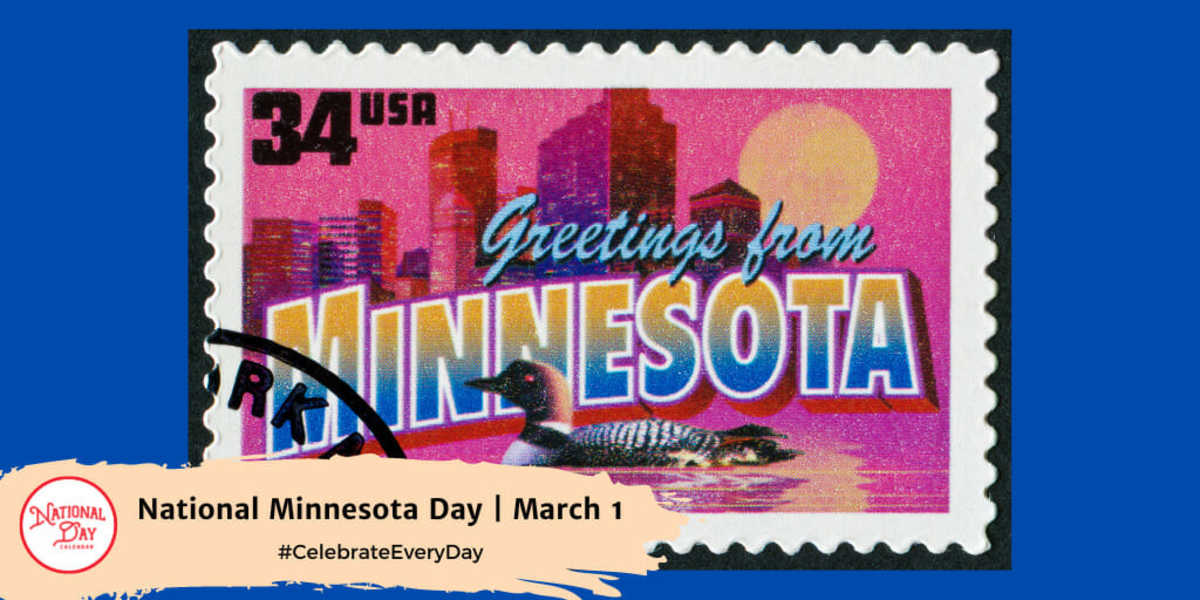 NATIONAL MINNESOTA DAY
On March 1st, the Land of 10,000 Lakes is recognized on National Minnesota Day. Read more…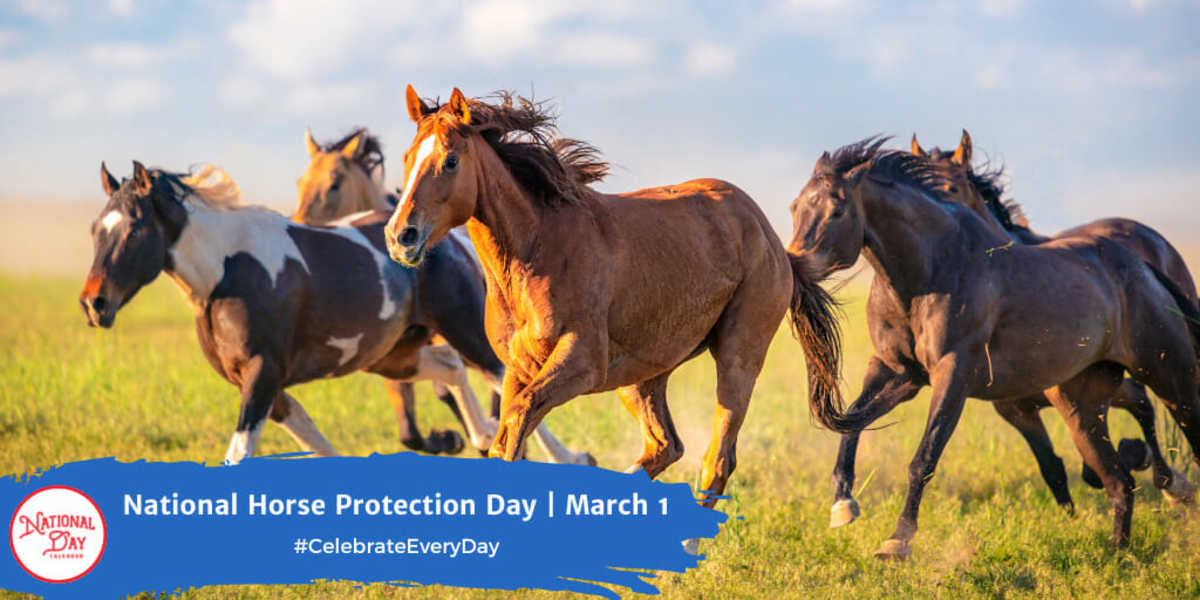 NATIONAL HORSE PROTECTION DAY
National Horse Protection Day on March 1st highlights the plight of horses in America and beyond. The day aims to help thousands of unwanted horses in this country to find forever homes.  Read more…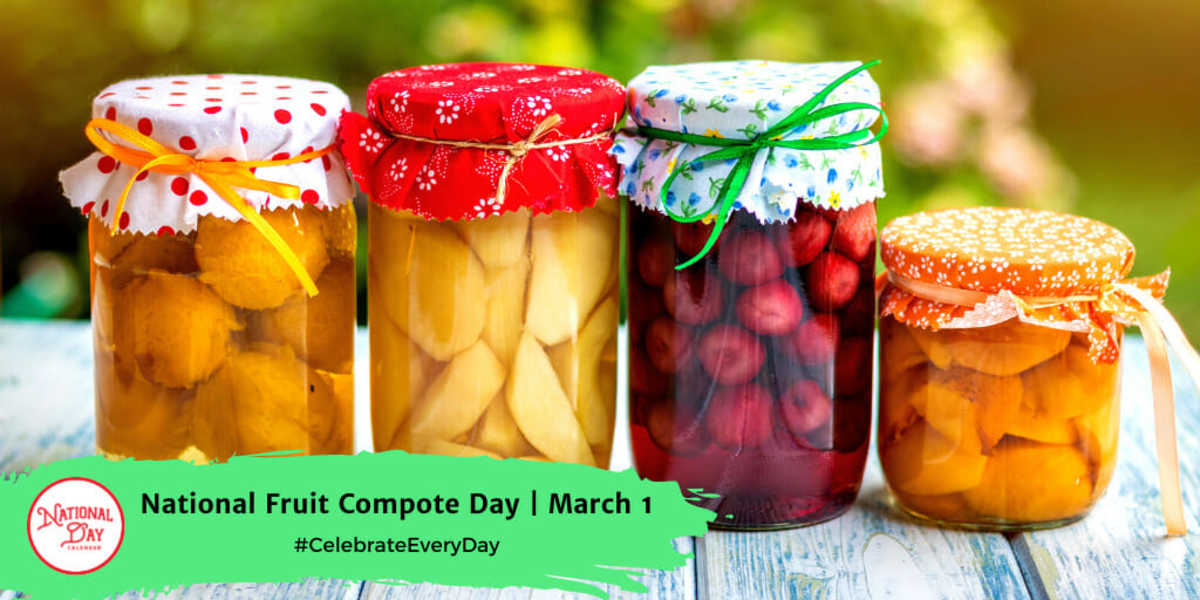 NATIONAL FRUIT COMPOTE DAY
Each year on March 1st, National Fruit Compote Day presents a celebration filled with sweet berries, citrus, and stone fruits to delight the senses. Read more…
On Deck for March 2, 2023
National Days
WORLD TEEN MENTAL WELLNESS DAY
NATIONAL HOSPITALIST DAY
NATIONAL BANANA CREAM PIE DAY
NATIONAL OLD STUFF DAY
NATIONAL READ ACROSS AMERICA DAY
Recipe of the Day
Delicious Filet Mignon
Prep: 15 minutes
Cook: 6 TO 12 minutes
Total Prep: 30 minutes
Servings: 6 servings
Ingredients:
6 – 1/2 pound slices of Filet Mignon, cut around 1 1/2 inches thick.
Salt and pepper
1 clove fresh garlic – sliced
6 tablespoons – butter
1 1/2 tablespoons olive oil
Instructions:
Rub both sides of each Filet with salt and pepper. Heat the oil, butter, and garlic in a saute pan. Once the butter has melted, add the beef. For rare Fillets, sear each side for around 3 minutes. Or, cook additional time for other preferred tastes. Serve on a warm platter with a garnish of choice.
March 1st Celebrated History
1872
The United States Congress establishes Yellowstone National Park as the world's first national park.
1921
The U.S. Patent Office issues patent no. 1,370,316 to Harry Houdini for a diving suit.
1955
Sun Records releases its first single "Drivin' Slow" by saxophonist Johnny London.
1984
Cyndi Lauper appears on Johnny Carson's Tonight Show making her U.S. television debut. She performs "Girls Just Want to Have Fun."
March 1st Celebrated Birthdays
Frederic Chopin – 1810
The Polish composer of the Romantic era wrote his first piano composition at the age of 7.
Ralph Waldo Ellison – 1914
In 1953, the American author won the National Book Award for his novel the Invisible Man. Some of his other books include Juneteenth, Flying Home and Trading Twelves.
Harry Caray – 1919
"It might…it could …it is! A home run!" The colorful major league sports announcer started his career with the St. Louis Cardinals in 1945. He's known for starting the tradition of singing "Take Me Out to the Ball Game" at Chicago White Sox games when he began announcing there. He ended his 53-year career with the Chicago Cubs, the rivals of the team where his fantastic career started.
Harry Belafonte – 1927
The "King of Calypso" took an interest in theater and music following the navy. Stardom found Belafonte following his 1953 performance in Carmen Jones. His 1956 album Calypso featured hits such as "Jamaica Farewell" and "Banana Boat (Day-O)." The latter was also featured in the 1988 film, Beetlejuice.
Ron Howard – 1954
Though he guest-starred on several shows, he was introduced to television audiences as Opie on the Andie Griffith Show in 1960. The actor would go on to direct and produce award-winning films including 2002's A Beautiful Mind and 2017's The Beatles: Eight Days a Week.
Yolanda Griffith – 1970
For 16 years, the professional basketball played center in the American Basketball League and Women's National Basketball Association. In 2014, she was elected to the Women's Basketball Hall of Fame.
About National Day Calendar
National Day Calendar is the original and authoritative source for fun, unusual and unique National Days! Since our humble beginnings on National Popcorn Day in 2013, we have been tracking the National Days, National Weeks, National Months, and International Days. We became the first calendar of its kind to curate the days all in one place and tell their stories, too! Here at National Day Calendar, we are on a mission to Celebrate Every Day with you! And by you, we mean families, businesses, educators, and strangers we meet on the street. There's more than one day for everyone.
At National Day Calendar, we discovered the National Days have a way of inspiring us. We're honored to tell the stories behind the days and provide you with informational ways to incorporate the National Days into your business, family, schools, and home!
=====================================