Looking Back
March 1, 2022 - FAT TUESDAY – NATIONAL PEANUT BUTTER LOVER'S DAY – NATIONAL PANCAKE DAY – NATIONAL PIG DAY – FASTNACHT DAY – NATIONAL DADGUM THAT'S GOOD DAY – PACZKI DAY – SELF-INJURY AWARENESS DAY – NATIONAL MINNESOTA DAY - NATIONAL HORSE PROTECTION DAY – NATIONAL FRUIT COMPOTE DAY
MARCH 1, 2022 | FAT TUESDAY | NATIONAL PEANUT BUTTER LOVER'S DAY | NATIONAL PANCAKE DAY | NATIONAL PIG DAY | FASTNACHT DAY | NATIONAL DADGUM THAT'S GOOD DAY | PACZKI DAY | SELF-INJURY AWARENESS DAY | NATIONAL MINNESOTA DAY | NATIONAL HORSE PROTECTION DAY | NATIONAL FRUIT COMPOTE DAY
FAT TUESDAY
The last day of Carnival and the day before Ash Wednesday, Fat Tuesday is the intertwining of a period of festivals and feasts that lead to a time of fasting and reflection. Also known as Shrove Tuesday and Mardi Gras, this enduring celebration has many traditions and… Read more…

NATIONAL PEANUT BUTTER LOVER'S DAY
March 1st was made for National Peanut Butter Lover's Day. Ah, peanut butter. One day is not enough to recognize peanut butter. The goober has been paired, blended, and added with many tasty results! The creamy, nutty goodness known as peanut butter is… Read more…
NATIONAL PANCAKE DAY – IHOP
Every year at the end of February or beginning of March, National Pancake Day raises money for charity. IHOP restaurants began National Pancake Day in 2006. Since that day, they have raised close to $30 million for charities. On March 1, 2022, people from around the country will once again… Read more…

NATIONAL PIG DAY
National Pig Day, observed annually on March 1st, recognizes the domesticated pig. This holiday includes events and celebrations at zoos, schools, nursing homes, and sporting events around the United States. Pig parties, pig parades, and gatherings with pig collectibles are some of the other commemorated… Read more…

FASTNACHT DAY
With deep roots in Germany, Fastnacht Day is a pre-Lenten celebration that takes place the day before Ash Wednesday. Fastnacht means "fast" and "night" in German. In Germany, Austria, and Switzerland, Fastnacht represent… Read more…


NATIONAL DADGUM THAT'S GOOD DAY
On March 1st, National Dadgum That's Good Day ushers in a season of satisfying seasonings, cooking and overall good times spent with family. "Dadgum, That's Good!"™ is much more than just a Southern phrase and the title of John McLemore's best-selling… Read more…
PACZKI DAY
The sweet holiday of Paczki Day takes place the day before Ash Wednesday. The Polish tradition of indulging in fried dough filled with jams, custards or other sweet surprises dates back to the Middle Ages. Read more…
SELF INJURY AWARENESS DAY
Self-Injury Awareness Day on March 1st each year focuses on increasing education and support on a misunderstood problem. When someone causes deliberate self-injury or harm, the action is an indication of… Read more…

NATIONAL MINNESOTA DAY
On March 1st, the Land of 10,000 Lakes is recognized on National Minnesota Day. Minnesota joined the union on May 11, 1858, making it the 32nd state in the United States, and it shares its northern border with Canada. Minnesota joined the union on May 11, 1858, making it the 32nd state in the United States, and it shares its… Read more…

NATIONAL HORSE PROTECTION DAY
National Horse Protection Day on March 1st highlights the plight of horses in America and beyond. The day aims to help thousands of unwanted horses in this country to find forever homes. The horse holds a legendary mystique in American culture. In North America, the… Read more…

NATIONAL FRUIT COMPOTE DAY
Each year on March 1st, National Fruit Compote Day presents a celebration filled with sweet berries, citrus, and stone fruits to delight the senses. A compote is a dessert originating in 17th century France. The French believed… Read more…
On Deck for March 2, 2022
Recipe of the Day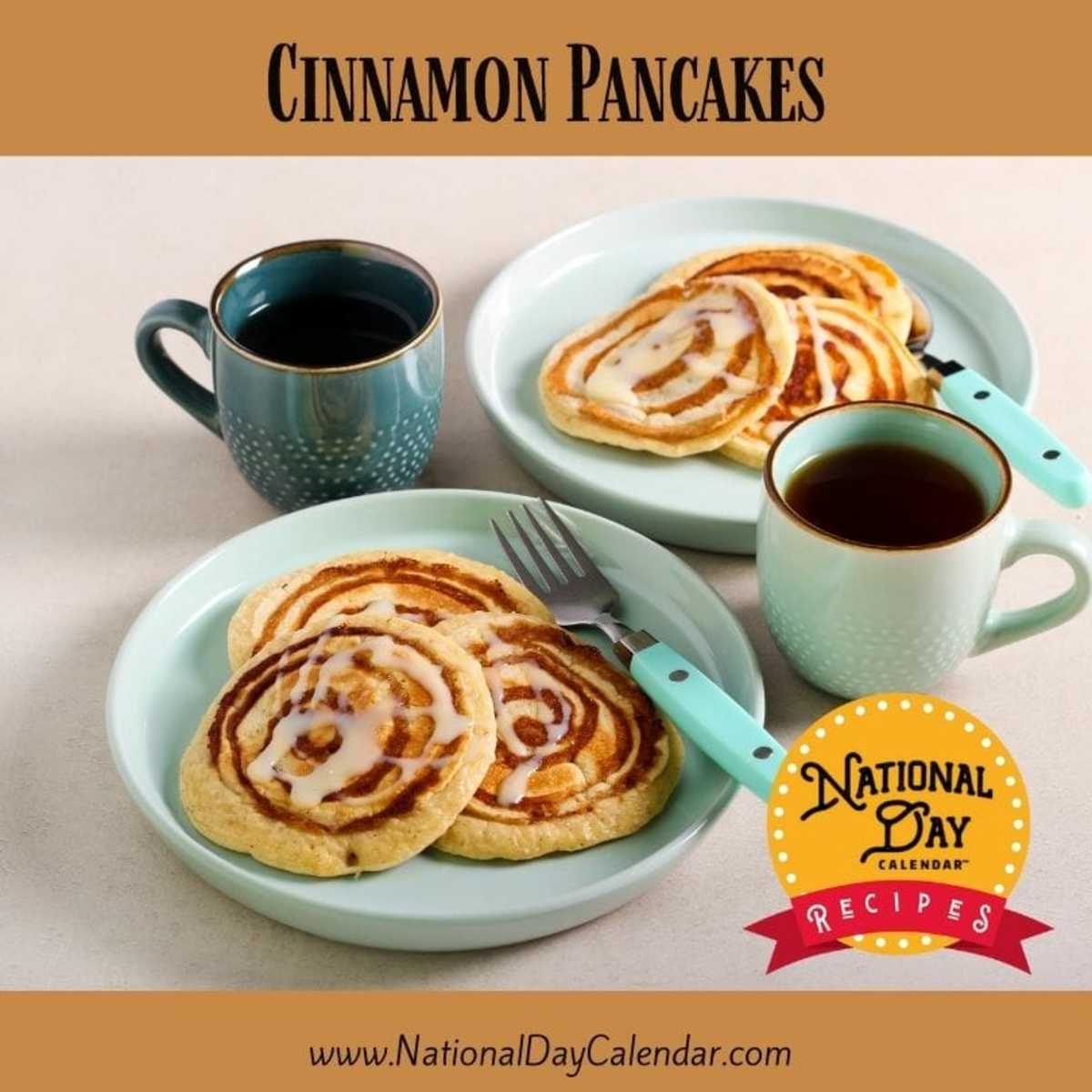 Cinnamon Pancakes
Prep time: 10 minutes
Cook time: 10 minutes
Total: 20 minutes
Servings: 12 pancakes
Ingredients
Pancakes
1 cup all-purpose flour
3/4 tablespoon baking powder
1/2 teaspoon baking soda
1/4 teaspoon salt
1 tablespoon sugar
1/2 tablespoon cinnamon
1 egg
1 cup milk
1 tablespoon butter, melted
Cinnamon Drizzle
1 cup confectioner's sugar
2 tablespoons brown sugar
1/2 teaspoon cinnamon
2-3 tablespoons apple cider
In a small bowl, mix sugars, cinnamon, and apple cider. Add more or less apple cider until a drizzly consistency forms.
Heat griddle over medium-high heat and spray with oil.
Combine the flour, baking powder, baking soda, salt, and sugar in a medium bowl. Mix in egg, milk, and butter until just combined.
Using 1/3 cup of batter per pancake, pour the batter onto the hot griddle. With a spoon, drizzle the cinnamon drizzle over the pancake batter. Flip the pancakes when bubbles begin to form. Cook until lightly brown and done in the middle.
Serve with warm syrup.
March 1st Celebrated (and Not So Celebrated) History
1872
The United States Congress establishes Yellowstone National Park as the world's first national park.
1921
The U.S. Patent Office issues patent no. 1,370,316 to Harry Houdini for a diving suit.
1955
Sun Records releases its first single "Drivin' Slow" by saxophonist Johnny London.
1984
Cyndi Lauper appears on Johnny Carson's Tonight Show making her U.S. television debut. She performs "Girls Just Want to Have Fun."
March 1st Celebrated (and Not So Celebrated) Birthdays
Frederic Chopin – 1810
The Polish composer of the Romantic era wrote his first piano composition at the age of 7.
Ralph Waldo Ellison – 1914
In 1953, the American author won the National Book Award for his novel the Invisible Man. Some of his other books include Juneteenth, Flying Home and Trading Twelves.
Harry Caray – 1919
"It might…it could …it is! A home run!" The colorful major league sports announcer started his career with the St. Louis Cardinals in 1945. He's known for starting the tradition of singing "Take Me Out to the Ball Game" at Chicago White Sox games when he began announcing there. He ended his 53-year career with the Chicago Cubs, the rivals of the team where his fantastic career started.
Harry Belafonte – 1927
The "King of Calypso" took an interest in theater and music following the navy. Stardom found Belafonte following his 1953 performance in Carmen Jones. His 1956 album Calypso featured hits such as "Jamaica Farewell" and "Banana Boat (Day-O)." The latter was also featured in the 1988 film, Beetlejuice.
Ron Howard – 1954
Though he guest-starred on several shows, he was introduced to television audiences as Opie on the Andie Griffith Show in 1960. The actor would go on to direct and produce award-winning films including 2002's A Beautiful Mind and 2017's The Beatles: Eight Days a Week.
Yolanda Griffith – 1970
For 16 years, the professional basketball played center in the American Basketball League and Women's National Basketball Association. In 2014, she was elected to the Women's Basketball Hall of Fame.
Notable Mentions
Blanche Kelso Bruce – 1841
Donald Slayton – 1924
Archer JP Martin – 1924
Roger Daltrey – 1944
About National Day Calendar
National Day Calendar® is the original and authoritative source for fun, unusual and unique National Days! Since our humble beginnings on National Popcorn Day in 2013, we have been tracking the National Days, National Weeks, National Months, and International Days. We became the first calendar of its kind to curate the days all in one place and tell their stories, too! Here at National Day Calendar, we are on a mission to Celebrate Every Day with you! And by you, we mean families, businesses, educators, and strangers we meet on the street. There's more than one day for everyone.
At National Day Calendar, we've found the National Days have a way of inspiring us. We're honored to tell the stories behind the days and provide you with informational ways to incorporate the National Days into your business, family, schools, and home!
Be sure to stay in the know by signing up for our e-mail updates. Also, follow us on Facebook, Twitter, and Instagram.
Our Ambassador Program is another way #CelebrateEveryDay®! Whether you become an ambassador or follow one of the savvy ambassadors, their fun videos and posts will keep you prepared for every holiday.
© National Day Calendar® 2013 – 2021