Looking Back
June 14, 2021 - NATIONAL FLAG DAY – INTERNATIONAL BATH DAY – ARMY BIRTHDAY – NATIONAL STRAWBERRY SHORTCAKE DAY – NATIONAL POP GOES THE WEASEL DAY - NATIONAL BOURBON DAY – NATIONAL NEW MEXICO DAY
JUNE 14, 2021 | NATIONAL FLAG DAY | INTERNATIONAL BATH DAY | ARMY BIRTHDAY | NATIONAL STRAWBERRY SHORTCAKE DAY | NATIONAL POP GOES THE WEASEL DAY | NATIONAL BOURBON DAY | NATIONAL NEW MEXICO DAY
NATIONAL FLAG DAY
On June 14th, National Flag Day honors Old Glory and commemorates the adoption of the United States flag on June 14, 1777.
The holiday is a day that Americans show respect for the U.S. Flag and what it represents. Representing independence and unity, the Star-Spangled Banner has become a powerful symbol of Americanism and the flag is flown proudly.
While Betsy Ross has been given credit for stitching together the first American flag, there isn't any sound evidence supporting the story. At the same time, there isn't any to disprove it, either. Part of the conflict is there were several designs in consideration at the same time. There were many flag makers and more than one claim to the first. During Ross's Revolutionary time, several standards were carried bearing red and white stripes and varying symbols where the blue field and stars now reside.
Another who laid claim to the first design was Francis Hopkinson. His request for compensation for his design was denied because others contributed to the design final design.
Since 1777, the design of the flag has been officially modified 26 times. For 47 years, the 48-star flag was in effect. In 1959, the 49-star version became official on July 4. President Eisenhower ordered the 50-star flag on August 21, 1959.
Seventeen-year-old Robert G. Heft of Ohio designed the 50-star American flag. His was one of the more than 1,500 designs that were submitted to President Dwight D. Eisenhower.
HOW TO OBSERVE #NationalFlagDay
Many people have died protecting our country. On National Flag Day, raise the flag and fly it proudly. Spend time learning more about U.S. flag history, too. Use #NationalFlagDay to post on social media.
NATIONAL FLAG DAY HISTORY
On May 30, 1916, President Woodrow Wilson issued a proclamation deeming June 14th as Flag Day. President Wilson stated, "It is the anniversary of the day upon which the flag of the United States was adopted by the Congress as the emblem of the Union." He also wrote, "On that day rededicate ourselves to the nation, 'one and inseparable' from which every thought that is not worthy of our fathers' first vows in independence, liberty, and right shall be excluded and in which we shall stand with united hearts."
INTERNATIONAL BATH DAY
On June 14th, celebrate International Bath Day by filling up a lovely bath for your children. Realize that bath time is a great time to discover and learn. With just a few bath toys or simple plastic cups, they will immediately begin to test the waves of their water lab. Watch and see how every child becomes a little scientist with fresh new bath time discoveries!
HOW TO OBSERVE #InternationalBathDay
Make bath time fun and full of discovery! Like Archimedes, children can learn the basic properties of physics such as empty versus full, floating, sinking, weight, and cause and effect, all while having FUN in the tub!
Add cups of various sizes.
Include floating toys in the tub.
Encourage exploration with spinners and tubes.
Use #InternationalBathDay to share on social media.
INTERNATIONAL BATH DAY HISTORY
Legend has it that on this day, Greek mathematician, scientist, and scholar, Archimedes discovered while taking a bath that an object's volume could be accurately measured by being submerged in water! Unable to contain his excitement, Archimedes leaped out of the bathtub and yelled, "Eureka, Eureka!" as he ran through the streets of Syracuse, Greece. No one knows the exact date of Archimedes' birth. However, we do know he was born in the year 287BC. To honor Archimedes, we commemorate the date he leapt out of the bathtub, June 14th.
How was this date determined? The ancient Greek legend says that it was precisely one week before the beginning of summer. In those days, the Greeks followed an astronomical calendar, and they determined the seasons based on the 23.5-degree tilt of the Earth's rotational axis in relation to its orbit around the sun. Summer began (then and today) on June 21st. The week before is June 14th, and this was the date set.
In 2016, the Registrar at National Day Calendar proclaimed the day to be observed on June 14th, annually.

ARMY BIRTHDAY
Every year on June 14th, the United States Army celebrates its creation in 1775.
Formed from amateur troops of volunteer soldiers defending colonies against British tyranny, the oldest military force in the United States began before the U.S. formally existed. Their forces consisted of mostly inexperienced militiamen commanded by independent colonial armies. According to battlefields.org, there were never more than 48,000 Continental soldiers at one time. Today, the United States Army consists of over one million active-duty service members and an additional 800,000 National Guard and Reserves members.
When is National Hire a Veteran Day?
The enduring history of the U.S. Army means they have been integral to many of the United State's military, peace-keeping and humanitarian efforts. During the Army's Birthday, these and many advancements will be recognized through events and ceremonies.
When is the National Guard's Birthday?
Wish the Army a Happy Birthday. You can also learn about the history of the oldest branch of the U.S. military. Let those who serve in the Army know how important their volunteer service means to you.
Share memories of your military service in the Army.
Buy an Army veteran a meal or drink.
Donate to your favorite veteran's organization.
Volunteer your time with a veteran's organization.
Raise the Army colors at your home or business.
Exercise your right to vote.
Offer an Army veteran an interview when they apply for a job at your place of business.
Offer an Army spouse an interview when they apply for a job at your place of business.
Show support to a military family through deployments, moves, and transfers.
Use #ArmyBirthday to share on social media.
ARMY BIRTHDAY HISTORY
On June 14, 1775, the Second Continental Congress created a Continental Army of existing militias (some that still exist today) to protect the Northern colonies from British troops.
NATIONAL STRAWBERRY SHORTCAKE DAY
National Strawberry Shortcake Day on June 14th each year lands at the peak of strawberry season. While we are able to get strawberries all year long now, the best strawberries are those picked from April to June. These bright red berries during this time are sweeter and more flavorful. By adding them to a shortcake biscuit or a sponge cake, strawberry shortcake is an easy and refreshing summertime dessert!
Strawberries are sliced, mixed with sugar then allowed to sit for about an hour until they have surrendered plenty of their juices. The shortcakes are then split, and the bottom is covered with a layer of strawberries, juice and whipped cream. The top is then put back on, and more strawberries, juice and whipped cream are added to finish it off.
HOW TO OBSERVE #StrawberryShortcakeDay
There are several ways to enjoy today. The first and most obvious way is by making a strawberry shortcake to share. There are other delicious desserts to make featuring strawberry shortcakes, too.
Visit a pick your own strawberry patch to make the day an adventure.
Make a strawberry shortcake trifle.
Enjoy strawberry shortcake ice cream.
Add mixed berries to your shortcake, too!
Don't forget to check out all the other strawberry celebrations on the calendar. There are plenty to go around! Share your favorite recipes using #StrawberryShortcakeDay on social media.
NATIONAL STRAWBERRY SHORTCAKE DAY HISTORY
National Day Calendar is researching the origins of this seasonal cake holiday. In the meantime, check out these other fruit related celebrations:
On Deck for June 15, 2021
National Days
International Days
June 14th Celebrated (and Not So Celebrated) History
1775
The Second Continental Congress creates a Continental Army of existing militias (some that still exist today) to protect the Northern colonies from British troops.
1777
Congress adopts the first United States Flag. Since its creation, the Stars and Stripes has been officially modified 26 times. The last design became official on August 21, 1959, with the admittance of Hawaii to the union.
1885
The Indianapolis Journal publishes James Whitcomb Riley's poem titled "'Long About Knee-Deep in June" for the first time.
1919
Captain John Alcock and Lieutenant Arthur Whitten Brown began the first non-stop transatlantic flight. They departed from St. Johns, Newfoundland, and crossed 1,890 miles in 16 hours, 27 minutes, and they arrived in Clifden, Ireland the next day.
1954
On Flag Day in 1954, Congress added the words "under God" to the Pledge of Allegiance in response to the anti-Communist opinion sweeping the country during the Cold War.
Recipe of the Day
Fudge
Prep: 5 minutes
Cook: 5 minutes
Total Prep: 10 minutes
Servings: 4 dozen
Ingredients:
2/3 cup evaporated milk
1 – 2/3 cup sugar
1/2 teaspoon salt
1 – 1/2 cup marshmallows
1 – 1/2 cup chocolate chips
1 Tablespoon vanilla
1/2 cup nuts
Instructions:
In a medium saucepan, cook evaporated milk, sugar, and salt over low heat for 5 minutes.
Add marshmallows, chocolate chips, vanilla, and nuts.
Pour into a buttered baking dish and let cool.
Cut into squares.
June 14th Celebrated (and Not So Celebrated) Birthdays
Harriet Beecher Stowe – 1811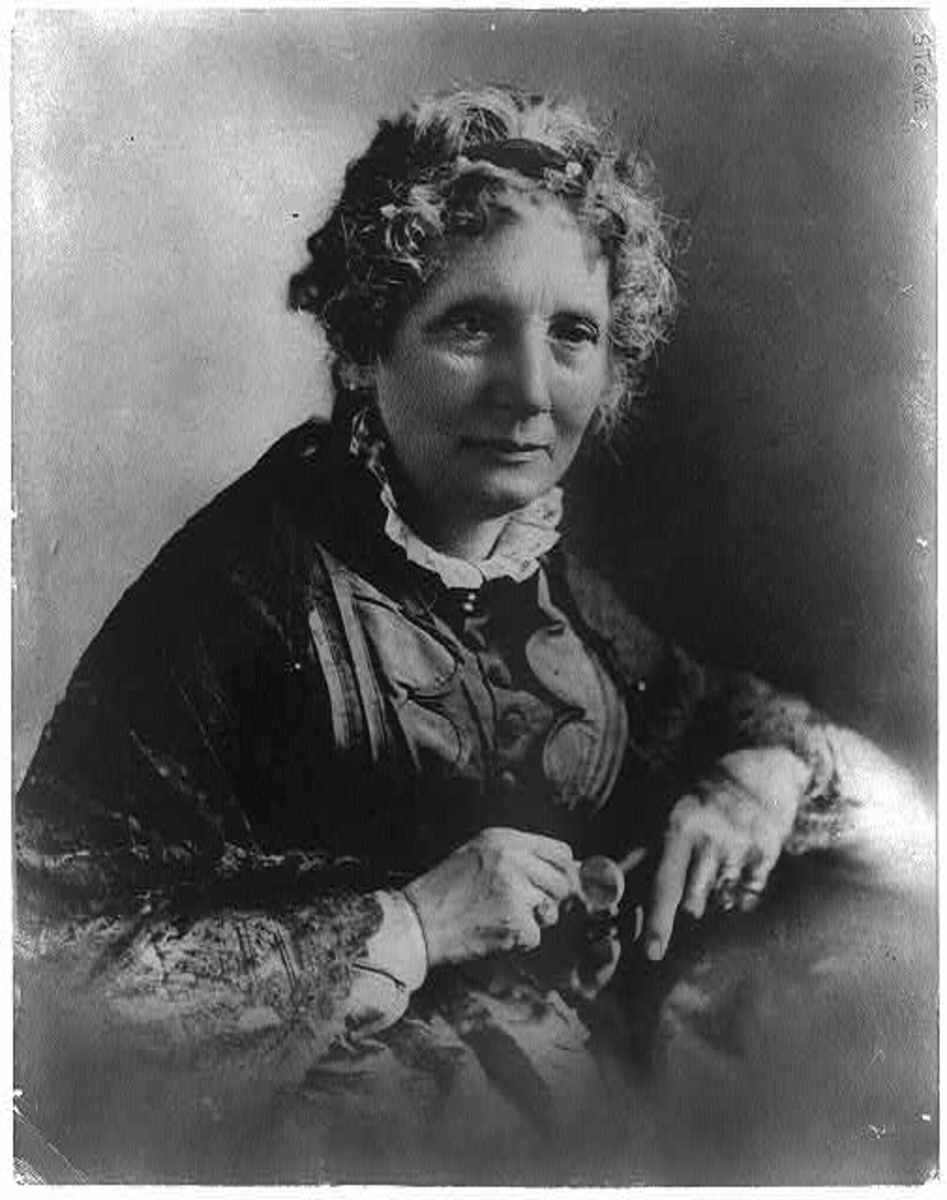 A prolific author and advocate, Harriet Beecher Stowe is best known for her novel Uncle Tom's Cabin. Unique for her time, Stowe vocally debated topics of the day and provided financially for her family through teaching, her written works and speaking engagements.
Ida MacLean – 1877
In 1920, the British biochemist became the first woman admitted to the London Chemical Society.
Fred Baur – 1918
The American chemist designed the Pringles can as a uniform way to stack the chips. Upon his death in 2008, his family buried his ashes in a Pringles can, per the inventor's wishes.
Donald Trump – 1946
The American businessmen served as the 45th President of the United States from 2017-2021.
About National Day Calendar
National Day Calendar® is the authoritative source for fun, unusual and unique National Days! Since our humble beginnings on National Popcorn Day in 2013, we now track nearly 1,500 National Days, National Weeks and National Months. In addition, our research team continues to uncover the origins of existing National Days as well as discover new, exciting days for everyone to celebrate.

There's a celebration for everyone. While National Road Trip Day satisfies the itch to wander, many pet days let us share our love of animals. National 3-D Day and National Astronaut Day honor the advancement of technology, too. Every food day you can imagine (National Avocado Day, for example), will keep you celebrating, also!
Be sure to stay in the know by signing up for our e-mail updates. Also, follow us on Facebook, Twitter, and Instagram.
Our Ambassador Program is another way #CelebrateEveryDay®! Whether you become an ambassador or follow one of the savvy ambassadors, their fun videos and posts will keep you prepared for every holiday.