Looking Back
July 22, 2022 - NATIONAL FRAGILE X AWARENESS DAY – NATIONAL MANGO DAY – NATIONAL PENUCHE FUDGE DAY – NATIONAL HAMMOCK DAY – NATIONAL RAT CATCHER'S DAY
JULY 22, 2022 | NATIONAL FRAGILE X AWARENESS DAY | NATIONAL MANGO DAY | NATIONAL PENUCHE FUDGE DAY | NATIONAL HAMMOCK DAY | NATIONAL RAT CATCHER'S DAY
NATIONAL FRAGILE X AWARENESS DAY | JULY 22
Each year on July 22nd, National Fragile X Awareness Day celebrates those impacted by Fragile X syndrome. The day also raises support for research, education and awareness. Read more…
NATIONAL MANGO DAY | July 22
Sweet, fragrant, and juicy mangoes add an abundance of flavor to beverages and meals. That's why on July 22nd, National Mango Day recognizes all the nutritious variety this tropical fruit brings to the table! Read more…
NATIONAL PENUCHE FUDGE DAY | JULY 22
National Penuche Fudge Day on July 22nd recognizes the creamy candy with an Italian name. If you like maple flavor, this nut-filled fudge is for you! Hands down the best fudge out there to make. Read more…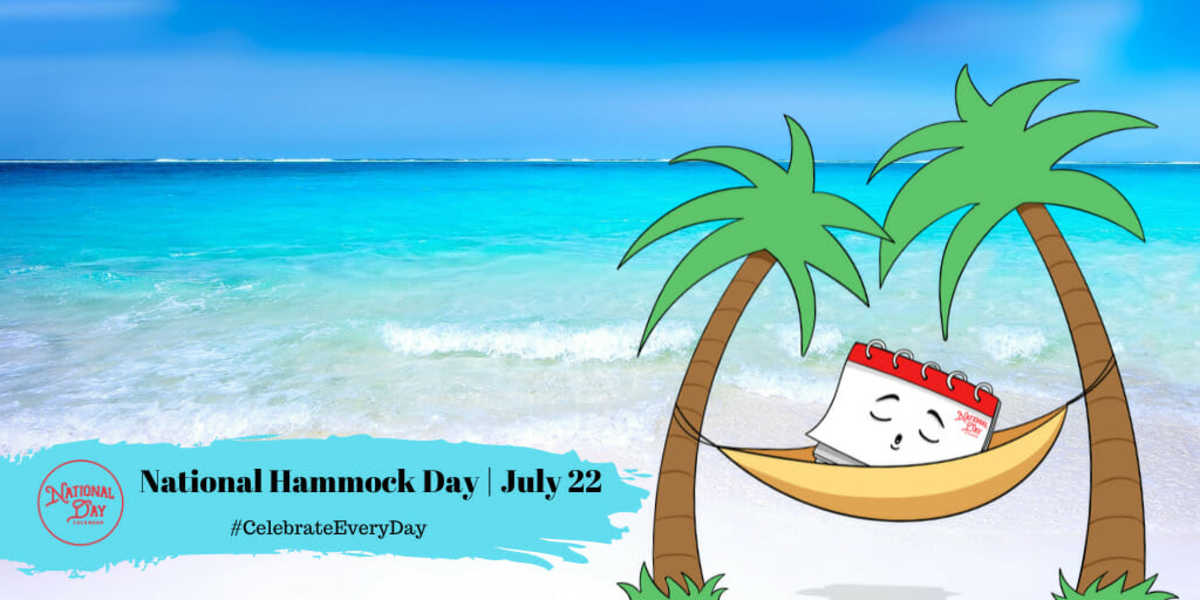 NATIONAL HAMMOCK DAY | July 22
On July 22nd, relax in the shade and enjoy National Hammock Day. These portable, comfortable slings create excellent napping spaces no matter where you are! Read more…
NATIONAL RAT CATCHER'S DAY | July 22
National Rat Catcher's Day on July 22nd commemorates the story of the Pied Piper of Hamelin. The day also provides an opportunity to thank all present-day exterminators. Read more…
On Deck for July 23, 2022
National Days
International Days
Recipe of the Day
Name: Fudge
Prep: 5 minutes
Cook: 5 minutes
Total Prep: 10 minutes
Servings: 4 dozen
Ingredients:
2/3 cup evaporated milk
1 2/3 cup sugar
1/2 teaspoon salt
1 1/2 cup marshmallows
1 1/2 cup chocolate chips
1 Tablespoon vanilla
1/2 cup nuts
Instructions:
In a medium saucepan, cook evaporated milk, sugar, and salt over low heat for 5 minutes.
Add marshmallows, chocolate chips, vanilla, and nuts.
Pour into a buttered baking dish and let cool.
Cut into squares.
July 22nd Celebrated

History
1893
Inspired by the view from atop Pikes Peak, American author and professor Katharine Lee Bates writes the lyrics to "America the Beautiful."
1934
After 19 months of pursuit, federal agent Melvin Purvis and his team meet gangster and bank robber, John Dillinger outside the Biograph Theater. The resulting shootout between the agents and Dillinger ended in the gangster's death.
1983
Australian pilot Dick Smith completed the first solo circumnavigation of the Earth. He took his time, though. He departed on August 5, 1982, in his Bell Jetranger III from Bell Helicopter Hurst Heliport in Hurst, Texas. Fifty years before, Wiley Post became the first person to fly solo around the world when he landed his Lockheed Vega named Winnie May when he landed at Floyd Bennet Field in New York. His flight took just under 8 days to complete.
1992
Though never released in U.S. theatres, the action movie Captain America starring Matt Salinger, Ronny Cox and Ned Beatty is released to video.
July 22nd Celebrated

Birthdays
Ruthie Tompson – 1910
The American animator and artist worked nearly 40 years with the Walt Disney Company. Some of the animated films she worked on include Mary Poppins, Robin Hood, and Winnie the Pooh and Tigger Too. In 2010, she became one of America's supercentenarians.
Pancho Barnes – 1922
Not only was Pancho Barnes an aviation pioneer, but she also paved the way for stuntwomen in Hollywood. She also built her own airstrip and training program.
Dorcas Reilly – 1926
When you're preparing your Thanksgiving meal, raise a toast to Dorcas Reilly. During her time working for Campbell's Test Kitchen, she created the green bean casserole, a staple of an American Thanksgiving feast.
Alex Trebek – 1940
The popular Canadian American game show host is best known for hosting the game show Jeopardy! He hosted the show for 37 seasons.
John Leguizamo – 1964
The American actor is known for both his serious and comedic roles. His filmography includes John Wick, William Shakespeare's Romeo and Juliet, the Ice Age animated franchise and many more.
About National Day Calendar
National Day Calendar is the original and authoritative source for fun, unusual and unique National Days! Since our humble beginnings on National Popcorn Day in 2013, we have been tracking the National Days, National Weeks, National Months, and International Days. We became the first calendar of its kind to curate the days all in one place and tell their stories, too! Here at National Day Calendar, we are on a mission to Celebrate Every Day with you! And by you, we mean families, businesses, educators, and strangers we meet on the street. There's more than one day for everyone.
At National Day Calendar, we've found the National Days have a way of inspiring us. We're honored to tell the stories behind the days and provide you with informational ways to incorporate the National Days into your business, family, schools, and home!