Looking Back
July 21, 2022 - NATIONAL JUNK FOOD DAY – NATIONAL BE SOMEONE DAY – GET TO KNOW YOUR CUSTOMERS DAY
JULY 21, 2022 | NATIONAL JUNK FOOD DAY | NATIONAL BE SOMEONE DAY | GET TO KNOW YOUR CUSTOMERS DAY
NATIONAL JUNK FOOD DAY | July 21
July 21st dedicates a giant menu of items to National Junk Food Day. Each year, the day permits us to chow down on the foods we usually don't include in our daily diet. Junk foods, by definition, typically contain high fats, sugars, salt, and calories and very little nutritional value. Read more…
NATIONAL BE SOMEONE DAY | JULY 21
On July 21st, National Be Someone Day challenges each of us to take ten seconds to make a difference in a child's life. Read more…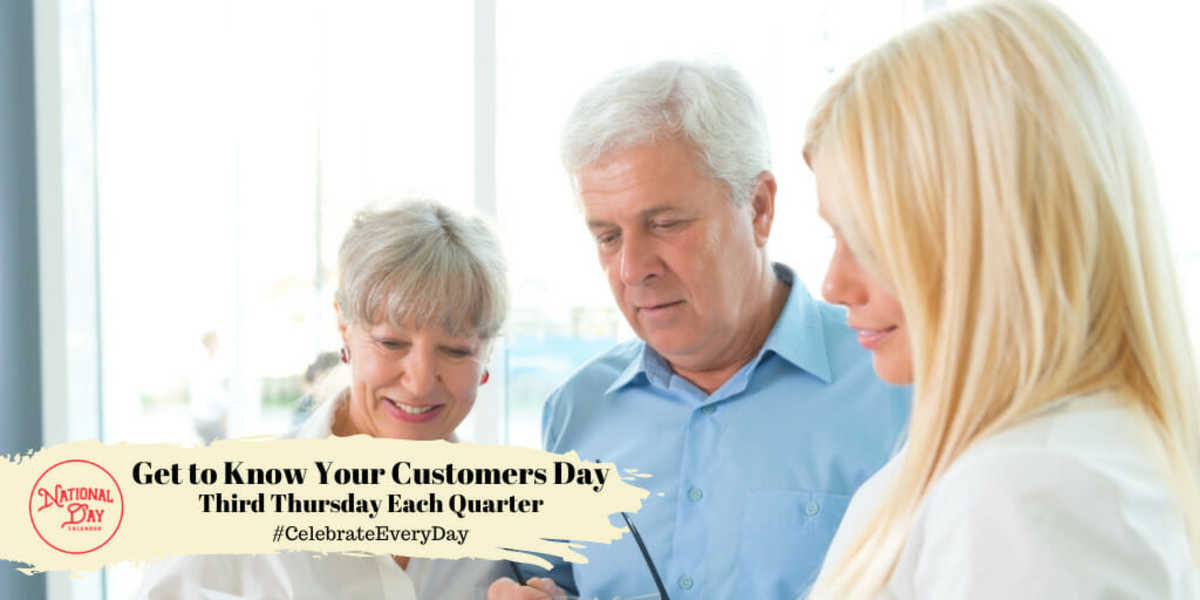 GET TO KNOW YOUR CUSTOMERS DAY
Get to Know Your Customers Day reminds businesses to reach out to patrons and get to know them better. The day is observed annually on the third Thursday of each quarter (January, April, July, October). Read more…
On Deck for July 22, 2022
National Days
Recipe of the Day for July 21
Fast & Easy Onion Rings
Prep: 20 minutes
Cook: 2-3 minutes
Servings: 6 to 10
Ingredients:
2 or 3 Medium Sized Onions
3/4 Cup Flour
3/4 Cup Cornmeal
2 Teaspoons Salt
1 Teaspoon Pepper
1 Teaspoon Chili Powder or Cayenne Pepper
2 Medium Eggs
3/4 Cup of Almond Milk
1 Cup Olive or Coconut Oil
Instructions:
Wash and peel outer skin. Slice into rings, set aside in a bowl.
Mix dry ingredients into a large bowl.
Add eggs and almond milk to dry ingredients and mix into a smooth batter. You may add an additional egg or almond milk to thin if necessary.
While heating oil in the frying pan batter several onion rings in the batter mix. Once the oil is hot add onion rings to the oil and cover with a lid for 2 minutes, turn over and cook additional 2 minutes. Set golden brown onion rings aside on a paper towel-covered plate to drain, and continue the cooking process until all rings are cooked. Enjoy!
July 21st Celebrated

History
1961
Aboard the Mercury – Redstone 4, Virgil "Gus" Grissom became the second American to fly in space.
1966
British physician, Dr. Ian Donald, pioneered the first use of ultrasound for medical diagnosis.
1979
The Hollywood Walk of Fame commemorates Mohawk actor, Jay Silverheels, with the first star on the walk of fame received by a Native American.
1998
The Steven Spielberg World War II drama Saving Private Ryan premiered in Westwood, California. Starring Tom Hanks, Matt Damon, and Tom Sizemore, the film won five Oscars.
2007
Bloomsbury Publishing releases J.K. Rowling's Harry Potter and the Deathly Hallows – the final installment of the Harry Potter series.
July 21st Celebrated

Birthdays
Ernest Hemingway – 1899
The American author and journalist wrote several novels and non-fiction that are considered classics today, such as For Whom the Bell Tolls and The Old Man and the Sea. In addition, many of his works were published posthumously, including A Moveable Feast.
Mahlon Loomis – 1826
The American dentist from Washington, D.C., received U.S. patent No. 129,971 for "An Improvement in Telegraphing" in July of 1872.
Francis Clara Folsom – 1864
On June 2, 1886, Frances Clara Folsom became the youngest First Lady in U.S. history when she married sitting President Grover Cleveland. It was the only wedding of a president that took place in the White House. She also has the unique distinction of being both the 23rd and 25th First Lady of the United States.
Janet Reno – 1938
The first woman to serve as the United States Attorney General, Janet Reno, was appointed to the office in 1993 by President William Clinton. She served until 2001.
Robin Williams – 1951
During the American actor and comedian's nearly 40-year career, Robin Williams created many memorable characters. From the sitcom Mork & Mindy (for which he won a Golden Globe) to films like Jumanji, Hook, and Awakenings, Robins left an indelible mark on his fans and the industry. He won an Academy Award for his role in Good Will Hunting.
About National Day Calendar
National Day Calendar is the original and authoritative source for fun, unusual and unique National Days! Since our humble beginnings on National Popcorn Day in 2013, we have been tracking the National Days, National Weeks, National Months, and International Days. We became the first calendar of its kind to curate the days all in one place and tell their stories, too! Here at National Day Calendar, we are on a mission to Celebrate Every Day with you! And by you, we mean families, businesses, educators, and strangers we meet on the street. There's more than one day for everyone.
At National Day Calendar, we've found the National Days have a way of inspiring us. We're honored to tell the stories behind the days and provide you with informational ways to incorporate the National Days into your business, family, schools, and home!