Looking Back
July 17, 2022 - NATIONAL ICE CREAM DAY – WORLD EMOJI DAY – NATIONAL YELLOW PIG DAY – NATIONAL WRONG WAY CORRIGAN DAY – NATIONAL TATTOO DAY – NATIONAL PEACH ICE CREAM DAY – NATIONAL LOTTERY DAY
JULY 17, 2022 | NATIONAL ICE CREAM DAY | WORLD EMOJI DAY | NATIONAL YELLOW PIG DAY | NATIONAL WRONG WAY CORRIGAN DAY | NATIONAL TATTOO DAY | NATIONAL PEACH ICE CREAM DAY | NATIONAL LOTTERY DAY
NATIONAL ICE CREAM DAY | THIRD SUNDAY IN JULY
Dish or cone? That's all we need to know. National Ice Cream Day on the 3rd Sunday in July offers up every flavor on the menu to honor the day! The holiday also lands in the middle of National Ice Cream Month. Read more…
WORLD EMOJI DAY | JULY 17
July 17th recognizes World Emoji Day and many of the world's symbolic icons for digital calendars. The day encourages us to use emojis to send unique messages. Read more…
NATIONAL YELLOW PIG DAY | JULY 17
National Yellow Pig Day on July 17th honors the unique attributes of the number 17 and its significance to mathematics. Read more…
NATIONAL WRONG WAY CORRIGAN DAY | JULY 17
National Wrong Way Corrigan Day on July 17th commemorates the transatlantic flight of an Irish-American stunt pilot from Galveston, Texas. Douglas Corrigan (January 22, 1907 – December 9, 1995) gained notoriety for an unplanned transatlantic flight to Ireland on July 17, 1938. Read more…
NATIONAL TATTOO DAY | JULY 17
National Tattoo Day on July 17th recognizes the history, culture, and artists dedicated to etching ink permanently on the skin. The day might just be the date to get that ink you've been contemplating. Read more…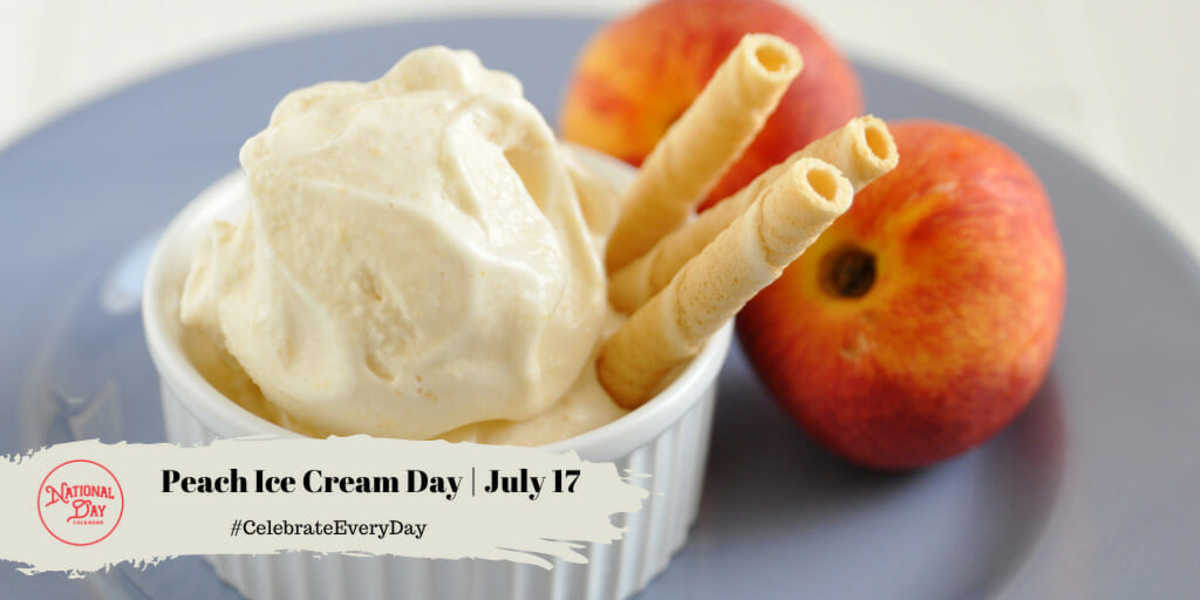 NATIONAL PEACH ICE CREAM DAY | JULY 17
National Peach Ice Cream Day on July 17th sweetens the day with a few scoops at the peak of peach season. Read more…
NATIONAL LOTTERY DAY | JULY 17
If you feel extra lucky on July 17th, it might be because it's National Lottery Day! Celebrate the way lotteries contribute to local and state programs. Read more…
On Deck for July 18, 2022
National Days
International Days
Recipe of the Day
Peach Ice Cream
Prep: 30 minutes
Cook: 15 minutes
Total Prep: 45 minutes
Serves 4
Ingredients:
4 large, soft, ripe peaches; peeled and cut into chunks
1/4 cup water
1/4 cup peach juice
2/3 cup white sugar
1 cup whipping cream
1/2 cup sour cream
1/2 teaspoon vanilla
1/4 teaspoon lemon juice
Instructions:
Place peaches, water and juice in a medium saucepan over medium heat.
Cook covered until peaches are soft, stirring occasionally.
Transfer peaches and sauce to a non-reactive mixing bowl.
Mix in sugar and allow to cool to room temperature.
Add remaining ingredients.
Puree in blender or food processor until smooth.
Chill until cold.
Churn in ice cream maker following the manufacturer's instructions.
July 17th Celebrated

History
1902
Engineer and inventor, Willis Carrier designs the first modern air conditioner.
1938
Pilot Douglas Corrigan departs from Brooklyn, New York in his Curtiss Robin aircraft. His destination was home to California, but he somehow ended up in Ireland.
1955
Disneyland opens in Anaheim, California.
1962
The House of Representatives convenes a special subcommittee of the House Committee on Science and Astronautics. Two of the Mercury Thirteen (women who passed two of the three testing phases created by Dr. William Lovelace) appeared before the committee to testify regarding gender discrimination. Jerrie Cobb and Janey Hart presented their cases to the committee in the hopes of being permitted to join the space program and continue into phase three with NASA. Jackie Cochran, who had sponsored the privately funded phase one and two testings, also testified. However, her testimony, along with others, suggested the women were not qualified for the Mercury program.
July 17th Celebrated

Birthdays
Phyliss Diller – 1917
The American comedic legend was one of the first women to launch a stand-up career. She brought audiences to laughter and tears with her bold and witty one-liners in the 50s, 60s and 70s.
Nils Bohlin – 1920
In 1962, the Swedish engineer received a U.S. patent for his invention of the three-point seat belt.
Toni Stone – 1921
Toni Stone became the first woman to play professional baseball when she was signed to the Negro American League's Indianapolis Clowns in 1953. For the Clowns, she played second base and maintained a respectable .243 batting average. In 1991, Stone was inducted into the Women's Sports Hall of Fame.
Diahann Carroll – 1935
In 1962, the American actress and singer of stage and screen won a Tony Award for her role in the musical No Strings. Carroll became known for her roles in the films Carmen Jones and Porgy and Bess as well as several television shows including the drama Julia.
About National Day Calendar
National Day Calendar is the original and authoritative source for fun, unusual and unique National Days! Since our humble beginnings on National Popcorn Day in 2013, we have been tracking the National Days, National Weeks, National Months, and International Days. We became the first calendar of its kind to curate the days all in one place and tell their stories, too! Here at National Day Calendar, we are on a mission to Celebrate Every Day with you! And by you, we mean families, businesses, educators, and strangers we meet on the street. There's more than one day for everyone.
At National Day Calendar, we've found the National Days have a way of inspiring us. We're honored to tell the stories behind the days and provide you with informational ways to incorporate the National Days into your business, family, schools, and home!