Looking Back
July 12, 2022 - PAPER BAG DAY – NATIONAL SIMPLICITY DAY – COW APPRECIATION DAY – NATIONAL DIFFERENT COLORED EYES DAY – EAT YOUR JELLO DAY – NATIONAL PECAN PIE DAY
JULY 12, 2022 | PAPER BAG DAY | NATIONAL SIMPLICITY DAY | COW APPRECIATION DAY | NATIONAL DIFFERENT COLORED EYES DAY | EAT YOUR JELLO DAY | NATIONAL PECAN PIE DAY
PAPER BAG DAY | JULY 12
Each July 12th, we recognize the significance of an invention we take for granted on Paper Bag Day. Read more…
NATIONAL SIMPLICITY DAY | July 12
National Simplicity Day honors transcendentalist Henry David Thoreau. The day advocates a life of simplicity and recognizes the life of Thoreau. Read more…
COW APPRECIATION DAY | SECOND TUESDAY IN JULY
Have you herd? Things go udderly awry in the middle of July each year during Cow Appreciation Day. People dress like bovines for free food. It's a moo-ving experience to witness designed to save the lives of cows everywhere for just one day. How? By eating chicken instead, that's how. Read more…
NATIONAL DIFFERENT COLORED EYES DAY | JULY 12
On July 12th, National Different Colored Eyes Day recognizes those who have two different colored eyes. Many people captivate us with their eye color; others do so because they have two different colored eyes. This day celebrates them in all their uniqueness! Read more…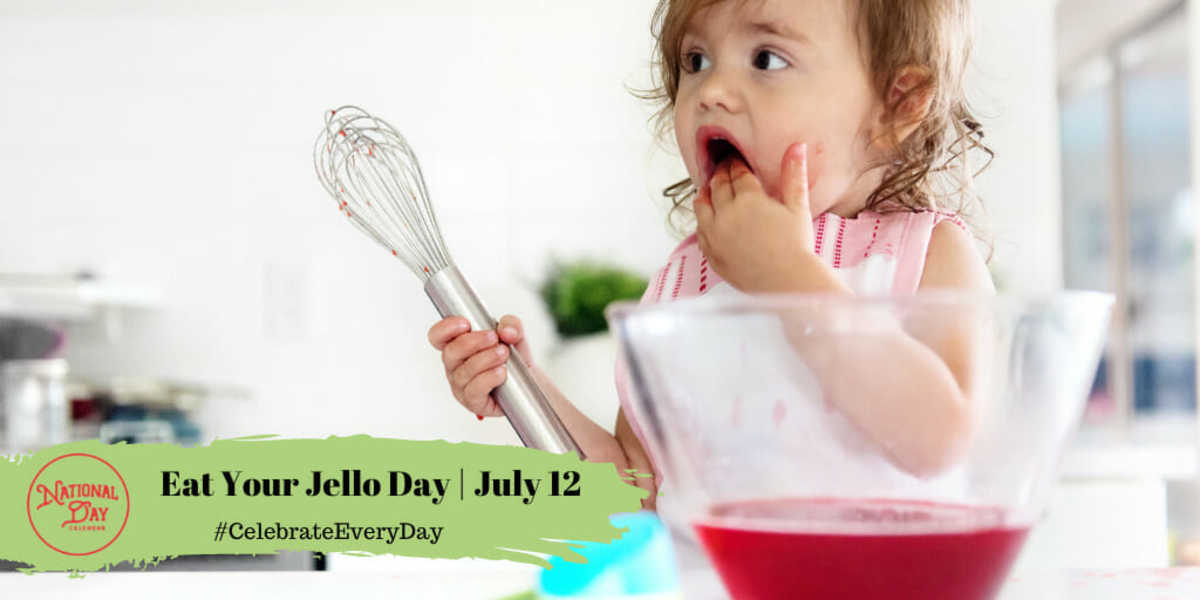 EAT YOUR JELL-O DAY | JULY 12
July 12th easily directs us what to do on Eat Your Jello Day! With plenty of flavors to choose from, you should have no problem finding one you like. Read more…
NATIONAL PECAN PIE DAY | JULY 12
Grab a slice on July 12th and celebrate National Pecan Pie Day! Mix up the ingredients using primarily corn syrup, pecan nuts, salt, and vanilla. Occasionally, recipes vary by including sugar syrup and molasses or maple syrup. Other additions include chocolate and bourbon whiskey in some regions of the country. Top it all off with vanilla ice cream or whipped cream. Read more…
On Deck for July 13, 2022
National Days
Recipe of the Day for July 12
Beans 'n Franks
Prep: 15 minutes
Cook: 2 hours
Total Prep: 2 hours, 15 minutes
Servings: 12
Ingredients:
1 teaspoon butter
1 small onion, chopped
3 slices bacon
16 ounce can of pork and beans
1/2 cup brown sugar
2 tablespoons Worcestershire sauce
1/2 cup ketchup
1/2 teaspoon mustard
1 tablespoon of Louisiana hot sauce (optional)
16 ounce package frankfurters
Instructions:
Cut bacon into squares and fry in a large skillet.
Add onion and saute' until translucent.
Remove from heat. Drain excess fat.
Mix beans, ketchup, brown sugar, Worcestershire sauce, mustard and hot sauce in a 2-quart casserole dish.
Add bacon and onion and mix well.
Slice frankfurters and stir into beans.
Bake at 300 degrees for 1-1/2 to 2 hours.
July 12th Celebrated History
1812
A month after the U.S. declared war on Great Britain, U.S. General William Hull led troops in the invasion of Canada.
1859
The inventor William Goodale received U.S. patent No. 24,734 for his invention of a "machine for making paper bags." While not the first of its kind, Goodale own the Union Paper-Bag Machine Company designed the machine with a cutter that prepped the paper for folding.
1862
Congress creates the Medal of Honor.
1984
Democratic candidate for president Walter F Mondale names Geraldine Ferraro as his vice-presidential running mate. Ferraro was the first woman named by a major U.S. political party as a vice-presidential candidate.
July 12th Celebrated Birthdays
Henry David Thoreau – 1817
Best known for his poetry and philosophy, Henry David Thoreau lived a life of many roles including naturalist, historian, tax resister, abolitionist and surveyor to name a few. His book, Walden, is a reflection upon simple living in natural surroundings.
George Eastman – 1854
The American businessman founded Eastman Kodak in 1892 with Henry A. Strong. The Eastman Kodak company ushered in an era of inexpensive cameras that allowed the general public to capture photos, not just those with large, bulky and expensive cameras. They didn't have to know how to develop the film either; the Eastman Kodak Company did that, too.
Louis B Mayer -1884
The American film-maker co-founded Metro-Goldwyn-Mayer (MGM) in 1924. For more than 90 years, the company has been producing and distributing films and creating television shows.
Lyudmila Pavlichenko – 1916
A sniper in the Soviet Red Army, Pavlichenko served during World War II. Her 309 confirmed kills earned her the nickname "Lady Death" and is the most successful female sniper in history.
Richard Simmons – 1948
Give a round of jazz hands for this birthday celebration! Born Milton Teagle Simmons, the television fitness personality and motivational speaker gained notice in the late 1970s into the 1980s for his fitness philosophy. He also developed a popular video fitness series called Sweatin' to the Oldies.
About National Day Calendar
National Day Calendar is the original and authoritative source for fun, unusual and unique National Days! Since our humble beginnings on National Popcorn Day in 2013, we have been tracking the National Days, National Weeks, National Months, and International Days. We became the first calendar of its kind to curate the days all in one place and tell their stories, too! Here at National Day Calendar, we are on a mission to Celebrate Every Day with you! And by you, we mean families, businesses, educators, and strangers we meet on the street. There's more than one day for everyone.
At National Day Calendar, we've found the National Days have a way of inspiring us. We're honored to tell the stories behind the days and provide you with informational ways to incorporate the National Days into your business, family, schools, and home!