Looking Back
January 7, 2022 - NATIONAL BOBBLEHEAD DAY – NATIONAL TEMPURA DAY
JANUARY 7, 2022 | NATIONAL BOBBLEHEAD DAY | NATIONAL TEMPURA DAY
NATIONAL BOBBLEHEAD DAY
Each year on January 7th, National Bobblehead Day recognizes a day of celebration for all spring-connected head bobbing figurines. For over 100 years, bobbleheads have been entertaining and fascinating… Read more…
NATIONAL TEMPURA DAY
On January 7th, National Tempura Day encourages us to celebrate with a dish made with a tempura batter. This Japanese fare includes either seafood or vegetables dipped in batter and deep-fried. Where did tempura originate? No one really knows. What we do know is… Read more…
On Deck for January 8, 2022
National Days
International Days
Next Week
Week Observances
In the Classroom
Recipe of the Day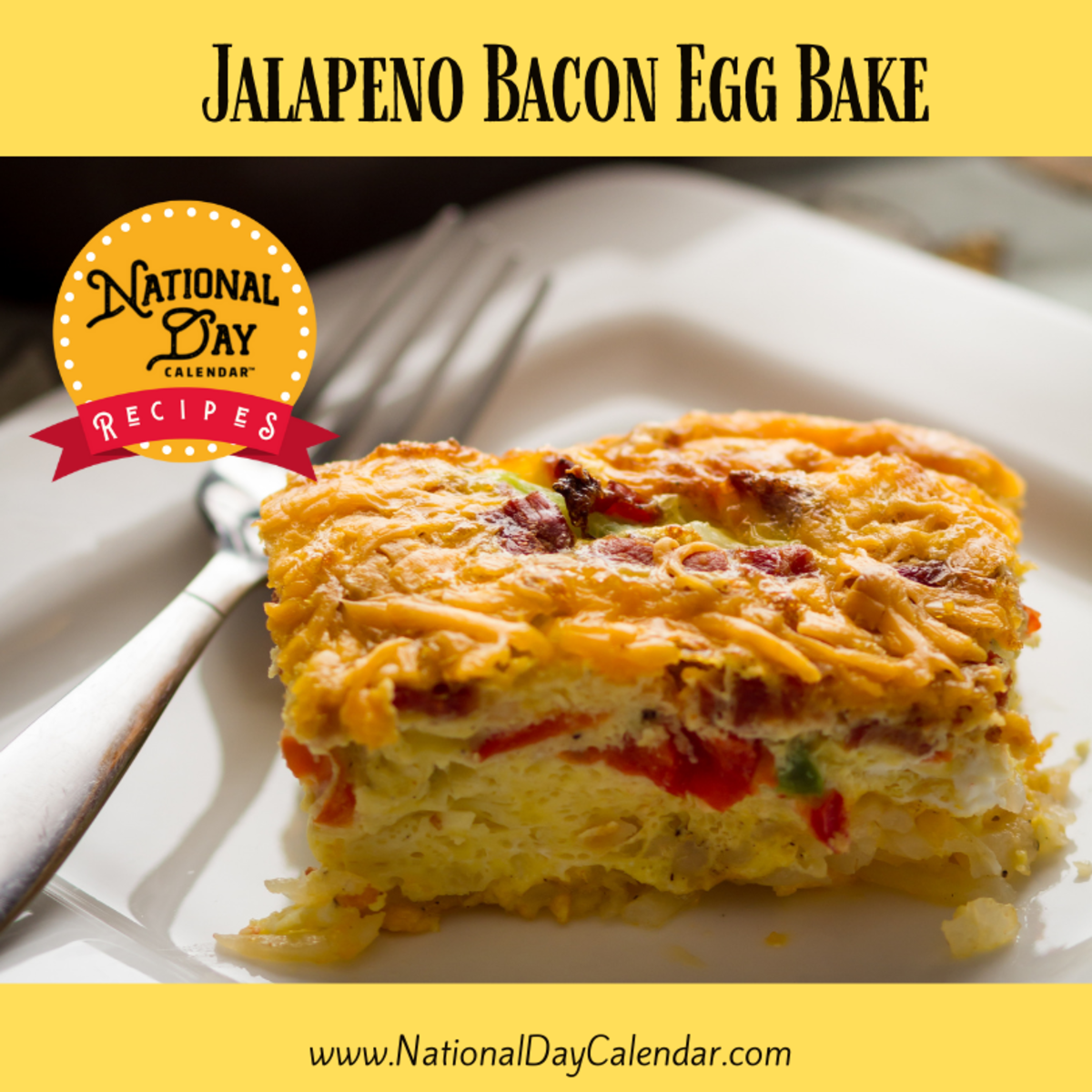 Jalapeno Bacon Egg Bake
Prep time: 15 minutes
Cook time: 50 minutes
Total: 1 hour 5 minutes
Servings: 10
Ingredients
1 pound bacon, crisped and crumbled, divided
3 jalapeno peppers, seeded and diced
1 red bell pepper, seeded and diced
1 yellow onion, diced
3 cloves garlic, minced
12 large eggs
1 cup milk
3 cups frozen diced potatoes
2 cups shredded cheddar cheese, divided
1 1/2 teaspoons salt
1/2 teaspoon ground black pepper
2 green onions, chopped
Instructions
Heat oven to 350°F. Prepare a 9×13 baking dish with cooking spray.
In a large skillet, cook onion and jalapenos over medium heat until tender. Add garlic and cook until fragrant. Remove from heat.
In a large bowl, beat eggs while whisking in the milk. Add the onion, jalapeno, potatoes (frozen, do not thaw), and 1 cup of shredded cheese. Reserve 3/4 cup of bacon and add the remaining bacon to the egg mixture. Season with salt and pepper.
Pour egg mixture into the prepared baking dish. Top with remain cheese and green onions. Bake 20 minutes. Add reserved bacon and bake for an additional 20-30 minutes. The eggs should be firm and the cheese golden brown.
January 7th Celebrated (and Not So Celebrated) History
1887
Explorer and adventurer Thomas Stevens completes the first circumnavigation of the world with a bicycle. He departed from Oakland, CA on April 22, 1884. His journey was completed when he arrived in Boston, MA, on August 4, 1884. After wintering in New York, he proceeded across the Atlantic Ocean on the City of Chicago bound for Liverpool, UK. Steven's final leg of his trip returns him to San Francisco aboard the City of Peking on January 7, 1887. Astonishingly, Stevens covered approximately 13,500 miles on two wheels.
1896
Fannie Merrit Farmer self-publishes Boston Cooking-School Cook Book. The book's name would later be renamed The Fannie Farmer Cookbook. Farmer, a graduate of the Boston Cooking School, later became the school's principal. Who's hungry for Fannie Farmer, now?
1927
The Harlem Globetrotters travel to Hinkley, Illinois to play their first basketball game. Since then, the Globetrotters have attained icon status in the world of basketball, and they continue to entertain fans worldwide.
January 7th Celebrated (and Not So Celebrated) Birthdays
Millard Fillmore – 1800
President Millard Fillmore was elected as the 13th President of the United States under the Whig ticket. Since then, no other third-party candidate has been elected. Fillmore's presidency was an uneasy if inevitable segue into the Civil War years. While anti-slavery, Fillmore made legislative compromises and did not support his successor, Abraham Lincoln.
Zora Neale Hurston – 1891
One of America's most important writers, Zora Neale Hurston committed to writing stories about Black culture and experiences. Her books include Barracoon, Dust Tracks on a Road, Mules and Men and her most popular Their Eyes were Watching God.
Jann Wenner – 1946
In 1967, the publisher co-founded Rolling Stone Magazine. The magazine is one of Rock 'n' Roll's most definitive publications chronicling the history, culture, and people of the music industry.
Katie Couric – 1957
For more than 40 years, the journalist has been presenting the news. Couric has hosted shows at three major networks, and in 2006 became the first woman to solo anchor the CBS Evening News.
About National Day Calendar
National Day Calendar® is the original and authoritative source for fun, unusual and unique National Days! Since our humble beginnings on National Popcorn Day in 2013, we have been tracking the National Days, National Weeks, National Months, and International Days. We became the first calendar of its kind to curate the days all in one place and tell their stories, too! Here at National Day Calendar, we are on a mission to Celebrate Every Day with you! And by you, we mean families, businesses, educators, and strangers we meet on the street. There's more than one day for everyone.
At National Day Calendar, we've found the National Days have a way of inspiring us. We're honored to tell the stories behind the days and provide you with informational ways to incorporate the National Days into your business, family, schools, and home!
Be sure to stay in the know by signing up for our e-mail updates. Also, follow us on Facebook, Twitter, and Instagram.
Our Ambassador Program is another way #CelebrateEveryDay®! Whether you become an ambassador or follow one of the savvy ambassadors, their fun videos and posts will keep you prepared for every holiday.
© National Day Calendar® 2013 – 2021