Looking Back
February 9, 2021 - NATIONAL PIZZA DAY – NATIONAL CUT THE CORD DAY – NATIONAL TOOTHACHE DAY – NATIONAL BAGEL AND LOX DAY - SAFER INTERNET DAY U.S.
FEBRUARY 9, 2021 | NATIONAL PIZZA DAY | NATIONAL CUT THE CORD DAY | NATIONAL TOOTHACHE DAY | NATIONAL BAGEL AND LOX DAY | SAFER INTERNET DAY U.S.
NATIONAL PIZZA DAY
National Pizza Day on February 9th celebrates one of America's all-time favorite foods. Whether it is thin crust, Chicago-style, deep dish, or anything in between, pizza is an American favorite.
We love our pizzas, and they come in so many varieties, too. As we nosh on our favorite, explore a few pizza facts:
Pepperoni is the most popular pizza at 36% of all pies ordered.

Over 3 billion pizzas are sold in the USA each year. Add another 1 billion on frozen pizzas

In the United States, 17% of all restaurants are pizzerias.

Antica Pizzeria, the first Pizzeria, opened in Naples, Italy, in 1738.

Gennaro Lombardi, the first Pizzeria in the United States, opened in 1895 in New York City.

Americans consume on average 23 pounds of pizza per person each year.
HOW TO OBSERVE #NationalPizzaDay
You know what to do. Have your favorite pizza! Whether you visit your local pizza place or make your own, you'll be celebrating National Pizza Day your way! Try something new. Mix up your toppings. Try a new sauce or get some crazy crust. Be sure to give a shout out to the local staple that's always filled the pizza need. You know who we're talking about. The ones with the secret ingredients we make classic movies about. Yeah, that's the one. And don't forget to check out the Celebration Deals for all the best offers and discounts.
Send us a message with any other great deals you come across that celebrate National Pizza Day, 2020.
Throw a pizza party and give the following recipes a try:
Perfect Pepperoni Pizzas
Beer Bread Pizza
Bacon & Artichoke Pizza
Margherita Flatbread Pizza
Peanut Butter BBQ Chicken Pizza
Use #NationalPizzaDay to post on social media.
NATIONAL PIZZA DAY HISTORY
National Day Calendar continues researching the origins of this ever-popular food holiday. However, the mystery remains. One thing we do know is how to eat pizza. Do you?

NATIONAL CUT THE CORD DAY
Break free from expensive cable bills on February 9th by celebrating National Cut the Cord Day! The streaming movement has rapidly grown over the past five years, and it doesn't show any signs of stopping. As the digital world supplies more choices, it also provides the flexibility, selection, and reliability we've been looking for. So it's no surprise that industry analysts estimate that up to six million people will cut the cord on traditional TV subscriptions in 2020.
As the devices for streaming continue to grow, more people look to cut the cord from cable. Whether binge-watching old favorites or catching the evening news, cord-cutters can customize a channel lineup for half the price of cable.
HOW TO OBSERVE #NationalCutTheCordDay
Cutting the cord has never been easier. With apps and online tools, learn more about the benefits and opportunities of cutting the cord. Weigh the pros, cons and potential savings. When you're ready to lean into the freedom of streaming on-demand content plus live TV, cut the cord!
Once you've decided cutting the cord is right for you, make sure to have the following items before getting started:
High-speed internet access
Supported device
Valid credit/debit card
Valid email address
An idea of content needs – those must-have channels or shows for you and your family
With so many ways to stream live and on-demand content, it may be overwhelming to know where to start. Setting up a streaming subscription like Sling TV is easier than ever by taking three easy steps: make an account, customize a channel lineup and start streaming!
Experienced cord-cutters, share your favorite ways to watch, your experiences cutting the cord and more.
Use #NationalCutTheCordDay to join the celebration.
Check out limited-time offers –

sling.com
Stay tuned for contest information
Have questions? Contact Sling TV's Cord Cutters Hotline at 855-553-2862
NATIONAL CUT THE CORD DAY HISTORY
Sling TV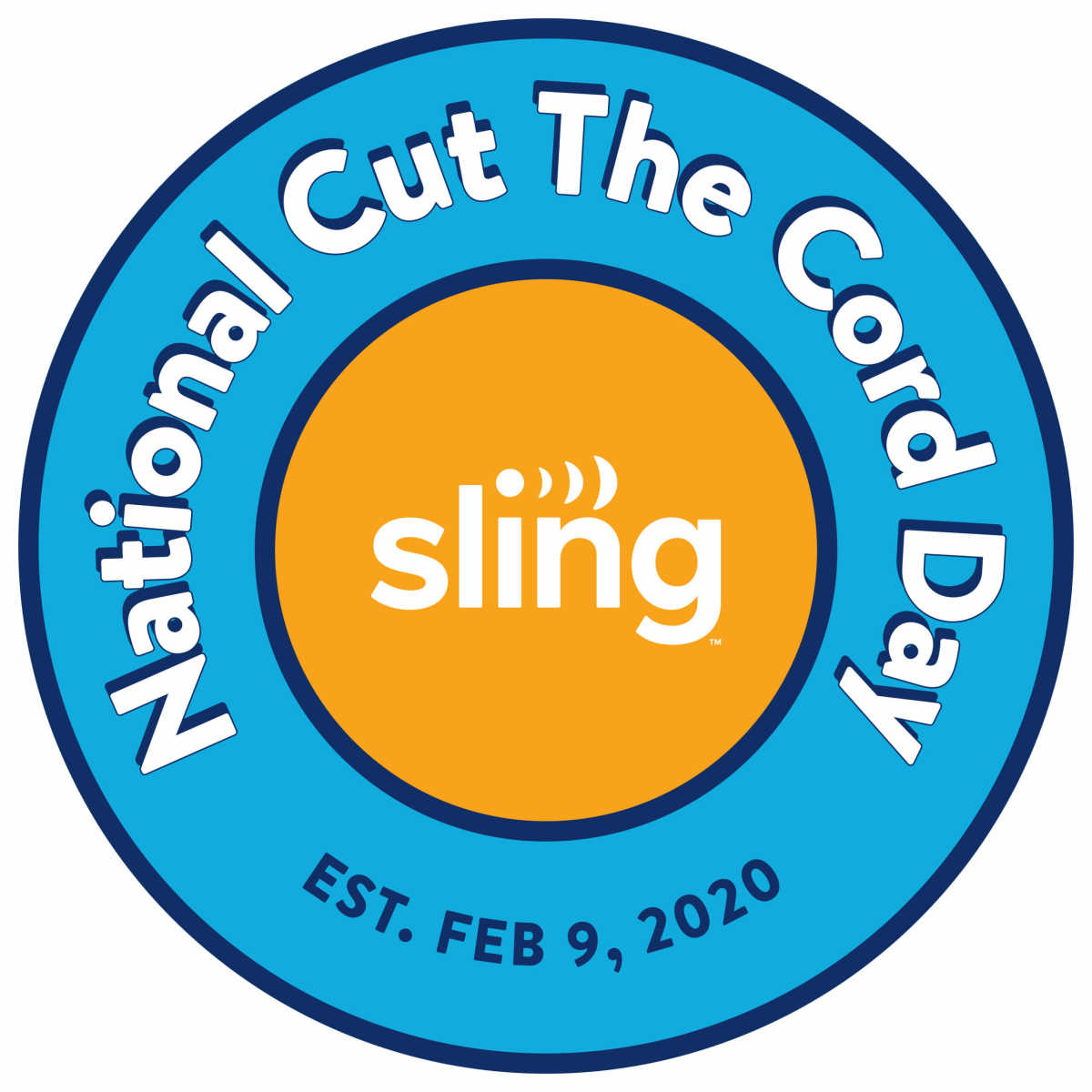 founded National Cut the Cord Day on February 9, 2020, to commemorate the day the service launched in 2015. On the fifth anniversary, Sling TV encourages people across the nation to make the leap from cable to live TV streaming by participating in National Cut the Cord Day. Sling TV will kick off the celebration with five days of exclusive deals. Visit sling.com to find out more.
Additionally, Sling TV created a Cord Cutters Hotline to support people who are thinking about cutting the cord but need help determining the next steps. To reach Sling TV's Cord Cutters Hotline, dial 855-553-2862 toll-free. For more information, visit sling.com and follow @sling on Twitter and Instagram.
In 2020, the Registrar at National Day Calendar proclaimed National Cut the Cord Day to be observed on February 9th, annually.
About Sling TV
Sling TV L.L.C. is an Emmy® Award-winning live streaming TV service that provides more than 700 channels from today's most popular networks across its general market, Latino and international services. It is available on all major streaming devices, smart televisions, tablets, game consoles, computers, and smartphones. Sling TV offers two general market streaming services, Sling Orange and Sling Blue, that collectively feature content from Disney/ESPN, Fox, NBC, NFL Network, AMC, A&E, AXS, Discovery, Scripps, Turner, Viacom, NBA TV, NHL Network, Pac-12 Networks, GSN, Hallmark, SHOWTIME, STARZ, and EPIX. On select devices, Sling TV offers customers access to free content, à la carte channels, and services, plus Pay-Per-View events and movies on-demand. Additionally, Sling TV offers a suite of stand-alone and add-on Spanish-language services and packages tailored to English-dominant, bilingual and Spanish-dominant U.S. households. Sling TV is the leading U.S. provider of foreign-language programming, with more than 400 channels in 27 languages. Visit sling.com.
NATIONAL TOOTHACHE DAY
National Toothache Day on February 9th is a not so subtle reminder of the importance of dental care. Also known as odontalgia, a toothache is a pain generating from a tooth or multiple teeth.
A toothache can make us miserable, making it difficult to eat, sleep, or sometimes even talk. It's safe to say, toothaches are never pleasant and not really something to celebrate.
We can, however, be aware of how to prevent toothaches.
Routine dental care is an essential first step. Avoiding sugary foods and acidic drinks and daily brushing and flossing are important, too. Even so, we can still develop cavities, have accidents that break or chip at a tooth, or find ourselves with an infection. Teeth can also become sensitive to heat or cold.
Treating a toothache in the short term may be simply handled by over-the-counter treatments, but seeing a dentist may still be required to resolve the issue. Some toothaches are so severe as to require emergency intervention, thus treating the early signs of a mild toothache is important.
HOW TO OBSERVE #NationalToothacheDay
Toothaches are worrisome problems. Keep home remedies at hand, but also maintain routine dental care. Avoid a toothache at all costs. Use today to schedule a routine dental appointment or restock the dental floss. Take a moment to review good dental habits with your children and replace some of the sweets with healthy, crunchy veggies. Your teeth with thank you! Use #NationalToothacheDay to post on social media.
NATIONAL TOOTHACHE DAY HISTORY
National Day Calendar has gnawed over the research but still finds no origin story to go with this achingly interesting holiday. However, we do believe it's been celebrated longer than the dance move called the floss.
NATIONAL BAGEL AND LOX DAY DAY
National Bagel and Lox Day recognizes one of America's favorite bagel combinations on February 9th.
Bagels are one of the few breads that are boiled then baked. This creates a soft inside while keeping a crisp outside. Bagels originated in Poland in the early 17th century and now sell over a billion dollars worth each year in the United States.
Salmon is cured in a salt brine for several months to make lox. The technique was perfected in Scandinavia. Using the fatty belly of the salmon results in a buttery, silky texture that pairs well with cream cheese and bagels.
Over the years, many flavors and varieties of bagels have sprung up across the USA. Cream cheese is a favorite topping on bagels.
HOW TO OBSERVE #BagelAndLoxDay
Enjoy your bagels and lox in several ways. Try an everything bagel with lox and cream cheese topped with spinach. Stop by your favorite bagel shop and give them a shoutout while you're there. Invite friends to enjoy the day with you.
Try these recipes:
Use #NationalBagelLoxDay to post on social media.
NATIONAL BAGEL AND LOX DAY HISTORY
National Day Calendar® continues researching the origins of this tasty food holiday.
SAFER INTERNET DAY U.S.
Every year, Safer Internet Day brings tools, education, and awareness to create a safer internet for both kids and adults. From cyberbullying and identity theft to fraud and human trafficking, the internet can be a frightening place. Safer Internet Day and ConnectSafely.org aim to make the internet a better place.
The day brings organizations and individuals together with the common goal of reaching as many internet users as possible and provide them with the tools and resources to keep them safe. Every day, we all face the potential of becoming a victim of internet crimes. However, there are ways to protect ourselves and to teach our children how to correctly use the internet, too.
We use the internet to keep our families closer together. Schools use the internet to connect students to tools and resources. Thanks to the internet, libraries are able to share books all over the country creating a larger virtual library. Users bank, visit their physician, order medication, and shop all from the comfort of their mobile devices.
Each interaction is expected to be respectful and positive. However, sometimes, we're careless. Either we leave our device at risk or the communication leaves a negative reaction behind. As a world community, we can develop ways to make the internet a safer place to experience.
HOW TO OBSERVE #SaferInternetDay
Visit SaferInternetDayUS.org for information on making the internet safer and to join others in the effort. Use #SaferInternetDayUS to share on social media.
Educators and families, visit the National Day Calendar Classroom for projects and ideas to incorporate into your classroom.
SAFER INTERNET DAY HISTORY
In the United States, Safer Internet Day U.S. campaign began in 2013. It is celebrated around the world in 100 countries and is a growing collaboration between U.S. Department of Homeland Security and the European Commission as well as support from Ask.fm, Comcast NBC Universal, Facebook, Google, LifeLock, LinkedIn, Microsoft, Symantec, Trend Micro, Twitter, and Yahoo. For more information visit SaferInternetDayUS.org or ConnectSafely.org.
On Deck for February 10, 2021
National Days
International Days
February 9th Celebrated (and Not So Celebrated) History 2021
1825
When the 1825 election came to the Electoral College, no candidate held a majority vote. The House of Representatives elected John Quincy Adams who came in second in the popular vote after Andrew Jackson.
1870
President Ulysses S. Grant signs a joint resolution of Congress establishing the U.S. Weather Bureau under the Secretary of War.
1895
William George Morgan of Lockport, New York, invents a game called Mintonette based on the game of badminton. The name would later be changed to volleyball.
1971
National Baseball Hall of Fame in Cooperstown, New York elects Satchel Paige as the first Negro League player to be honored.
Recipe of the Day
Chocolate Pots de Creme
Prep: 10
Cook: 55
Total Prep: 65
Servings: 6
Ingredients:
8 ounces bitter sweet chocolate, coarsely chopped
1 3/4 cups heavy cream
1/2 cup whole milk
1/8 teaspoon salt
6 large egg yolks
2 1/2 tablespoons sugar
Instructions:
Preheat oven to 325°F.
Place chocolate in medium bowl.
In a small saucepan, bring cream, milk, and salt to simmer.
Remove from heat and pour over the chocolate. Whisk until smooth.
Whisk egg yolks in a separate medium bowl.
Add sugar.
Slowly add melted chocolate and whisk until blended.
Strain mixture into another container.
Divide custard into six ramekins.
Place ramekins in a roasting pan or baking dish.
Add hot water to the pan until it comes halfway up the sides of the cups.
Cover with foil and place carefully in the oven.
Bake the custards until they are set around the edges, but the centers slightly move when shaken, approximately 55 minutes.
February 9th Celebrated (and Not So Celebrated) History 2021
William Henry Harrison – 1773
In 1841, the 9th President of the United States became the oldest person to be elected to the highest office in the country. Thirty-two days later, he died of pneumonia, serving the shortest term in presidential history.
Amy Lowell – 1874
The award-winning American poet published several collections of poems including A Dome of Many-Coloured Glass and Sword Blades and Poppy Seed.
Carole King – 1942
Since the 1960s, the Grammy-winning singer-songwriter has produced a number of hit songs for artists such as Bobby Vee, The Drifters, and Aretha Franklin.
Mia Farrow – 1945
For nearly 6 decades, the award-winning American actress has wowed audiences on stage and screen with her performances.
Honorable Mentions
Gypsy Rose Lee – 1914
Judith Light – 1949
Terry McAuliffe – 1957
About National Day Calendar
National Day Calendar® is the authoritative source for fun, unusual and unique National Days! Since our humble beginnings on National Popcorn Day in 2013, we now track nearly 1,500 National Days, National Weeks and National Months. In addition, our research team continues to uncover the origins of existing National Days as well as discover new, exciting days for everyone to celebrate.

There's a celebration for everyone. While National Road Trip Day satisfies the itch to wander, many pet days let us share our love of animals. National 3-D Day and National Astronaut Day honor the advancement of technology, too. Every food day you can imagine (National Avocado Day, for example), will keep you celebrating, also!
Be sure to stay in the know by signing up for our e-mail updates. Also, follow us on Facebook, Twitter, and Instagram.
Our Ambassador Program is another way #CelebrateEveryDay®! Whether you become an ambassador or follow one of the savvy ambassadors, their fun videos and posts will keep you prepared for every holiday.