Looking Back
February 5, 2022 - NATIONAL SHOWER WITH A FRIEND DAY – WORLD NUTELLA DAY – ICE CREAM FOR BREAKFAST DAY – NATIONAL WEATHERPERSON'S DAY - NATIONAL PLAY OUTSIDE DAY
FEBRUARY 5, 2022 | NATIONAL SHOWER WITH A FRIEND DAY | WORLD NUTELLA DAY | ICE CREAM FOR BREAKFAST DAY | NATIONAL WEATHERPERSON'S DAY | NATIONAL PLAY OUTSIDE DAY
NATIONAL SHOWER WITH A FRIEND DAY
On National Shower with a Friend Day on February 5th is a tongue-in-cheek way of educating people about the benefits of filtered, chlorine-free water. Winter is the coldest and loneliest season of the year. With dwindling daylight… Read more…
WORLD NUTELLA DAY
World Nutella Day celebrates what happens when hazelnuts and chocolate collide. For example, millions of people celebrating on February 5th each year! It is often said that necessity is the mother of invention. Adding hazelnuts when cocoa is… Read more…

ICE CREAM FOR BREAKFAST DAY
The first Saturday in February is a big treat because it's Ice Cream for Breakfast Day! What better way to start the day than with a refreshingly sweet scoop of ice cream with your breakfast? Whether the sun rises over a frosty morning or a warm one, having a scoop or two of ice cream for… Read more…
NATIONAL WEATHERPERSON'S DAY
Always celebrated on February 5th, National Weatherperson's Day (also known as National Weatherman's Day) honors all individuals working in meteorology, weather forecasting, and broadcast meteorology. The day also recognizes volunteer storm spotters, observers, and… Read more…

NATIONAL PLAY OUTSIDE DAY
If it's the first Saturday of the month, it's National Play Outside Day. So, no matter what month it is, everyone put down their electronic devices and get outside! All year long, we are given numerous opportunities to get outside and… Read more…
On Deck for February 6, 2022
National Days
International Days
Next Week
Week Observances
In the Classroom
Recipe of the Day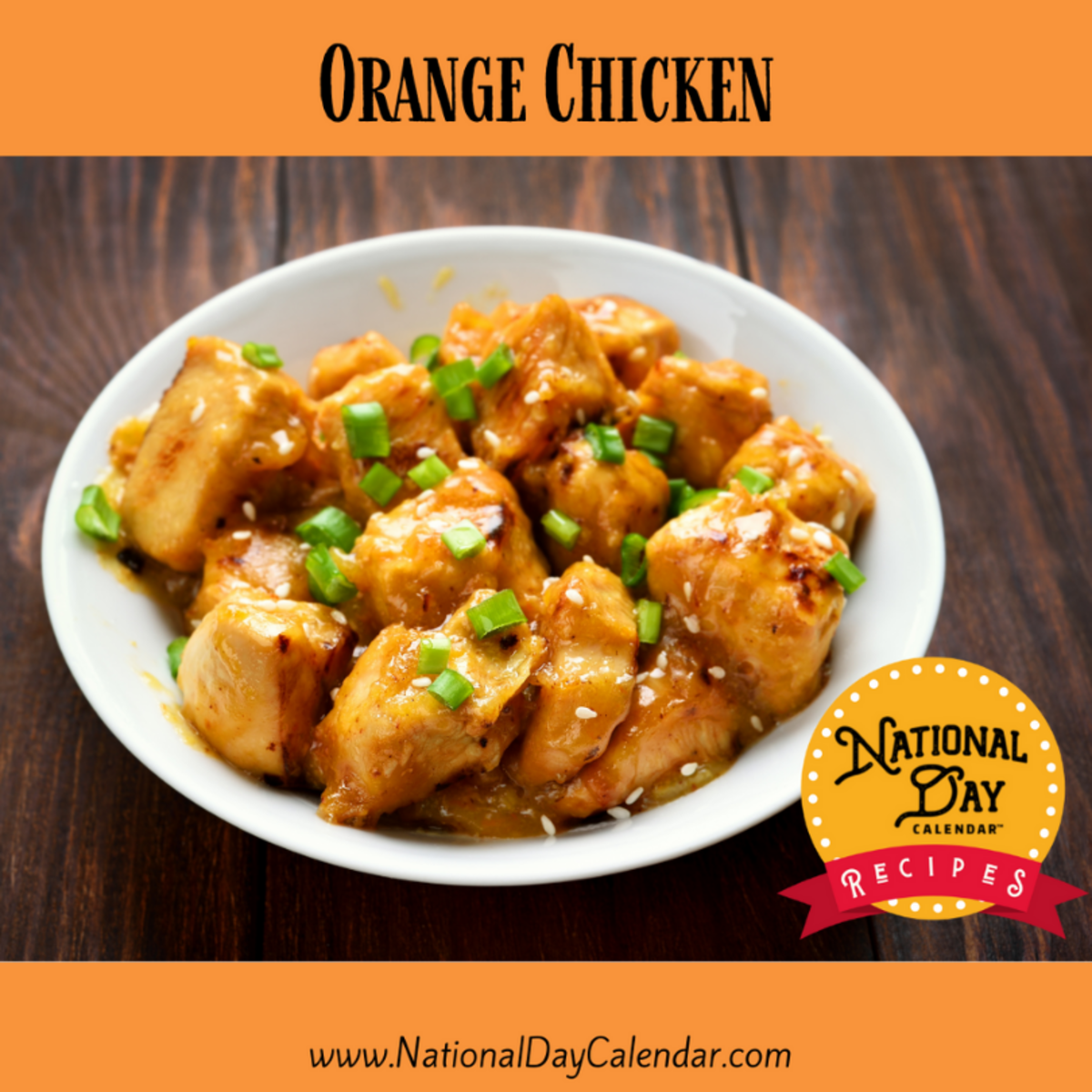 Orange Chicken
Prep time: 15 minutes
Cook time: 20 minutes
Total: 35 minutes
Serves: 4
Ingredients
2 pounds boneless chicken breasts, cut into bite-sized pieces
salt
Vegetable oil
Orange sauce
1 1/2 tablespoon corn starch
1/4 cup cold water
1/3 cup orange juice
3 tablespoons soy sauce
1/4 teaspoon red pepper flakes
2 tablespoons brown sugar
2 garlic cloves, minced
1 tablespoon rice wine vinegar
1 tablespoon orange zest
1 green onion, diced
1 tablespoon toasted sesame seeds
Instructions
Heat oven to 375°F. Pat chicken breasts dry with a paper towel and place them on a baking sheet. Drizzle with olive oil and season both sides with salt. Bake chicken for 20 minutes or until cooked.
In a small bowl, mix cornstarch with cold water. Over medium heat, bring the starch mixture to a simmer in a small saucepan. Add orange juice, soy sauce, brown sugar, garlic, rice wine vinegar. Simmer until thickened, about 3-4 minutes.
Mix in orange zest. Pour sauce over baked chicken and toss to coat. Serve over white rice. Garnish with onion and sesame seeds.
February 5th Celebrated (and Not So Celebrated) History
1919
D.W. Griffith, Charlie Chaplin, Mary Pickford, and Douglas Fairbanks launch United Artists. These four extraordinary artists during the silent film era gave the movie industry notice. They were going to do things differently.
1922
Reader's Digest publishes its first issue.
1929
The U.S. Patent Office issued the first U.S. patent for starting blocks to George T. Bresnahan of Iowa City, Iowa. The patent for a "Foot Support" under patent no. 1,701,026 was designed by the university coach, the invention was meant to provide a firm foothold on the running track and improve the athlete's "get-away" at the start of a race.
1944
Dick Purcell stars in the premiere of the first installment of Captain America. The film is the first Marvel character to appear in theaters.
February 5th Celebrated (and Not So Celebrated) History
John Jeffries – 1744
As one of the first weather observers in the United States, Jeffries documented his daily weather observations. He also documented the first weather balloon observation in 1784.
John Boyd Dunlop – 1837
The inventor is most noted for developing the first commercially successful pneumatic tire.
Hank Aaron – 1934
The right fielder played 34 seasons in Major League Baseball, primarily with the Milwaukee Braves/Brewers. He began his professional career in the Negro American League in 1951 before the Braves purchased his contract a few months later.
Nolan Bushnell – 1943
In 1972, Bushnell co-founded Atari, Inc. with Ted Dabney. The American businessman also founded Chuck E. Cheese in 1977.
Mary Louise Cleave – 1947
The NASA astronaut flew two missions including the 1989 STS-30 in which she deployed the Magellan Venus exploration spacecraft.
Honorable Mentions
John Carradine – 1906
William S. Burroughs – 14
Roger Staubach – 1942
Barbara Hershey – 1948
Laura Linney – 1964
About National Day Calendar
National Day Calendar® is the original and authoritative source for fun, unusual and unique National Days! Since our humble beginnings on National Popcorn Day in 2013, we have been tracking the National Days, National Weeks, National Months, and International Days. We became the first calendar of its kind to curate the days all in one place and tell their stories, too! Here at National Day Calendar, we are on a mission to Celebrate Every Day with you! And by you, we mean families, businesses, educators, and strangers we meet on the street. There's more than one day for everyone.
At National Day Calendar, we've found the National Days have a way of inspiring us. We're honored to tell the stories behind the days and provide you with informational ways to incorporate the National Days into your business, family, schools, and home!
Be sure to stay in the know by signing up for our e-mail updates. Also, follow us on Facebook, Twitter, and Instagram.
Our Ambassador Program is another way #CelebrateEveryDay®! Whether you become an ambassador or follow one of the savvy ambassadors, their fun videos and posts will keep you prepared for every holiday.
© National Day Calendar® 2013 – 2021