(Last Updated On: February 22, 2023)
FEBRUARY 25, 2023 | NATIONAL CHOCOLATE COVERED NUT DAY | NATIONAL CLAM CHOWDER DAY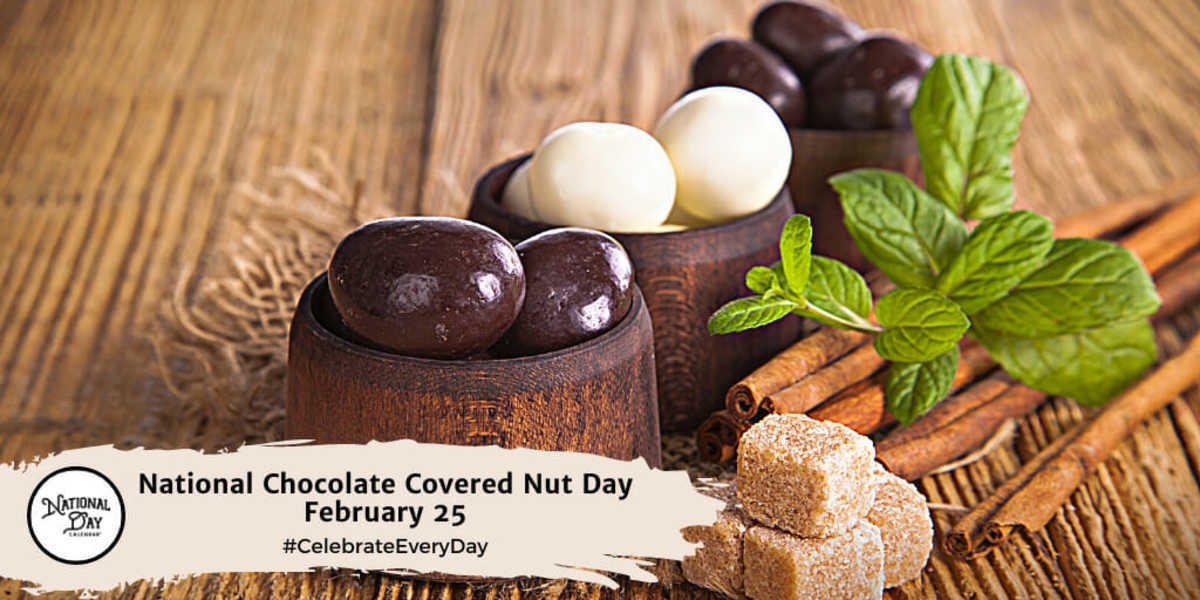 NATIONAL CHOCOLATE-COVERED NUT DAY
National Chocolate-Covered Nut Day on February 25th recognizes the delicious and crunchy snack drizzled, covered, dunked, or smothered in chocolate. The possibilities are endless with so many different types of nuts and chocolate combinations. Read more…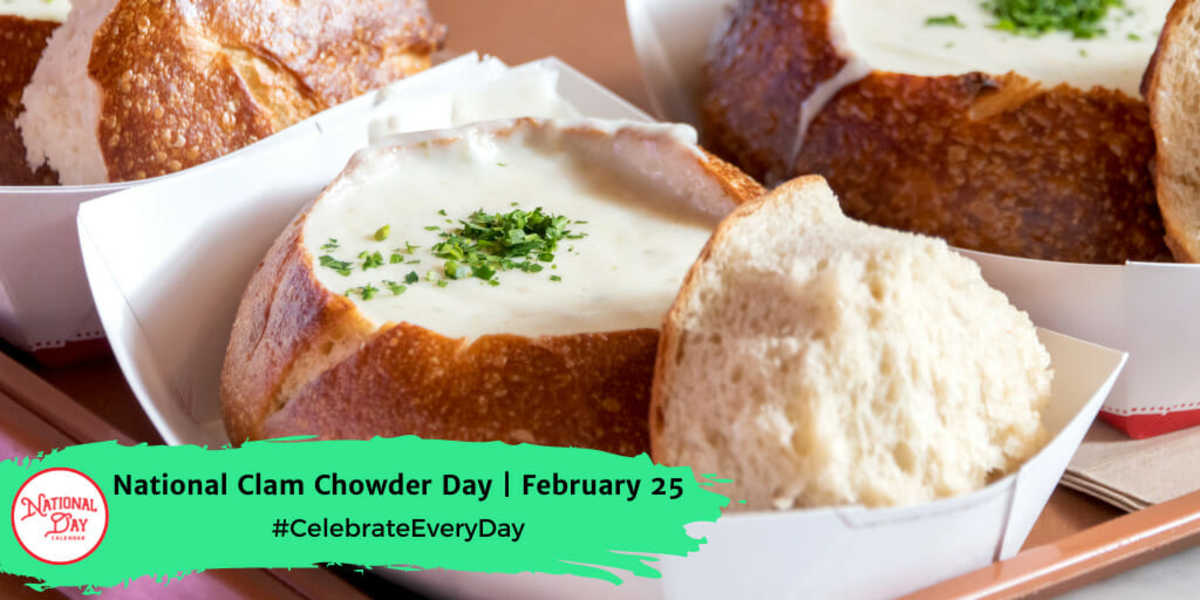 NATIONAL CLAM CHOWDER DAY
Each year on February 25th people across the nation have a bowl and spoon ready to be filled with clam chowder as they prepare to participate in National Clam Chowder Day. Read more…
On Deck for February 26, 2023
National Days
NATIONAL LETTER TO AN ELDER DAY
NATIONAL SET A GOOD EXAMPLE DAY
NATIONAL TELL A FAIRY TALE DAY
NATIONAL PISTACHIO DAY
Recipe of the Day
Chocolate Mousse
Prep: 30 minutes
Cook: 15 minutes
Total Prep: 45 minutes
Servings: 8
Ingredients:
2 cups chilled heavy cream, divided
4 large egg yolks
3 tablespoons sugar
Pinch of salt
1 teaspoon vanilla
7 oz bittersweet chocolate, chopped
Whipped cream
Instructions:
Custard:
In a 1 quart heavy saucepan, heat 3/4 cup of cream until hot.
In a metal bowl, whisk together yolks, sugar, and salt until well combined.
Add hot cream in a slow stream, whisking to combine.
Pour mixture into a saucepan and cook over medium-low heat, stirring continuously until a thermometer reads 160°F.
Strain custard through a mesh sieve into a bowl.
Add vanilla and stir.
Melt chocolate using one of several methods below:
A double boiler or a bowl over a pot of simmering water and stirring the chocolate continuously or;
A glass bowl in the microwave at 30-second increments until the chocolate softens.
Combine chocolate and mousse.
Whisk into the custard until smooth. Let cool.
Using an electric mixer and a medium bowl, beat the remaining 1-1/4 cups of cream to stiff peaks.
Fold in a fourth of the cream into the custard, then gently fold the remaining cream.
Spoon mousse into dishes and chill, covered for 6 hours.
Let stand at room temperature 20 minutes before serving.
Top with whipped cream.
February 25th Celebrated History
1836
William Austin Burt received patent no. 9,428 for the invention of the solar compass. While surveying iron-rich land that would soon become the Wisconsin Territory, the American innovator and surveyor continually had troubles with his magnetic compass. His invention of the solar compass solved the problem. Also known as an astronomical compass would become the standard of the surveying trade.
1857
Among the rules and regulations adopted by the Convention of Base Ball Clubs, it is agreed that a game consists of nine innings to each team. A tie score continues the game, granting an equal number of innings to each team until one earns a majority of runs, thus concluding the game. Before the 1857 rules, play continued until 21 "aces" or runs were attained.
1870
Hiram Rhodes Revels is sworn into the United States Senate representing Mississippi. He is the first African American to serve in the U.S. Congress.
1930
Do you have that on file? Thanks to George Lewis McCarthy's invention the Checkograph, patent no. 1,748,489, banks made photographic records of checks before returning them to their customers. Kodak would later purchase McCarthy's patent and apply the product to other archival systems such as libraries and newspapers, beginning with the New York Times. And so began the era of microfilm.
1940
The New York Rangers toppled the Montreal Canadiens at home in Madison Square Gardens during the first televised hockey game. NBC won the honors to air the 6-2 win on the ice.
1951
Buenos Aires hosted the opening ceremonies of the first Pan American Games.
1964
In a technical knockout, Cassius Clay claims the world heavyweight boxing title from Sonny Liston in the seventh round.
February 25th Celebrated Birthdays
Pierre Auguste Renoir – 1841
The French Impressionist painter was known for his real-life scenes in Paris. He also worked along with other accomplished Impressionist painters such as Claude Monet.
Ida Lewis – 1842
Lighthouses hold a fascinating charm for many people. They collect them, plan vacations so they can tour as many of them as possible. A lighthouse carries a wealth of history and symbolism. From the day it was erected, it stands as a torch lighting the way and protecting ships from the shores. Idawalley Lewis was the lighthouse keeper at Lime Rock Light in Newport, Rhode Island, for 32 years, and before that, she lived there with her parents who were the lighthouse keepers before her. Throughout her lifetime, even as a child, she kept an alert eye on the sea and those in danger. As a result, Ida rescued 36 people from the ocean's depths and her rescues began at the young age of 12 years old.
Ida Noddack – 1896
In 1925, the German chemist and physicist along with her husband Walter Noddack and Otto Berg discovered rhenium, atomic symbol Re. In 1925, the German chemist and physicist along with her husband Walter Noddack and Otto Berg discovered rhenium, the atomic symbol Re. Since the silvery-white metal withstands corrosion, it's used industrially for electrical contact material and filaments for a variety of uses such as flash photography, ovens, and medical imaging.
Anthony Burgess – 1917
The prolific British author and playwright is best known for his dystopian satire A Clockwork Orange. However, Anthony Burgess also dabbled in fantasy, historical fiction, comedy, short stories, and more. Some of the titles include The Pianoplayers, Any Old Iron, Abba Abba, and Nothing Like the Sun: A story of Shakespeare's Love Life.
Bob Schieffer – 1937
With a broadcast career spanning more than 6 decades, Schieffer has reported under 13 presidents. His Washington D.C. experience made him an ideal choice as moderator for several presidential debates. He's also served as an anchor for the long-running CBS broadcast Face the Nation.
George Harrison – 1943
The quiet Beatle was the lead guitarist with the Fab Five. In 1964, they successfully invaded the United States and in 1970, they parted ways. Harrison, like the other Beatles, pursued a solo career. During his career as a Beatle, Harrison wrote "Here Come's the Sun," "While My Guitar Gently Weeps," and "Eleanor Rigby."
About National Day Calendar
National Day Calendar is the original and authoritative source for fun, unusual and unique National Days! Since our humble beginnings on National Popcorn Day in 2013, we have been tracking the National Days, National Weeks, National Months, and International Days. We became the first calendar of its kind to curate the days all in one place and tell their stories, too! Here at National Day Calendar, we are on a mission to Celebrate Every Day with you! And by you, we mean families, businesses, educators, and strangers we meet on the street. There's more than one day for everyone.
At National Day Calendar, we discovered the National Days have a way of inspiring us. We're honored to tell the stories behind the days and provide you with informational ways to incorporate the National Days into your business, family, schools, and home!