Looking Back
February 23, 2022 - NATIONAL BANANA BREAD DAY – NATIONAL TILE DAY – NATIONAL DOG BISCUIT DAY
FEBRUARY 23, 2022 | NATIONAL BANANA BREAD DAY | NATIONAL TILE DAY | NATIONAL DOG BISCUIT DAY
NATIONAL BANANA BREAD DAY
February 23rd annually recognizes a well-known food holiday, National Banana Bread Day. Bakers know that to make sweet and delicious banana bread, they need to use fully ripe, mashed bananas. Bakers know that to make sweet and delicious banana bread, they need to use… Read more…
NATIONAL TILE DAY
On February 23rd, National Tile Day recognizes a timeless element of architecture and design. Around the world, tile plays a variety of roles. From the modest to the sublime, tile proves to be versatile and attractive. Historically, only the wealthy could afford tile… Read more…
NATIONAL DOG BISCUIT DAY
All dog owners, remember that February 23rd is National Dog Biscuit Day! This day is also observed around the world as International Dog Biscuit Appreciation Day. Dog biscuits come in a variety of sizes, shapes, and flavors. They serve to… Read more…
On Deck for February 24, 2022
National Days
International Days
Recipe of the Day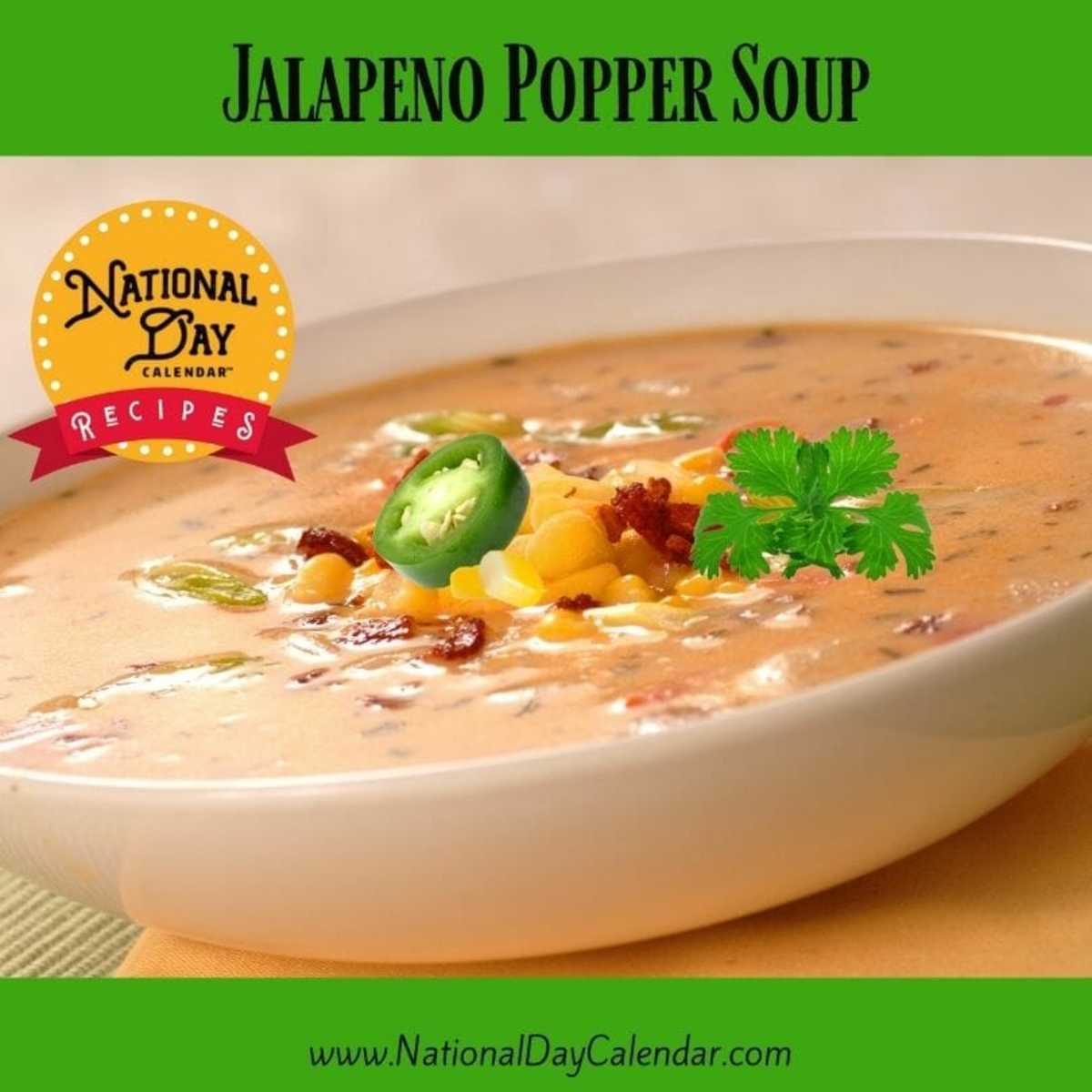 Jalapeno Popper Soup
Prep time: 10 minutes
Cook time: 25 minutes
Total Time: 35 minutes
Serves: 4
Ingredients
1 tablespoon butter
1/2 onion, diced
3-4 jalapenos, diced
2 cloves garlic, minced
4 slices bacon, cut into bite-sized pieces
14 ounce can diced tomatoes
3 cups chicken or vegetable broth
1 cup frozen corn
1 teaspoon dried cilantro
1/4 teaspoon smoked paprika
1/2 teaspoon chili powder
1/4 teaspoon cumin
4 ounces cream cheese
1/2 cup cream or half & half
1 1/4 cup cheddar cheese (reserve 1/4 cup)
Instructions
In a stockpot over medium-high heat, melt butter and add jalapeno and onions. Cook until onions are translucent and tender, about 3-4 minutes. Add garlic. Cook until fragrant, about 1 minute. Stir in bacon and cook through. Add tomatoes, chicken stock, cilantro, paprika, chili powder, and cumin. Bring to a simmer and reduce heat to medium. Add cream cheese and stir until melted and well incorporated. Slowly add cream and 1 cup cheddar cheese. Stir until cheese is melted.
Season to taste with salt and pepper. Ladle into bowls and garnish with remaining cheddar cheese and sweet corn, bacon crumbles, fresh cilantro, or chives.
February 23rd Celebrated (and Not So Celebrated) History
1905
In the United States, service organizations have been providing communities with volunteer support for generations. These are the people who organize pancake breakfasts to raise money for those in need. They rise early in the morning or start days ahead to make sure holiday parades go off without a hitch. Each year, their planning and fundraising mean children in need get the items they need when school starts. The very first organization of its kind started when four businessmen met on this day in 1905. Paul P. Harris, Gustavus Loehr, Silvester Schiele, and Hiram E. Shorey met for lunch and established the Rotary Club in downtown Chicago, Illinois. Initially, their goal was to exchange ideas, but it grew into something larger than themselves. Soon, they began to serve and improve their communities.
1941
It may have been a "Great Scott!" moment when chemists Dr. Glenn Seaborg, Arthur C. Wahl, and Joseph W. Kennedy first isolated and produced plutonium-94. However, Seaborg also discovered several other elements, including americium, berkelium, and californium. We're sure Dr. Emmett Brown would have appreciated an element named deloreanium.
1954
Every summer during the 1940s and into the 1950s, parents worried about their children contracting a disease that caused muscle pain and weakness, extreme fatigue, headaches, paralysis, breathing problems, and even death. Polio peaked in the summertime and those who survived the worst of the disease required treatment in iron lungs or lived with life-long disabilities. But then two vaccines came along. Dr. Jonas Salk developed the first vaccine, and inoculation using inactive poliovirus. The second developed by Albert Sabin was an oral vaccine and used a weakened version of the virus.
On this day in 1954, the first group of children received Salk's vaccine in Pittsburgh, Pennsylvania beginning the downward decline of the virus and ultimate elimination of it in the United States.
2000
What do E.T., Supernatural, "Billie Jean," "Maria Maria" and the years 1983 and 2000 have in common? They all belong to two phenomenal music artists who poured all their immense ability into collaborating on tremendously ambitious projects and reaped the big rewards. In 1983, Michael Jackson brought home a record 8 Grammy Awards, most of them from his album, Thriller. On this day in 2000, Carlos Santana repeated the feat by bringing home 8 Grammys from his album Supernatural. Santana and Rob Thomas collaborated on the song Smooth which earned them both Record of the Year and Best Pop Collaboration with Vocals. Thomas was awarded a third Grammy for Smooth – Song of the Year.
February 23rd Celebrated (and Not So Celebrated) Birthdays
William Horlick – 1846
Don't blame William Horlick if you ever get into a mess while traveling in the United Kingdom and someone says to you, "You've made a mighty Horlicks of it, haven't you?" It doesn't have anything to do with Mr. Horlick, not really. Though he did develop a tasty malted powder and give it his name. The brand we're familiar within the United States is called Ovaltine, but there are others. But again, Mr. Horlicks didn't make a Horlicks of anything, so don't blame him.
Cesar Ritz – 1850
His hotels and restaurants inspired songwriters and chefs to grand creations. Irving Berlin crooned about top hats and Gary Cooper while his famed chef Auguste Escoffier wowed diners around the world. Ritz's most famous hotels were located in Paris and London.
W.E.B. Du Bois – 1868
The first African American to earn a Ph.D. from Harvard University became an advocate for equal rights and co-founded the National Association for the Advancement of Colored People.
Victor Fleming – 1883
Tomorrow may be another day, but February 23rd is Victor Fleming's birthday. The Academy Award-winning director is best known for the musicals The Wizard of Oz and Gone with the Wind.
Peter Fonda – 1940
The Easy Rider graced the silver screen for nearly six decades in films like Ulee's Gold, The Last Full Measure, and Cannon Ball Run. He's best known for the film Easy Rider.
Notable Mentions
Elston Howard – 1929
Dakota Fanning – 1994
About National Day Calendar
National Day Calendar® is the original and authoritative source for fun, unusual and unique National Days! Since our humble beginnings on National Popcorn Day in 2013, we have been tracking the National Days, National Weeks, National Months, and International Days. We became the first calendar of its kind to curate the days all in one place and tell their stories, too! Here at National Day Calendar, we are on a mission to Celebrate Every Day with you! And by you, we mean families, businesses, educators, and strangers we meet on the street. There's more than one day for everyone.
At National Day Calendar, we've found the National Days have a way of inspiring us. We're honored to tell the stories behind the days and provide you with informational ways to incorporate the National Days into your business, family, schools, and home!
Be sure to stay in the know by signing up for our e-mail updates. Also, follow us on Facebook, Twitter, and Instagram.
Our Ambassador Program is another way #CelebrateEveryDay®! Whether you become an ambassador or follow one of the savvy ambassadors, their fun videos and posts will keep you prepared for every holiday.
© National Day Calendar® 2013 – 2021