(Last Updated On: February 9, 2023)
FEBRUARY 10, 2023 | NATIONAL UMBRELLA DAY | NATIONAL CREAM CHEESE BROWNIE DAY | NATIONAL HOME WARRANTY DAY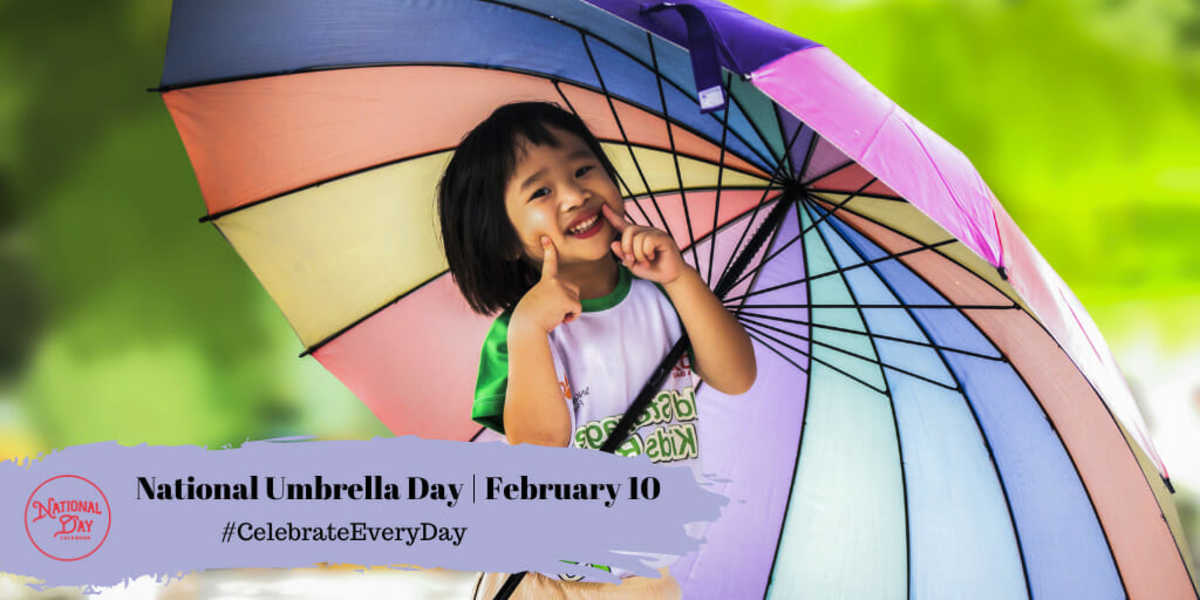 NATIONAL UMBRELLA DAY
National Umbrella Day casts a little shade on February 10th. The day honors one of the world's most useful inventions, the umbrella! Read more…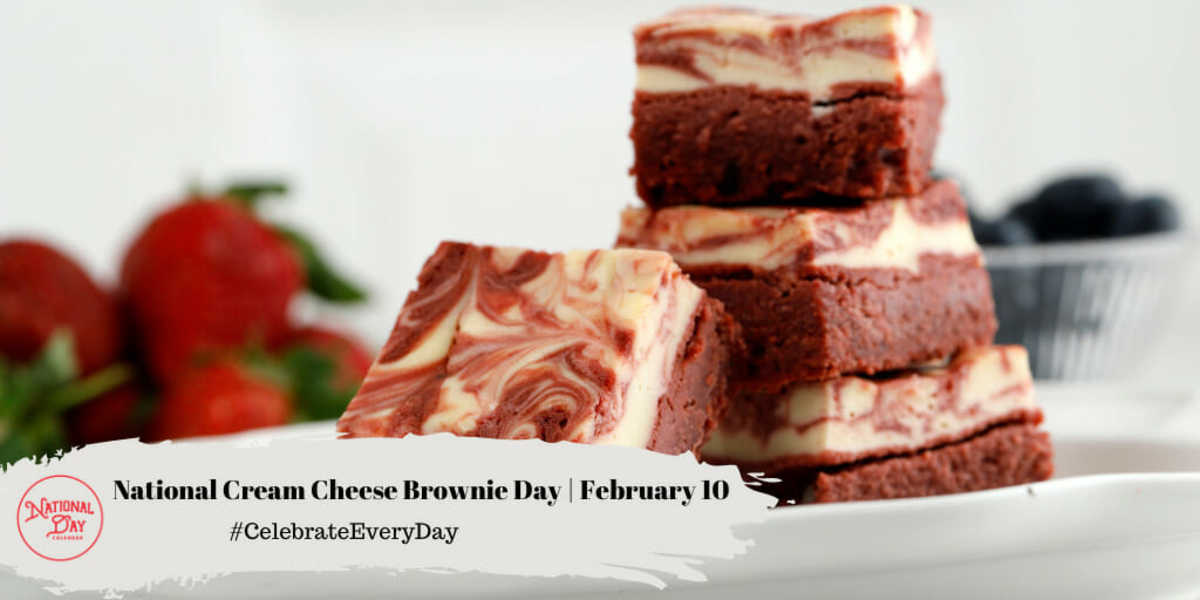 NATIONAL CREAM CHEESE BROWNIE DAY
On February 10, National Cream Cheese Brownie Day shines a spotlight on an irresistible dessert bar. Combining chocolate and cream cheese has long been a favorite in the bakery. When it's added to a brownie recipe the results are spectacular. Read more…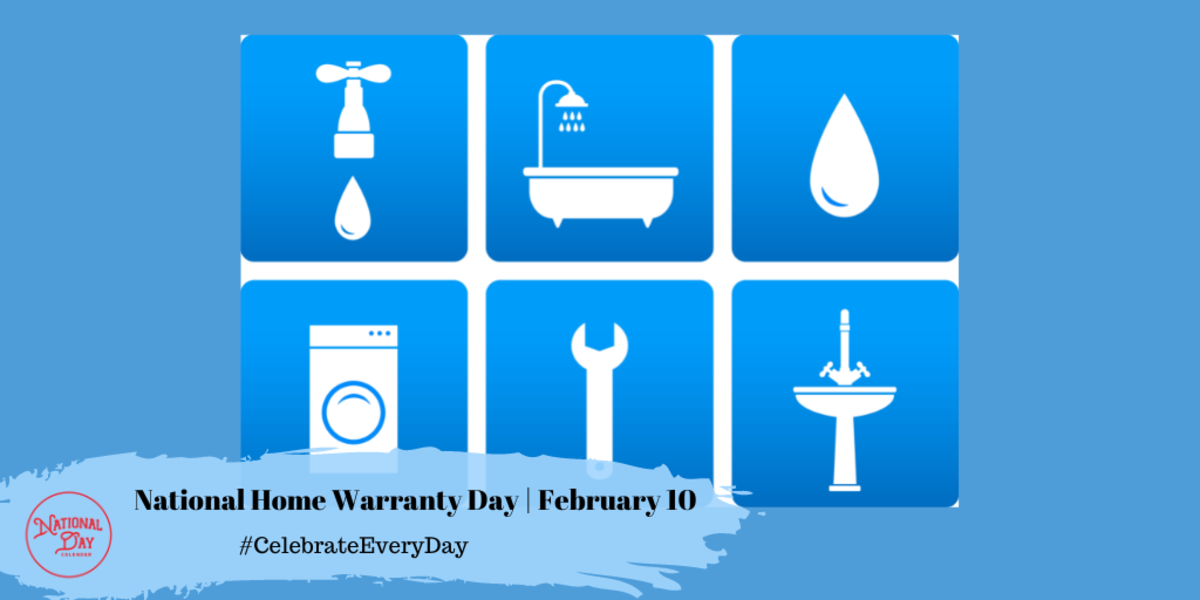 NATIONAL HOME WARRANTY DAY
National Home Warranty Day on February 10th reminds us to protect the vital appliances and components of our homes. Read more…
On Deck for February 11, 2023
National Days
International Snowmobile Ride Day
National Don't Cry Over Spilled Milk Day
National Inventors' Day
National Make a Friend Day
National Peppermint Patty Day
National Shut-In Visitation Day
National White Shirt Day
Global Movie Day – Second Saturday in February
Recipe of the Day
Fresh Black Bean Dip
Prep: 20 minutes
Cook: None
Total Prep: 20 minutes
Servings:
Ingredients:
1 green bell pepper, chopped
1 red or yellow bell pepper, chopped
1 can of corn, drained
1 can of black beans, drained and rinsed
1 jalapeno, finely chopped (removing seeds is optional)
4 Roma tomatoes, diced
½ cup of red onion, finely chopped
3 tablespoons of cilantro
½ garlic clove, finely chopped
½ teaspoon of cayenne pepper (1 teaspoon for additional heat)
Salt and pepper to taste
1 cup of light zesty Italian dressing
Instructions:
In a small mixing bowl, add dressing, cayenne pepper and garlic together and mix well. Set aside.
In a large mixing bowl, add the peppers, onion, jalapeno, corn tomatoes and black beans. stir gently until combined.
Drizzle Italian dressing mixture over ingredients in the large mixing bowl. Stir until all ingredients is thoroughly combined.
Chill for 1 hour to allow ingredients to absorb flavor.
Serve with tortilla chips.
Recipe credit: Amy, National Day Calendar
February 10th Celebrated History
1840
Queen Victoria if England marries her German cousin, Prince Albert.
1897
New York Times owner Adolph S. Ochs moves the phrase "All The News That's Fit To Print" from the editorial page to the front page making it the paper's slogan. The phrase first appeared in the paper on October 25, 1896.
1933
In an attempt to save its floundering business, the Postal Telegraph-Cable Company delivered what is considered the first singing telegram.
1942
President Franklin D. Roosevelt posthumously awarded the first Medal of Honor of World War II to Second Lt. Alexander Ramsey Nininger Jr. The medal was presented to his father, Alexander R. Nininger by Major General Walter H. Frank during a ceremony at Third Air Force Headquarters in Tampa, Florida.
1961
The Niagara Falls hydroelectric project opens.
1996
IBM's Deep Blue computer defeats World Champion Garry Kasparov at chess in 34 moves in Philadelphia, PA. It is the first time a computer ever beat a human at a formal game of chess.
February 10th Celebrated History
Joseph Charles Price – 1854
In 1888, Joseph C. Price founded Livingstone College in Salisbury, North Carolina, and served as the school's first president.
Edith Clarke – 1883
As the world's first woman to be employed professionally as an engineer, Clarke's accomplishments added up. She developed a graph calculator using a mathematical technique to calculate the long distances of transmission lines. Clarke was the first woman to submit a paper to the American Institute of Electrical Engineers (AIEE). While she spent much of her career with General Electric, Clarke would also become a champion of women's education.
Jimmy Durante – 1893
The American comedian, singer, actor, and performer is probably best known for his performance in the comedy It's a Mad, Mad, Mad, Mad World. His signature style left an indelible mark on cinema and comedy.
James West – 1931
The prolific American inventor is best known for his invention of the foil electret microphone.
About National Day Calendar
National Day Calendar is the original and authoritative source for fun, unusual and unique National Days! Since our humble beginnings on National Popcorn Day in 2013, we have been tracking the National Days, National Weeks, National Months, and International Days. We became the first calendar of its kind to curate the days all in one place and tell their stories, too! Here at National Day Calendar, we are on a mission to Celebrate Every Day with you! And by you, we mean families, businesses, educators, and strangers we meet on the street. There's more than one day for everyone.
At National Day Calendar, we discovered the National Days have a way of inspiring us. We're honored to tell the stories behind the days and provide you with informational ways to incorporate the National Days into your business, family, schools, and home!