(Last Updated On: December 21, 2022)
DECEMBER 28, 2022 | HOLY INNOCENTS DAY | NATIONAL CHOCOLATE CANDY DAY | NATIONAL SHORT FILM DAY | PLEDGE OF ALLEGIANCE DAY | NATIONAL CARD PLAYING DAY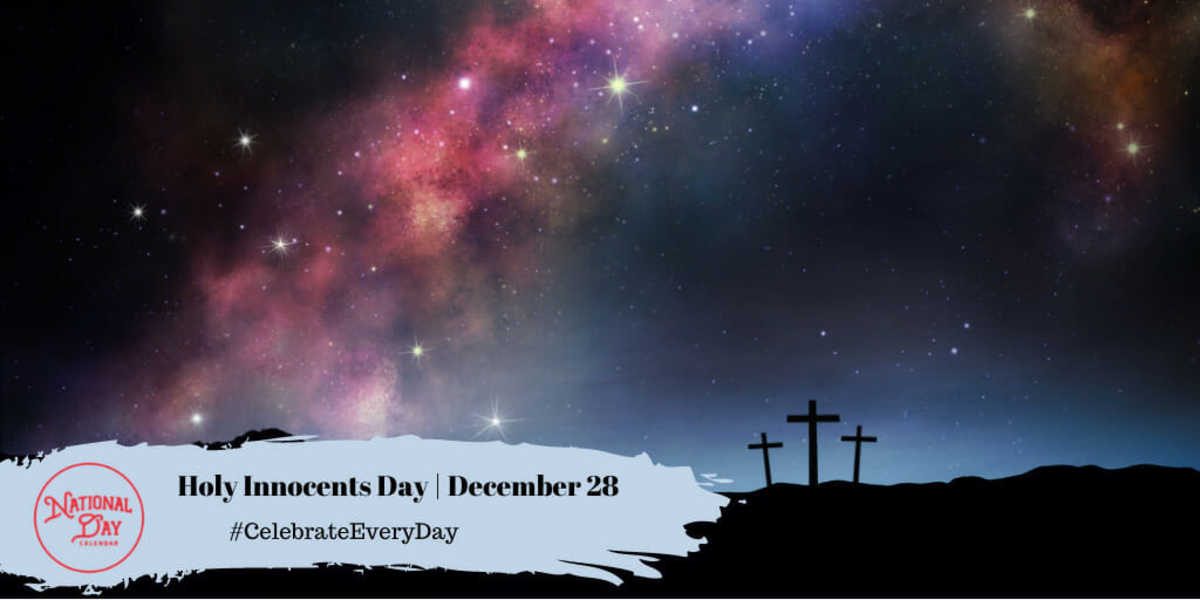 HOLY INNOCENTS DAY
Holy Innocents Day, observed annually on December 28th. The day commemorates the execution of the innocent, male children in Bethlehem as told in Matthew 2:16. Read more…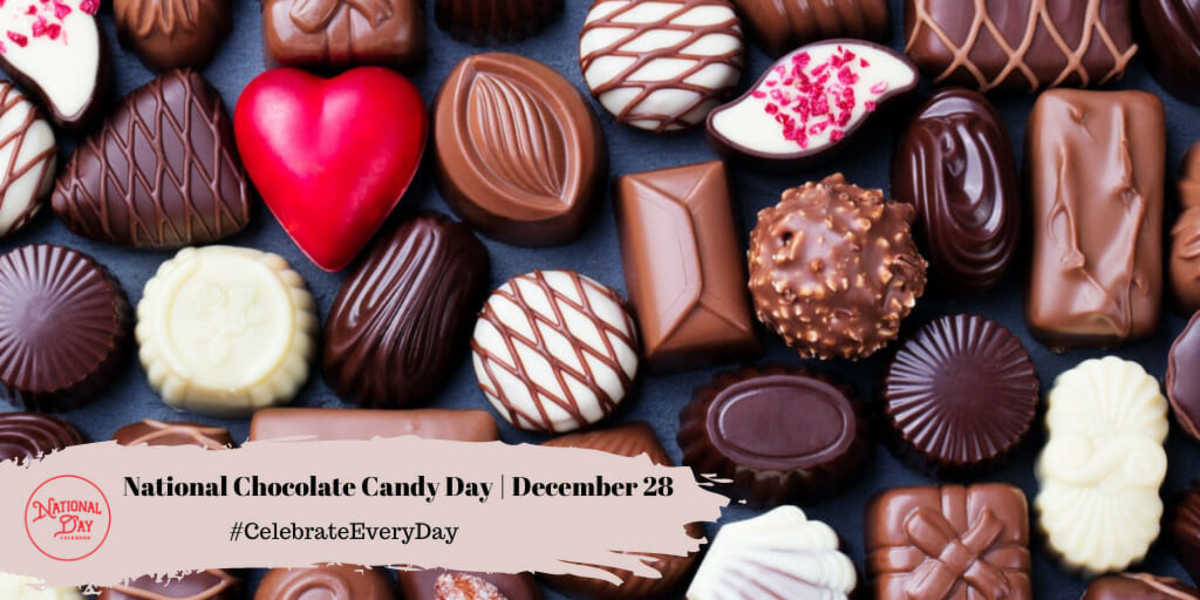 NATIONAL CHOCOLATE CANDY DAY
National Chocolate Candy Day offers an opportunity for us to polish off the last of the specialty candies we received as gifts. Celebrated on December 28th, the day points us to the truffles and chocolate oranges tucked into stockings. Check those boxes of candy that may or may not have guides to help us choose cream-filled or ganache. Read more…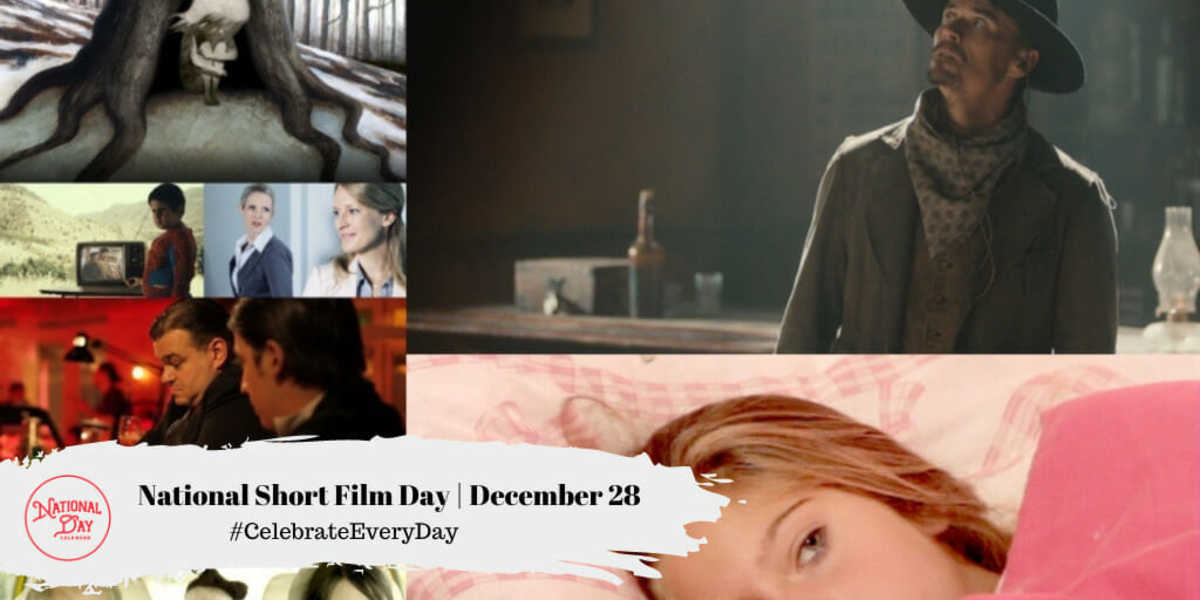 NATIONAL SHORT FILM DAY
On December 28th, National Short Film Day commemorates the day the motion picture industry was born, when the Lumière brothers projected a program of short films to a public audience for the first time. Read more…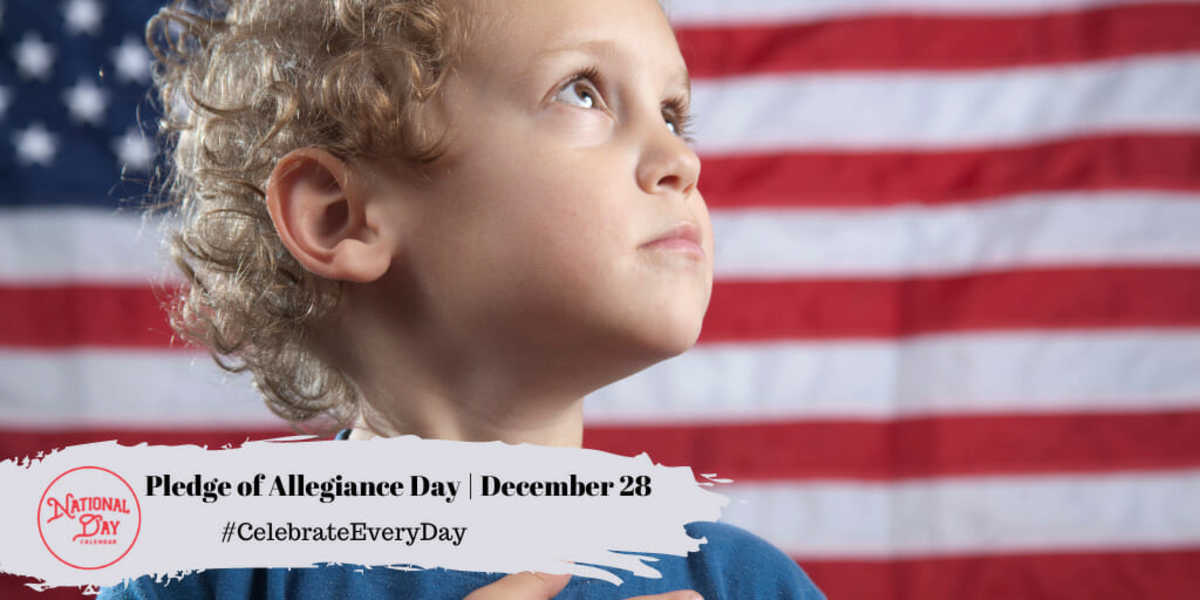 PLEDGE OF ALLEGIANCE DAY
Pledge of Allegiance Day on December 28th commemorates the date Congress adopted the "The Pledge" into the United States Flag Code.  Read more…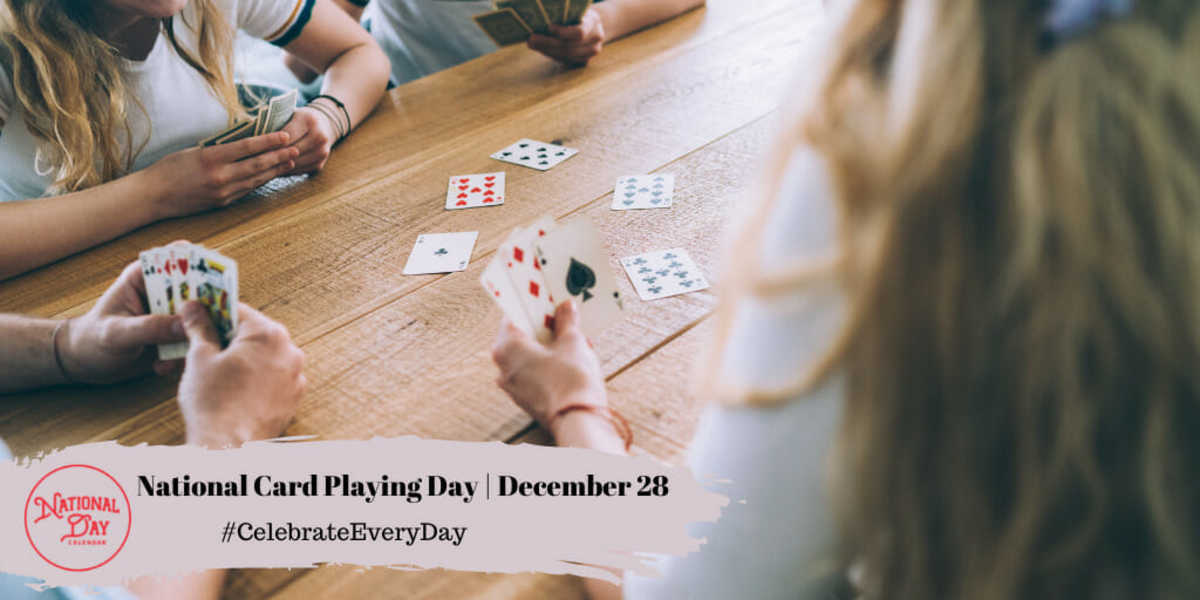 NATIONAL CARD PLAYING DAY
National Card Playing Day on December 28th encourages us to invite our friends to deal out a hand and play a game or two. Read more…
On Deck for December 29, 2022
National Days
NATIONAL PEPPER POT DAY
TICK TOCK DAY
Recipe of the Day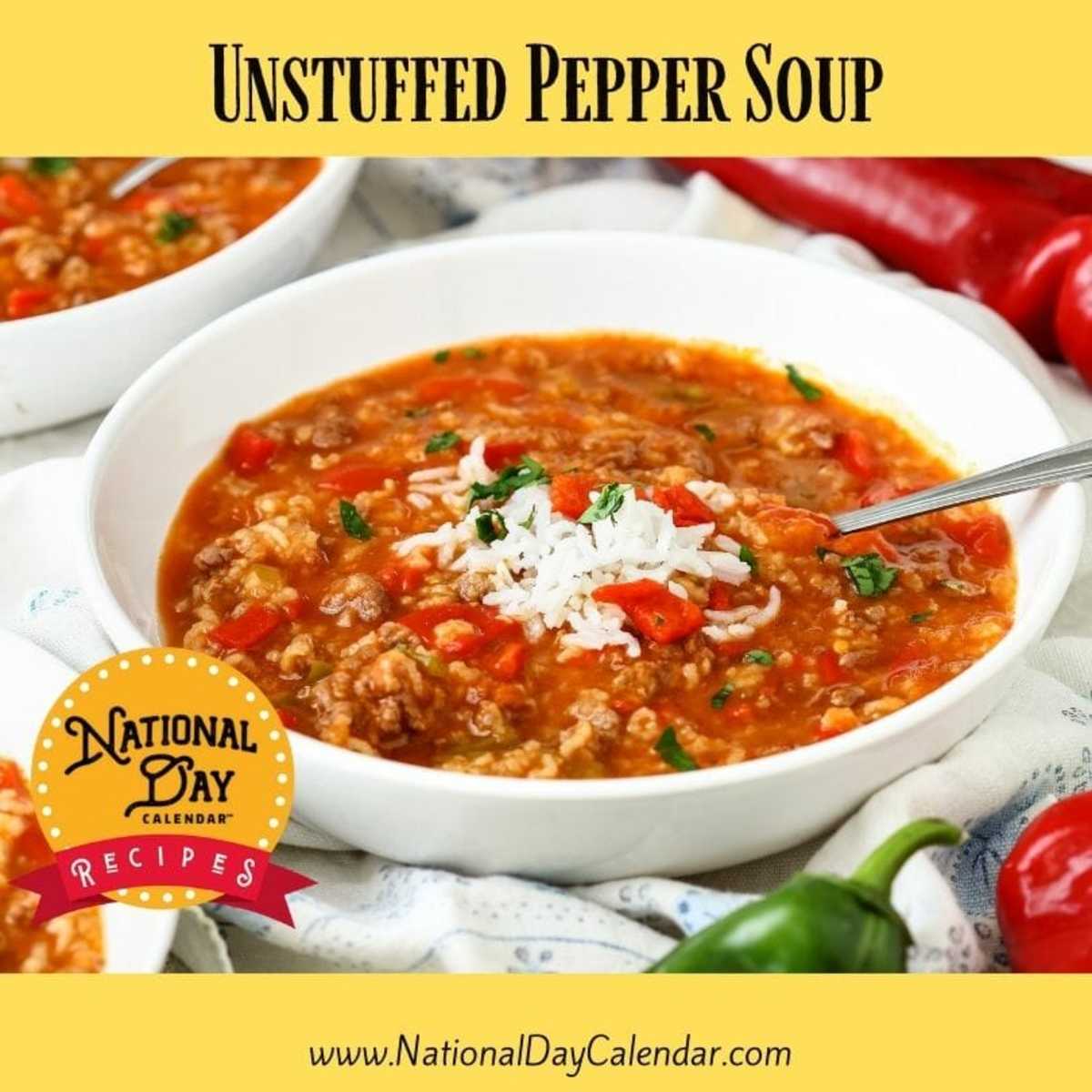 Unstuffed Pepper Soup
Prep time: 10 minutes
Cook time: 30 minutes
Total: 40 minutes
Serves: 8
Ingredients
1 teaspoon olive oil
2 cups green peppers, diced
1 onion, diced
1 clove garlic, minced
2 pounds ground beef
2 tablespoons fresh cilantro, chopped
1 teaspoon red pepper flakes
6 cups beef broth
1 28-ounce can tomato sauce
1 28-ounce can diced tomatoes, undrained
2 teaspoons salt
1 teaspoon pepper
2 cups cooked white rice
1 cup shredded mozzarella cheese
cilantro for garnish
Instructions
In a large stockpot, warm olive oil over medium-high heat. Add green peppers and onion. Sautee until tender. Add garlic and cook until fragrant. Crumble ground beef into the pot and cook until browned. Stir in cilantro and red pepper flakes. Add beef broth, tomato sauce, tomatoes. Season with salt and pepper. Bring to a simmer. Add white rice. Serve topped with mozzarella cheese and cilantro.
December 28th Celebrated History
1869
The U.S. Patent Office issued patent No. 98,304 to William Finley Semple of Mount Vernon, Ohio for chewing gum. However, the first person to commercially produce chewing gum was John B. Curtis of Maine.
1886
The U.S. Patent Office issued patent No. 355,139 to Josephine Garis Cochran for her invention of the "dish washing" machine. She is the first inventor to successfully produce a commercially marketable dishwasher. The inventor soon established the Cochran's Crescent Washing Machine Company. In later years, the company would become part of KitchenAid.
1895
Pioneering filmmakers, brothers Auguste and Louis Lumière presented 10 short films in their first public performance.
1981
Elizabeth Jordan Carr was born at Norfolk General Hospital. She was the first American baby conceived using in vitro fertilization.
December 28th Celebrated Birthdays 
Woodrow Wilson – 1856
The 28th President of the United States saw the country through World War I and established his Fourteen Points to guide the nation into peace. His efforts following the war earned Wilson the 1919 Nobel Prize for Peace.
Stan Lee – 1922
The comic-book writer and editor became the executive vice president and publisher of Marvel Comics in the 1970s. Throughout Lee's career, he created some of the comic-book world's most iconic characters including Spiderman, Hulk, Doctor Strange and Black Panther.
Maggie Smith – 1934
The award-winning actress of stage and film began her career in 1956. Since then, Smith has developed a considerable portfolio of work. The English actress is most recently recognized for her roles in the Harry Potter films and the Downton Abbey television series.
Kary B. Mullis – 1944
The Nobel Prize-winning chemist is recognized for inventing the polymerase chain reaction (PCR) technique that is used to replicate and analyze DNA rapidly.
Linus Torvalds – 1969
In 1991, the programmer developed the operating system known as Linux.
John Legend – 1978
The award-winning singer-songwriter rose to stardom with his 2004 debut album, Get Lifted.
About National Day Calendar
National Day Calendar is the original and authoritative source for fun, unusual and unique National Days! Since our humble beginnings on National Popcorn Day in 2013, we have been tracking the National Days, National Weeks, National Months, and International Days. We became the first calendar of its kind to curate the days all in one place and tell their stories, too! Here at National Day Calendar, we are on a mission to Celebrate Every Day with you! And by you, we mean families, businesses, educators, and strangers we meet on the street. There's more than one day for everyone.
At National Day Calendar, we discovered the National Days have a way of inspiring us. We're honored to tell the stories behind the days and provide you with informational ways to incorporate the National Days into your business, family, schools, and home!