(Last Updated On: December 20, 2022)
DECEMBER 25, 2022 | CHRISTMAS DAY | NATIONAL PUMPKIN PIE DAY | A'PHABET DAY OR NO "L" DAY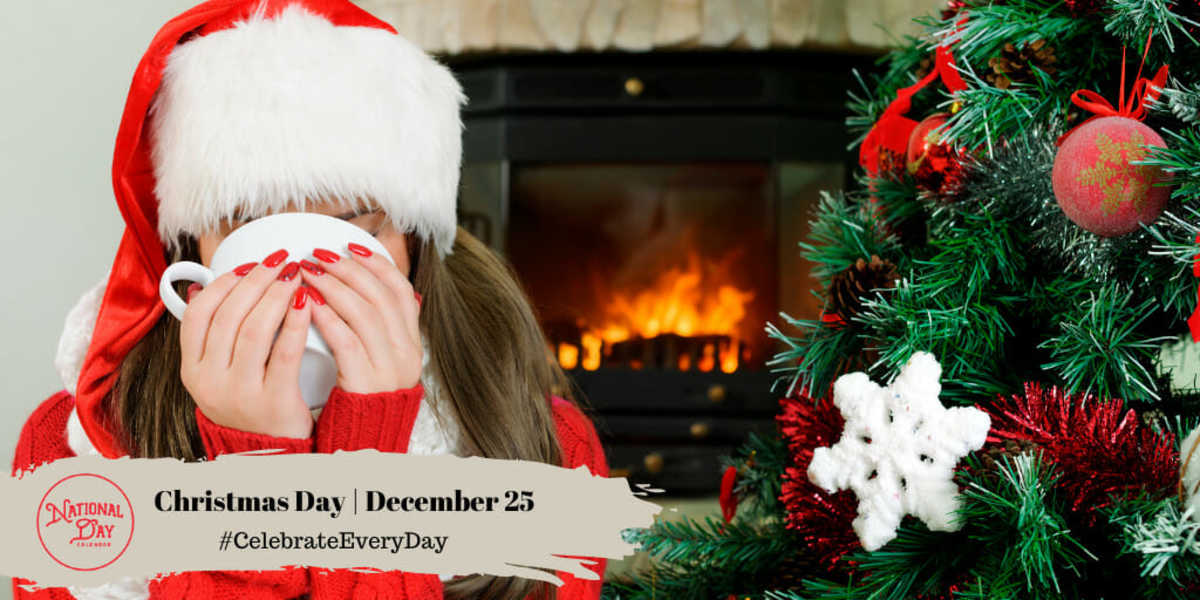 CHRISTMAS DAY
Every year on December 25th, over 2 billion people around the world celebrate Christmas Day. Traditionally, Christmas is a celebration of the birth of Jesus Christ. Nonreligious people and those of different faiths celebrate the day as a cultural event. Read more…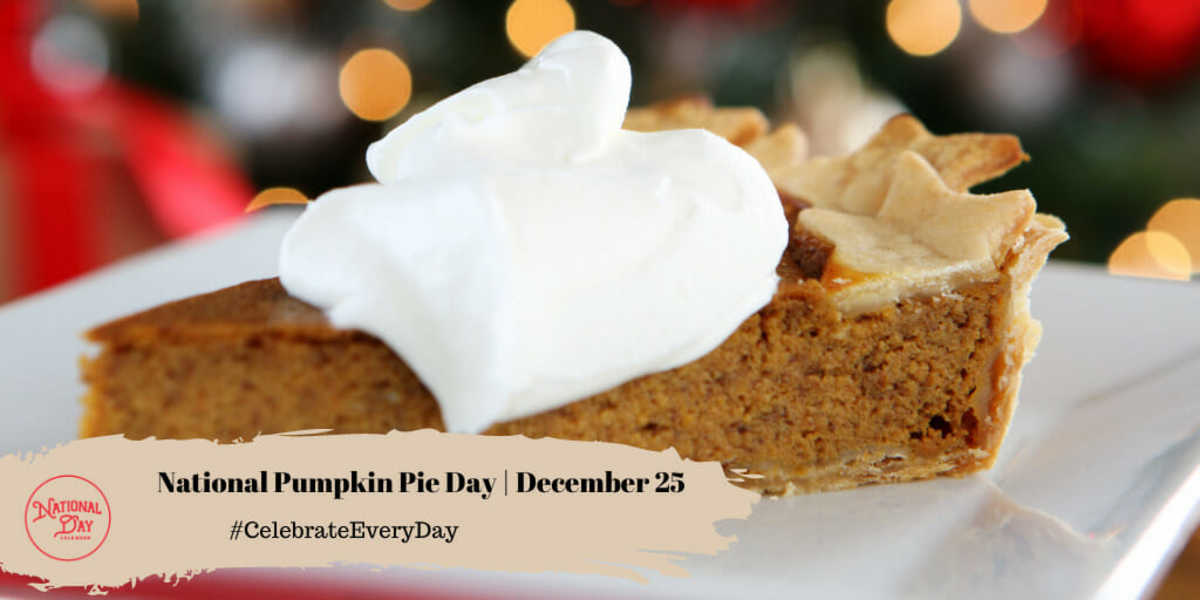 NATIONAL PUMPKIN PIE DAY
On December 25th, National Pumpkin Pie Day dishes up the slice many Americans are looking for around the dinner table. As they enjoy time with family or friends, they also take the opportunity to honor the ever-humble and often favored pumpkin pie. Read more…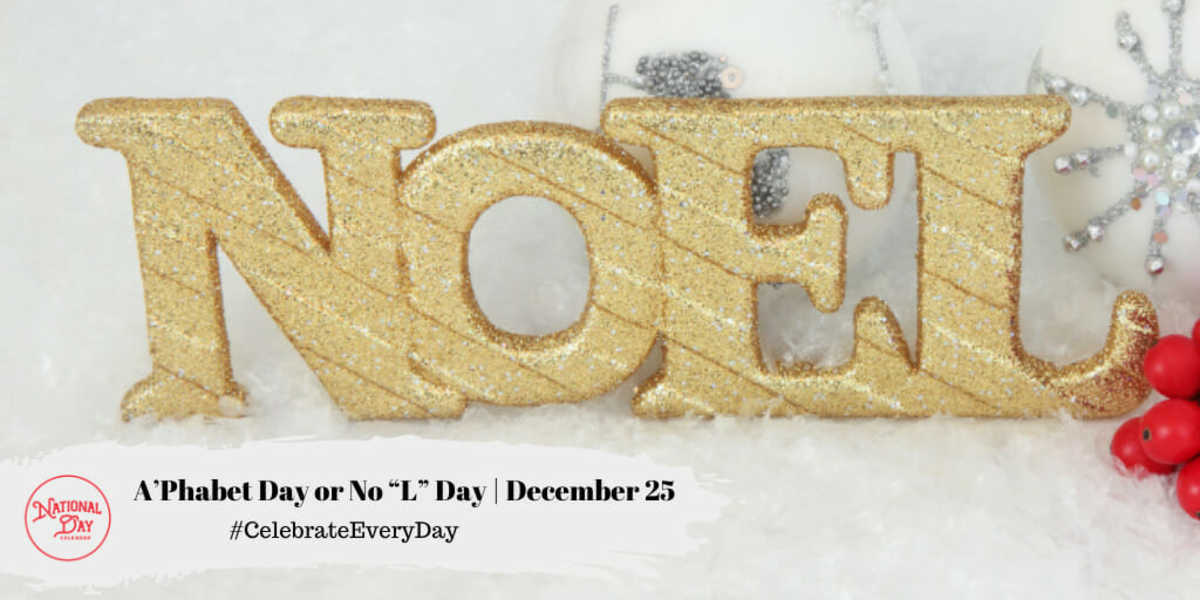 A'PHABET DAY OR NO "L" DAY
A'Phabet Day or No "L" Day on December 25th brings a pun to Christmas Day. The play on words is a pun on the word Noël, which is especially notable during Christmas because it means "to be born." Read more…
On Deck for December 26, 2022
National Days
NATIONAL WHINERS DAY
NATIONAL THANK YOU NOTE DAY
NATIONAL CANDY CANE DAY
BOXING DAY
International Days
BOXING DAY
Recipe of the Day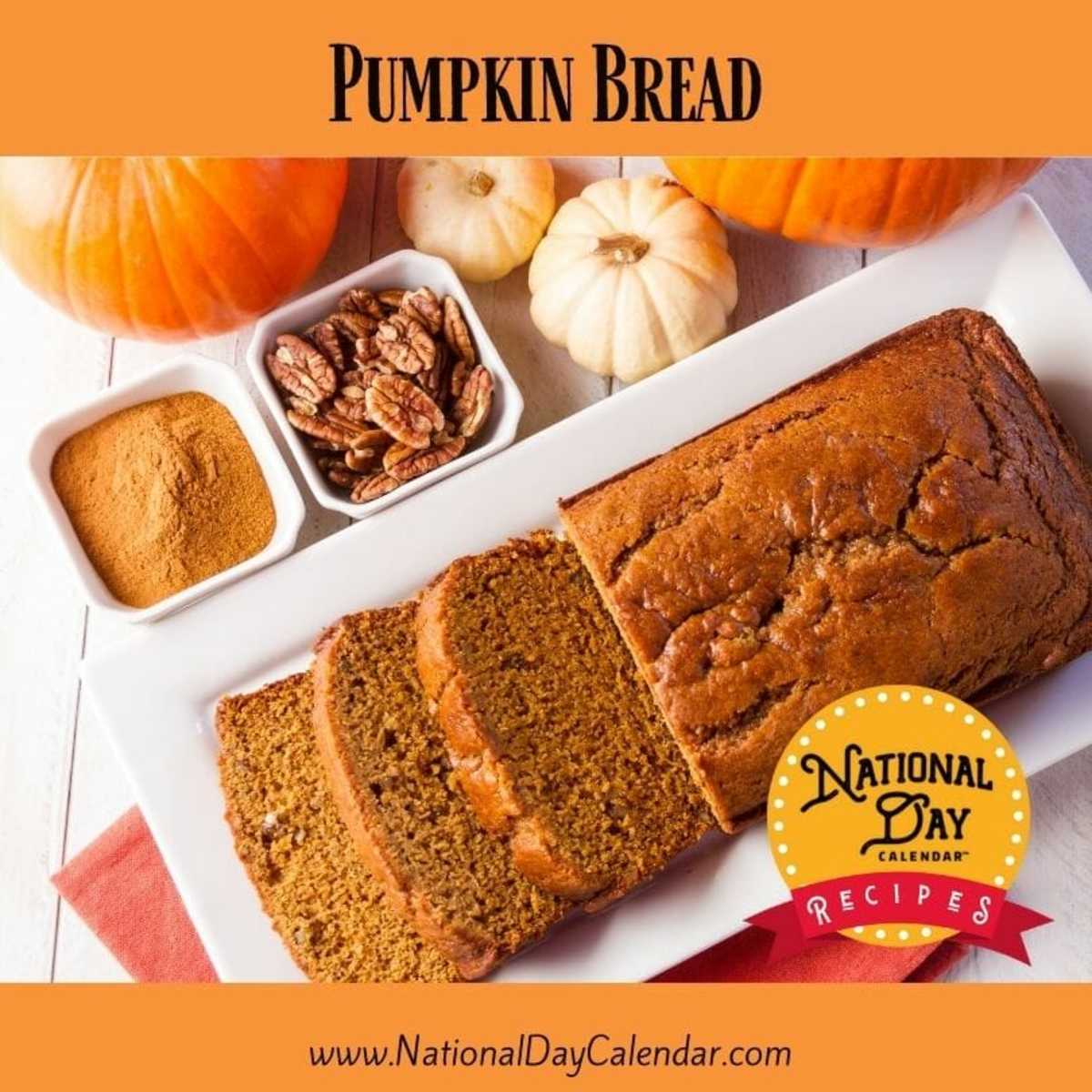 Pumpkin Bread
Prep: 5 minutes
Cook: 1 hour
Total Prep: 1 hour, 5 minutes
Servings: 2 loaves
Ingredients:
2 cups flour
1 teaspoon ground cloves
1 teaspoon ground cinnamon
1 teaspoon ground nutmeg
1 teaspoon baking powder
1 teaspoon soda
1/2 teaspoon salt
2 eggs
1 cup vegetable oil
2 cups sugar
2 teaspoon vanilla
1 15 ounces can pureed pumpkin
Instructions:
Preheat oven to 325°F.
Prepare two loaf pans with a thin coat of butter and lightly dusting with flour.
In a large mixing bowl, beat eggs one at a time. Add sugar, oil, flour, soda, salt, baking powder, cloves, nutmeg and cinnamon. Mix well. Stir in pumpkin, puree.
Transfer mixture to loaf pans.
Bake for 1 hour, 5 mins. Loaves are done when a toothpick inserted into the center comes out clean.
December 25th Celebrated History
1758
Johann Georg Palitzsch sights Halley's comet. His sighting confirms Edmund Halley's prediction of the comet's passage and it is the first comet to return as predicted.
1830
The first regularly scheduled steam locomotive passenger train in the United States made its first run. Named the Best Friend of Charleston, it covered six miles that Christmas Day, connecting 141 passengers to and from State and Dorchester Roads and Sans-Souci in Charleston, South Carolina.
1941
For the first time, Bing Crosby performed White Christmas by Irving Berlin on his self-named weekly radio show.
1999
Hubble Space Telescope gets new lenses. Astronauts aboard the space shuttle Discovery complete maintenance work installing corrected optics.
December 25th Celebrated Birthdays
Clara Barton – 1821
On May 21, 1881, the Union Civil War nurse founded the American Red Cross. While traveling in Europe following the Civil War, Barton learned about the International Red Cross. Her knowledge during the Civil War motivated her to bring the benefits of the Red Cross to the United States.
Louis Chevrolet – 1878
In 1911, Louis Chevrolet joined with William C. Durant to found the Chevrolet Motor Car Company.
Conrad Nicholson Hilton – 1887
Hilton started building his hotel empire when he bought the Mobley Hotel in Cisco, Texas in 1919. From there, he survived the Great Depression and grew the corporation into an international company.
Lila Wallace – 1889
In 1922, Lila Wallace co-founded Reader's Digest with her husband Dewitt Wallace.
Cab Calloway – 1907
During the 1930s, jazz singer and bandleader Cab Calloway rose to popularity at the Harlem Cotton Club. He also became known for his song "Minnie the Moocher" and stage performances.
Rod Serling – 1924
In 1959, the American television and producer introduced his best-known series, The Twilight Zone.
About National Day Calendar
National Day Calendar is the original and authoritative source for fun, unusual and unique National Days! Since our humble beginnings on National Popcorn Day in 2013, we have been tracking the National Days, National Weeks, National Months, and International Days. We became the first calendar of its kind to curate the days all in one place and tell their stories, too! Here at National Day Calendar, we are on a mission to Celebrate Every Day with you! And by you, we mean families, businesses, educators, and strangers we meet on the street. There's more than one day for everyone.
At National Day Calendar, we discovered the National Days have a way of inspiring us. We're honored to tell the stories behind the days and provide you with informational ways to incorporate the National Days into your business, family, schools, and home!