Looking Back
December 17, 2021 - NATIONAL UGLY CHRISTMAS SWEATER DAY – WRIGHT BROTHERS DAY – NATIONAL MAPLE SYRUP DAY – NATIONAL UNDERDOG DAY
DECEMBER 17, 2021 | NATIONAL UGLY CHRISTMAS SWEATER DAY | WRIGHT BROTHERS DAY | NATIONAL MAPLE SYRUP DAY | NATIONAL UNDERDOG DAY
NATIONAL UGLY CHRISTMAS SWEATER DAY
Since 2011, National Ugly Christmas Sweater Day has grown to be an international event. Now occurring on the third Friday of December, the celebration gives holiday lovers worldwide a chance to wear their… Read more. . .
WRIGHT BROTHERS DAY
By Presidential Proclamation, December 17th is Wright Brothers Day. Each year, a proclamation invites the people of the United States to observe this day with appropriate ceremonies and… Read more. . .
NATIONAL MAPLE SYRUP DAY
Get the flapjacks ready for National Maple Syrup Day. December 17th calls for orders of pancakes, french toast, or biscuits topped off with butter and delicious maple syrup. It is usually from the xylem sap of sugar… Read more. . .
NATIONAL UNDERDOG DAY
National Underdog Day recognizes that America loves its underdogs. Each year on the third Friday in December, we cheer on the teams and individuals who are statistically expected to… Read more. . .
On Deck for December 18, 2021
National Days
International Days
Recipe of the Day
Name: Waffle
Prep: 5 minutes
Cook: 20 minutes
Total Prep: 25 minutes
Servings: 6 waffles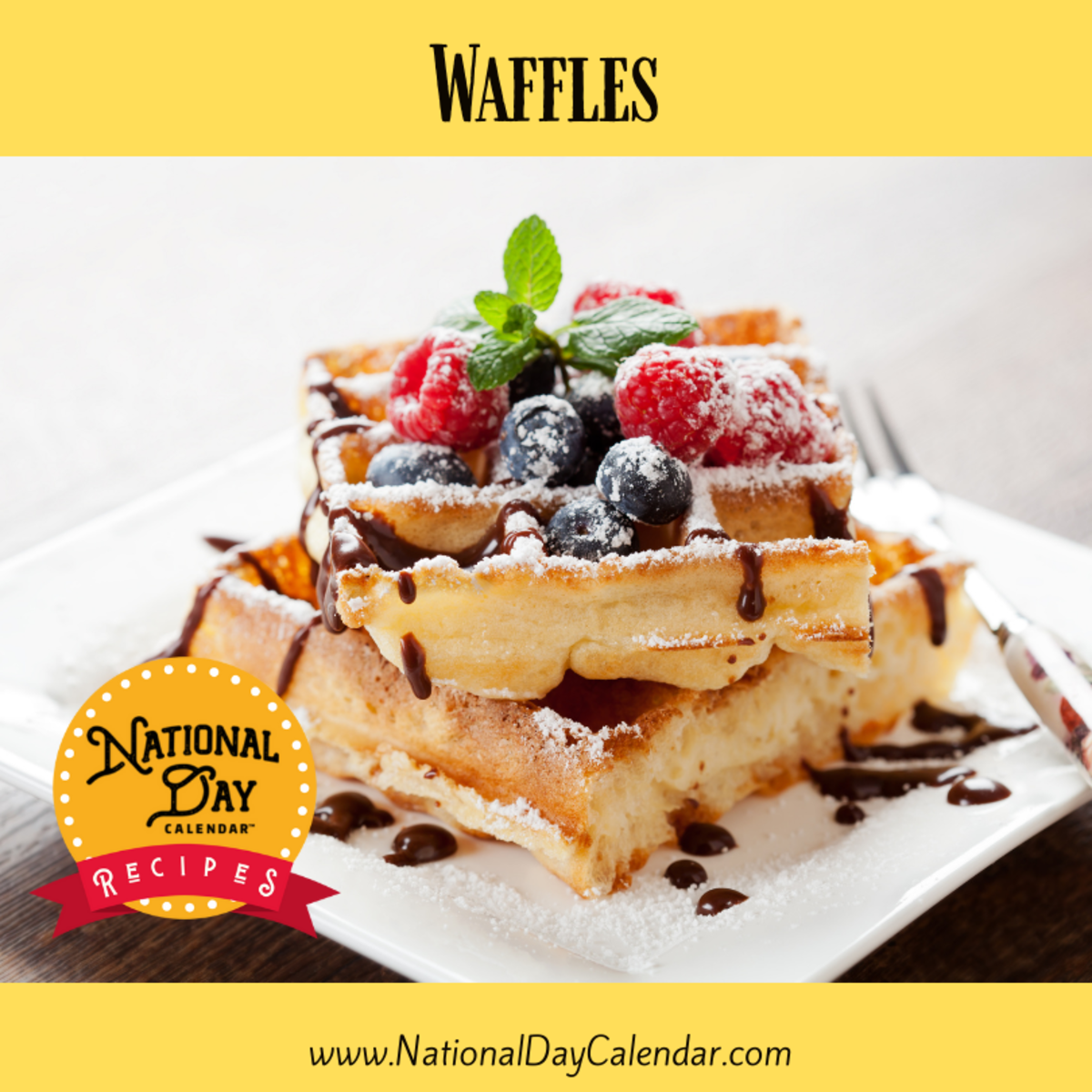 Ingredients:
2 eggs
2 cups flour
1 3/4 cups milk
1/2 cup vegetable oil
1 tablespoon white sugar
4 teaspoons baking powder
1/4 teaspoon salt
1/2 teaspoon vanilla extract
Instructions:
Turn on the waffle iron to heat. In a large bowl, beat eggs until fluffy. Add remaining ingredients and beat until the batter is smooth.
Spray the waffle iron with cooking spray or coat with vegetable oil. Pour batter onto hot iron and cook until golden.
Next Week
Week Observances
In the Classroom
December 17th Celebrated (And Not So Celebrated) History
1892
Arthur Baldwin Turnure published the first edition of the society and fashion journal titled Vogue. It recorded the "ceremonial side of life" in the world of debutants and the upper class.
1903
Orville and Wilbur Wright successfully complete the first powered and controlled flight.
1933
The NFL host their first Championship Game. The New York Giants battled against the Chicago Bears at Wrigley Field in Chicago before a crowd of 30,000 fans. In a thrilling comeback, the Bears defeated the Giants, 23-21.
1969
The Air Force terminates Project Blue Book. Started in 1947, the project investigated reports of Unidentified Flying Objects.
1989
The animated television show The Simpsons debuts on Fox. Created by Matt Groening, the show featured the Simpson family, including husband and wife Homer and Marge, their children Bart, Lisa, Maggie, and Homer's father, Grandpa Simpson.
2003
On the 100th anniversary of the Wright Brothers' powered flight, pilot Brian Binnie achieved supersonic flight in SpaceShipOne. Designed by Burt Rutan, it was the first time the privately built spacecraft had reached such speeds.
December 17th Celebrated (And Not So Celebrated) Birthdays
Deborah Sampson – 1760
During the Revolutionary War, Sampson disguised herself as a man using the name Robert Shurtliff and enlisted in the Continental Army. She is one of a handful of women who also received a military pension at that time.
Mary Cartwright – 1900
The British mathematician was a leading contributor to chaos theory. In 1947, Cartwright was elected to the Royal Society. She was also the first woman to serve on its council. In 1964, she also became the first woman to receive the society's Sylvester Medal.
Mary Kenneth Keller – 1913
After taking her vows from the Sisters of Charity of the Blessed Virgin Mary in 1940, Sister Mary Kenneth attended DePaul University in Chicago. She studied mathematics and further pursued an education in computer science. On June 7, 1965, she became the first woman in the United States to receive a Ph.D. in computer science.
Burt Baskin – 1917
One half of the Baskin-Robbins Ice Cream business duo, Burt Baskin joined his brother-in-law Irv Robbins in 1948.
Eddie Kendricks – 1939
In 1960, Kendricks founded the American vocal group The Temptations. Their original line-up included Kendricks, Otis Williams, Melvin Franklin, David Ruffin, and Paul Williams. Kendricks' falsetto voice complemented several hits by The Temptations, including "My Girl," "The Way You Do The Things You Do," and "Hey Girl."
About National Day Calendar
National Day Calendar® is the original and authoritative source for fun, unusual and unique National Days! Since our humble beginnings on National Popcorn Day in 2013, we have been tracking the National Days, National Weeks, National Months, and International Days. We became the first calendar of its kind to curate the days all in one place and tell their stories, too! Here at National Day Calendar, we are on a mission to Celebrate Every Day with you! And by you, we mean families, businesses, educators, and strangers we meet on the street. There's more than one day for everyone.

At National Day Calendar, we've found the National Days have a way of inspiring us. We're honored to tell the stories behind the days and provide you with informational ways to incorporate the National Days into your business, family, schools, and home!
Be sure to stay in the know by signing up for our e-mail updates. Also, follow us on Facebook, Twitter, and Instagram.
Our Ambassador Program is another way #CelebrateEveryDay®! Whether you become an ambassador or follow one of the savvy ambassadors, their fun videos and posts will keep you prepared for every holiday.
© National Day Calendar® 2013 – 2021