Looking Back
December 13, 2021 - NATIONAL DAY OF THE HORSE - NATIONAL COCOA DAY - NATIONAL VIOLIN DAY - NATIONAL GUARD BIRTHDAY - PICK A PATHOLOGIST DAY
DECEMBER 13, 2021 | NATIONAL DAY OF THE HORSE | NATIONAL COCOA DAY | NATIONAL VIOLIN DAY | NATIONAL GUARD BIRTHDAY | PICK A PATHOLOGIST DAY
NATIONAL DAY OF THE HORSE
National Day of the Horse on December 13th encourages people of the United States to be mindful of the contribution of horses to the economy, history, and character of the United States. The domesticated horse we know today, also known as Equus caballus, was introduced into… Read more…
NATIONAL COCOA DAY
December 13th ushers in a celebration worthy of the winter holidays with National Cocoa Day. What better way to warm up after a cold day outside? We make hot cocoa with cocoa powder, heated milk or water, and sugar. However, Americans… Read more…
NATIONAL VIOLIN DAY
Honoring an instrument also known as the fiddle, National Violin Day on December 13th celebrates the bow stringed instrument loved around the world. By drawing the bow across the strings, the violinist manipulates the sound in several ways. A violinist uses…Read more…

NATIONAL GUARD BIRTHDAY
December 13th commemorates the National Guard Birthday. On December 13th, 1636, the Massachusetts General Court established an official militia for the first time in the American Colonies. A component of the United States Army, the National Guard is primarily composed of… Read more…
PICK A PATHOLOGIST DAY
Pick a Pathologist Day on December 13th encourages us to make friends with a pathologist or coroner because we never know what tomorrow holds. While life is short, making friends with a pathologist or coroner may… Read more…
On Deck for December 14, 2021
National Days
International Days
Recipe of the Day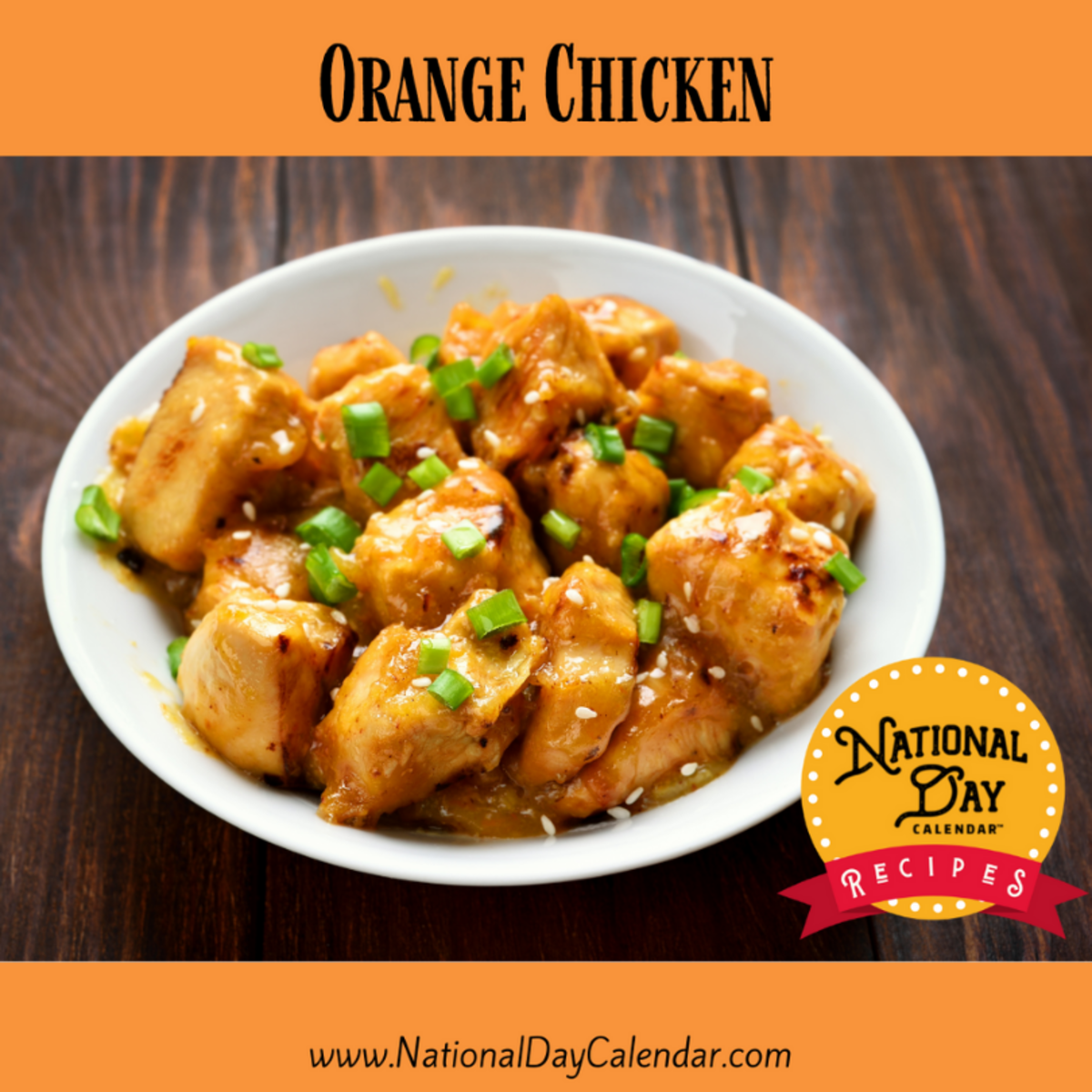 Orange Chicken
Prep time: 15 minutes
Cook time: 20 minutes
Total: 35 minutes
Serves: 4
Ingredients
2 pounds boneless chicken breasts, cut into bite-sized pieces
salt
Vegetable oil
Orange sauce
1 1/2 tablespoon corn starch
1/4 cup cold water
1/3 cup orange juice
3 tablespoons soy sauce
1/4 teaspoon red pepper flakes
2 tablespoons brown sugar
2 garlic cloves, minced
1 tablespoon rice wine vinegar
1 tablespoon orange zest
1 green onion, diced
1 tablespoon toasted sesame seeds
Instructions
Heat oven to 375°F. Pat chicken breasts dry with a paper towel and place them on a baking sheet. Drizzle with olive oil and season both sides with salt. Bake chicken for 20 minutes or until cooked.
In a small bowl, mix cornstarch with cold water. Over medium heat, bring the starch mixture to a simmer in a small saucepan. Add orange juice, soy sauce, brown sugar, garlic, rice wine vinegar. Simmer until thickened, about 3-4 minutes.
Mix in orange zest. Pour sauce over baked chicken and toss to coat. Serve over white rice. Garnish with onion and sesame seeds.
December 13th Celebrated (And Not So Celebrated) History
1913
The Associated Automobile Clubs of New Jersey and the Newark Motor Clubs renamed the first section of Lincoln Highway between Jersey City and Newark, NJ. The Lincoln Highway was the first transcontinental highway for automobiles in the United States, and it was promoted and supported by automobile clubs across the United States. This first section was named Essex-Hudson Lincoln Highway.
1950
Thanks to an invitation by a friend, James Dean appeared in his first acting gig in a Pepsi commercial.
1989
The Warner Bros. film Driving Miss Daisy is given a limited theatrical release following its December 11th premiere. Starring Morgan Freeman, Jessica Tandy, and Dan Aykroyd, the film was directed by Bruce Beresford. It won four Academy Awards, including Best Picture and Best Actress.
2001
A Beautiful Mind starring Russell Crowe, Ed Harris, and Jennifer Connelly premieres in Beverly Hills, CA. Directed by Ron Howard, the film follows the life of mathematician John Forbes Nash, Jr. The film won four Academy Awards, including Best Picture, Best Actress in a Supporting Role, and Best Director.
December 13th Celebrated (And Not So Celebrated) Birthdays
Mary Todd Lincoln – 1818
The 17th First Lady was a force to be reckoned with. Often in the public eye, Mrs. Lincoln was known for her quick wit, interest in politics, and frequent presence at the military hospitals. While sometimes a controversial figure, she is one of the White House's most recognizable First Ladies.
Jane Edna Hunter – 1882
In 1911, the pioneering social worker founded the Working Girls Home Association in Cleveland, OH. The organization provided shelter, assistance, and vocational education to women and was an alternative for Black women in the area. It was later renamed the Phillis Wheatley Association of Cleveland.
Alvin C York – 1887
The one-time conscientious objector was drafted into the U.S. Army during World War I. As part of the 82nd Infantry Division, Corporal York took part in the Meuse-Argonne Offensive. His actions helped to eliminate German machine guns and capture more than 130 prisoners. Following the war, he was awarded several medals including the Distinguished Service Cross and Medal of Honor.
Ella Baker – 1903
The civil rights activist helped establish several organizations that supported the advancement of equal rights including the right to vote, peaceful assembly, the elimination of segregation. Some of those organizations include In Friendship, the Southern Christian Leadership Conference, and the Student Nonviolent Coordinating Committee.
Jamie Foxx – 1967
Born Eric Marlon Bishop, the multi-talented actor, singer, and comedian has earned both popular and critical acclaim across the industry. For his role as Ray Charles in the film Ray, he won an Academy Award for Best Actor. He also earned a Grammy for Best R&B Performance by a Duo.
About National Day Calendar
National Day Calendar® is the original and authoritative source for fun, unusual and unique National Days! Since our humble beginnings on National Popcorn Day in 2013, we have been tracking the National Days, National Weeks, National Months, and International Days. We became the first calendar of its kind to curate the days all in one place and tell their stories, too! Here at National Day Calendar, we are on a mission to Celebrate Every Day with you! And by you, we mean families, businesses, educators, and strangers we meet on the street. There's more than one day for everyone.
At National Day Calendar, we've found the National Days have a way of inspiring us. We're honored to tell the stories behind the days and provide you with informational ways to incorporate the National Days into your business, family, schools, and home!
Be sure to stay in the know by signing up for our e-mail updates. Also, follow us on Facebook, Twitter, and Instagram.
Our Ambassador Program is another way #CelebrateEveryDay®! Whether you become an ambassador or follow one of the savvy ambassadors, their fun videos and posts will keep you prepared for every holiday.
© National Day Calendar® 2013 – 2021