In 2017, National Day Calendar
®

 

began celebrating each state in the order they entered the union starting the week of Independence Day and ending with Hawaii. We highlight a small part of each states' history, foods and the people who make up the state. Many states have their own state celebrations, and National Day Calendar's observances in no way replace them. There's so much more to explore, we can't help but celebrate our beautiful country even more!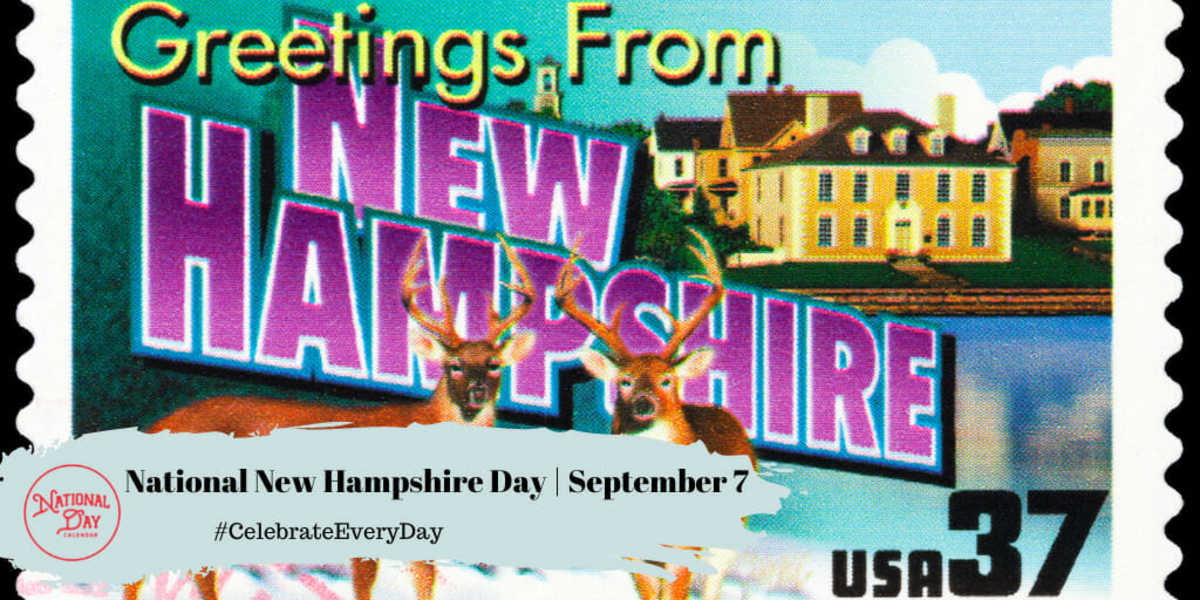 NATIONAL NEW HAMPSHIRE DAY | SEPTEMBER 7
National New Hampshire Day on September 7th recognizes the 9th state to join the Union. The Granite State epitomizes New England in many ways. From its breathtaking landscapes to its fascinating history and people.
#NationalNewHampshireDay
Quotable Quotes
If you've ever wondered where the phrase "not yet begun to fight" originated, just look to one of New Hampshire's notable naval officers, John Paul Jones.
"Live Free or Die" is the state's motto. Another revolutionary hero, John Stark earns the credit for it. In a written toast in honor of the anniversary of the Battle of Bennington, Stark's full quote reads: "Live free or die, death is not the greatest of evils." While he may not be the first to share the sentiment to live free or die, his toast summed up the country's dedication to independence.
Settlers
New Hampshire's history holds more than noble quotes. Many firsts fill its timeline. In 1719, Scotch-Irish settlers brought the first potatoes to North America. The settlers planted them in the settlement of Nutfield, now known as Londonderry.
Before Paul Revere had his famous ride, he first made another all-important journey. In 1774, Revere rode the 55 miles from Boston to Portsmouth to warn the citizens of an impending seizure of Fort William and Mary. The village stormed the fort and took control of the ammunition before the British arrived.
Politics and More
New Hampshire became the first state to established an independent government. The state also created the first written constitution.
In 1828, when ownership changed hands at the Cocheco Manufacturing Company, the new owner reduced the wages of only the female textile mill workers. On top of already difficult work and long days, the owners placed even stricter requirements on its employees. Frustrated, on December 30th, about 400 of the female workers walked out. It became the nation's first all-female strike. The strike failed and resulted in many of the striking workers returning to work at even lower wages.
The state also holds its primaries before any other state. Early on during election time, the country focuses its attention on New Hampshire. Another phrase often attributed to New Hampshire: "As New Hampshire goes, so goes the nation."
Known for its fall foliage, New Hampshire's impressive colors bring visitors every autumn. From mountains to the seaside, the state offers year-round adventure.
HOW TO OBSERVE NATIONAL NEW HAMPSHIRE DAY
Join National Day Calendar as we celebrate New Hampshire's historic places, panoramic scenery and captivating personalities. Explore all New Hampshire offers! Use #NationalNewHampshireDay to share on social media.
NEW HAMPSHIRE FLAVOR
With apples as the leading fruit crop in the state, it should be no surprise that the people of New Hampshire specialize in baking and cooking with them. That includes their cider donuts! Not that anyone would refuse a donut, but these taste like fall!
Apple Cider, whether spiked or not, is a special treat in New Hampshire. A hot mug of autumn's spiced orchard produce will warm you right up!
If you need a stronger drink to warm the cockles of your heart, try New Hampshire's honey mead which is often fermented with the season's fresh fruits. Also called honey wine, mead may be the world's oldest alcoholic beverage.
Being a coastal state, seafood like lobster is a top choice but don't over look fresh water favorites like fried lake bass. With the mountain hikes to take in all the scenery in New Hampshire, it's easy to work up an appetite to sample all this goodness!

Robert Frost Farm State Historic Site – Derry
Madam Sherri Forest and Castle – Chesterfield
Thompson Falls – Pinkhams Grant
Hampton Historical Society and Tuck Museum Complex – Hampton (History of the only woman convicted of witchcraft in the state of New Hampshire as well as other fascinating information.)
U.S.S. Albacore – Portsmouth
Soldier, statesman and businessman, John Langdon fully committed himself to his state and country. He took an active part in all aspects of the revolution from the advancement of the militia both financially and took command to representing New Hampshire at the Continental Congress and later as a state.
Daniel Webster served both New Hampshire and Massachusetts in Congress and was known as a great orator in defense of Constitutional Law.

In 1828, Sara Hale became the editor of the first American magazine written for women, Ladies' Magazine. Despite advocating for education and property rights for women, Hale was not a suffragist. She stood firm in her belief that women should not be involved in politics.
If you possess just about any copy of nursery rhymes, turn to the poem Mary Had Little Lamb. This is one of Sara Hale's works.
The 14th President of the United States, Franklin Pierce entered his single term of service under relatively peaceful times.  By pursuing expansion and opening the country up to the potential for more slave states, Pierce set the course for conflict between the North and the South.

Founder of the New York Tribune, Horace Greeley was a fervent abolitionist and supporter of many causes with the exception of the women's right to vote.

Mary Baker Eddy established the Church of Christ, Scientist, also known as Christian Science.

Considered America's first serial killer before the term was even coined, H.H. Holmes confessed to 27 murders, though some estimate his total number of victims may be much higher. Born Herman Webster Mudgett, Holmes terrorized Chicago during the 1893 Chicago World's Fair.
Under President Calvin Coolidge, Harlan Stone would be appointed U.S. attorney general in 1924 and in this role would choose J.Edgar Hoover to lead the FBI.
In 1925, Stone was nominated to the U.S. Supreme Court. He became Chief Justice in 1941 and held the position until his death in 1941.
On May 5, 1961, Alan Shepard became the first American to journey into space. Launched into space from Cape Canaveral in the Freedom 7 space capsule, Shepard's entire flight lasted just 15 minutes.
He would go on to log 216 hours and 57 minutes in space.
John Irving's award winning novels set in New England garner awards and international attention.  Several of his books have found their way to the silver screen including, The World According to Garp and Cedar House Rules.
Singer, TV and film actress, Mandy Moore has gained attention for her role as Rebecca Pearson in the NBC series This is Us.
Mogul skier, Hannah Kearney, won gold at the 2010 Winter Olympics and bronze at the 2014 Winter Olympics.