NATIONAL PATCH DAY
June 24th is National Patch Day, and we encourage everyone to send a token of love to a child in need of support, kindness, and healing in the form of a patch. Today, let us wrap our arms around any child who is struggling with disease, mental illness, the loss of a loved one, or simply going through a difficult time.
#NATIONALPATCHDAY
Children and teens face enormous pressure in the world today. According to the Centers for Disease Control & Prevention, "36.7% of adolescents between the ages of 12-17 have reported persistent feelings of sadness or hopelessness." When physical and mental health challenges compound these pressures, things can quickly start to feel overwhelming for kids. Unsurprisingly, it can be hard to know what we can do to help a child experiencing sickness, grief, or other challenges. Luckily, National Patch Day encourages everyone to show support for kids (and their families) as they navigate through their varied journeys.
Phone calls, emails, or text messages can fall short during the challenges of everyday life, as well as during family struggles or illnesses. However, receiving an unexpected gift in the mail can work magic. Imagine a child opening their mailbox to find a surprise package from a loved one just for them. In fact, sending physical mail is a powerful way to let a young person know you care, especially in our increasingly digital world. A tangible token of love can alleviate loneliness and foster a sense of true support. Reaching out through the mail reinforces connections in a busy world and reminds our loved ones they are not alone on their journey.
The Oliver Patch Project
According to the Center for Disease Control (CDC), about 47 children are diagnosed with cancer in the US each day. Although childhood cancer is considered rare in comparison to adult diagnosis, it is still the leading cause of death from disease in children under 20 years old. These unfortunate statistics provided inspiration for the inception of the Oliver Patch Project.
The Oliver Patch Project patches are so much more than pieces of material. Our patches reinforce hope, mend loneliness, and repair self doubt. Our patches represent support, compassion, and strength. Our patches are tokens of love, and are the symbols of our Warriors."

Brian and Trisha, Oliver's parents
In May 2020, nine-year-old Oliver Burkhardt was diagnosed with Acute Lymphoblastic Leukemia. In the immediate aftermath of Oliver's diagnosis, family and friends reached out to his parents asking how they could help show Oliver love and support. The Burkhardt's came up with a simple idea to help Oliver keep a positive attitude. They asked people to send Oliver patches in the mail. Each patch Oliver received was sewn onto the jean jacket he wore to and from hospital visits as a reminder of all the people who were rooting for him.
Oliver's jacket became his suit of armor. It made him feel strong and loved while fighting his battle, and he wore it like a warrior with pride. Oliver's parents saw the positive impact these little gifts of love had on Oliver, and they decided to bring that same positivity to other kids with cancer by creating the Oliver Patch Project (OPP). National Patch Day is an extension of the Oliver Patch Project that wraps its arms around any child who is struggling with disease, mental illness, the loss of a loved one, or simply going through a difficult time.
Marking Milestones
The Oliver Patch Project's mission is to create free, fun, and engaging patches for children with childhood cancers. Together with artists and designers, the children and their families create a series of unique patches meant to empower and lift their child up. Each child becomes a warrior during their journey, showing their patches off as they reach significant milestones. Like knights preparing for battle, the Oliver Patch Project Warriors suit up in their warrior jacket "armor" and earn Milestone Patches for each medical milestone treatment they complete along their cancer journey.
By definition, a milestone is a significant event in the development of a person. For childhood cancer patients, milestones symbolize progress when challenges are overcome. Their bravery is worthy of celebration. The Oliver Patch Project acknowledges those milestones with patches of the thirteen bravest and strongest animals on earth. These animals represent the 13 major medical milestones a child will face on their cancer journey. All animals represent strength, bravery, and resilience.
Why is The Oliver Patch Project so special?
The Oliver Patch Project is about community support. That support is a critical part of wellness, especially during and after a traumatic illness.
The project builds rapport and connection between the child and their medical team. This bond helps children get through challenging and uncomfortable procedures.
The patches provide children with cancer validation of being seen and recognized for their efforts and valor during their healing process.
All achievement badges (patches) are a familiar symbol for children and provide acknowledgement for real life experiences. The patches remind them they are heroes.
Warriors may not know how to share their experiences with others or know what to say about their diagnosis, treatment, or recovery. Their patches allow them to talk about their journey in a positive way.
Earning and collecting patches is a family endeavor that has benefits for parents and guardians. Seeing their child be positive about their patches helps loved ones feel positive too.
6 WAYS TO SUPPORT THE OLIVER PATCH PROJECT
Volunteer for the Oliver Patch Project Warriors as a designer, artist, writer, tech support, or social media whiz. Visit I Want To Volunteer to learn more.
Send your favorite patch to the Oliver Patch Project and they will share it with one of their Warriors. Reach out to the Oliver Patch Project to Learn More about getting started.
Let a loved one know you care by sending them a patch. Click the Send A Patch link to send a patch to your loved one.
Create a patch design for a child battling cancer. If you have a design you would love to share, you can Design A Patch here.
Donate time or give a monetary donation to the Oliver Patch Project.
Spread awareness by sharing the positive impact of the Oliver Patch Project. Share you and your family's story using #NationalPatchDay on social media.
FOUNDER
In February 2023, National Day Calendar welcomed the Oliver Patch Project to our Founder Family. Each year on June 24, we will celebrate National Patch Day as a day empower kids with cancer to find their inner warrior. We also encourage everyone to send a token of love to someone in need of support, kindness, and healing.
About
The Burkhardt Family, Brian, Trisha, Oliver, and Peter, took an impossible situation, a cancer diagnosis, and turned it into something positive. They received love in the form of patches, and now each day they are paying it forward to other families whose children are in treatment for cancer through the Oliver Patch Project. The impact of receiving patches from loved ones and strangers changed their lives for the better.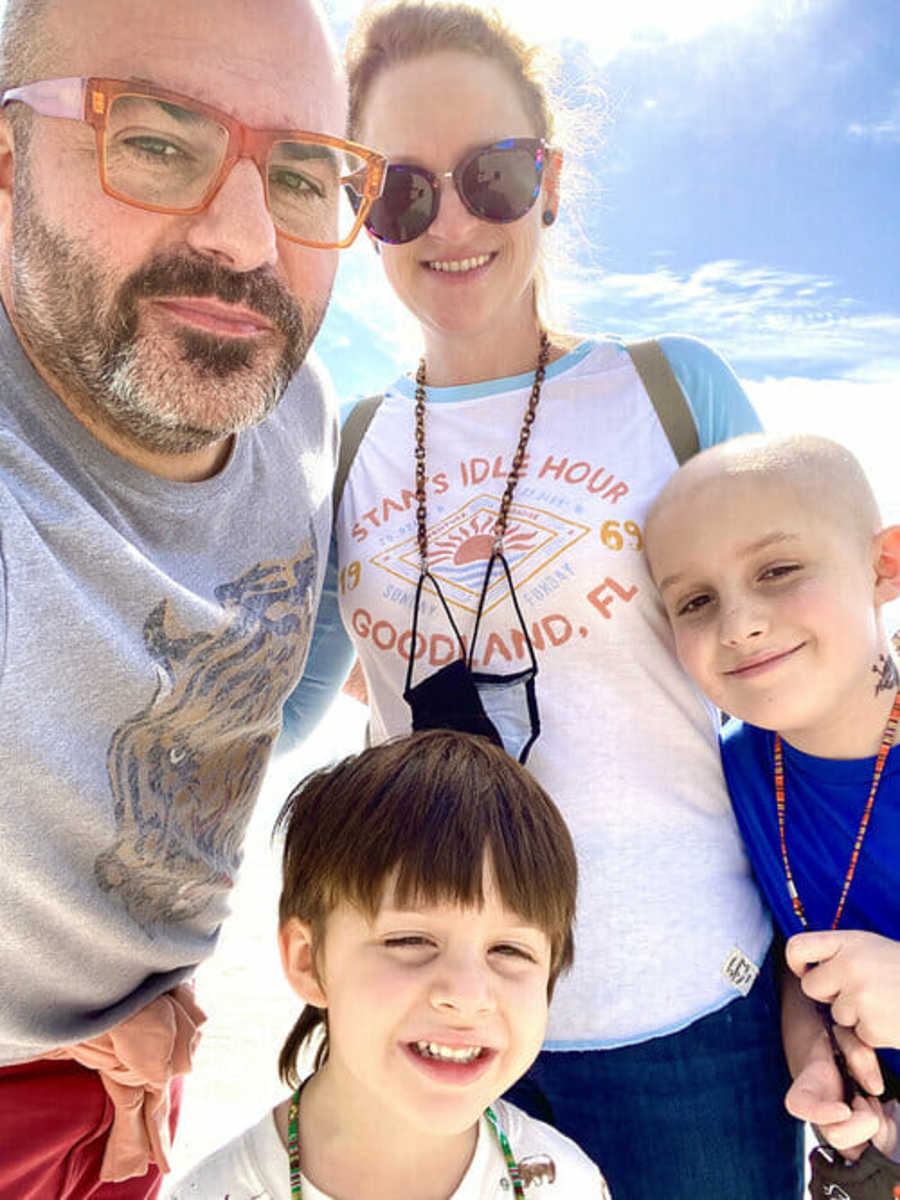 The Burkhardt family is grateful to report that as of July 13, 2022, Oliver is in remission and living his best life. The legacy of his patch project has grown into a thriving non-profit organization that brings joy and hope to children with pediatric cancers all over the U.S.
Visit the Oliver Patch Project to learn more about the organization and the services it provides.