Looking Back
August 6, 2021 - INTERNATIONAL BEER DAY - NATIONAL ROOT BEER FLOAT DAY – NATIONAL WIGGLE YOUR TOES DAY – NATIONAL FRESH BREATH DAY – NATIONAL WATER BALLOON DAY
AUGUST 6, 2021 | INTERNATIONAL BEER DAY | NATIONAL ROOT BEER FLOAT DAY | NATIONAL WIGGLE YOUR TOES DAY | NATIONAL FRESH BREATH DAY | NATIONAL WATER BALLOON DAY
INTERNATIONAL BEER DAY
The first Friday in August brings a toast to ales, lagers, and pilsners that put the international in International Beer Day.
Perhaps there's a porter or a Belgian in your glass. Whether yours is fermented or not, dark or pale, hoppy, bitter, smooth, raise your mug. Lift it high among friends around the world, thanking those who work at brewing delicious beer in your local area. Why? Because International Beer Day brings the world together, celebrating the beers of all cultures on one remarkable day.
Did you know, this is a day for beer lovers everywhere. In backyards, taverns, pubs, and breweries all over, people celebrate beer's greatness while showing gratitude to their bartender and waitstaff. By the way, did you miss National IPA Day the other day? Don't miss this one. If you do, be sure to check out these other ways to celebrate:
HOW TO OBSERVE #InternationalBeerDay
"A fine beer may be judged with only one sip… but it's better to be thoroughly sure."
Better yet, don't miss it. Enjoy a glass with friends. Try a new beer. If you don't know what to try, here are some suggestions.
Attend a tasting – Yes, like wine tastings, there are beer tastings, too.
Get a flight – Many pubs and breweries offer a flight with of few ounces of 4-5 beers to taste.
Take a quiz – There are several flavor profile quizzes online to help you choose your next beer. You can also take a quiz to find out just how much you know about beer, too. Like this one at Fun Trivia.
Ask the bartender – They can guide you based on your flavor preferences. Then be sure to thank and tip them, especially if they provided sound advice.
Tour a brewery – Brewery tours offer samples. Not only will you find a beer you like, but most breweries have a rich history. Even younger breweries include fascinating stories about their founders or their recipes.
Post on social media using #InternationalBeerDay – Celebrate all who brew such fantastic beer around the globe.
INTERNATIONAL BEER DAY HISTORY
Our research shows the origin of International Beer Day dates back to 2008. Because August is hot in many parts of the world, the first Friday of August was chosen.
NATIONAL ROOT BEER FLOAT DAY
On August 6th, National Root Beer Float Day tells us to float a scoop of vanilla ice cream in an ice-cold mug of frothy root beer. The classic beverage creates a creamy treat loved by generations!
Also known as the "Black Cow," the root beer float got its start in Colorado in a mining camp. Frank J. Wisner of Cripple Creek, Colorado, gets the credit for inventing the "Black Cow" way back in August of 1893.
One night Wisner, owner of the Cripple Creek Cow Mountain Gold Mining Company, was staring out the window and thinking about the line of soda waters he was producing for the citizens of Cripple Creek when he came upon an idea. The full moon that night shined on the snow-capped Cow Mountain and reminded him of a scoop of vanilla ice cream. He hurried back to his bar and scooped a spoonful of ice cream into the children's favorite flavor of soda, Myers Avenue Red Root Beer. After trying, he liked it and served it the very next day. It was an immediate hit.
Wisner named the new creation, "Black Cow Mountain" but the local children shortened the name to "Black Cow".
Since its inception, hundreds of thousands of root beer floats have been enjoyed around the country each day.
HOW TO OBSERVE #NationalRootBeerFloatDay
Gather up some root beer and ice cream and mix up the perfect root beer float. Enjoy a root beer float over lunch or dinner at your favorite restaurant. Use #RootBeerFloatDay to post on social media and spread the word.
Also, find Root Beer Float Deals here!
If a root beer float is your favorite ice cream soda, National Ice Cream Soda Day is on June 20 so you can enjoy it twice!
ROOT BEER FLOAT HISTORY
We were unable to identify the creator of National Root Beer Float Day.
NATIONAL WIGGLE YOUR TOES DAY
National Wiggle Your Toes Day on August 6 offers people the chance to show off the digits on their feet! The day encourages giving our feet (and our toes) a little extra attention.
Take a walk in the fresh grass and give your phalanges a little vacation. They'll thank you. While you're giving them some freedom, provide them with a buff, too. That'll give them something to wiggle about. Another thing naked toes like to do is dangle in the water. Take them for a swim. Some spas even hire fish to nibble your toes to give them a fresh look. Afterward, they'll give them a gentle massage. Your toes will wiggle in delight, then!
Even little feet enjoy a gentle rub. Once the everyone relaxes, perhaps a few toe tickling games will ensue.
Another way to look at this day is by going shoe shopping. Soon school will be starting up if it hasn't already. Comfortably fitting shoes definitely make for happy feet, and happy feet wiggle their toes. Be sure everyone in the family tries on their shoes.
Shoe Fitting Tips
Measure your feet.

Wear the sock for the shoe.

Leave 1/2 inch at the toe (they need to wiggle).

Also, leave some room at the heel (1/8 inch).

Walk around in the shoes.

For more foot care and shoe-fitting tips visit

onhealth.com
Whether we wiggle our toes at the beach, the park or home, our toes will surely appreciate the attention.
HOW TO OBSERVE #WiggleYourToesDay
Let your toes feel the grass or the sand on the beach. Dangle them in the water at the pool or let them feel the cool pebbles along a shoreline. Use #WiggleYourToesDay when posting on social media.

NATIONAL WIGGLE YOUR TOES DAY HISTORY
We were unable to find the origin of National Wiggle Your Toes Day.
NATIONAL FRESH BREATH DAY
Pop a mint and smile on National Fresh Breath Day observed annually on August 6th. The day urges appreciation of oral hygiene and its importance. Dentists and oral care professionals applaud the day dedicated to fighting bad breath.
Oral hygiene and the fresh breath associated with it are part of healthy, daily habits. Over time, poor dental care will cause mouth odor. Of course, the foods we eat contribute to bad breath, too. However, bad breath may be a symptom of a health condition or a side effect of a medication.
There are ways to combat bad breath.
Brush after meals.

Floss before bedtime.

Gargle and rinse with mouthwash regularly.

Chew sugar-free gum to keep the mouth moist.

Stay hydrated.

Seek regular dental care.
He found a new way to cover up his bad breath.
He holds up his arms. ~Rodney Dangerfield
HOW TO OBSERVE #NationalFreshBreathDay
Remember to brush and floss regularly. Keep your mouth fresh by drinking plenty of water. Alcohol consumption dries out your mouth causing bad breath, so drink moderately. Carry sugar-free gum. When you take out a piece, offer one to your companions. Those with bad breath won't know you're giving them a hint; they'll think you're being polite and sharing! If you battle bad breath and suspect it's the result of a deeper issue, consult your physician.
Find more tips at everydayhealth.com. Share your fresh breath tips. Use #NationalFreshBreathDay when posting on social media.

NATIONAL FRESH BREATH DAY HISTORY
The origins of National Fresh Breath Day have yet to be determined.

NATIONAL WATER BALLOON DAY
Fill 'em up! The first Friday in August ushers in National Water Balloon Day just in time for the hottest days of summer!
Pop, throw, splash, or just squish! What kid or adult doesn't enjoy a water balloon in the hot summer? Since Edgar Ellington invented the waterproof sock in 1950, backyards haven't been the same. Whether kids compete in the Longest Toss or take sides in a good old water balloon fight, the cool, wet fun lasts all summer long.
Besides keeping cool, they're an excellent way to expend a little energy, too. And speaking of spending, water balloons are an inexpensive way to have tons of fun.
From summer camps to backyard barbecues, kids and families make memories and keep cool throughout the hottest days of summer. They've gotten creative with them, too! No longer do they just have water balloon fights. Camp counselors, parents, and children also use inventive ways to incorporate water balloons into challenges, obstacle courses, and more. Consequently, kids learn a few things while having fun, too! For example, they exercise their teamwork, critical thinking, and leadership skills all while cooling off on a hot day. Besides, who can resist the squeals of laughter and excitement?
HOW TO OBSERVE #NationalWaterBalloonDay
Pick up an assortment of water balloons. Equally important as getting them filled, get help filling them up. Thanks to Texan father, Josh Malone, made it easier when he invented Bunch O Balloons in 2014 (now licensed to Zuru) where you can fill 100 balloons in 60 seconds! Pack them in coolers or buckets to prevent breakage. Invite the neighborhood over for a splashing good time! Then try some of these fun ways to enjoy them.
Water Balloon Games
Water balloon toss
This one is a classic. Everyone pairs up. Each team stands close together taking turns tossing their water balloon to each other. As soon as the water balloon breaks they're eliminated. The team that gets the furthest apart wins!
Water balloon kryptonite
Invented by Camp Wanna Iguana in Newmarket, NH, it's just like the hot potato game. However, instead of a potato, use a green water balloon! Everyone stands in the circle, passing the balloon around while the music plays. When the music stops, whoever has the balloon must pop it over their head and is eliminated. Or they can stay in the game; it's up to you. Grab another balloon and keep going!
Relay Races
There are several types of relay races.
Spoon Relay

– Everyone divides into teams. Racers use a spoon to deliver balloons to the finish line. If they drop the balloon before reaching the finish line, they have to go back to the beginning and get a new balloon. Once they are successful, they return the spoon to the next racer so they can take their balloon to the finish line.
Back to Back

– Divide into pairs. Place the balloon between the racers' backs. Get the balloon to the finish line without breaking it.
Under the Chin

– Divide into teams. Place the balloon under a racer's chin and race to the goal line and back to the starting line. Pass the balloon to the next racer using chins only. Repeat until all the racers have competed. If the balloon breaks, grab another balloon and get racing!!
Simon Says
Divide into two teams. Each team should have one leader. The same rules apply here as with regular Simon Says. The leaders take turns giving the other team players instructions. When players perform an action when "Simon Says" is not part of the direction, the opposing team gets to throw balloons at those players. Then those players are eliminated.
Clean up challenge
Set a timer to 5 minutes. Everyone races to collect as many broken balloon pieces as possible. Present prizes to first, second, and third people with the most pieces collected.
Be sure to have fun and stay cool! Share your water balloon fun using #NationalWaterBalloonDay to share on social media.
NATIONAL WATER BALLOON DAY HISTORY
The Town of Newmarket, NH Recreation Department's Camp Wanna Iguana Summer Camp program founded National Water Balloon Day in 2019 to celebrate their time-honored tradition of birthday water balloons, plus all the summertime fun water balloons have brought campers throughout the years and will bring to future generations.
The Town of Newmarket NH Recreation Department is known for its crazy, wacky, out-of-the-box thinking. In 2003 they received a Guinness World Record for creating the Largest Game of Pick Up Sticks and was featured with a ½ page colored photo in the 50th Anniversary 2015 edition in the Guinness World Book of Records! Therefore, being the 2019 founder of National Water Balloon Day aligns perfectly with their mission to create wicked fun experiences to show our community that recreation is a life priority. They invite everyone to live by their values every day which is to Lead with Heart, Play with Passion, Explore Personal Growth, We RECognize You!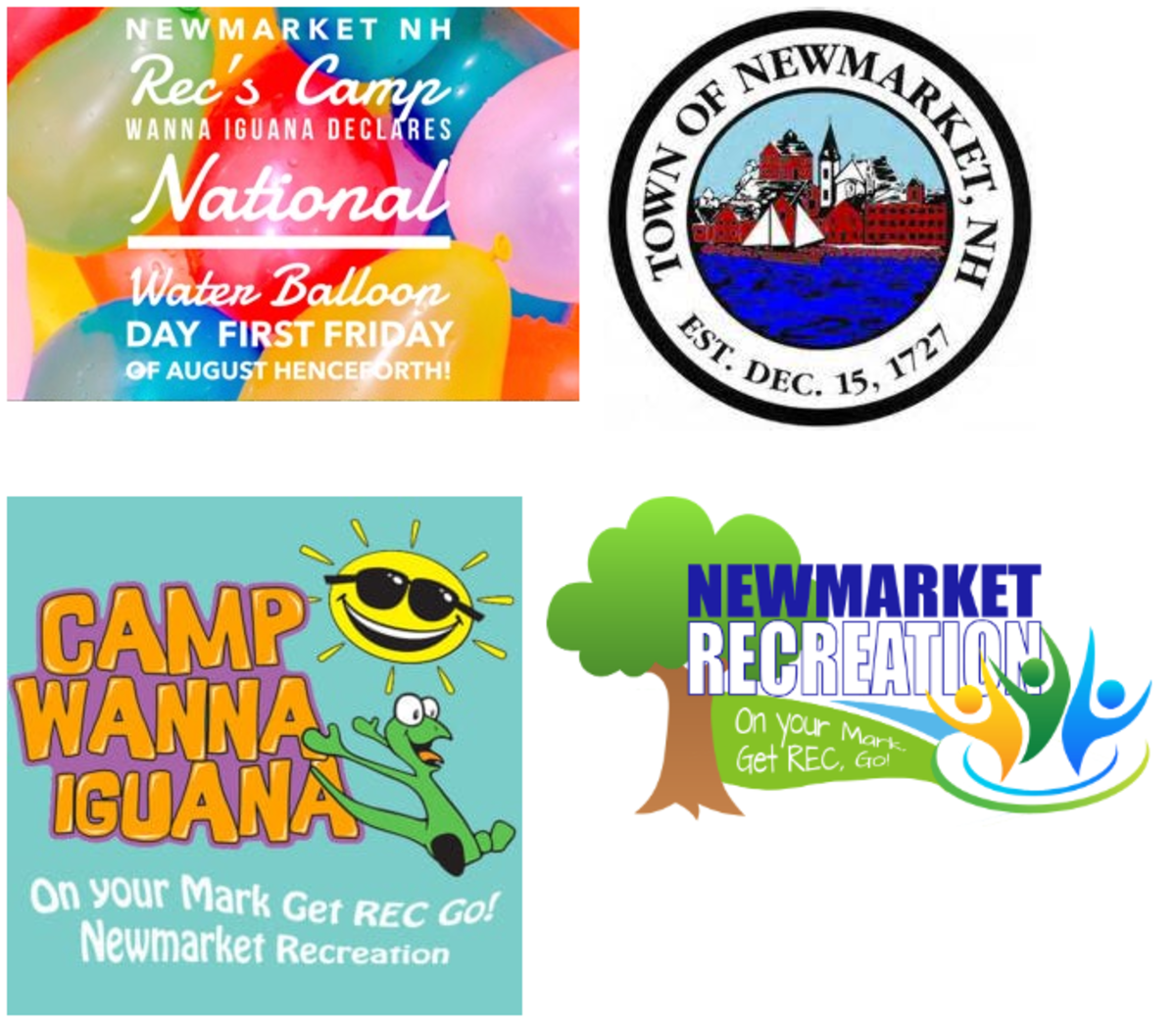 www.newmarketrec.org FOLLOW THEM ON FACEBOOK @newmarketrec @campwannaiguana
The Town of Newmarket NH Recreation Department staff are proud professional members of both the New Hampshire Recreation and Parks Association NHRPA and the National Recreation and Parks Association NRPA.
In 2019, the Registrar at National Day Calendar proclaimed National Water Balloon Day to be observed the first Friday in August annually.
Media Contact:
Aimee Gigandet
Newmarket Recreation Director
Rec Connect Community Collaboration Coordinator
1 Terrace Drive
Town of Newmarket, NH 03857
Create Community, Support the Rec!
603-659-8581 office
603-557-1512 cell
On Deck For August, 7, 2021
National Days
International Days
August 6th Celebrated (and Not So Celebrated) History
1861
Congress passes the Confiscation Act. The first of its kind, the act allowed Union seizure of Confederate property. It also essentially freed slaves who fought for the Confederacy.
1890
Pitcher Cy Young makes his MLB debut with the Cleveland Spiders. He pitched the team to an 8-1 victory over the Chicago Colts.
1909
Alice Ramsey drove a 1909 Maxwell DA across the United States. She along with her companions, Nettie Powell and Margaret Atwood, became the first women to complete a transcontinental road trip by automobile.
1926
Starring John Barrymore, Don Juan debuted in New York City. It became the first feature-length film to include a synchronized score and sound effects using Vitaphone sound-on-disc. However, the film contained no dialogue.
1936
At the Berlin Olympics, Japanese athletes Naoto Tajima and Masao Harada take gold and silver in the triple jump.
1945
The United States drops an atomic bomb on Hiroshima, Japan. The B-29 Enola Gay was accompanied by two other B-29s. After being given the all-clear, the bombardier deployed Little Boy containing approximately 141 pounds of uranium.
1960
Chubby Checker performs "The Twist" on American Bandstand for the first time. Soon after, the dance and song became a dance craze that swept the nation. It also caught the attention of those in authority. Some communities around the world banned "The Twist" along with Rock and Roll music.
1965
President Lyndon B. Johnson signs the Voting Rights Act. The act guaranteed the right to vote for African Americans. While the legislation was weakly enforced, it did provide a legal foothold for Black voters across the country.
1966
Muhammad Ali maintains his undisputed heavyweight champion title. In a fight held at Earl's Court in London, the American boxer knocked out English boxer Brian London in the third round.
1972
Hank Aaron breaks the record for home runs with a single team when he hit his 660th and 661st home runs. Babe Ruth previously held the record for 38 years.
1973
Roberto Clemente is inducted into the National Baseball Hall of Fame. The milestone made him the first Latin American and Caribbean player to join the Hall of Fame. Other players enshrined that day were Warren Spahn, Billy Evans, Mickey Welch, and High Pockets Kelly.
1991
Debbie Doom, the right-handed pitcher for the United States Softball Team, pitched two consecutive perfect games at the 1991 Pan American Games. Hosted by Havana, Cuba, the games put Doom in the spotlight. She would go on to pitch professionally in Women's Pro Fastpitch.
Recipe Of The Day
Name: Lettuce Wraps
Prep: 10 minutes
Cook: 0 minutes
Total Prep: 10 minutes
Servings: 4
Lettuce wraps add a light and healthy meal to any menu. And they're easy to make, too! Take them to work for lunch or add them to a larger meal. Either way, they will be a refreshing addition to your meal planning.
Ingredients:
4 Large butter lettuce leaves
8 slices roast deli turkey
1 Avocado, thinly sliced
1 Tomato, thinly sliced
Poppy seed or ranch dressing
Instructions:
Fill lettuce leaves with turkey, avocado, and tomato. Drizzle with dressing. Serve as a light meal, appetizer, or snack.
Recipe credit:
Michele S. – North Dakota
Next Week
Week Observances
In the Classroom
August 6th Celebrated (and Not So Celebrated) Birthdays
Catharine Beecher – 1800
Along with her sister, Mary, Beecher founded Hartford Female Seminary. She became an advocate for women's education and the school provided a wide range of academic subjects.
Alfred Tennyson – 1809
One of the world's best-known Victorian poets, Tennyson earned notoriety during his lifetime. Poems like "Ulysses" and "The Charge of the Light Brigade" are just two of his renowned poems.
Edith Roosevelt – 1861
As the second wife of President Theodore Roosevelt, Edith served as the 1st Lady of the United States.
Alexander Fleming – 1881
The microbiologist made the accidental discovery of the anti-bacterial properties of a mold called Penicillium. His discovery would lead to the antibiotic penicillin.
Inez Milholland – 1886
As a lawyer, Milholland pursued the law but as a woman, she did not have the right to vote. The activist became a high profile leader in the Suffrage Movement. While her efforts led to success with the ratification of the 19th Amendment on August 18, 1920, she would die nearly 4 years before.
Lucille Ball – 1911
As an actor and comedian, Ball thrilled generations with her timing and skill. Best known for her role in the I Love Lucy television series, the comedian also starred in numerous films and variety shows.
Robert Mitchum – 1917
Over his 54 year career, actor Robert Mitchum played roles in westerns, romances, and war films. He is probably best known for his roles in The Story of G.I. Joe and Cape Fear.
Andy Warhol – 1928
The eclectic artist, director, and producer is best known for his pop art. His subjects included public figures and commercial logos.
M.Night Shyamalan – 1970
As an American filmmaker, Shyamalan is known for his subtle misdirection in his storytelling, keeping viewers guessing until the very end of his films. A few of his best-known films include The Sixth Sense, The Village and Signs.
Soleil Moon Frye – 1976
Actor and voice actor, Frye is best known for her role as Punky Brewster in the sitcom by the same name.
About National Day Calendar
National Day Calendar® is the authoritative source for fun, unusual and unique National Days! Since our humble beginnings on National Popcorn Day in 2013, we now track nearly 1,500 National Days, National Weeks and National Months. In addition, our research team continues to uncover the origins of existing National Days as well as discover new, exciting days for everyone to celebrate.
There's a celebration for everyone. While National Road Trip Day satisfies the itch to wander, many pet days let us share our love of animals. National 3-D Day and National Astronaut Day honor the advancement of technology, too. Every food day you can imagine (National Avocado Day, for example), will keep you celebrating, also!
Be sure to stay in the know by signing up for our e-mail updates. Also, follow us on Facebook, Twitter, and Instagram.
Our Ambassador Program is another way #CelebrateEveryDay®! Whether you become an ambassador or follow one of the savvy ambassadors, their fun videos and posts will keep you prepared for every holiday.